This Spaghetti Salad makes a delicious quick and easy light summer meal or side for all your grilling recipes. It is full of wholesome ingredients from the garden and drizzled with a homemade Italian dressing.  The end result is pure bliss!  I love to serve it with Dry Rub Grilled Pork Tenderloin or Grilled Marinated Chicken.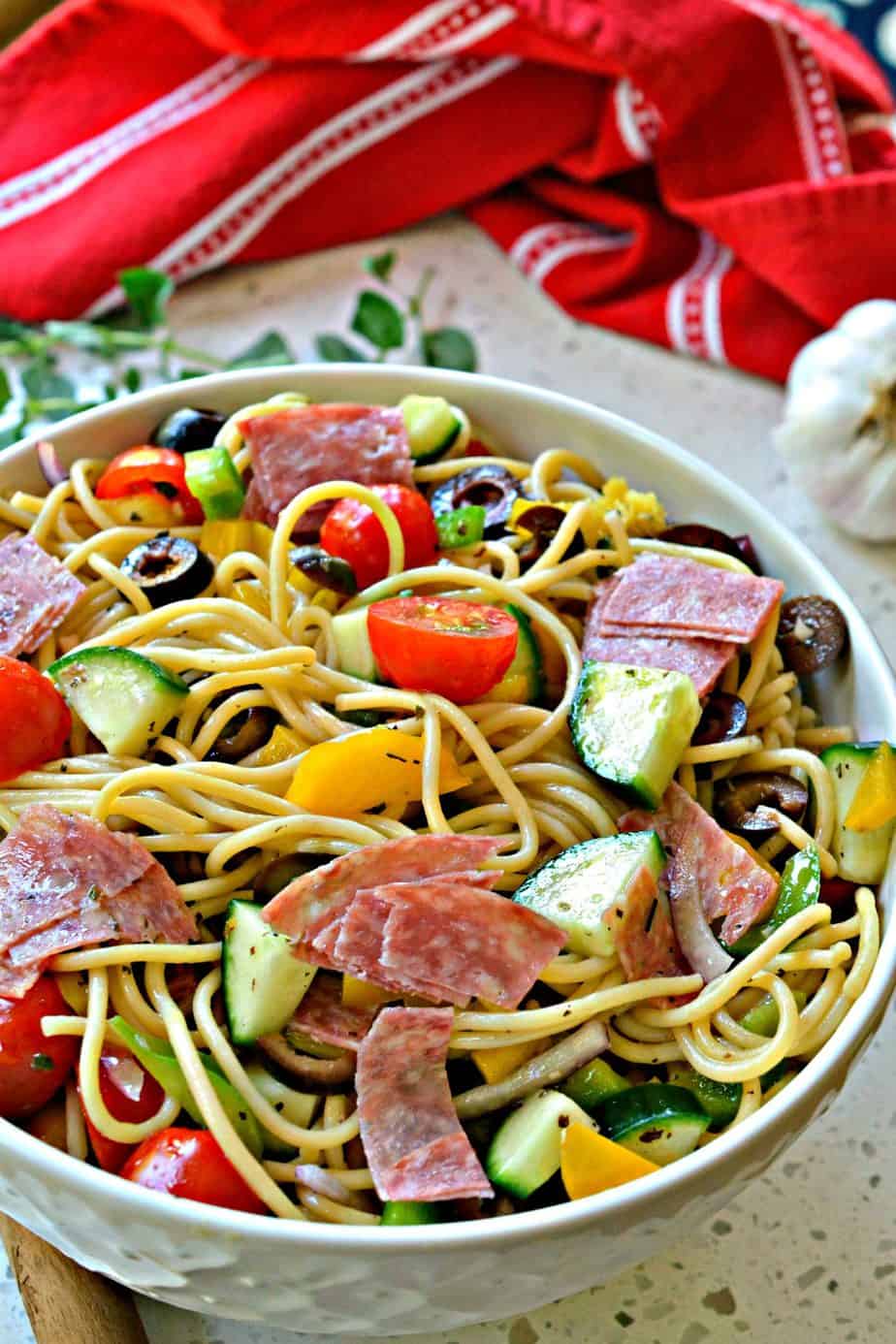 Summer is in full force and with it comes lots and lots of fabulous pasta salads.  They are ideal for lunch, light supper, or side dishes for grilled chicken, seafood, beef or pork.  Tortellini Pasta Salad, Greek Pasta Salad, and Apple and Celery Pasta Salad along with this recipe are just a few of our favorites.  Prepare to have your taste buds wowed.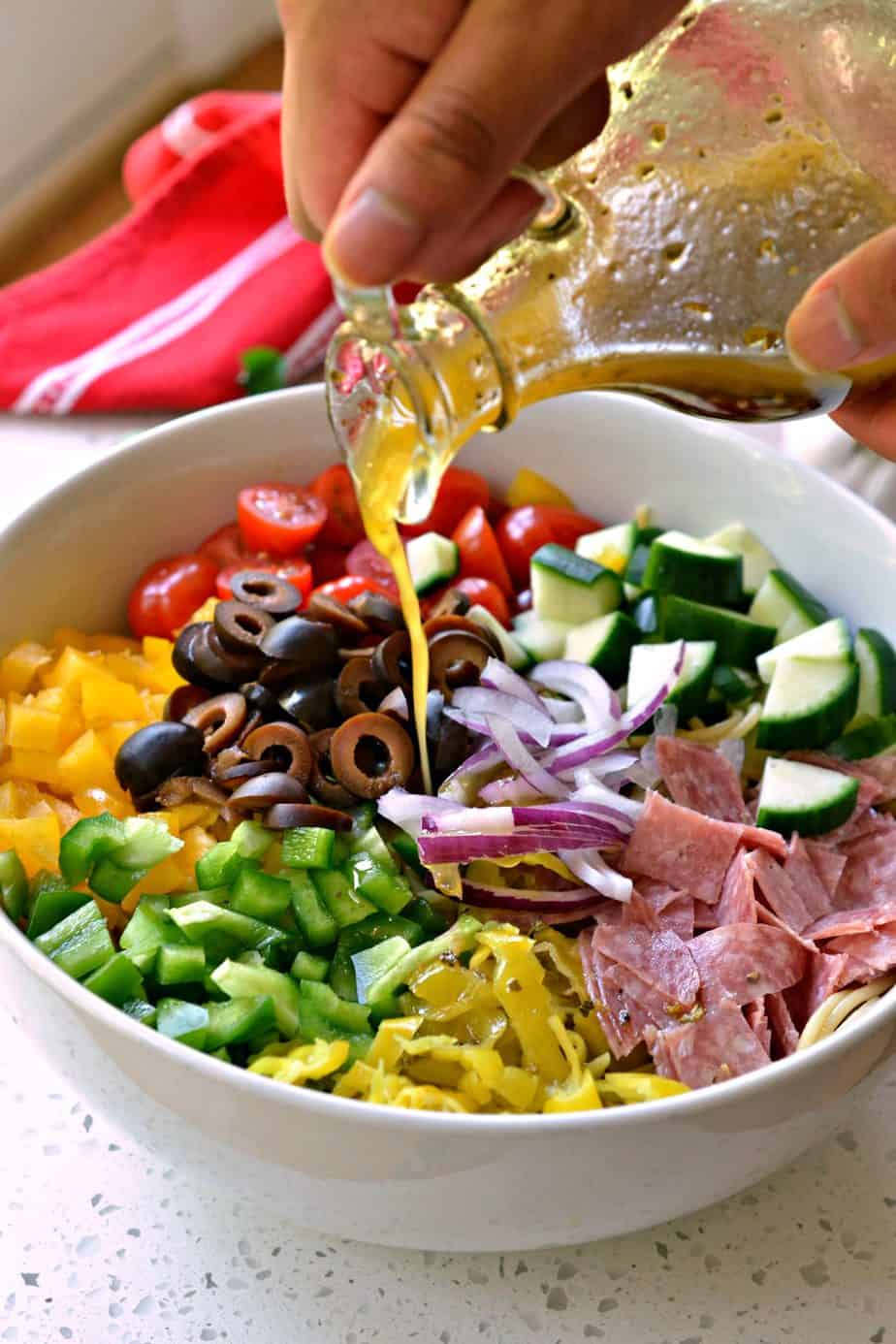 How do you make Spaghetti Salad?
Start by cooking your spaghetti according to the package instructions.  I like to cook it just a tad al dente which means with a little bite and firmness.  While the pasta is cooking grab a bowl and combine all the ingredients for the Italian dressing.  Now chop all the vegetables into fairly small pieces, slice the black olives and chop the salami.
Once the spaghetti is cooked to your liking drain well. Let it cool for a few minutes  Then in a large bowl toss the cooked spaghetti with just a little bit of olive oil to loosen it up so it is not stuck together.  Now add the cucumbers, tomatoes, peppers, black olives, onions, pepperoncinis, hard salami and Parmesan Cheese.  Finally drizzle in the Italian dressing and toss to coat.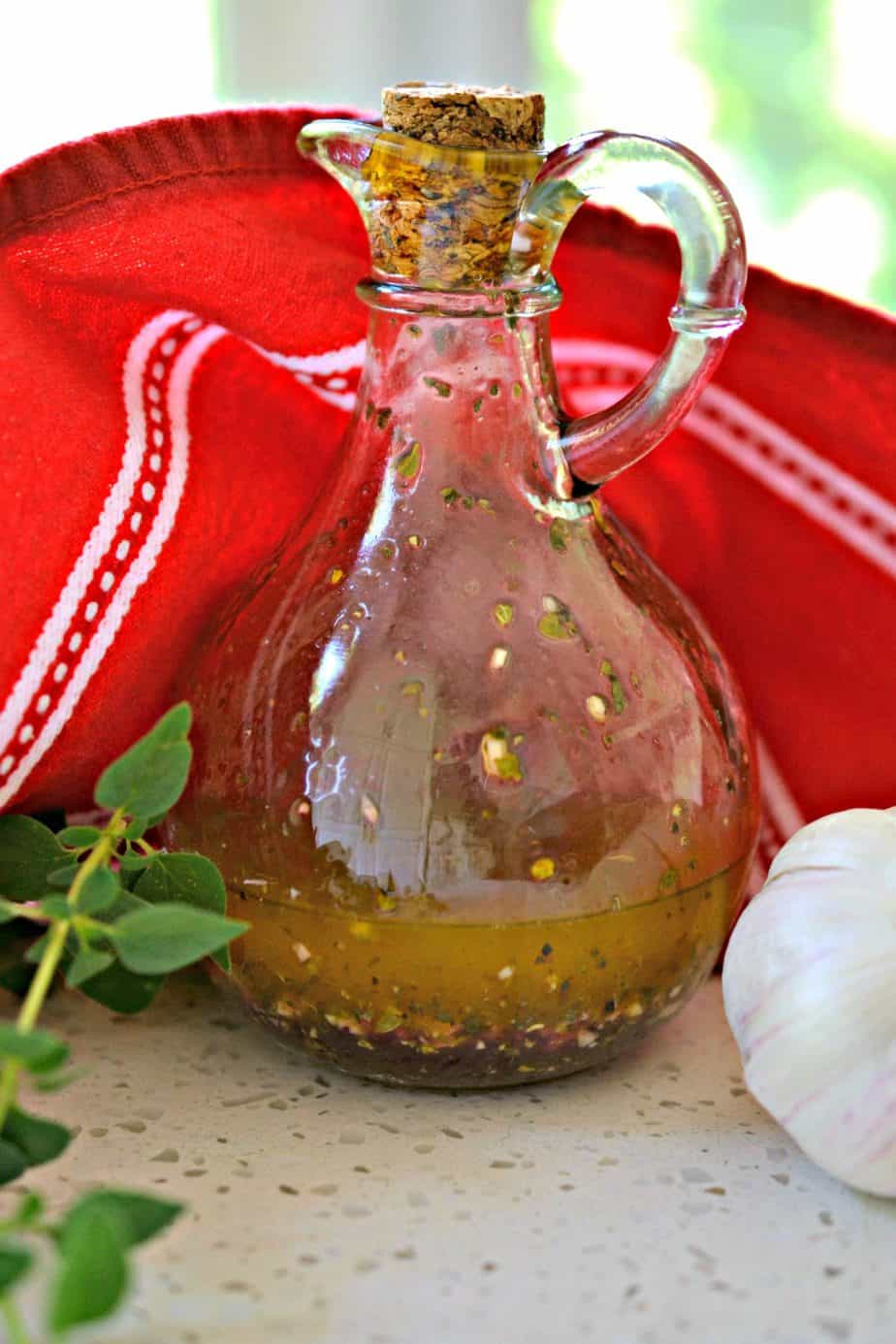 Recipe tips for this Spaghetti Salad
Cook the spaghetti al dente and drain well.
The Italian Dressing can be made up to 5 days in advance.  Store covered in the fridge.  However remove from the refrigerator about 45 minutes prior to making the spaghetti pasta salad.
Chop your vegetables fairly fine so they complement the spaghetti.
You can use any colored bell peppers.  They all lend different flavors and sweetness but they all work in this pasta salad.
If you don't like an ingredient substitute something else or omit it.  For instance if you don't like black olives try capers.  If you don't like red onion try scallions.  As I always say don't throw the baby out with the bath water.
For a vegetarian version simply omit the hard salami.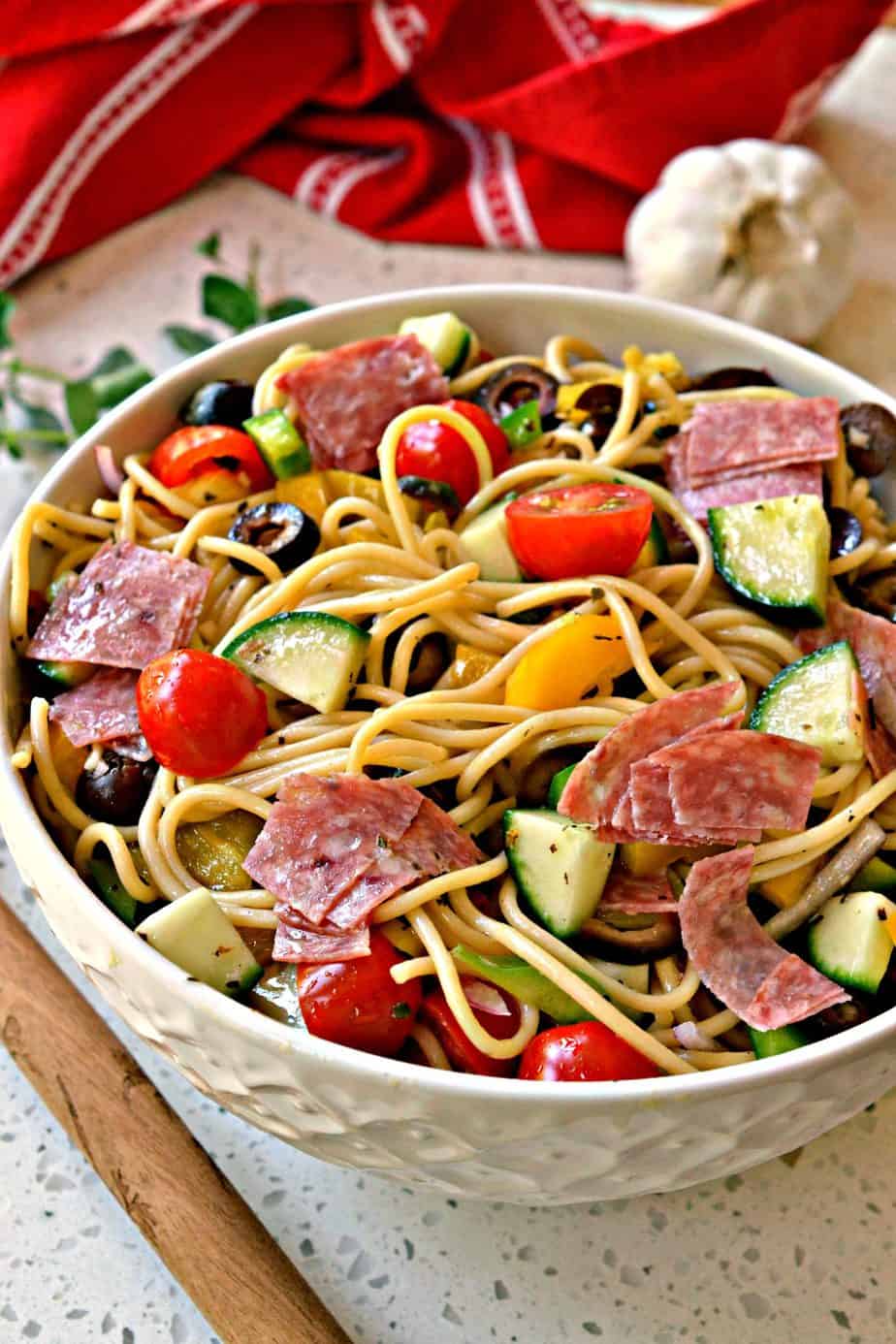 Print
Spaghetti Salad
This easy spaghetti pasta salad is made with fresh garden veggies and homemade dressing.  It is prefect for  potlucks, family reunions, pool parties and neighborhood shindigs.
Author:
Prep Time: 20 minutes
Cook Time: 10 minutes
Total Time: 30 minutes
Yield: 6 servings 1x
Category: salad, side
Method: stove top
Cuisine: Italian
Scale
Ingredients
Italian Dressing
3 tablespoons red wine vinegar
2 cloves garlic crushed
1 1/2 teaspoons sugar
1/2 teaspoon dried oregano
1/2 teaspoon dried basil
1/2 teaspoon salt
1/4 teaspoon fresh cracked black pepper
1/3 cup olive oil
Spaghetti Salad
12 ounces spaghetti noodles (broken in half)
2 teaspoons olive oil
1 cup chopped English cucumber
1 cup grape tomatoes sliced in half
1/2 green bell pepper chopped
1/2 yellow (or red) bell pepper chopped
1/4 cup sliced black olives
1/4 cup thinly sliced red onion
1/4 cup sliced pepperoncinis
1/3 cup chopped hard salami
2 tablespoons grated Fresh Parmesan
Instructions
In small bowl whisk together red wine vinegar, garlic, sugar, oregano, basil, salt and pepper. Slowly whisk in olive oil.
Cook spaghetti according to package instructions. Drain well and cool.
In a large bowl toss cooked spaghetti with 2 teaspoons olive oil.  Add cucumbers, tomatoes, bell peppers, black olives, onions, pepperoncinis, hard salami and Parmesan Cheese.  Drizzle with the Italian dressing and toss to coat.
Keywords: pasta salad, Italian dressing, spaghetti pasta salad, cold spaghetti salad, Italian spaghetti salad
https://www.smalltownwoman.com/wp-content/uploads/2019/05/Beth-1.pdf