Easy Jambalaya Pasta combines Andouille sausage, shrimp, peppers, celery, onions and garlic in a Cajun tomato sauce over pasta.  This mouthwatering dish comes together very quickly and easily.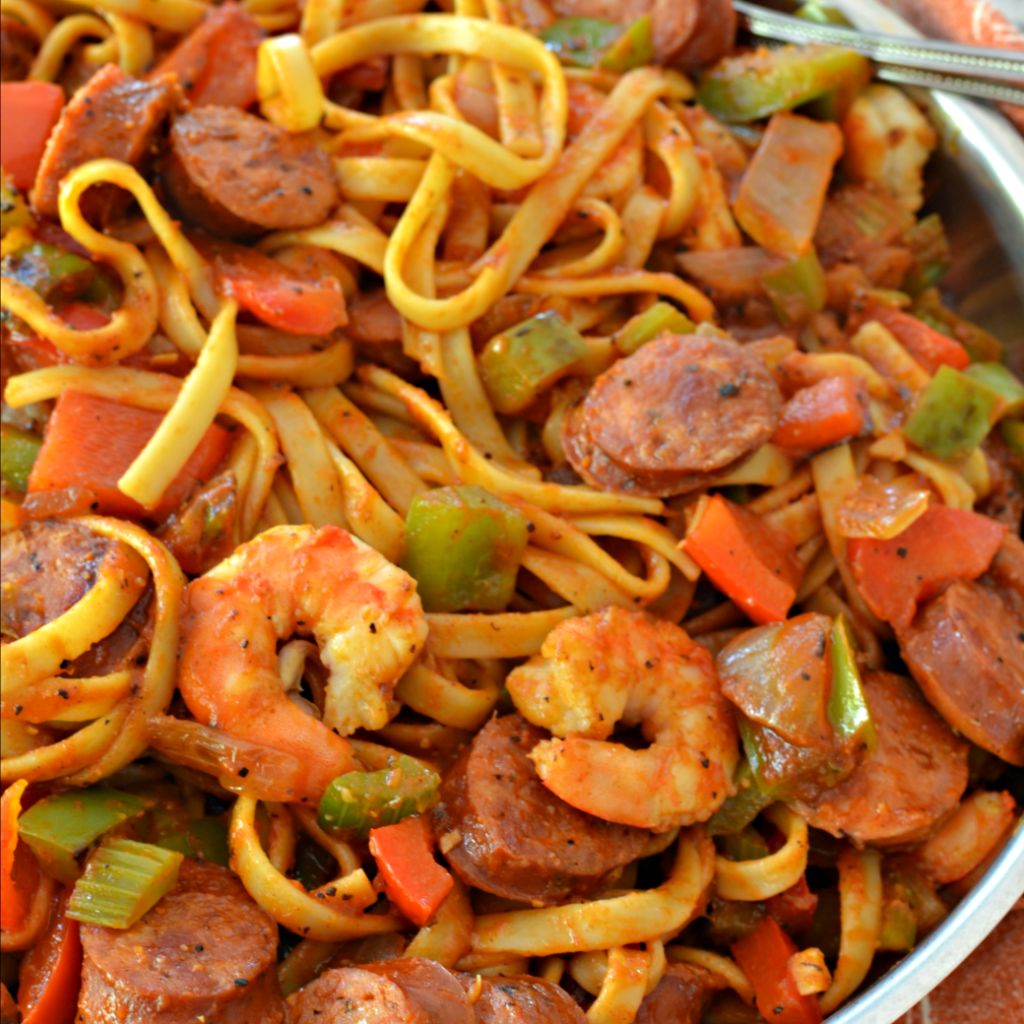 Hubby and I just love Cajun food. I mean really what is not to love about it.  So it was no surprise that this Easy Jambalaya Pasta was on the menu last evening.  The kids were busy last evening so it was just the two of us. Cajun food just has so much incredible flavor.  The nice part about this delicious Easy Jambalaya Pasta is that you can control the heat.  You can crank up the heat or you really tame it down.  Whatever your preference it is easy to adjust the heat.
This recipe makes wonderful leftovers if you are lucky enough to have any.  It is one of those dishes that tastes even better the next day as the flavors meld together like spaghetti and chili. A quick warm up in the microwave at a reduced power works perfect.
How do you make Easy Jambalaya Pasta?
Start by cooking your pasta according to package instructions and drain well.  Next in a large skillet heat  a little vegetable oil and cook your sausage until it is golden brown. Remove that to a plate and add a little bit more oil to the skillet.  Then cook your shrimp until they are pink on the outside and opaque in the middle.  It only takes a couple of minutes so pay close attention.  Remove them to the same plate as the Andouille Sausage and cover to keep warm.
Now heat a little more vegetable oil in the same skillet. Add the onions and peppers and cook until they start to soften and brown on the edges.  Then reduce the heat to low and add the garlic.  Cook for about one minute stirring constantly.  Stir in the tomato sauce and Cajun seasoning.  Finally add the cooked sausage, shrimp and pasta to the pan and toss to coat.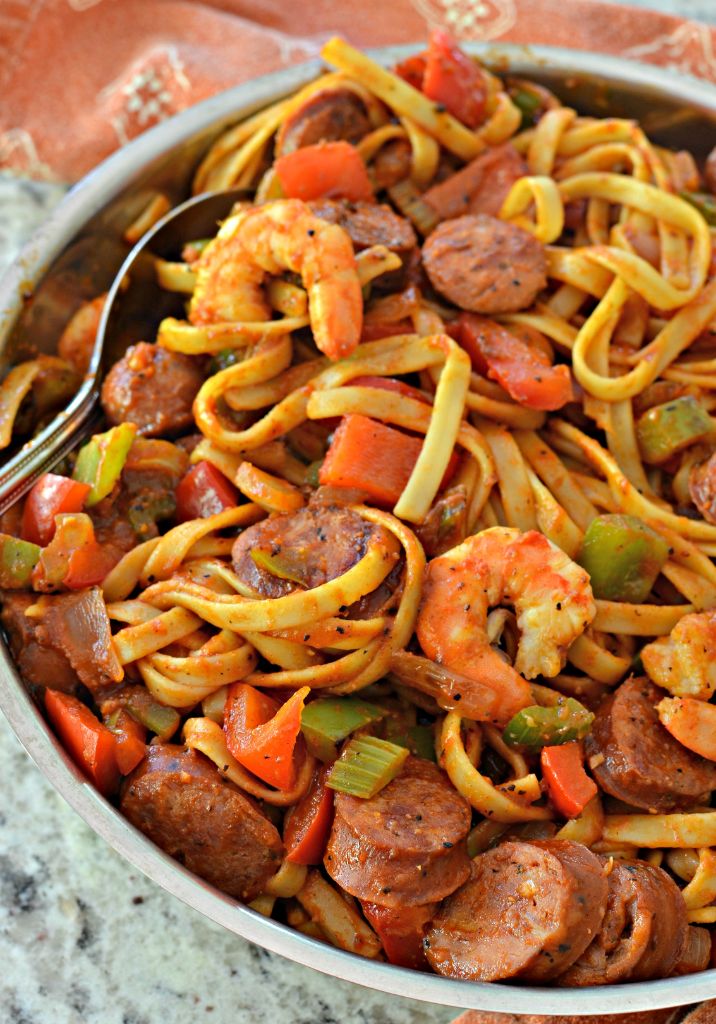 Helpful tips for making Jambalaya Pasta
Cut your veggies in bite size pieces ahead of time
Cook your pasta and drain well while you are preparing the rest of the recipe.
Mix your Cajun seasoning ahead of time or purchase already premixed.
Adjust the amount of Cajun seasoning to suit your taste.
Shrimp cook really quickly so stay by the skillet and be prepared to plate them quickly. For best results do not overcook.
You can substitute a good flavorful chicken or pork sausage for the Andouille Sausage.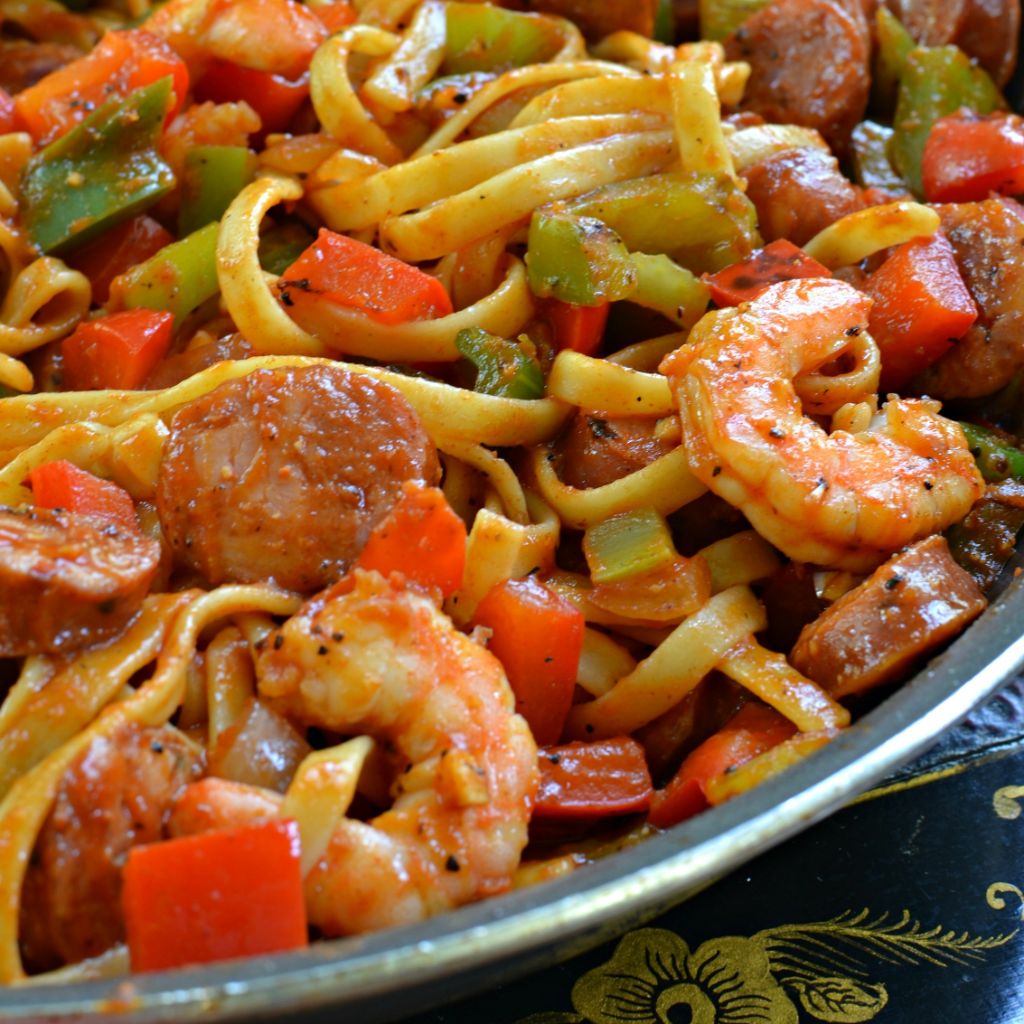 This flavor packed Easy Jambalaya Pasta will make a Cajun lover out of you.  Put the ingredients for this amazing dinner and give your taste buds a terrific treat.
Other Cajun recipes you will love!
This post was originally published May 10, 2018 and was republished December 1, 2019 with new content.
Print
Easy Jambalaya Pasta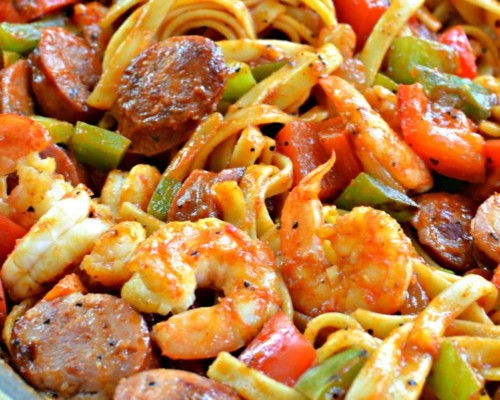 A delicious easy family friendly recipe combining linguine, Andouille Sausage, shrimp, bell pepper and onions in a tomato base that is seasoned to taste with Cajun spices.
Author:
Prep Time: 10
Cook Time: 20
Total Time: 30 minutes
Yield: 4 servings 1x
Category: pasta
Method: stove top
Cuisine: Cajun
Scale
Ingredients
8 ounces fettuccine pasta
2 tablespoons canola or vegetable oil
12 ounces Andouille Sausage cut in bite size chunks
1/2 lb uncooked shrimp peeled and deveined
1 small onion chopped
1 red pepper seeded and diced
1 green pepper seeded and diced
2 stalks celery chopped
2 cloves garlic minced
1 can (15 ounce) tomato sauce
1 1/2 – 3 tablespoons Cajun seasoning
Instructions
Cook pasta according to package directions. Drain well.
In large skillet heat 1 tablespoon canola oil over medium high heat. Add sausage and cook until golden brown: stirring several times Remove to plate. Add shrimp and cook for 2-3 minutes or until the shrimp is opaque. Remove to plate.
Heat 1 tablespoon oil to same skillet. Add onion, peppers and celery and cook until the onions start to soften; approximately 5-7 minutes. Reduce heat to low and add garlic and cook an additional 1 minute. Add tomato sauce to skillet and season to taste with Cajun seasoning. Return sausage and shrimp to skillet. Add pasta and stir to combine.
Keywords: jambalaya, jambalaya pasta, pasta, Cajun jambalaya pasta, jambalaya pasta recipe, Cajun jambalaya pasta, Cajun cuisine, Cajun pasta, how to cook jambalaya pasta, Cajun jambalaya pasta recipe
https://www.smalltownwoman.com/wp-content/uploads/2019/05/Beth-1.pdf