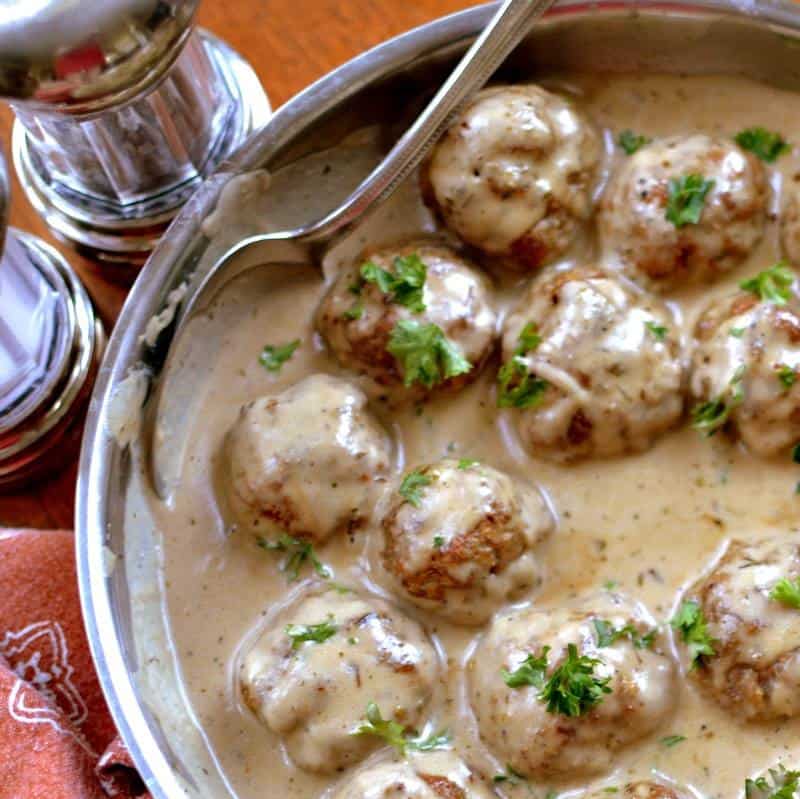 Weekends are the absolute best!! They allow me the time to create new recipes!! I can kick back and experiment and make something luxuriously good for my family. Anything creamy with gravy is right up my alley. Now put it over noodles or mashed potatoes and now we are talking the ultimate in comfort food. These delicious Turkey Meatballs in Easy Cream Sauce turned out fantastic. I think hubby would have had three plates if I had not given him the stink eye!!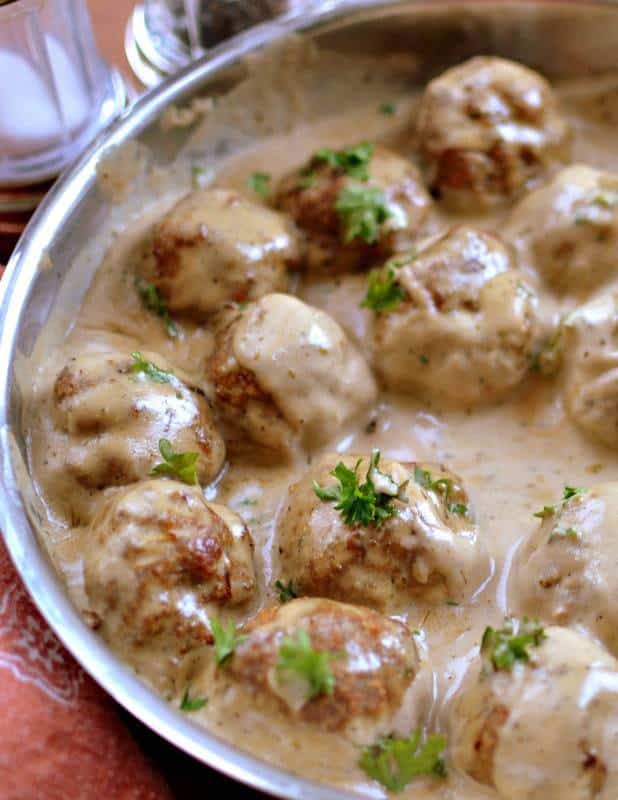 MY LATEST VIDEOS
This delectable Turkey Meatballs in Easy Cream Sauce combines perfectly seasoned meatballs with an easy chicken based cream sauce made right in your skillet.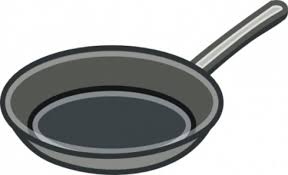 I cook my meatballs on a cookie sheet in the oven. Makes it so easy and honestly the meatballs end up more evenly browned and still round. Cooking them in the skillet always creates flat spots on the meatballs. While they are cooking you can get the easy cream sauce together. You can also cook any noodles or potatoes that you would like to serve with it. In not time at all you will have supper on the table!! My Green Bean Bacon Bundles would be wonderful with this!!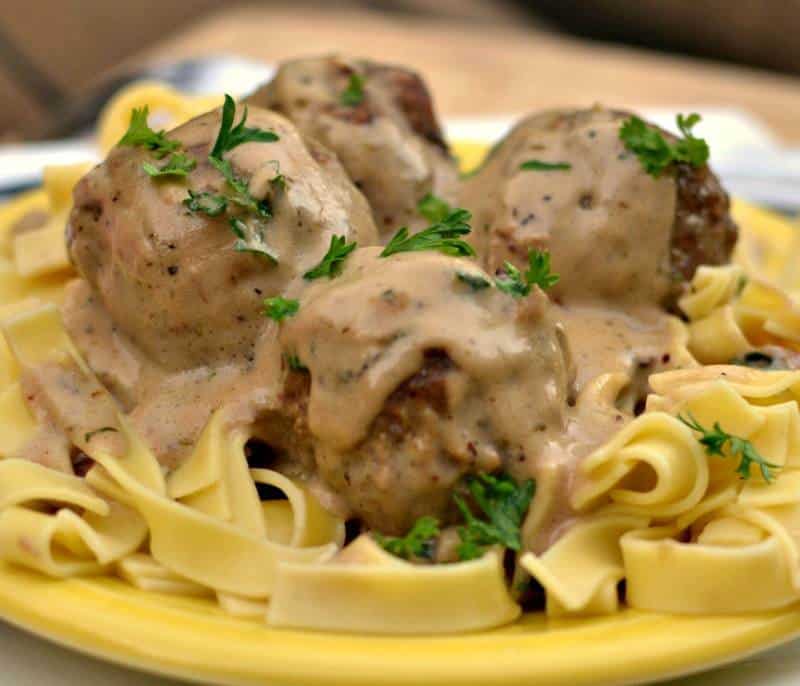 I sure hope you all like this dish as much as we do!! Bon appetit my food loving friends!!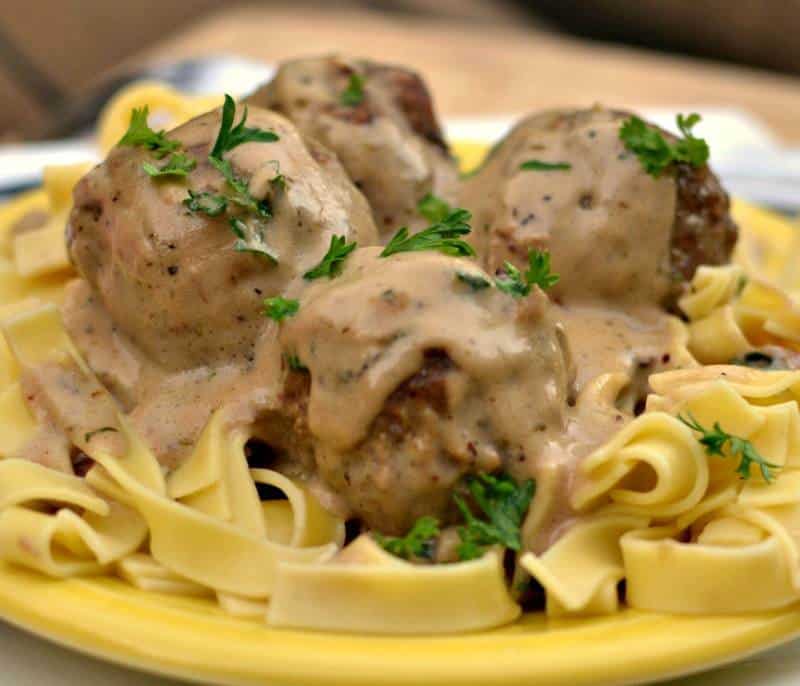 Turkey Meatballs in Easy Cream Sauce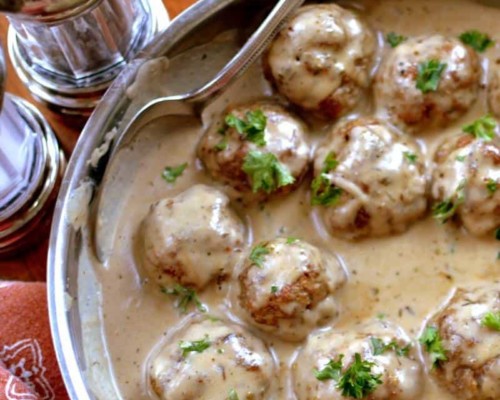 Ingredients
Meatballs
1 1/4 lbs ground turkey
2/3 cup breadcrumbs
1 teaspoons dried oregano
1/4 teaspoon garlic powder
1/4 cup minced onion
1 egg
2 tablespoons Worcestershire sauce
Cream Sauce
1 cup chicken broth
1/4 teaspoon garlic powder
1/4 teaspoon onion powder
1 1/2 tablespoons Worcestershire sauce
1/2 cup heavy cream
1/2 teaspoon dried oregano
2 tablespoons flour
2 tablespoons butter
Salt & pepper to taste
Instructions
Preheat oven to 350 degrees.
In large bowl mix ground turkey, breadcrumbs, dried oregano, garlic powder, minced onion, egg and Worcestershire sauce. Shape into 1 1/2 inch meatballs. Place on cookie sheet sprayed with nonstick cooking spray. Bake for 30 minutes, or until done- if you're not sure, cut one in half to check.
While the meatballs are cooking combine chicken broth, garlic powder, onion powder, Worcestershire sauce, cream and oregano in large skillet. Simmer for 15 minutes. Melt butter in microwave and stir in flour. Whisk flour/butter mixture in to chicken broth mixture and cook until thickened over medium low heat; approximately 5 minutes. Add meatballs to skillet and spoon sauce over meatballs. Sprinkle with fresh parsley.
Serve over mashed potatoes, egg noodles or rice.
Other recipes you will love!!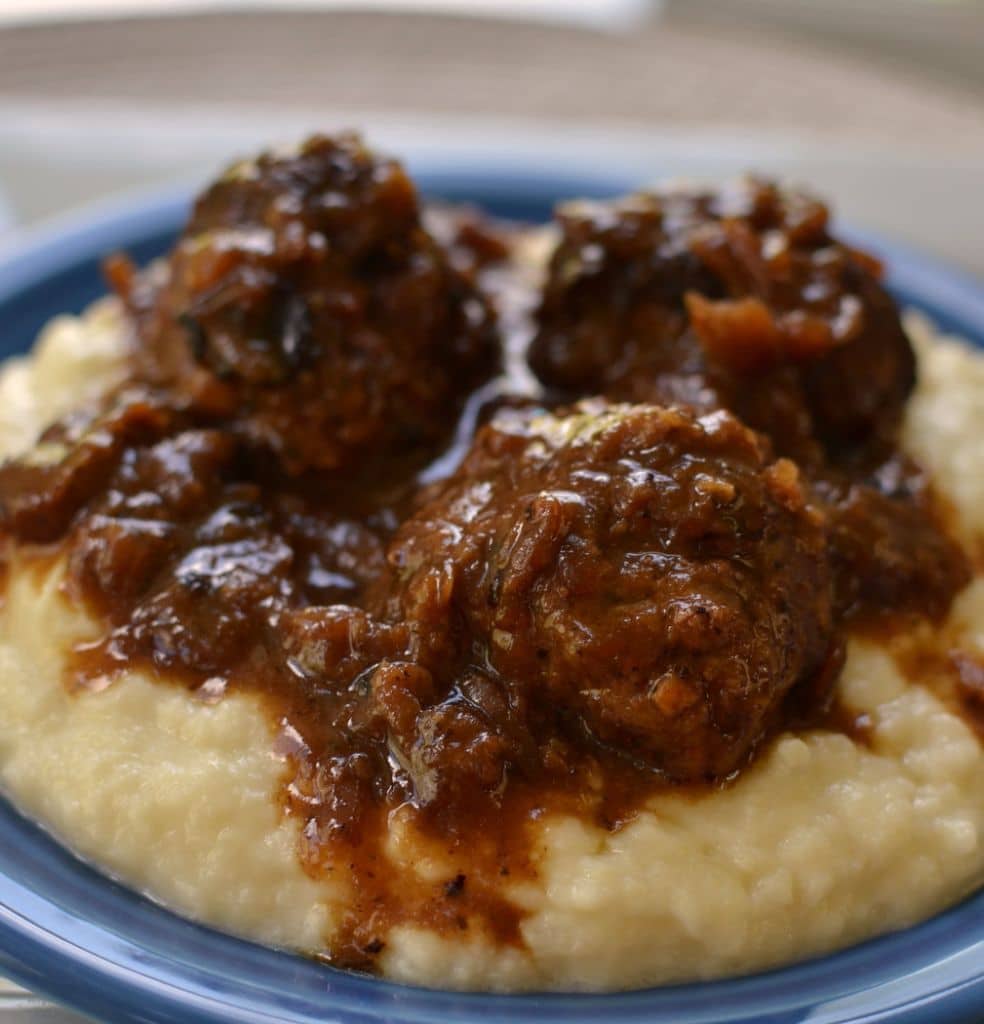 French Onion Meatballs & Smashed Cauliflower