Ginger Chicken Stir Fry is an amazing combination of crispy chicken, broccoli, red bell pepper, onion and snow peas in a slightly sweet ginger lemon honey sauce.  It is quick to come together and can be made in a wok or a large skillet.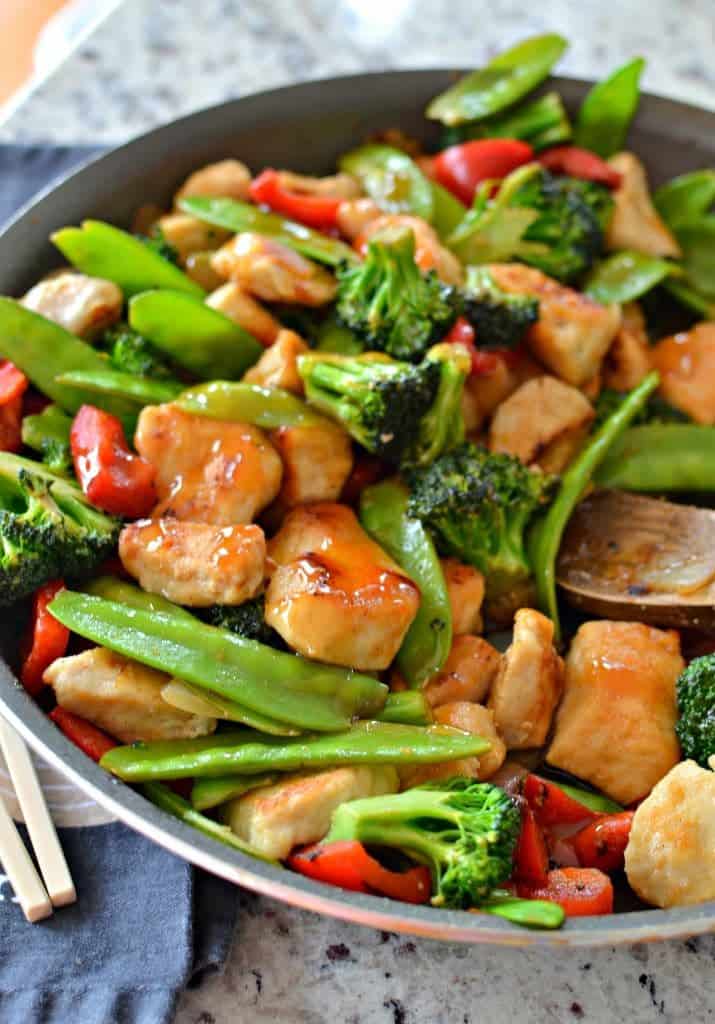 My family loves stir fry.  So yummy and nutritious.  Are you a stir fry kind of person?  It really is a lot easier than you would think.  Ginger Chicken Stir Fry is one our favorites and can be prepared in a wok or a large skillet.  The key to good stir fry is keeping the pan good and hot and working quickly.  You want your meat slightly crispy on the outside and tender in the middle. Your vegetables should be tender crisp. Be sure to use an oil that has a high smoking point like safflower oil, canola oil, peanut oil or sunflower oil.  Do not crowd your pan.  I cook in small batches and plate the cooked goods.  I do not cover the plate because I do not want the stem cooking the meat or vegetables any longer.  Add everything back to the skillet at the end of the recipe and heat for 1-2 minutes.  Delicious and just as good as the carryout places!!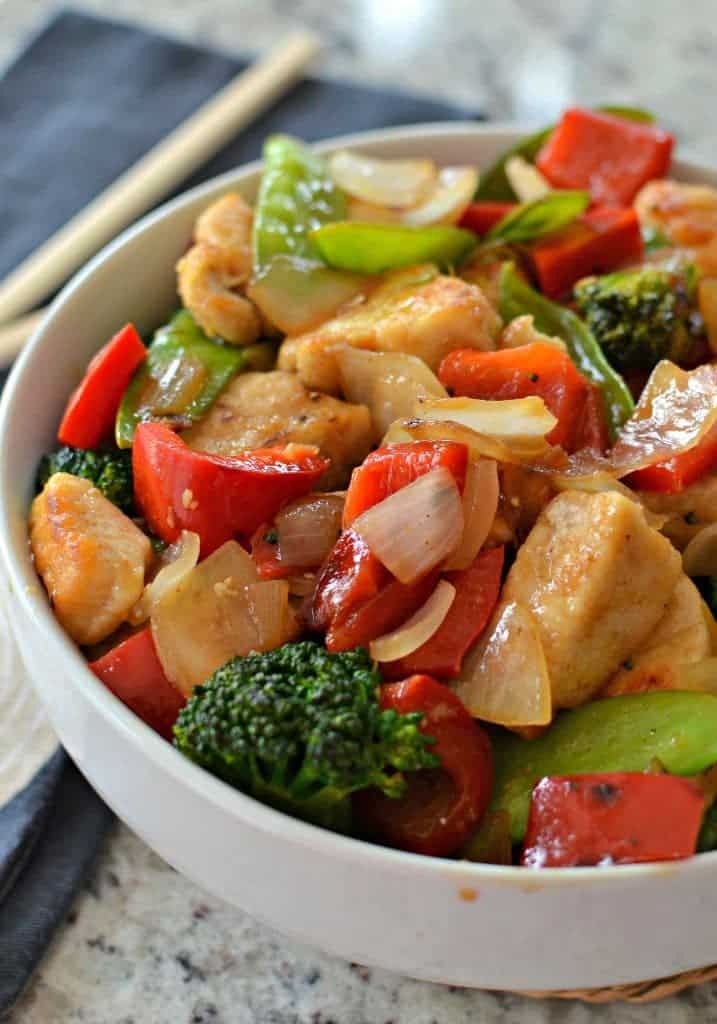 The sauce for this Ginger Chicken Stir Fry is a perfect balance of ginger, lemon and honey.  It complements this dish perfectly.  You can serve over rice, Chinese rice noodles or udon noodles.  We like it just like it is and skip the carbs.  Put the ingredients for this Ginger Chicken Stir Fry on your to try list today and make you and yours something amazing!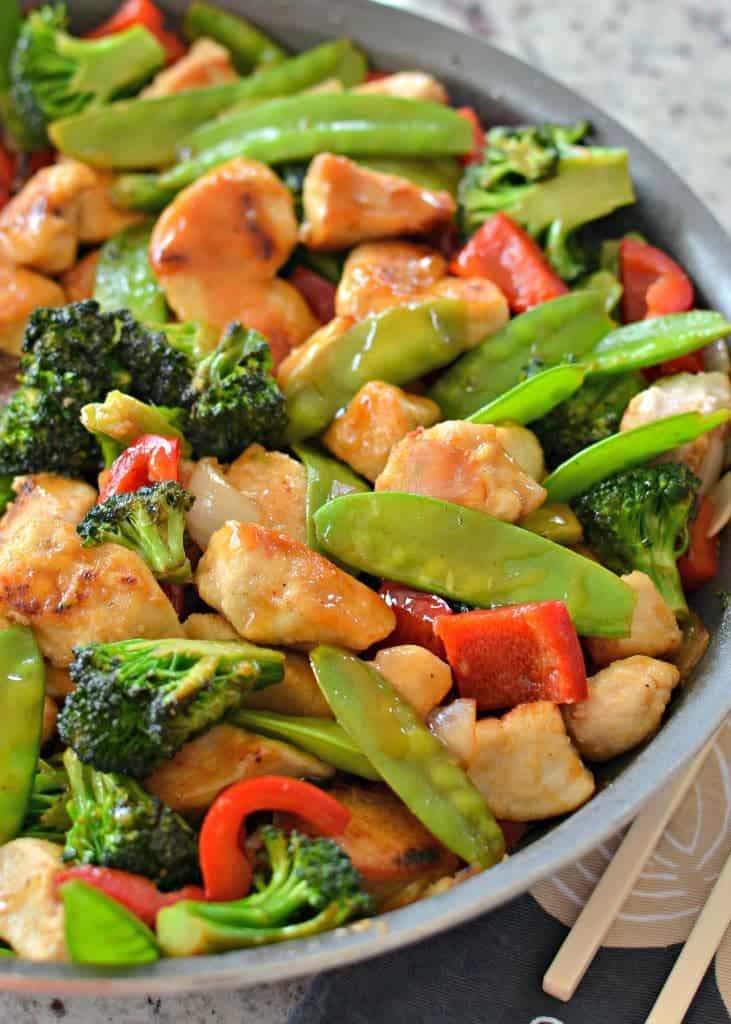 Print
Ginger Chicken Stir Fry
1 1/2 lbs chicken breast cut in bite size pieces
2 1/2 tablespoons cornstarch
2–3 tablespoons canola oil
1 onion diced
1 red pepper diced
2 cups broccoli florets
1 1/2 cups snow peas
3 tablespoons garlic minced
1/3 cup honey
3 tablespoons low sodium soy sauce
2 tablespoons rice vinegar
2 tablespoon lemon juice
1 tablespoon fresh grated ginger (or ginger paste)
Instructions
In large Ziploc bag add chicken and 1 1/2 tablespoons cornstarch. Shake to coat. Heat 1 tablespoon canola oil in large skillet over medium high heat. Add chicken and cook until crispy golden brown and cooked through; turning frequently Cook in small batches to keep from overcrowding the pan. Remove to plate.
Add 1 tablespoon oil to same skillet over medium high heat. Add onion, pepper and broccoli. Cook for 2-3 minutes stirring frequently. Add snow peas; cook for one minute. Turn heat to low add garlic and cook for 30 seconds. Remove veggies to plate.
Whisk honey, soy sauce, rice vinegar, lemon juice and ginger in skillet. In small bowl stir together 2 tablespoons cold water and 1 tablespoon cornstarch. Whisk cornstarch mixture into the honey mixture in the skillet and cook over low heat until slightly thickened; 1-2 minutes.
Add the chicken and veggies back to the skillet and cook until warm and heated through:1-2 minutes.
https://www.smalltownwoman.com/wp-content/uploads/2019/05/Beth-1.pdf