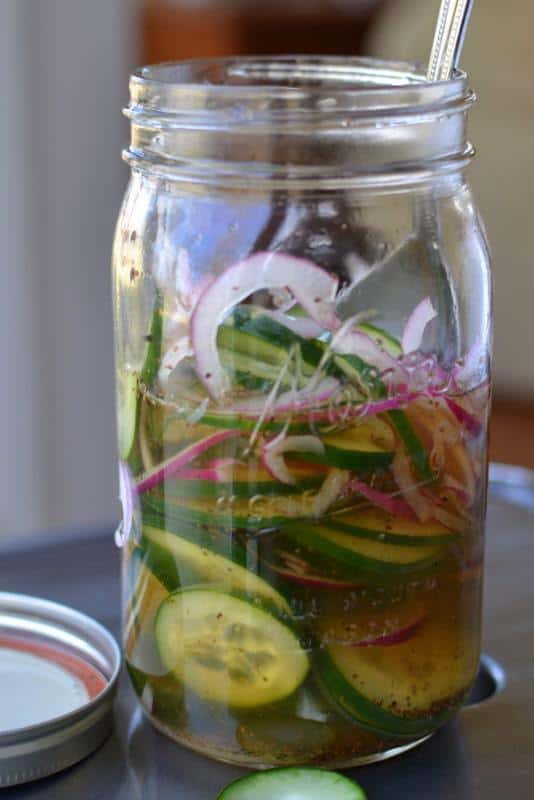 Spring is in the air! The temperatures here are fluctuating constantly and small rain storms are moving through every three to four days.  The frogs are starting to croak at sundown and the rabbits are starting to chase each other as it is mating season.  My crocus, daffodils and tulips are peeping their heads through the mulch.  There are so many signs that spring is on the horizon and I am starting to steer towards those fantastic light recipes full of natures bounty.  This season brings so much with it in the way of holiday celebrations, family get-togethers, neighborhood soirees and patio parties.   Grilling becomes the norm and entertaining becomes second nature. So celebrate the season by whipping up a batch of these Marinated Cucumbers and Red Onions to go along with your grilled burgers or brats.  They are amazingly easy and lip smacking good!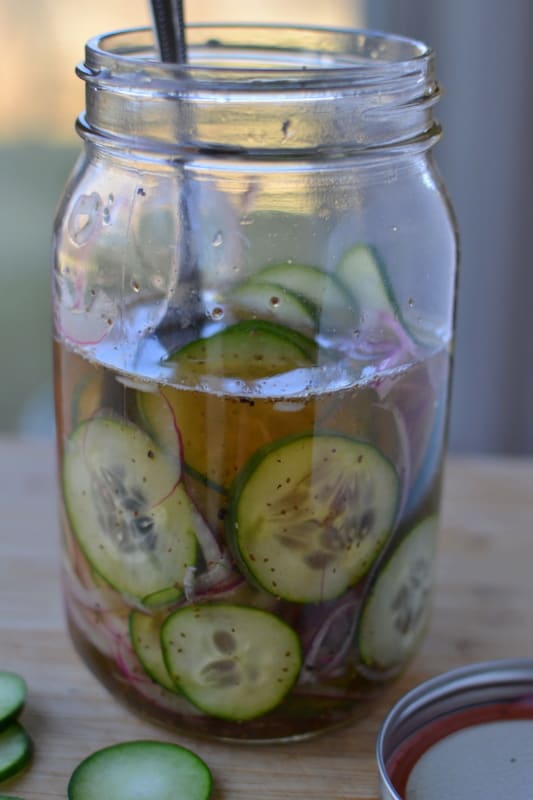 These mouth watering Marinated Cucumbers and Red Onions can be prepared in 'bout five minutes and  calls for six ingredients most of which you may have on hand.    I think it tastes best when made the morning of but you can make this recipe up to a day in advance.  It is sweet and tangy!  It goes great with fried or grilled fish, or grilled pork chops or tenderloin, barbecued baby back ribs and so much more.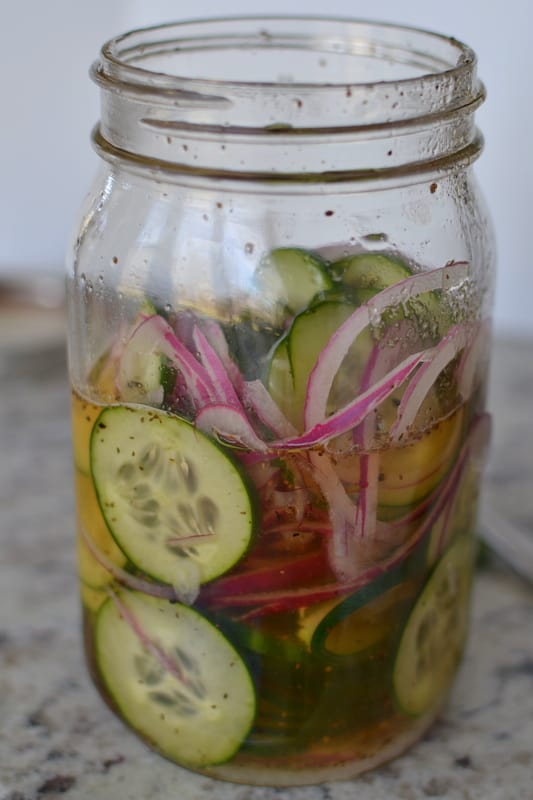 These Marinated Cucumbers and Red Onions are perfect in a quart mason jar.  You can gently shake them, cap them and store them in the refrigerator until serving time. I don't fill the liquid up all the way I just shake to coat on occasion or turn the jar on its side.  Make sure the lid is real tight before placing on its side.
Other salad recipes people will love!
Print
Marinated Cucumbers and Red Onions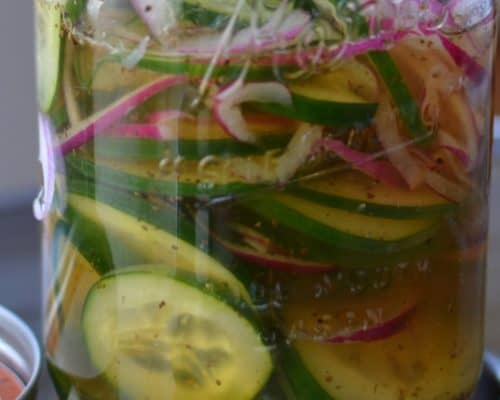 These flavorful marinated cucumbers and onions are the perfect garnish for a summertime barbecue. Add to hot dogs, burgers, sandwiches or salads.
Author:
Prep Time: 5 minutes
Total Time: 5 minutes
Category: Side
Cuisine: American
1 cup apple cider vinegar
1 tablespoon olive oil
1/2 cup sugar
1/2 teaspoon celery seed
1/2 teaspoon fresh ground pepper
2 cucumbers thinly sliced
1/2 red onion thinly sliced
Instructions
Add vinegar, olive oil, sugar, celery seed and ground pepper to bowl or jar with tight fitting lid. Stir or shake to combine. Add cucumbers and red onion; cover and refrigerate to marinate. Stir or shake several times to coat.
Keywords: pickled onions, marinated pickles, marinated onions, pickles and onions garnish
On the hunt for more delicious recipes?  Follow Small Town Woman on Facebook, Pinterest, and Instagram.
https://www.smalltownwoman.com/wp-content/uploads/2019/05/Beth-1.pdf