Creamy Cucumber Tomato Salad is fresh crisp cucumbers, sun ripened tomatoes and sweet onions in a luscious sour cream mayonnaise dill base. It makes a scrumptious patio party dish, healthy light lunch or dinner side.
For a complete meal serve with Balsamic Vinegar Barbecue Ribs or Dry Rub Sweet Barbecue Pork Tenderloin.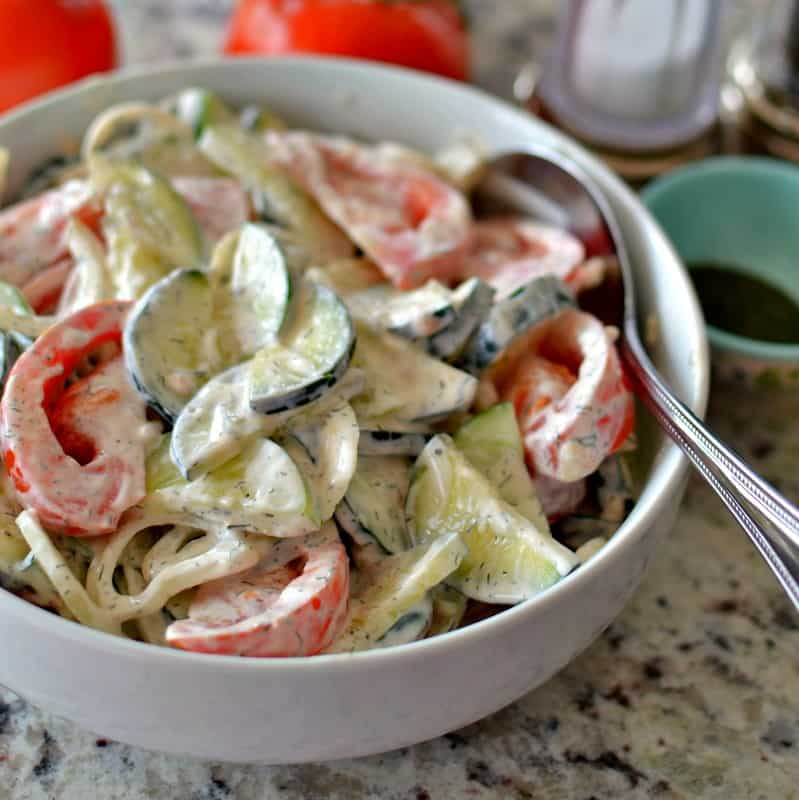 I love to have a multitude of healthy dishes that I can bring together fast to go with chicken, fish or beef. This Creamy Cucumber Tomato Salad is so quick to come together with nine ingredients ( two of them being salt and pepper). We really enjoy fresh tomatoes and cucumbers and we can have this prepped, stirred and on the table in less than fifteen minutes. The kids love it and it is absolutely perfect with any grilled or barbecued cuisine.
How do you make Creamy Cucumber Tomato Salad?
First grab a large bowl and stir together the sour cream, mayonnaise, dill and garlic powder. Then add the cucumbers, tomatoes and onion. Gently stir to combine so you don't break down the vegetables. Add enough salt and pepper to suit your taste. Refrigerate until you are ready to serve and refrigerate all leftovers in an airtight container.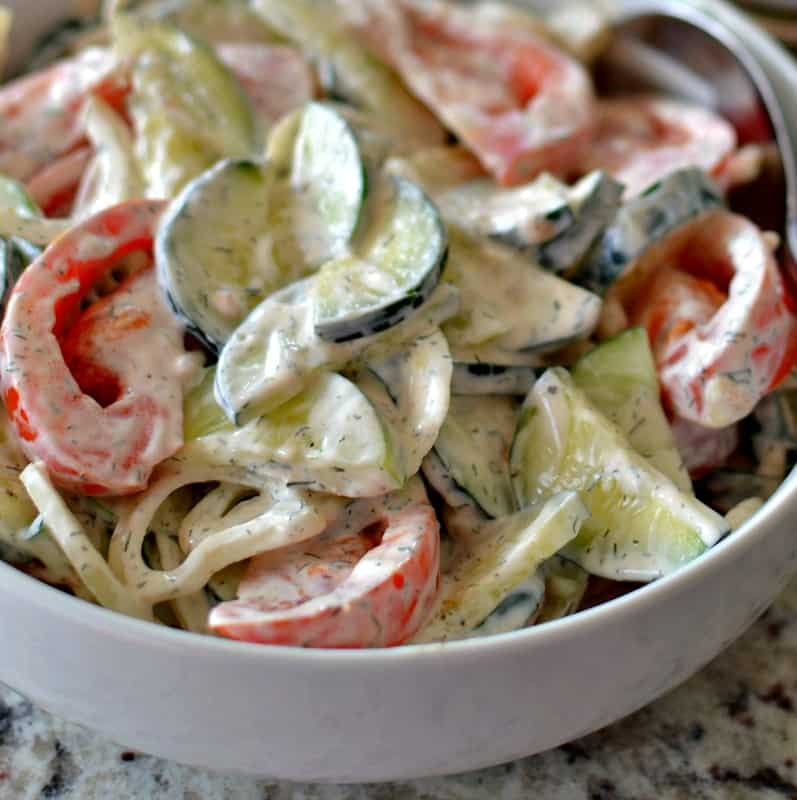 The key to making the best Creamy Cucumber Tomato Salad is picking up good crisp fresh cucumbers, sun ripened tomatoes and sweet onions. I have made this with slicing cucumbers and English cucumbers and both are equally delicious. Both cucumbers and tomatoes contain a lot of water so I find it works best to mix the sour cream, mayo base in right before serving. Leftovers are still delicious albeit not as creamy. Are you a sweet vinegar cucumber onion fan? Than you should try my Marinated Cucumbers and Red Onions. My family loves both mouthwatering side dishes.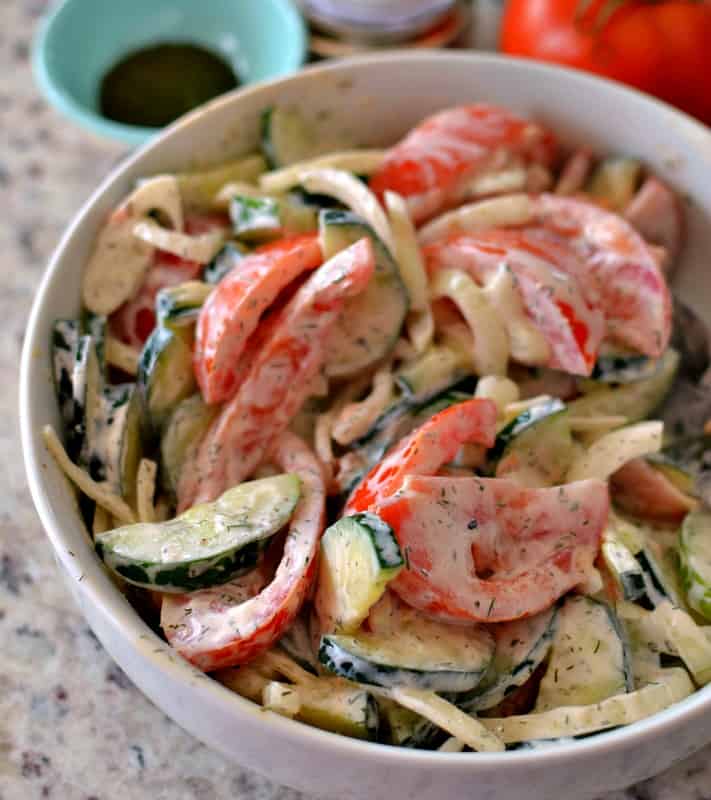 Every once in awhile for a little variation on the taste of Creamy Cucumber Tomato Salad I will add one teaspoon of rice vinegar and fresh chives along with the dill from my garden. It gives it just a little bit of a different twist and perhaps a little more dimension. Funny that hubby likes it just as written and I like it with just a touch of rice vinegar and chives. My late sweet Mother used to say that the world would be a boring place if we all liked the same thing. I hope you enjoy this recipe as much as we do!
More tasty add ins for Cucumber Tomato Salad
Small chunks of avocado brushed with lemon juice and tossed in right before serving.
One half cup drained and rinsed chickpeas
Several tablespoons of feta sprinkled over the top
One quarter cup thin sliced radishes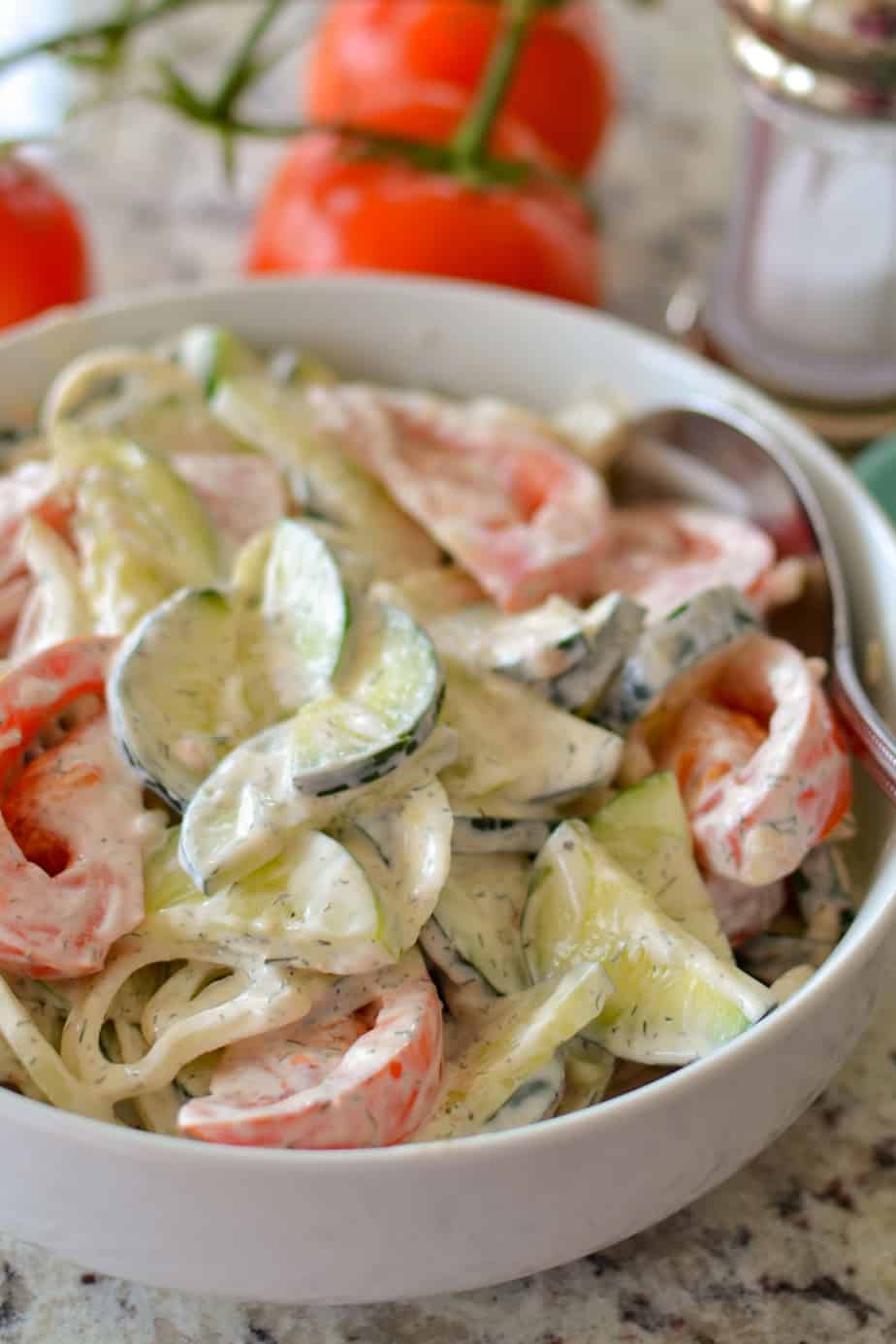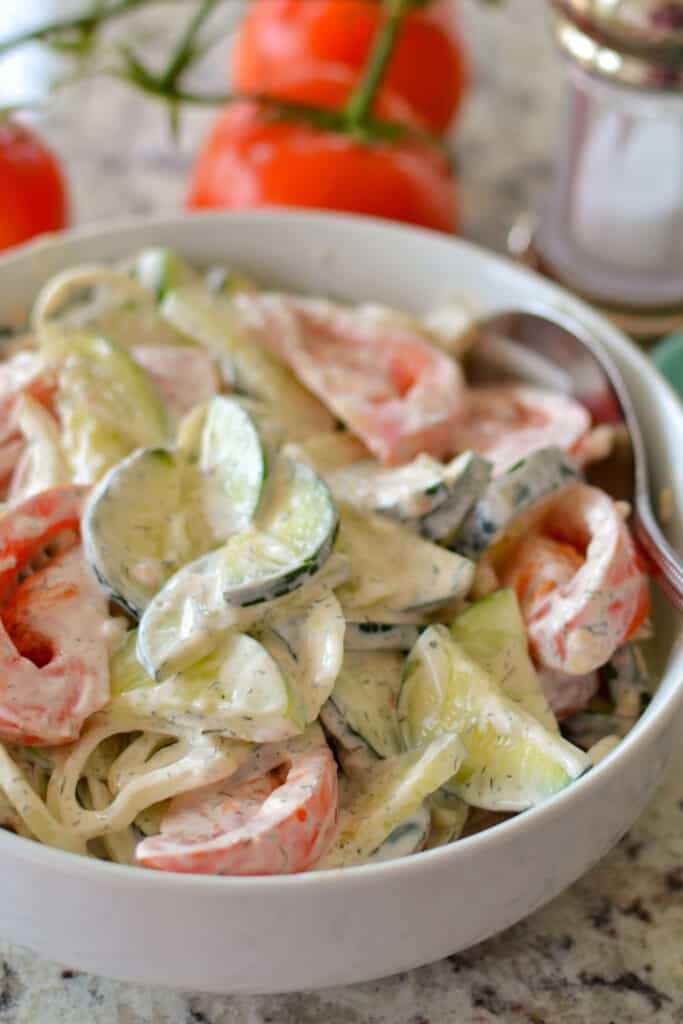 More salads you will love!
Print
Creamy Cucumber Tomato Salad
This creamy and fresh Cucumber Tomato Salad is sure to become one of your favorite summer salad recipes. For a complete scrumptious meal serve with grilled steak, chicken and seafood.
Author:
Prep Time: 10
Total Time: 10
Yield: 6 servings
Category: side
Method: bowl and spoon
Cuisine: American
1/3 cup sour cream
1/4 cup mayonnaisse
1 teaspoon dried dill
1/4 teaspoon garlic powder
2 medium cucumbers sliced in half lengthwise and thin sliced
3 small tomatoes cut in thin wedges
1/2 sweet onion thinly sliced
salt and pepper to taste
Instructions
In large bowl stir together sour cream, mayonnaise, dill and garlic powder.
Add cucumbers, tomatoes and onion. Gently stir to combine. Salt and pepper to taste.
Refrigerate leftovers.
Notes
This recipe is best served shortly after mixing however leftovers will keep stored in the refrigerator for three days.
Keywords: cucumber and tomato salad, cucumber tomato onion salad, cucumber tomato dill salad
On the hunt for more delicious recipes? Follow Small Town Woman on Facebook, Pinterest, and Instagram.
This post was originally published March 23, 2018 and was republished April 23, 2019 with new content.
https://www.smalltownwoman.com/wp-content/uploads/2019/05/Beth-1.pdf