These fun and easy Apple Chips make for a fabulous fall presentation and healthy snack that everyone can enjoy.  They are perfect for apple picking and kids just love to munch on them!  Bake up a batch today and surprise your family with a real treat.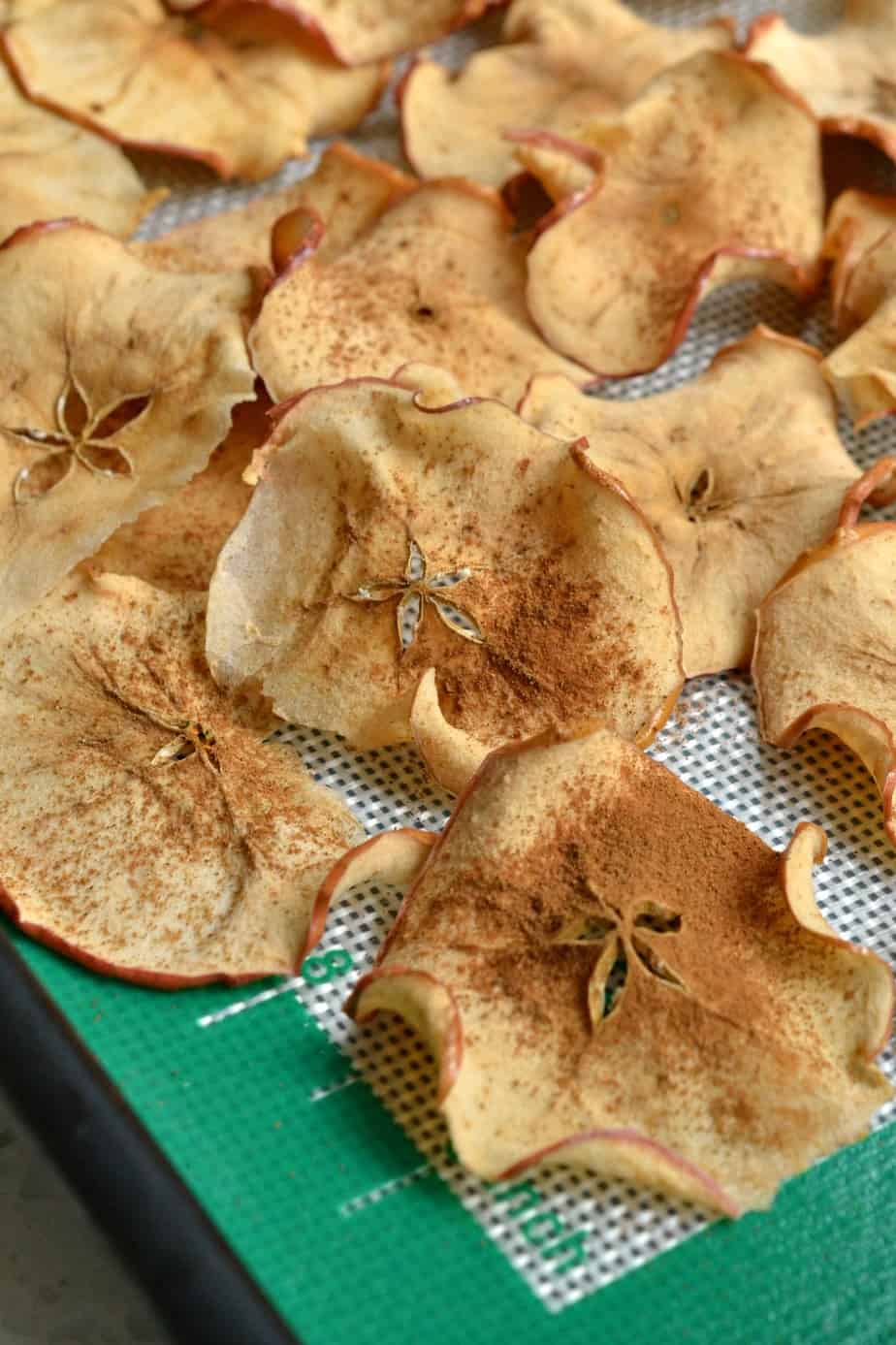 Fall is fast approaching and with it comes all things apple. This recipe works well with many varieties of apples so get ready for picking and all things apple.  Does your family like apples?  My family loves apples and just can not get enough of them.  Have you tried any of my other apple recipes?  Apple Dumplings, Homemade Applesauce, Apple Cobbler Recipe, and this recipe are just a few of our favorites.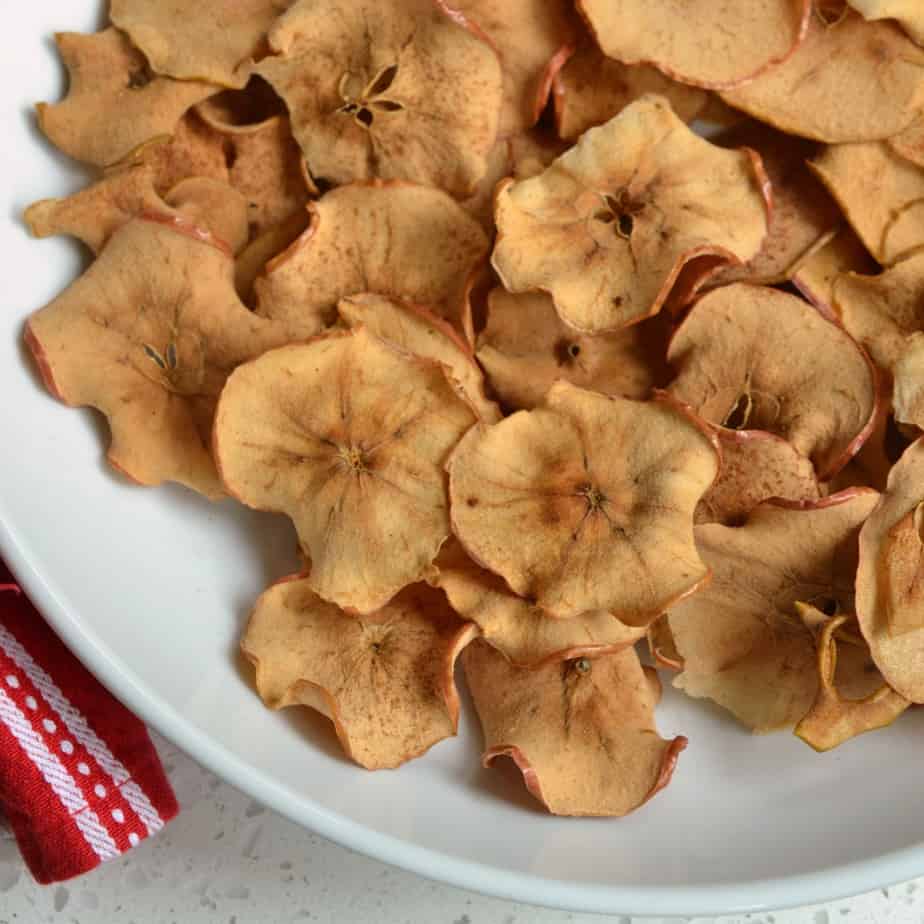 How to make Apple Chips
Start by washing your apples and drying them real well.  Then simpy slice them with a mandolin.  The apple seeds will for the most part fall out while slicing the apple so I stop a couple of time and sweep the loose seeds in the trashcan.  Next simply lay them out in a single row on parchment covered baking sheets.  Now sprinkle lightly with a little cinnamon and place in the oven on low for about one hour.  Next flip them and cook for another hour. Then turn off the oven and leave them in there until the oven fully cools.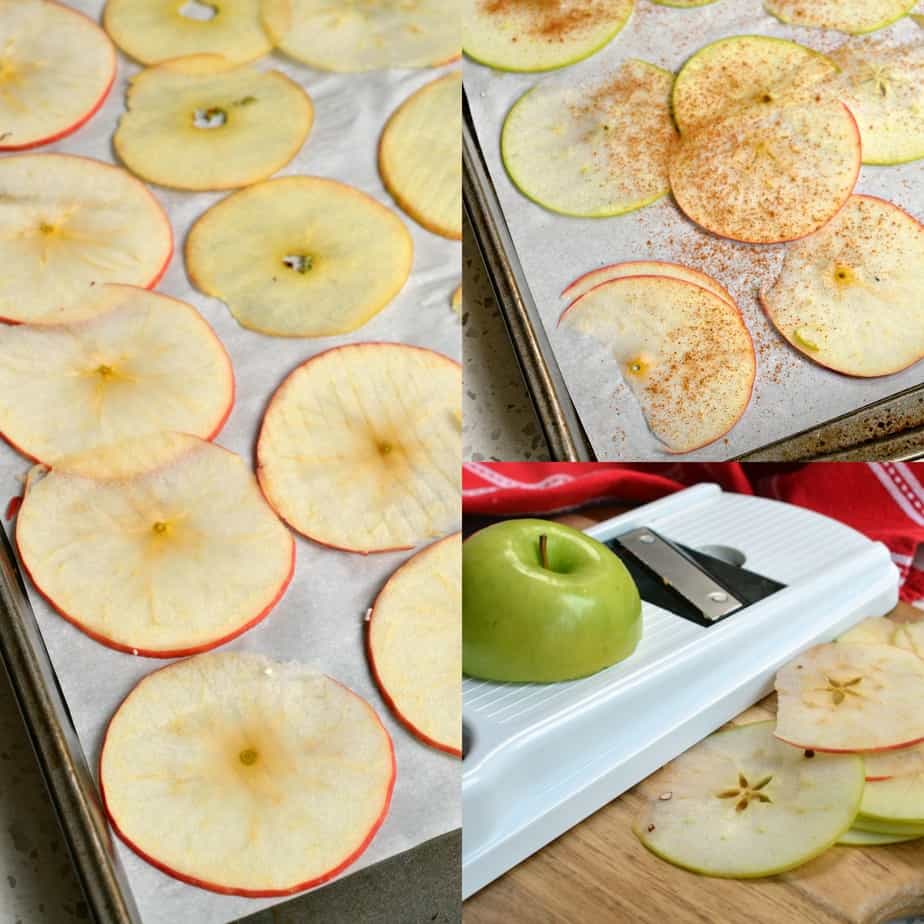 Recipe notes and tips
I have baked these both on parchment paper and on silicone mats.  I honestly prefer the parchment paper because they crisp better and they curl more making a better appearance.  Plus cleanup is easier with parchment paper.
You can add a sprinkle of sugar but apples are naturally sweet so I just use cinnamon.
For ease in cutting I use my mandolin.  I have two straight slicer blades.  One is a 2mm and the other is a 5mm.  I find that the 2mm works much better.
These chips are best enjoyed right out of the oven as the humidity in the air will rehydrate them a little bit.  They are still delicious but they will be somewhat chewy.
You can use any apple to make apple chips however my three favorites are Braeburn, Pink Lady (also known as Cripps Pink) and Granny Smith.  They crisp better and curl more making a great appearance.
Store apples in airtight container at room temperature up to 5 days.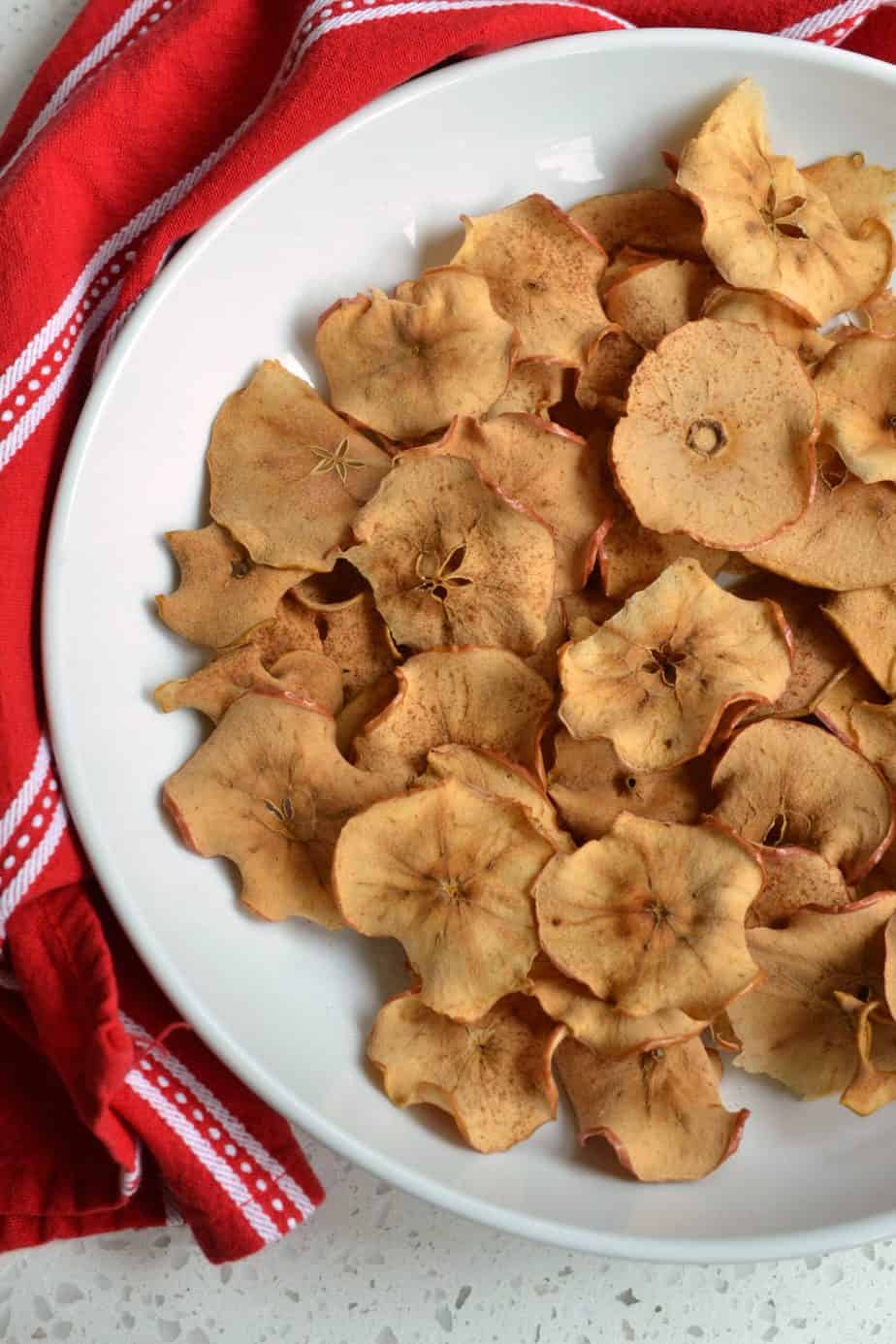 The best apples for Apple Chips
By golly these days there are so many great choices for apples.  Gone are the days when your only choices were mealy Red Delicious and tart Granny Smith.  Now it seems like every time I go to the market there is a new apple to try!   Of course you can make chips with any apple.  I just made a delicious batch with some Braeburn and Pink Lady apples.  Some apple varieties will dry a little faster or slower than others depending on their moisture level.  Some will dry a litte darker or lighter than others depdning on their sugar level.
SWEET APPLES
Gala
Honeycrisp
Golden Delicious
Fuji
Crispin
TANGY APPLES
Braeburn
Pink Lady
McIntosh
Jonalicious
TART APPLES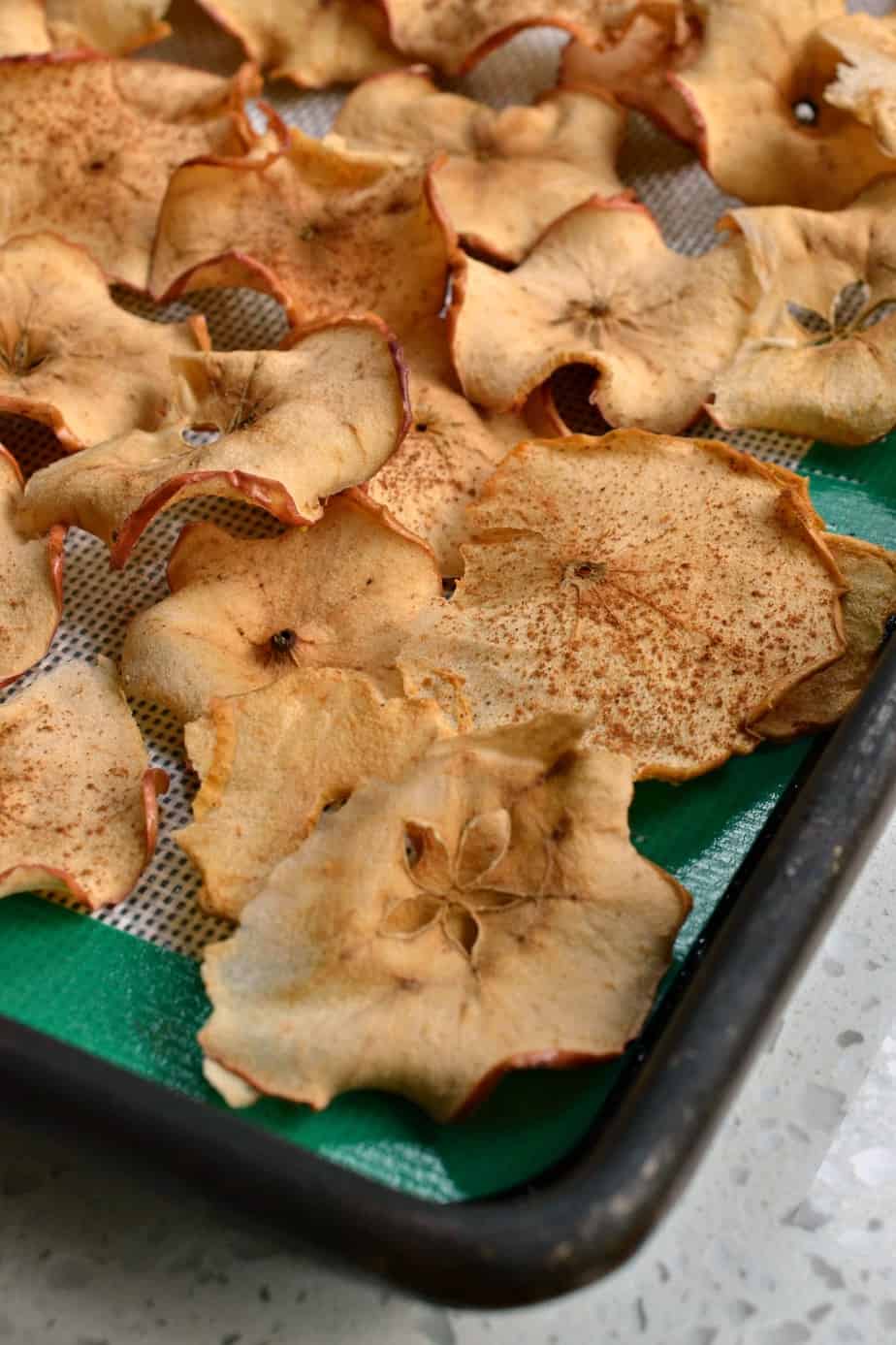 Print
Apple Chips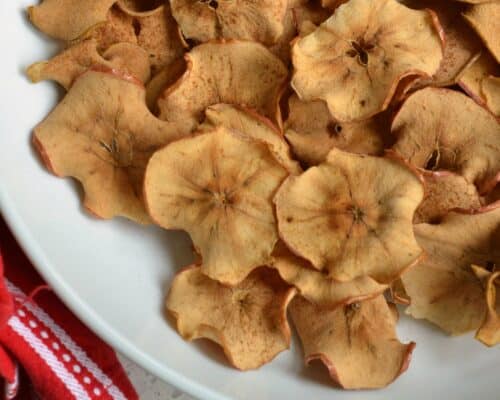 A super easy healthy baked Apple Chip recipe that takes just minutes to prep, tastes delicious and makes your house smell fabulous.
Author:
Prep Time: 10 minutes
Cook Time: 2 hours 30 minutes
Total Time: 2 hours 40 minutes
Yield: 6 servings 1x
Category: snack
Method: bake
Cuisine: American
Scale
Ingredients
2 –3 medium apples (Pink Lady or Granny Smith)
cinnamon
Instructions
Preheat oven to 225 degrees.  Cover two baking sheets with parchment paper.
Slice the apples thin using a mandolin or sharp knife. Lay them out in a single row on the prepared baking sheets.  Sprinkle lightly with cinnamon.  Bake for 1 hour.  Flip the apples and cook for 1 more hour.
Turn the oven off with apples still in it.  Let the apple chips stay in the oven with the door closed while the oven cools.
Keywords: how to make apple chips, baked apple chips, homemade apple chips
https://www.smalltownwoman.com/wp-content/uploads/2019/05/Beth-1.pdf