This delectable Apple Cobbler Recipe is full of fresh apples, brown sugar, and cinnamon.  It is quick to come together and tastes as great as Grandma's recipe.
This is one of my favorite fall recipes and it reminds me why I love this season so much!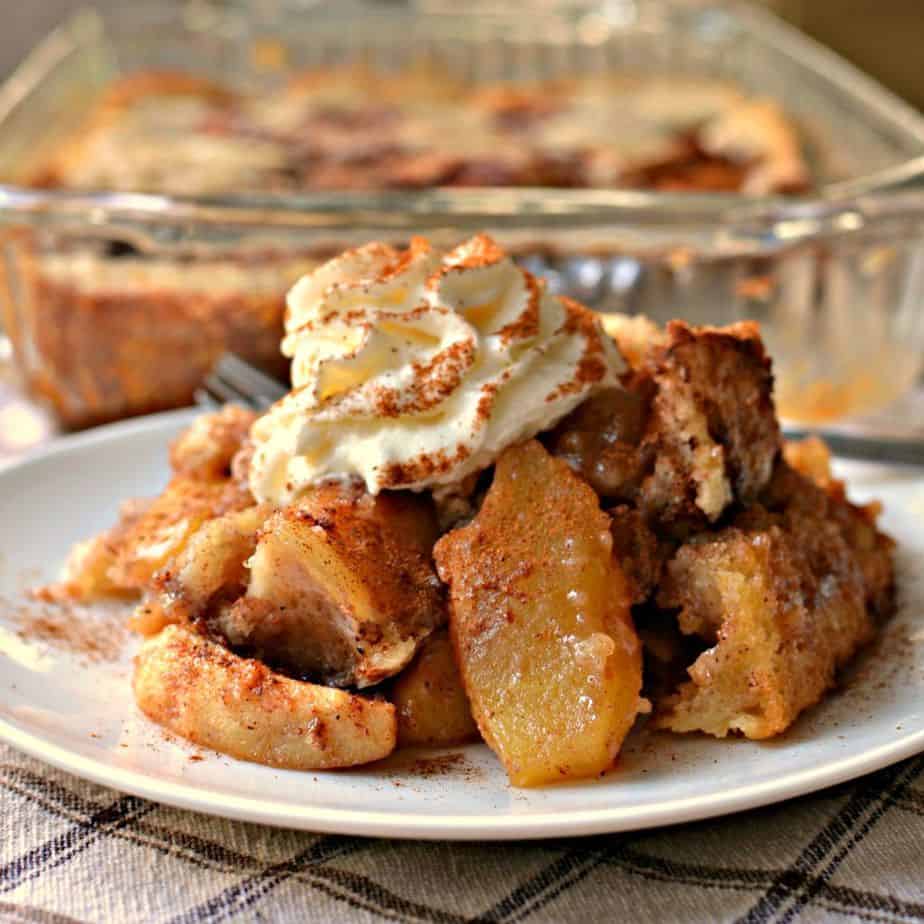 Are you in the mood for a great fall recipe?  I am betting dollars to doughnuts (I have an idea where that phrase came from) that you are.  This scrumptious Apple Cobbler Recipe brings all those wonderful fall recipes together in one easy process.  It is a family and friend favorite so it is perfect for holiday gatherings, parties, potlucks or just because you love apples.  This cobbler is best eaten the day it is cooked however my family has no trouble devouring the leftovers (if there are any).
What apples are best for Apple Cobbler?
If you are an apple lover like myself then you are in seventh heaven and tickled pink.  Every year some new delicious apple variety hits the market.  The people that produce and grow these new gems have really gotten good at this. Gone are the days when your Mom handed you a mealy red delicious that you had to eat.  Now you can't wait to bite into an amazing Honey Crisp or a Pink Lady. What a long way we have come with apples.
Any apple that is good for baking is perfect in this cobbler.  I like to include a variety of sweet and tart apples.  It is important to pick apples that don't break down when cooked.  My favorites are Honeycrisp, Braeburn, Pink Lady, Gala, and Granny Smith.  Include a variety of those and you can't go wrong.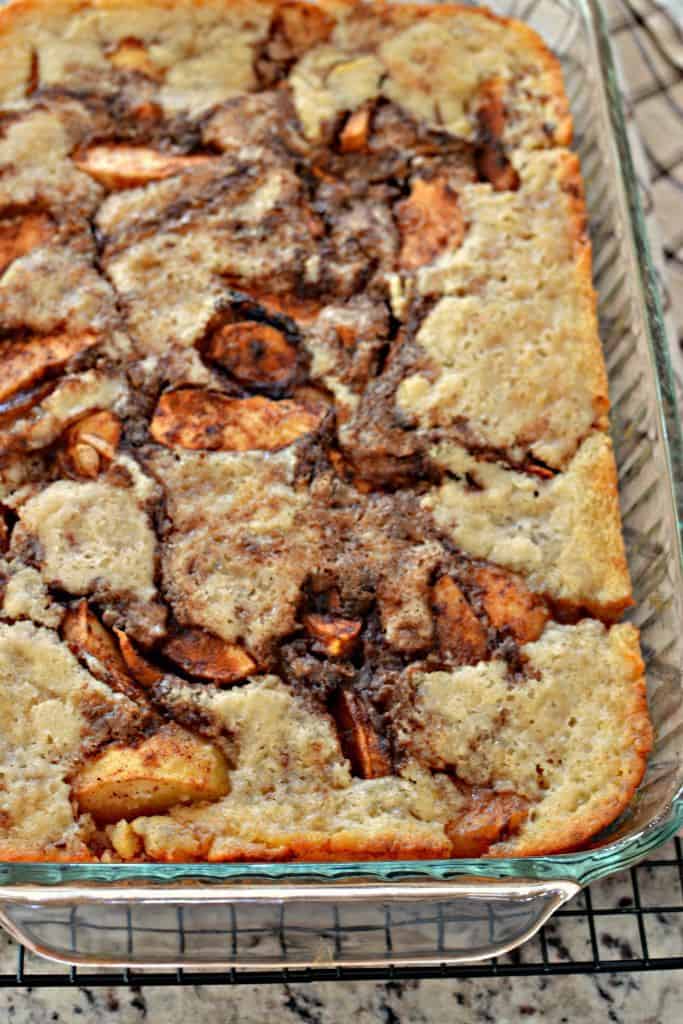 How to make Apple Cobbler Recipe
First in a large bowl combine apples, brown sugar, cinnamon, and nutmeg.  Toss to coat.
Second, melt the butter in the pan in the oven. Grab a large bowl and whisk together flour, sugar, baking powder, and salt. Stir in milk and vanilla.  Pour batter over melted butter and top with apples.
Bake in preheated oven for about one hour. Serve warm or cold with fresh whipped cream or vanilla ice cream a la mode. It is just that simple to make this amazing dessert treat!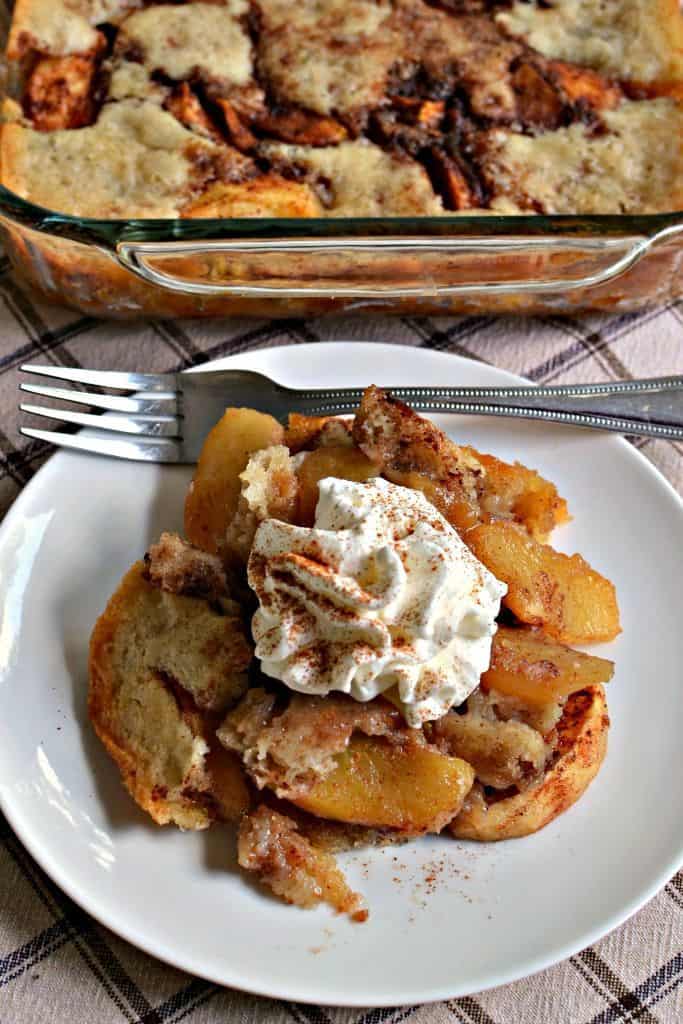 Other fruit substitutions for this cobbler.
You can substitute for all of the apples or some of the apples and make a mixed fruit cobbler. The possibilities are endless and only limited by your imagination.
Apricot
Blueberry
Blackberry
Peach
Plum
Cranberry
Cherry
Strawberry
Or any combination of the above
This Apple Cobbler Recipe is sure to put a smile on your face and remind you why you love fall so very much. Therefore put the ingredients on your shopping list and pick up those apples while the crop is at its best.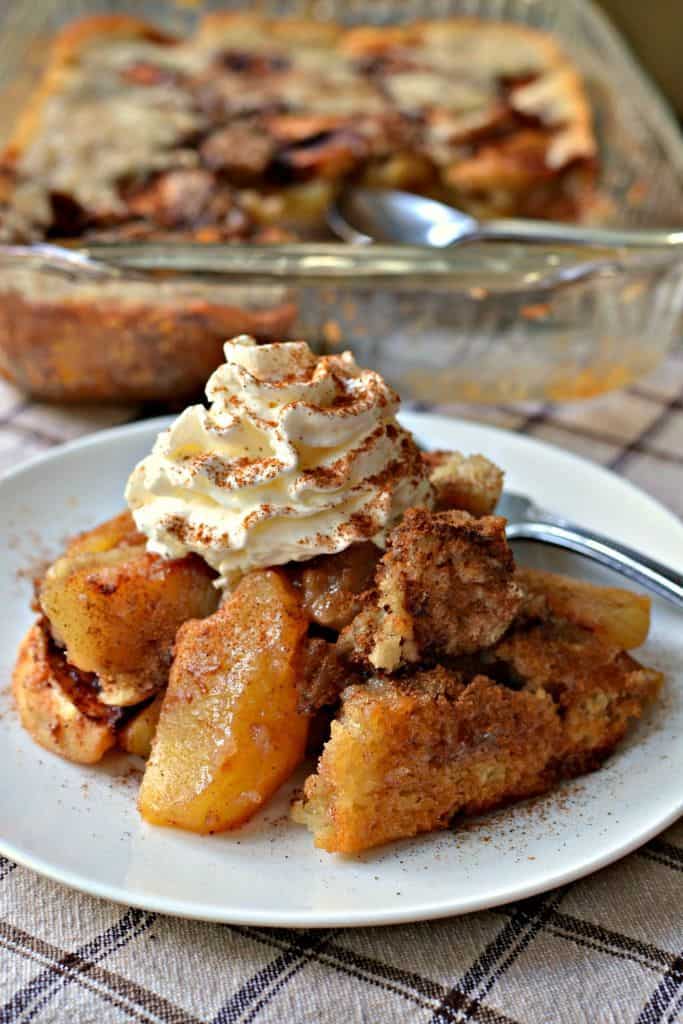 Other apple recipes to try!
Print
Apple Cobbler Recipe
This delicious southern style apple cobbler comes together easily in about twenty minutes.  It combines fresh apples, cinnamon and brown sugar with a six ingredient dough that bakes up perfectly.
Author:
Prep Time: 20
Cook Time: 55
Total Time: 1 hour 15 minutes
Yield: 8
Category: Dessert
Method: Baking
Cuisine: American
5 cups apples peeled, cored and sliced
1/2 cup brown sugar
1 tablespoon ground cinnamon
1/4 teaspoon ground nutmeg
1/3 cup butter
1 1/2 cups all purpose flour
1 cup sugar
1 tablespoon baking powder
1/2 teaspoon salt
1 cup plus 2 tablespoons milk
1 teaspoon vanilla extract
Instructions
In a large bowl combine apples, brown sugar, cinnamon, and nutmeg.  Toss to coat.
Preheat oven to 350 degrees.  Add butter to 9 x 13 pan and place in oven to melt.  It only takes a few minutes so keep any eye on it because you don't want it to brown or burn. Remove from oven and let cool while you do the other steps
Whisk together flour, sugar, baking powder, and salt. Pour in milk and vanilla and stir to combine.  Pour batter in pan over butter.  Do NOT mix in.  Spoon apples on top.  Do NOT mix in.
Bake for 55-60 minutes or until lightly browned and set.  Serve warm or cold.  Leftovers should be stored in the refrigerator.
Keywords: easy apple cobbler, how to make apple cobbler, old fashioned apple cobbler, southern apple cobbler
On the hunt for more delicious recipes? Follow Small Town Woman on Facebook, Pinterest, and Instagram.
This post was originally published on October 5, 2018, and was republished on October 30, 2019, with new content.
https://www.smalltownwoman.com/wp-content/uploads/2019/05/Beth-1.pdf