This Watermelon Salad brings the unique flavors of crisp cucumber, salty feta cheese, sweet red onion, garden fresh mint and sun ripened watermelon together in a lightly sweetened lime drizzle.  Can you say fabulous?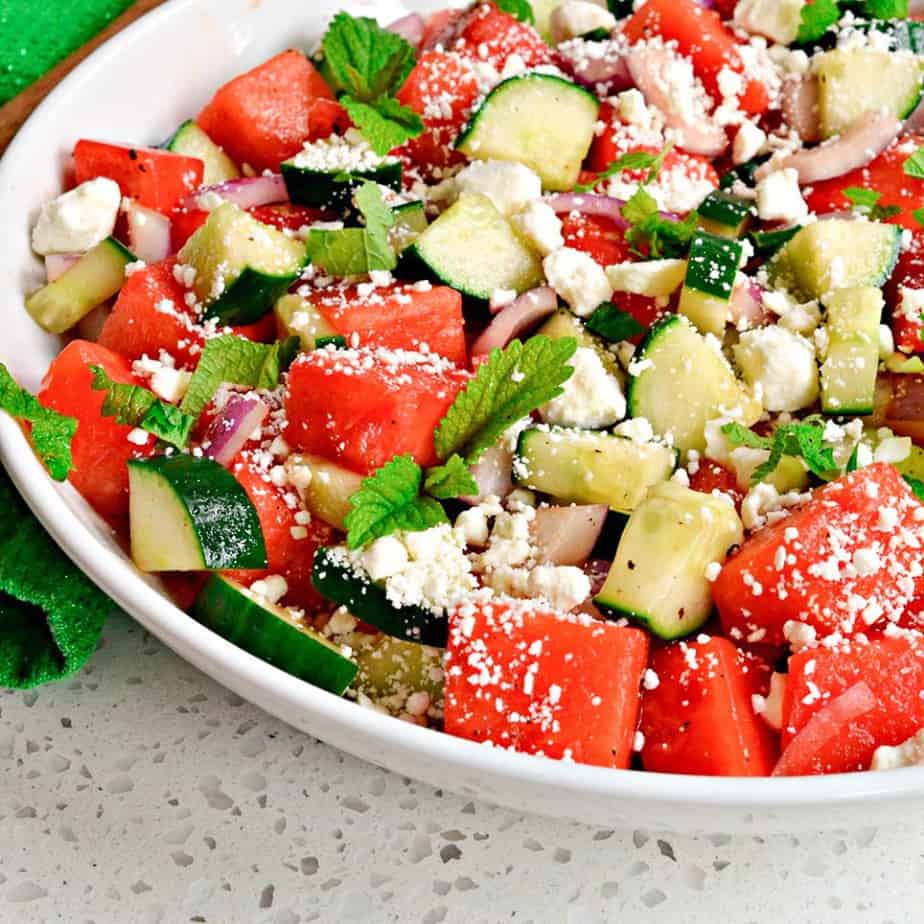 Summer is almost here and with it comes lots and lots of awesome fruit and vegetable salads.  This watermelon feta salad is perfect for your summer meal planning. Are you thinking that this combination of ingredients is a little different?  The salty sweet combination is right on and the flavors really complement each other well.  The salad comes together quickly and easily making it great for those last minute get-togethers.  I love to serve this salad with Grilled Marinated Chicken, Corn Salad with Easy Lime Vinaigrette and Easy Grapefruit Margaritas.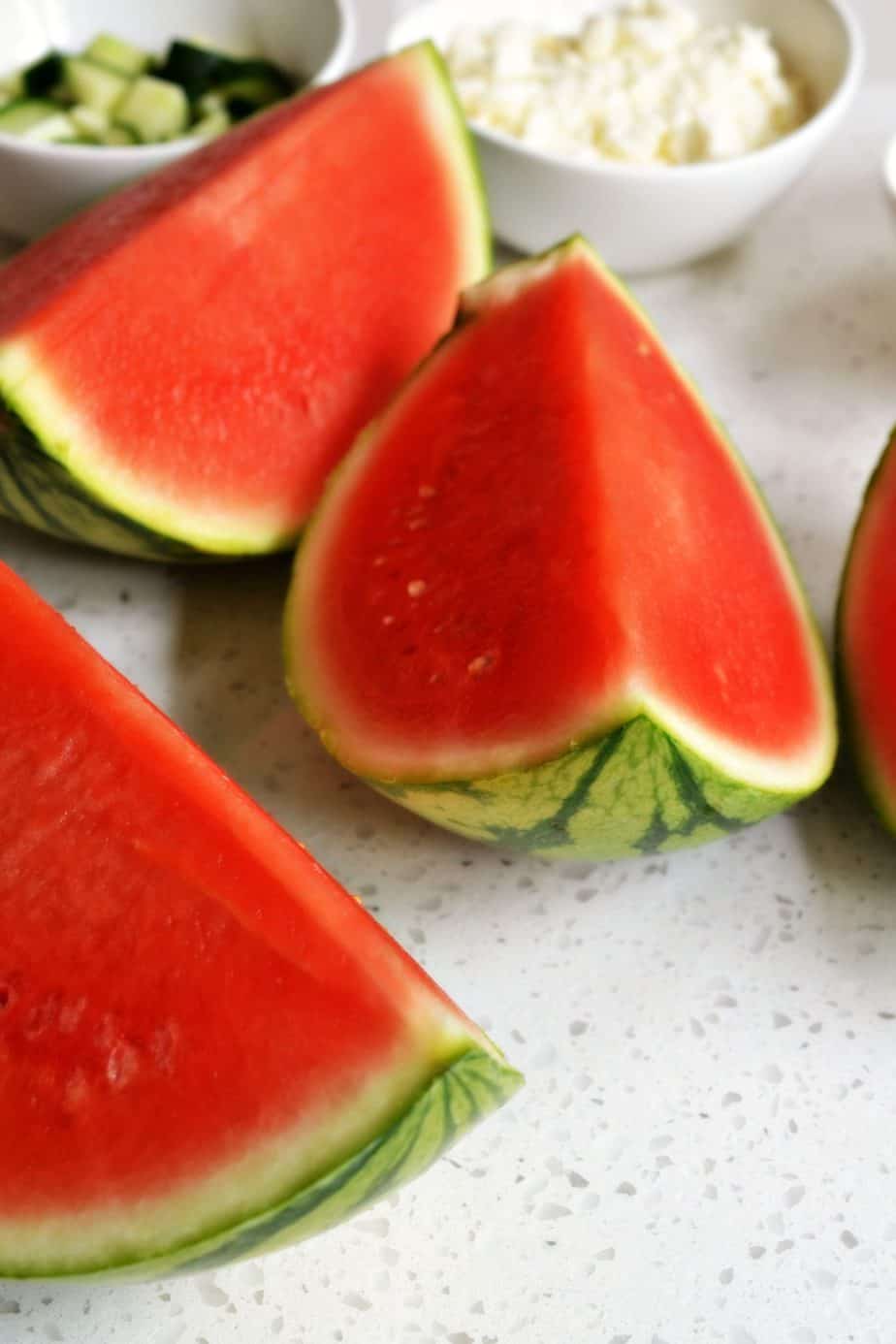 How do you make Watermelon Salad?
First cut all your watermelon, cucumbers and red onion and combine them in a large bowl.  Then whisk together the olive oil, lime juice and honey.  Drizzle in the dressing and toss gently to coat. Sprinkle with crumbled feta and fresh mint.  I usually pick a wide white bowl so the colors in this beautiful salad really pop.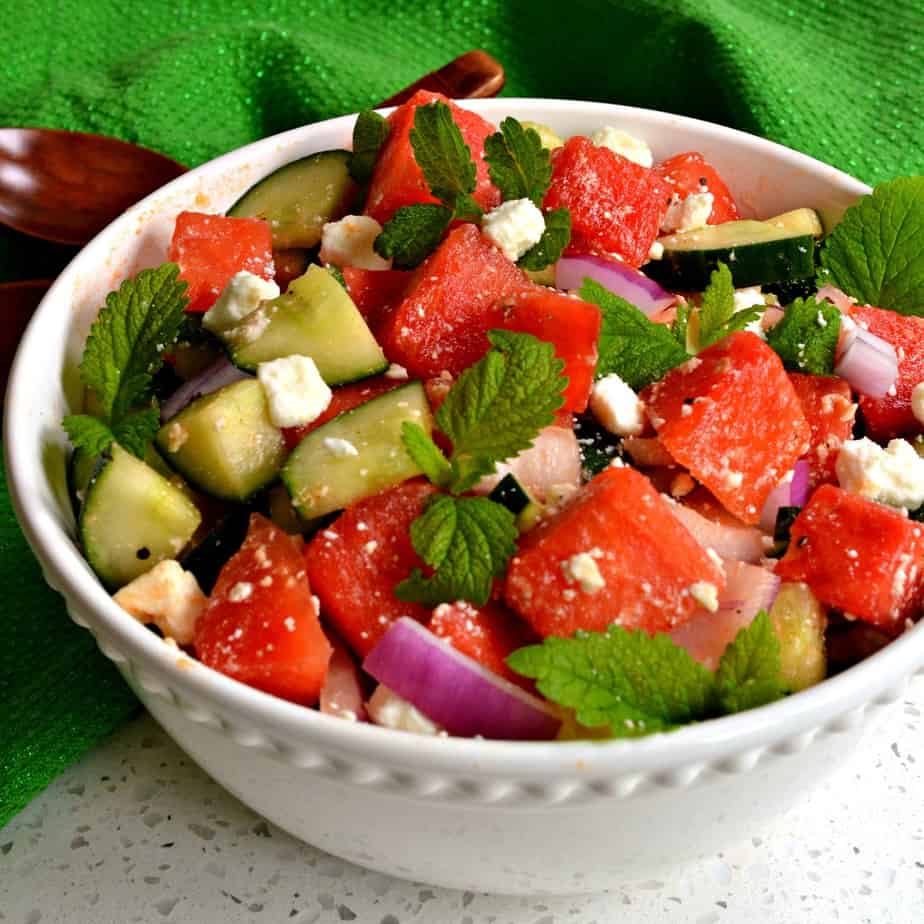 Helpful tips for making Watermelon Salad
This salad is best prepared only a few hours in advance because watermelon and cucumbers are mostly water.  If prepared too far in advance your whole salad will sitting in whole bowl of juice.
Sprinkle the mint and feta on right before serving.
Both English cucumbers and regular cucumbers are fine for this salad. If using regular cucumbers remove the seeds before slicing.
Fresh mint grows very well in gardens or flower beds.  Every year our mint plant comes back in the spring however for great flavor and scent replace the plant every four years.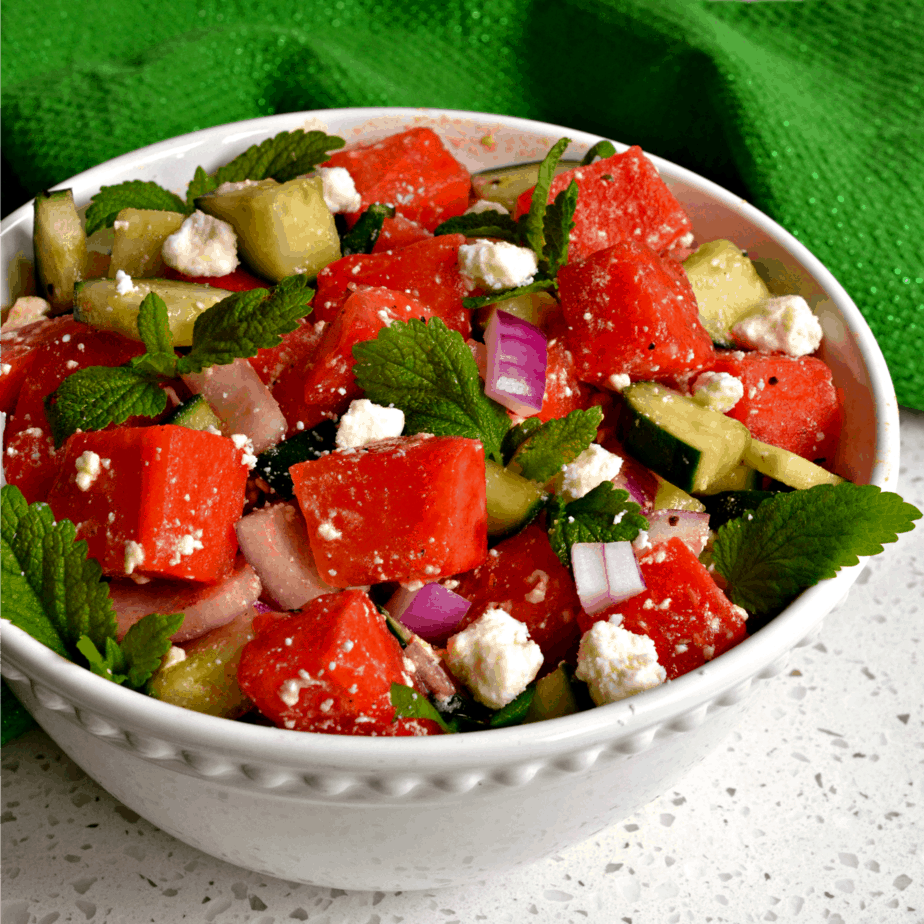 How to tell if a watermelon is ripe
Look for the ground spot.  When a watermelon is ripe you will see a patch of yellow or white rind.  This is the part of watermelon that was against the ground and it is an indicator that the melon was allowed to fully ripen in the field before being picked.
The melon should fell heavy in your hands indicating a nice ripe juicy watermelon.
Just like our grandparents taught us thump that baby with a knuckle and see if it makes a hallow low pitched deep sound like a drum.
Nobody knows like your nose.  Give it the old sniffer test and see if you can smell a slight sweetness. Too much sweetness might be an indication that it is over-ripe.
Stay away from melons with soft spot or cracks. This would an indication of being over-ripe and spoilage.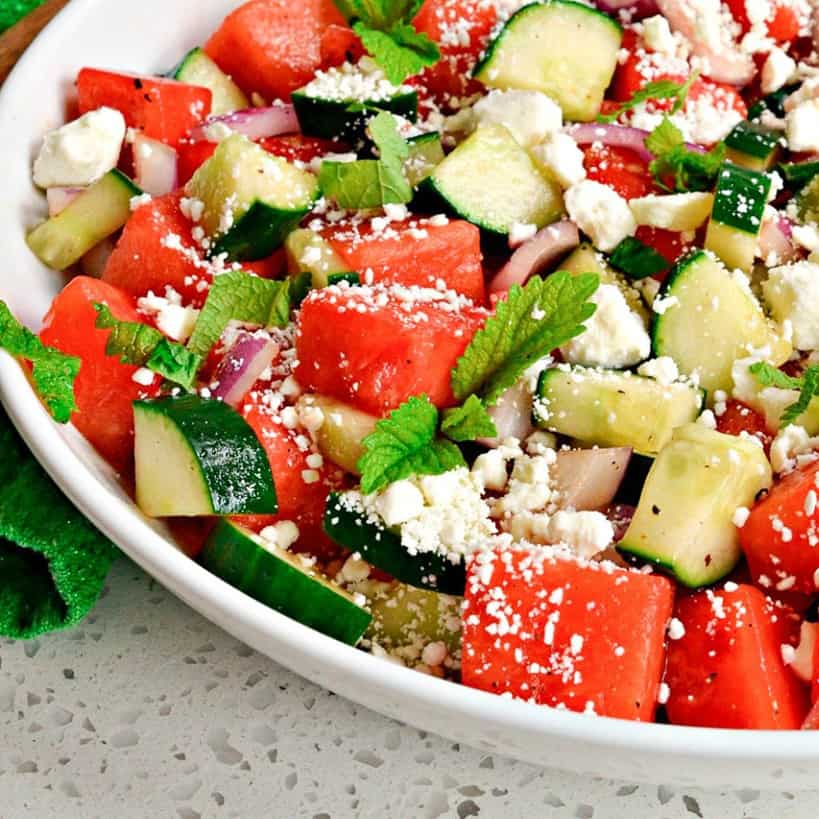 Print
Watermelon Salad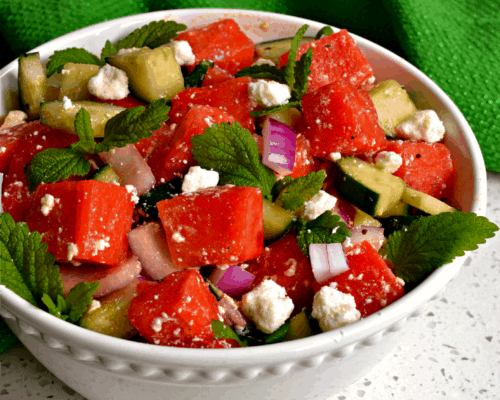 A simple tasty Watermelon Salad with Feta combining the best of salty and sweet in this unique summer side dish.
Author:
Prep Time: 15 minutes
Total Time: 15 minutes
Yield: 6 servings 1x
Category: salad
Method: no bake
Cuisine: Mediterranean
Scale
Ingredients
2 tablespoons olive oil
2 tablespoons lime juice
1 tablespoon honey
5 cups cubed watermelon
1 cup diced English cucumber
1/4 cup chopped red onion
1/3 cup crumbled feta
3 tablespoons mint leaves or ribbons
salt and pepper to taste
Instructions
Whisk together the olive oil, lime juice and honey.
In a large bowl combine watermelon, cucumber and red onion.
Drizzle in the dressing and toss gently to coat. Sprinkle with feta and mint. Salt and pepper to taste.
Keywords: watermelon feta salad, watermelon feta mint salad, watermelon cucumber feta salad
https://www.smalltownwoman.com/wp-content/uploads/2019/05/Beth-1.pdf