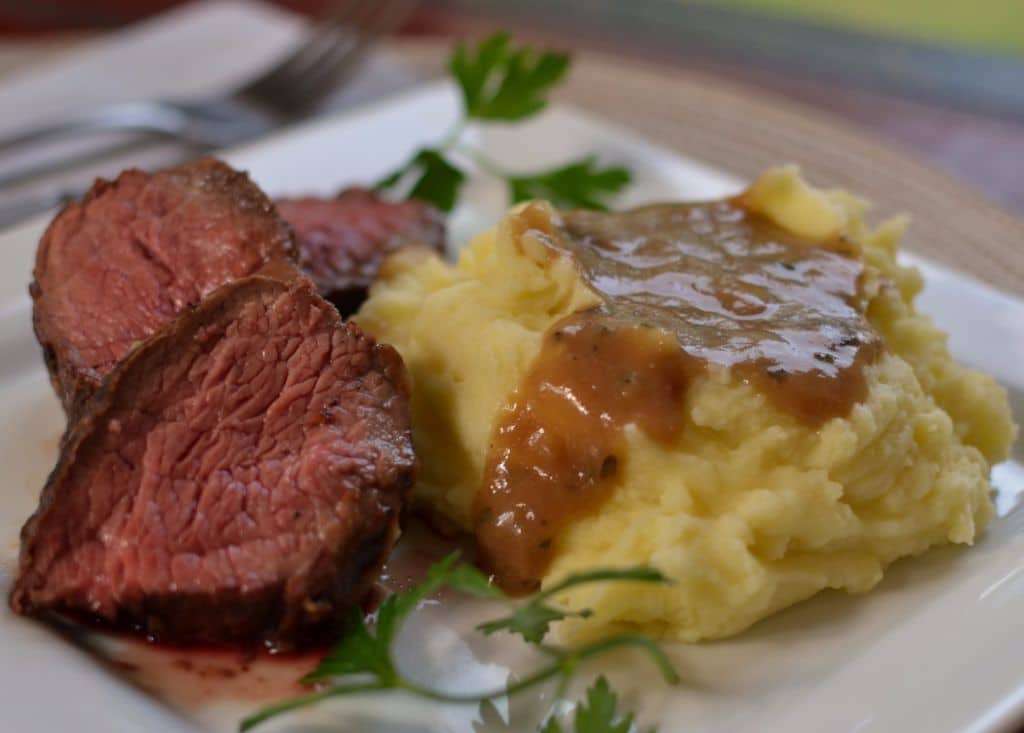 Do you like a good cut of beef but hate paying the price? Petite Shoulder is one of the most tender beef muscles and is said to be "white-tablecloth quality".  It is a similar quality to filet mignon, but less expensive and I think it tastes better. It is known as petite tender medallion, petite tender or tender medallions if sliced into medallions. It is shaped like a pork tenderloin, and weighs 8 to 10 ounces. You should check at your local grocery to see if they carry petite shoulder.   I do marinate it for about thirty minutes but that is a small price to pay for the taste and tenderness.  This Beef Petite Shoulder with Pan Gravy is by far one of my favorite recipes!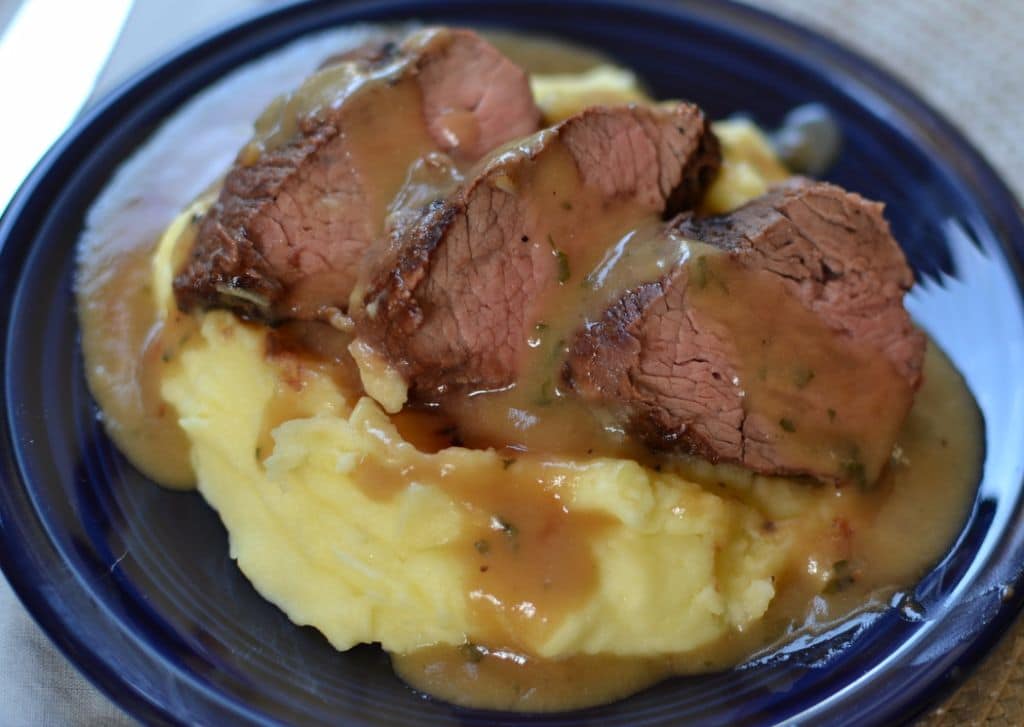 Not only is it one of my favorite recipes but it is so darn easy.  The marinade takes about three minutes to mix and the pan gravy about five minutes.  You can serve it with mashed potatoes, rice or egg noodles or anything that tastes good with gravy on it!  The gravy requires no wine or spirits so it is easy on the pocket book as well.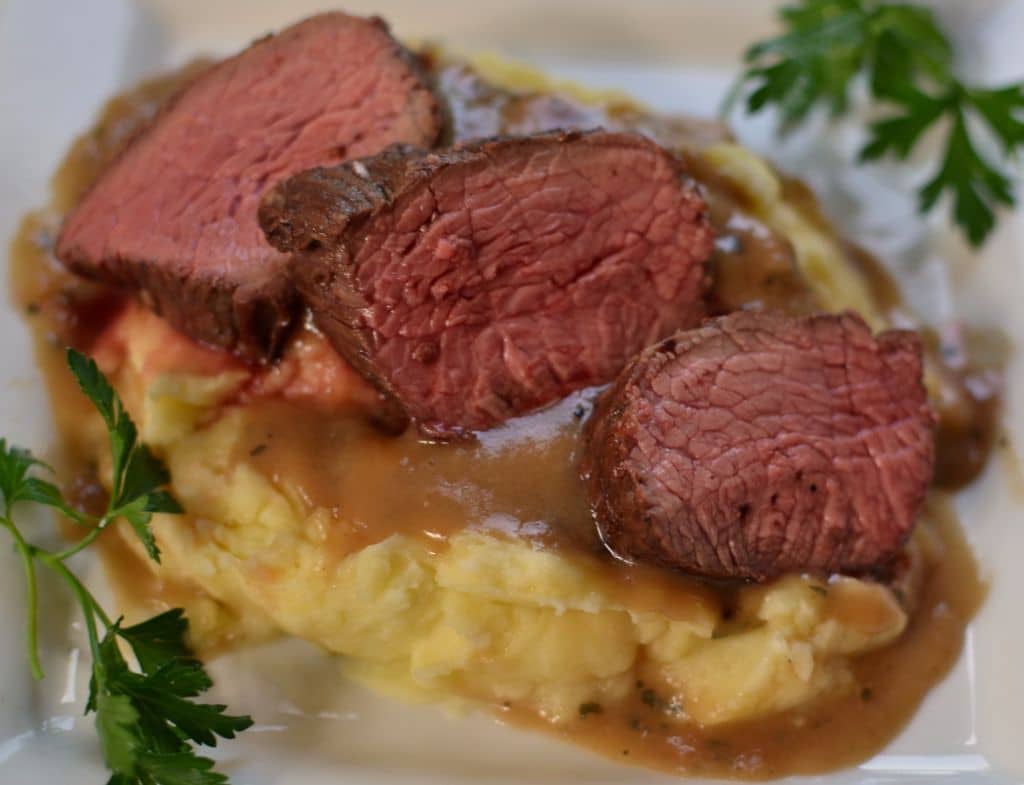 So put this Beef Petite Shoulder with Pan Gravy on your dinner list. It is so tender, juicy and flavorful.  It is quick to make and easy on the pocket book.  How could you ask for much better than that?  No I don't provide home delivery :-)!!
Print
Petite Beef Shoulder with Pan Gravy
This easy-yet-fancy dinner is a bargain. Tender petite beef shoulder is cooked to medium rare perfection. Served with a hearty homemade gravy and creamy mashed potatoes, this dinner is simple, filling, and flavorful.
Author:
Prep Time: 30 minutes
Cook Time: 15 minutes
Total Time: 45 minutes
Yield: 4 servings
Category: Dinner
Method: Grilling
Cuisine: American
2 lbs. beef petite shoulder
Marinade
2 tablespoons soy sauce
2 tablespoons Worcestershire sauce
1/4 cup red wine vinegar
1 tablespoon fresh ginger
2 cloves garlic minced
Gravy
3 tablespoons butter
3 tablespoons flour
1 can low sodium beef broth (14 ounce)
3 tablespoons Worcestershire sauce
I tablespoon dried parsley
Mashed potatoes or egg noodles (optional)
Instructions
Combine beef, soy sauce, 2 tablespoons Worcestershire sauce, vinegar, ginger and garlic in large Ziploc bag. Place in refrigerator to marinate for 30 minutes.
Preheat grill. Remove meat from marinade and discard marinade. Cook beef until desired doneness. Remove from grill, cover loosely with foil and allow to set for 10 minutes.
In medium skillet over medium low heat melt butter. Add flour and whisk until smooth and bubbly; approximately 1 minute. Slowly add beef broth and Worcestershire sauce. Cook until desired consistency; whisking frequently. Add parsley and cook for additional minute.
Slice beef and serve with gravy over mashed potatoes or egg noodles.
Keywords: petite beef shoulder, beef shoulder, beef with gravy, homemade gravy, beef shoulder with gravy, pan gravy, homemade mashed potatoes
https://www.smalltownwoman.com/wp-content/uploads/2019/05/Beth-1.pdf