Chicken Gnocchi Soup is a delicious easy super family friendly soup that comes together in less than thirty minutes with the addition of rotisserie chicken. It combines gnocchi, onions, celery, carrots, spinach and chicken into a creamy broth.
Mom this is better than the Olive Gardens soup. May I have another bowl please!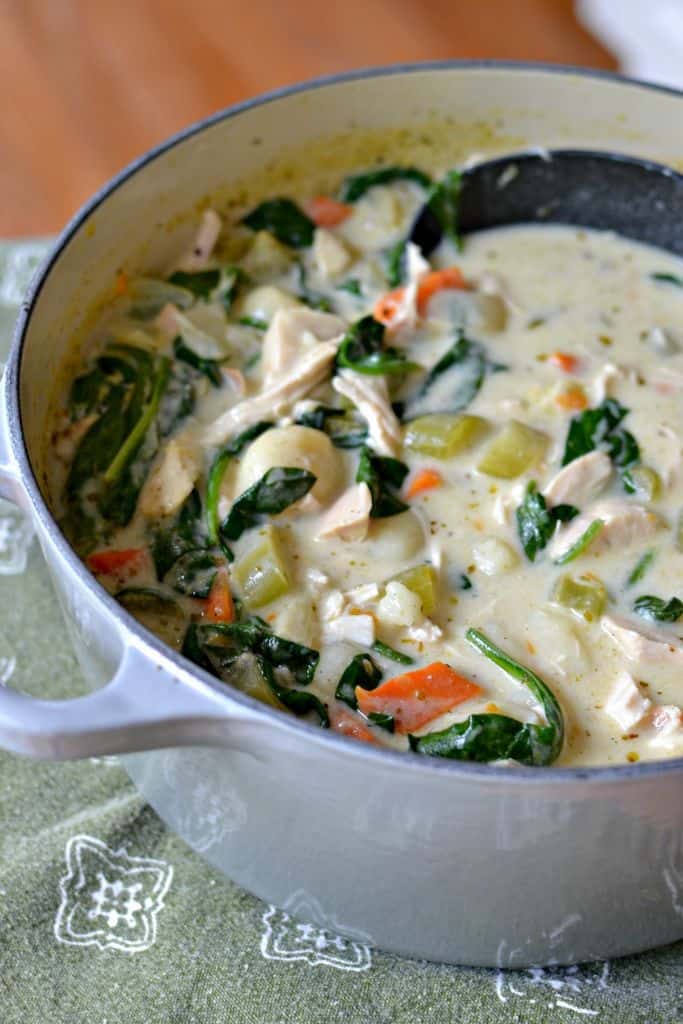 Fall is here and with it comes some AMAZING soups.  Of course we are a soup loving family so we eat soup all year round. However I know a lot of you are fall and winter soup eaters.  This delicious creamy soup is so simple and comes together in about thirty minutes.  It reheats really well on the stove top.  You would think that those little gnocchi would easily overcook and turn to mush but such is not the case.  As long as you don't start simmering again for long periods of time.
What are gnocchi?
Gnocchi are small soft dumplings that are usually made from potatoes but they can also be made from ricotta and semolina.  Gnocchi can be found in the frozen pasta section or in the dried pasta section of your local grocery store.  The dried pasta gnocchi will be vacuumed sealed and will keep up to three months in your pantry if not opened.  Once opened they should be consumed with a couple of days. I prefer the frozen gnocchi over the dried gnocchi.  They have less preservatives and taste better.  Make sure if you buy the frozen gnocchi that you add it to the soup frozen.  It should not be thawed.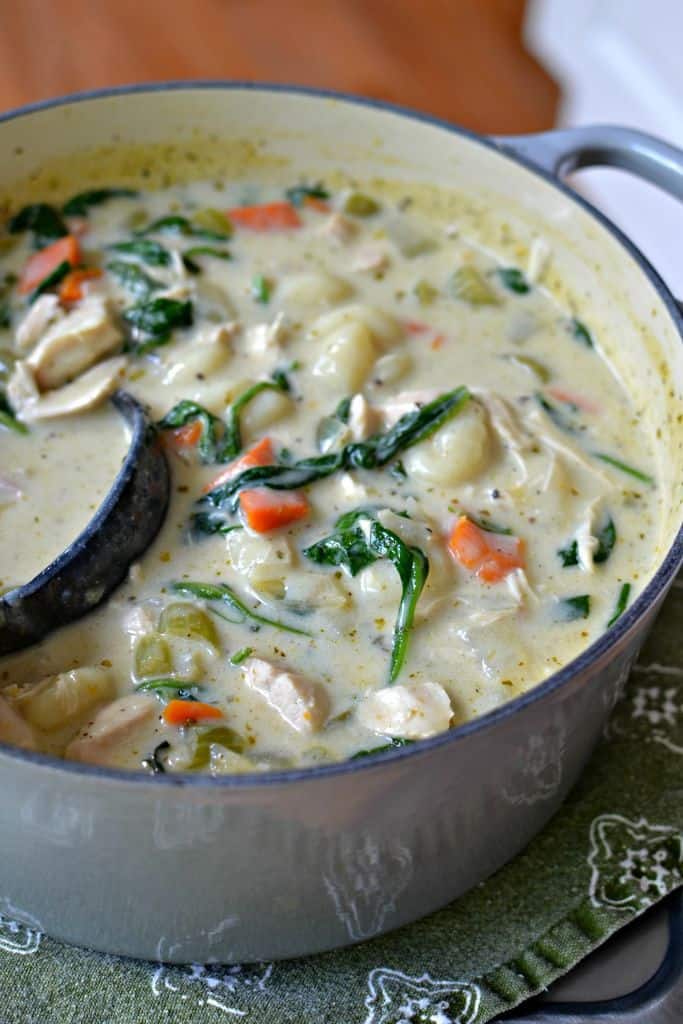 Where did gnocchi originate from?
There is much dispute as to the origins of gnocchi.  Some believe that the claim belongs to Northern Italy and comes from the word nocca which means knot.  As the small round shape of the gnocchi resemble knots.  Some believe that gnocchi originated in the middle east using semolina dough instead of potatoes.  No matter its origin it is scrumptious in pastas and soups.
Helpful hints to knock this Chicken Gnocchi Soup out of the park!
Pick up a fresh cooked rotisserie chicken. They are so delicious and easy to cut or shred the day they are cooked.  I pick them up from Costco frequently.
Cut your onions, celery and carrots small so they will cook quickly and you will have dinner on the table in no time.
Use dried herbs.  I have learned that there is certainly a time and place for dried herbs.  Soup is one of them.
If available purchase frozen gnocchi.  It has less preservatives and tastes better.
Use baby spinach or coarsely chopped spinach.
Low sodium chicken broth produces better tasting soup that its saltier cousin.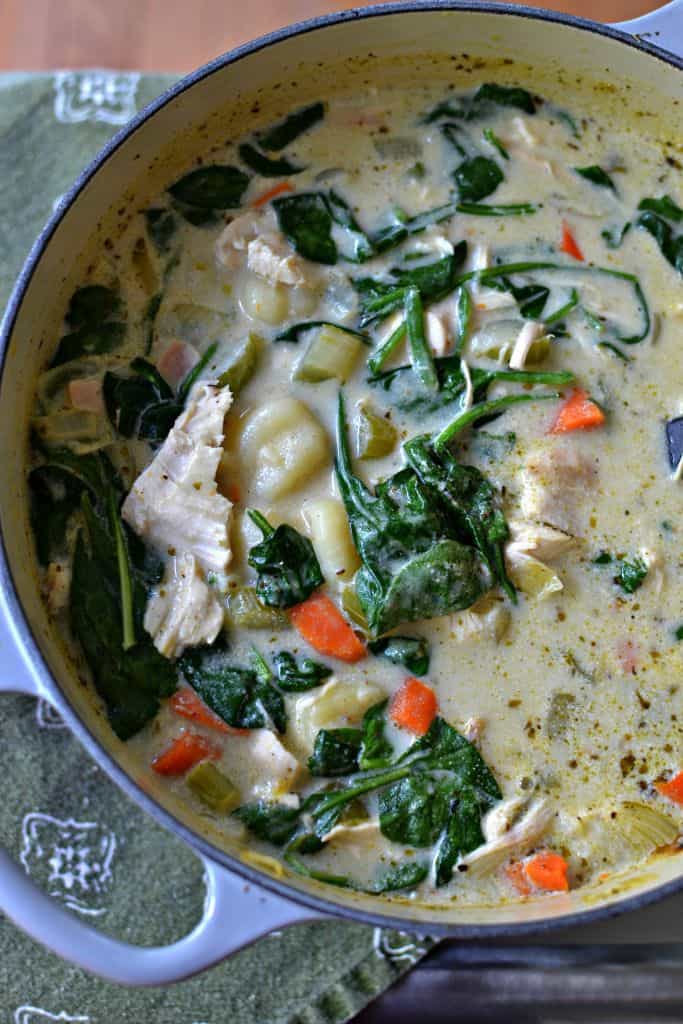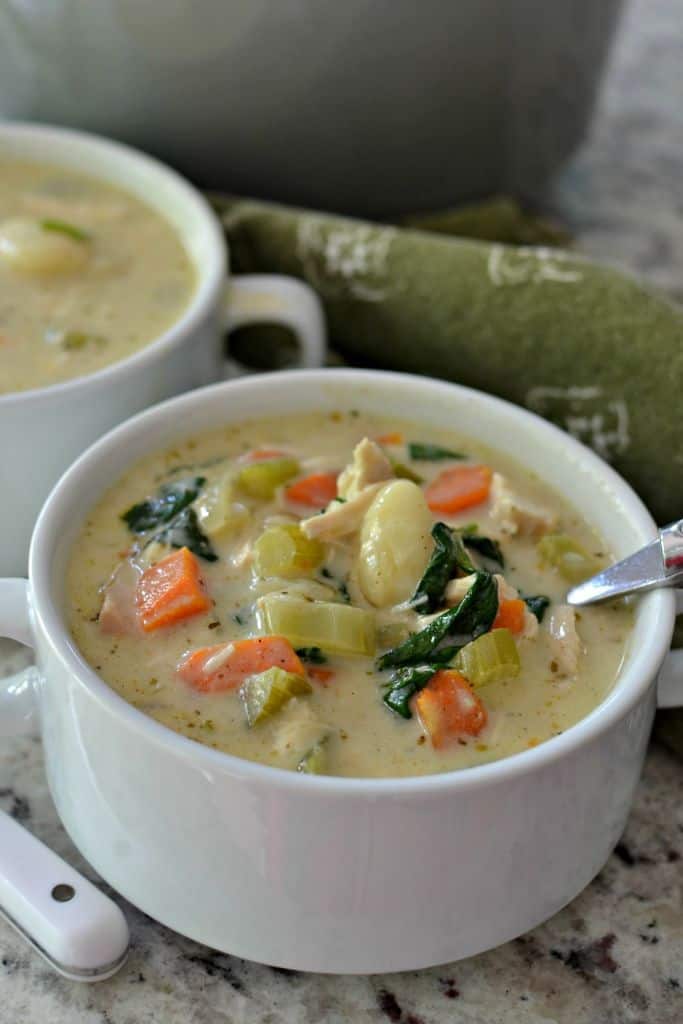 This fabulous Chicken Gnocchi Soup is quick and easy, making it ideal for your busy family.  Put the ingredients on your shopping list today.  You will not be disappointed.
Other soup recipes you will love!
Print
Chicken Gnocchi Soup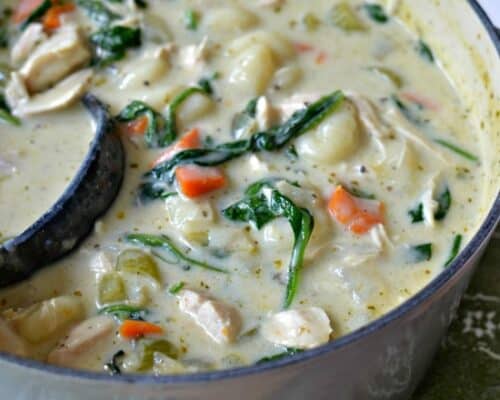 Chicken Gnocchi Soup is a delicious easy super family friendly soup that comes together in less than thirty minutes with the addition of rotisserie chicken.
Author:
Prep Time: 10
Cook Time: 25
Total Time: 35 minutes
Yield: 6 1x
Category: Soup
Method: Stove top
Cuisine: Italian
Scale
Ingredients
2 tablespoons butter
3 stalks celery chopped
3 carrots chopped
1 small sweet onion chopped
3 cloves garlic minced
1/2 teaspoon dried thyme
1/2 teaspoon dried oregano
1/8 teaspoon dried marjoram
1/8 teaspoon ground nutmeg
4 cups low sodium chicken broth
1 (16 ounce) package frozen or dried gnocchi
1 cup half n half
6 cups baby spinach
2 cups rotisserie chicken cut in small bite size pieces
salt and pepper to taste
Instructions
In large stockpot or dutch oven over medium melt butter. Add celery, carrots and onion. Cook until the onion is soft and translucent; about 5 minutes. Add garlic, thyme, oregano, marjoram and nutmeg and cook for 1 minute.
Add chicken broth and bring to a boil. Lower to a simmer and cook until the carrots and celery are soft; about 15 minutes.
Turn heat up to medium and add gnocchi.  Cook until they begin to float; approximately 2-4 minutes. Turn to simmer and stir in half n half, spinach, and chicken. Cook until the spinach wilts; less than 2 minutes. Salt and pepper to taste.
Keywords: olive garden chicken gnocchi soup, how to make chicken gnocchi soup, chicken gnocci soup
https://www.smalltownwoman.com/wp-content/uploads/2019/05/Beth-1.pdf