Easy Chicken Parmesan is a scrumptious Italian cheesy chicken recipe that can be on the table in about thirty minutes.  This delicious classic is a family favorite, so filling and full of natural wholesome ingredients.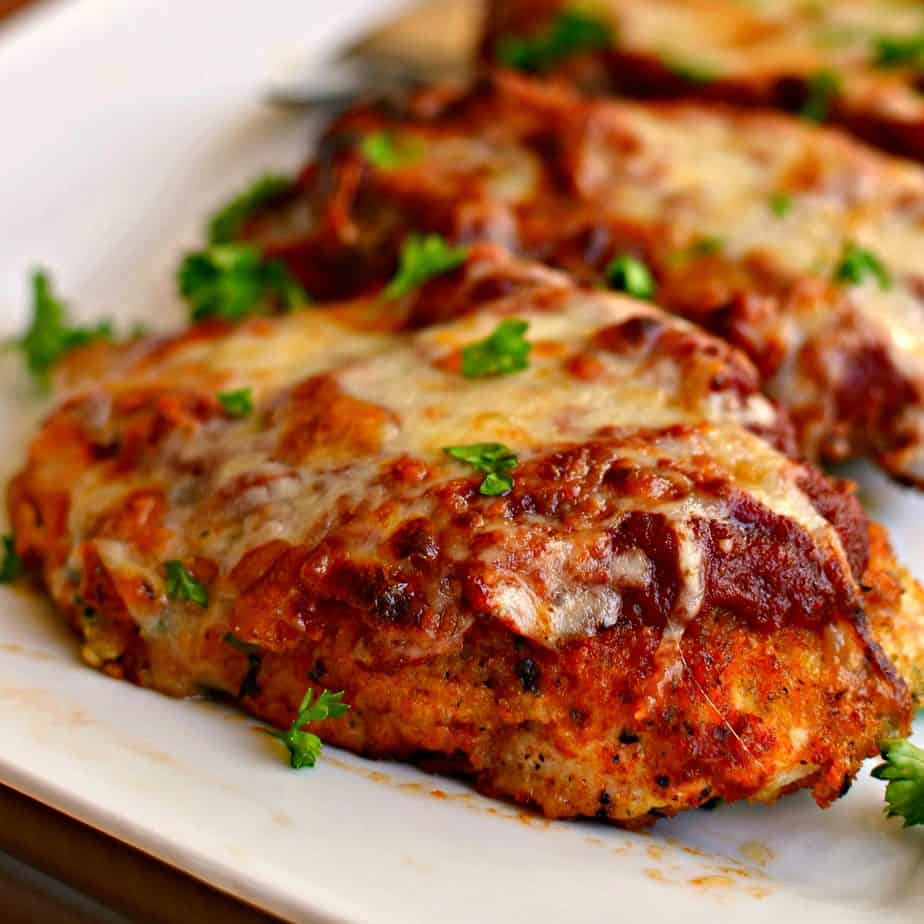 My family loves this recipe.  There is nothing quite like Chicken Parmesan.  It makes the whole house smell so good. This particular chicken recipe comes together real fast. For an over the top meal suitable for company I love to serve it with Italian Chopped Salad with Fresh Italian Dressing, Pasta con Broccoli and Cheese Garlic Bread.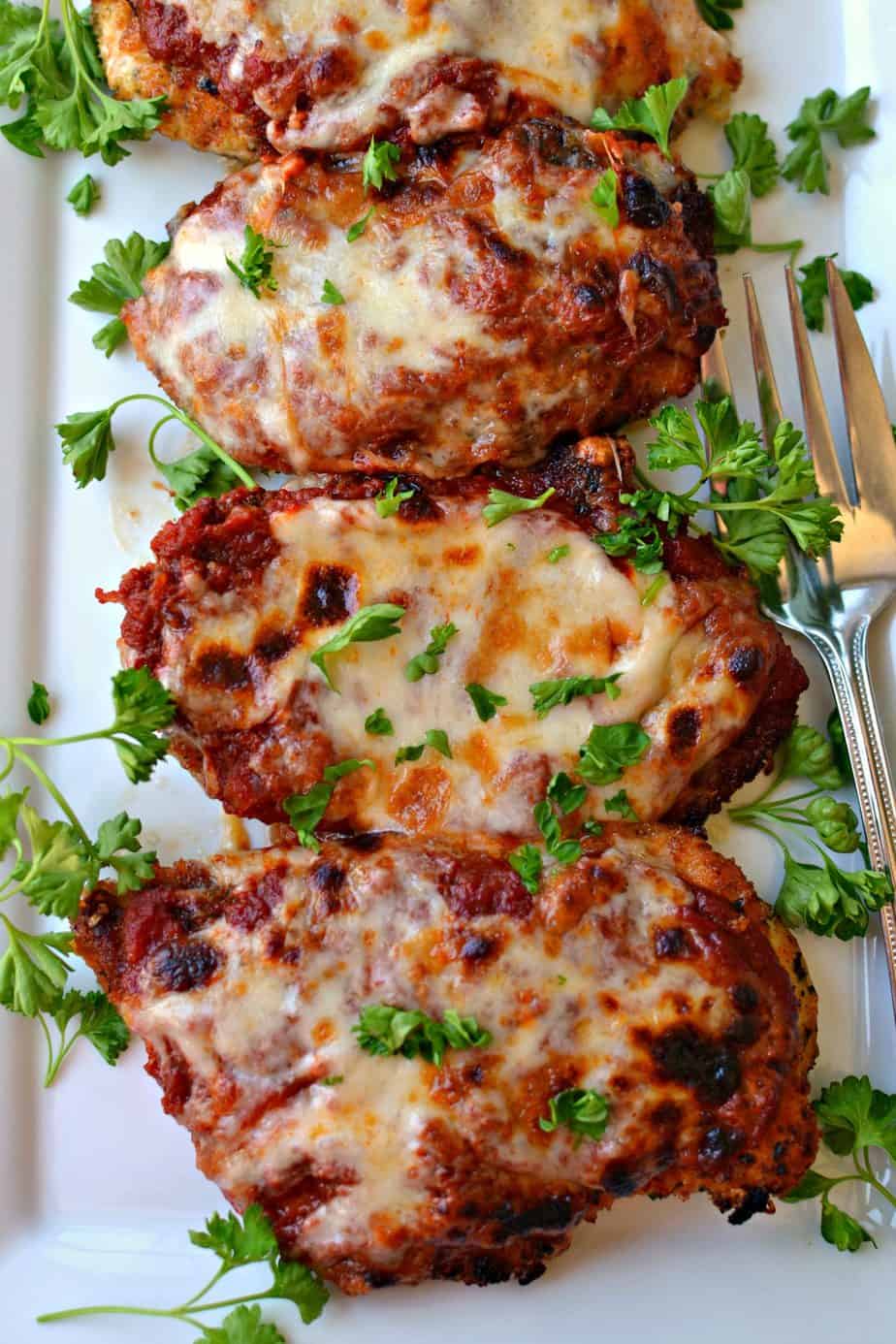 How do you make Chicken Parmesan Recipe?
Start by cutting those large thick chicken breasts in half lengthwise.  This will assure even and thorough cooking.  Then in a shallow bowl or plate with a rim mix together Parmesan cheese, breadcrumbs, basil, oregano and parsley.  Next lightly beat the egg in a shallow bowl.
Now salt and pepper the chicken breasts.  Next dip chicken breasts into the egg mixture.  Then dredge into the breadcrumb mixture coating both sides.  Melt a little butter and heat a little oil in an on ovenproof skillet over medium heat.  Cook the chicken breasts until golden brown on both sides.  Now place the skillet in the oven while you get the sauce ready.
In a microwavable bowl mix the marinara and the balsamic vinegar.  Heat at a reduced power until hot.  Now pull the chicken back out of the oven and place the skillet over a burner on low heat.  Slowly add the heated marinara. Next sprinkle with mozzarella and provolone.  Finally cover loosely with aluminum foil and simmer for a few minutes or until the cheese has melted.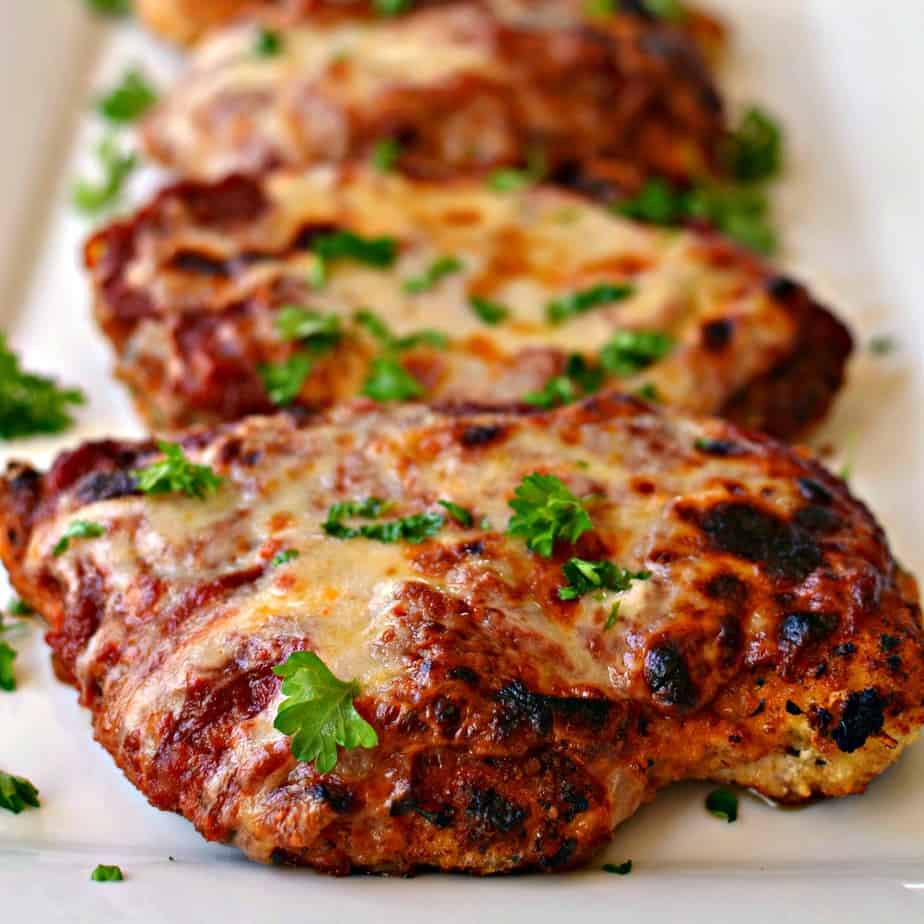 Helpful tips for making Chicken Parmesan
This recipe moves pretty fast so have your bowls and ingredients ready to go.
Be sure to split those big fat chicken breasts lengthwise.  They will cook all the way through and it will still be an ample portion of chicken.
Nothing beats a homemade marinara if you have the time but there are plenty of good wholesome jarred marinaras to choose from.
If Provel Cheese is available to you use it in place of the Provolone.  However it is only available in some parts of the Midwest.
When choosing a good quality balsamic vinegar look for vinegar labelled as Aceto Balsamico Tradizionale di Modena or Aceto Balsamico Tradizionale di Reggio Emilia.  By Italian law these vinegars must be aged for a minimum of twelve years.
Use an oven proof skillet so that this dish can easily be taken from stove top to oven and back again.  Be very careful and do not forget that the handle with will get very hot so use oven gloves or potholders.
This recipe is best served promptly while the breading is still crisp and the cheese is thoroughly melted and warm.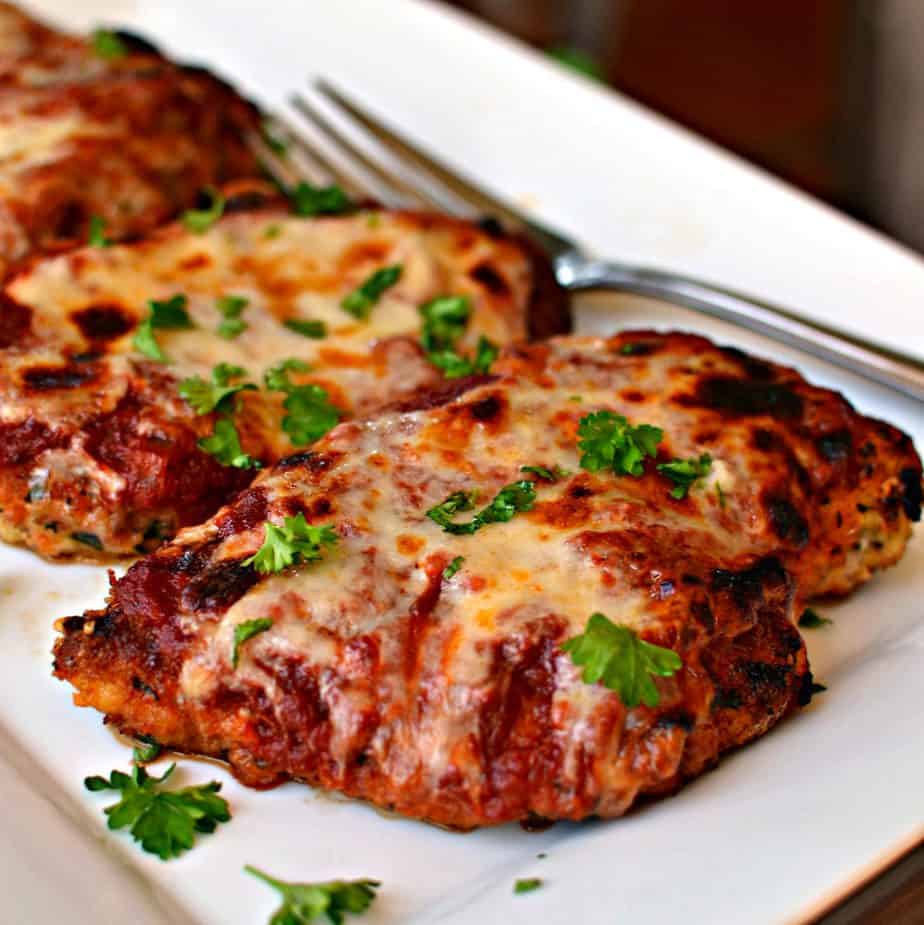 See how amazing it looks?  Your family will be singing your accolades and you will not even notice because you will be sinking your teeth into a delectable piece of this chicken recipe.
We are big chicken eaters so I am always creating new easy ways to keep us out of our chicken rut. After all chicken is so versatile.  There are are just so many things you can do with it and so many different flavor variations.
More chicken recipes you will love!
This post was originally published May 1, 2018 and was republished May 15, 2020 with new content.
Print
Easy Chicken Parmesan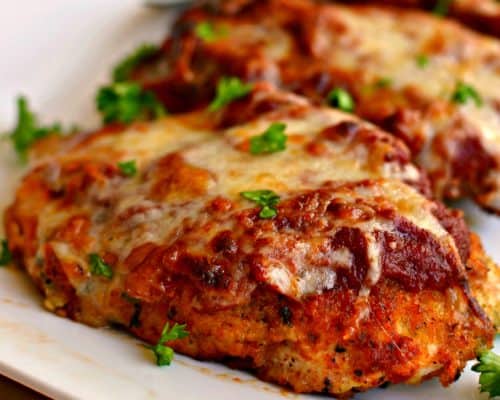 Author:
Prep Time: 10 minutes
Cook Time: 20 minutes
Total Time: 30 minutes
Yield: 4 servings 1x
Category: main meal chicken
Method: stovetop/bake
Cuisine: Italian
Scale
Ingredients
1/4 cup freshly grated Parmesan cheese
1/2 cup Italian breadcrumbs
1/4 teaspoon dried basil
1/2 teaspoon dried oregano
1 tablespoon dried parsley
1 egg
2 large chicken breasts halved lengthwise
salt and pepper
2 tablespoons butter
1 tablespoon vegetable oil
2 cups marinara sauce
2 teaspoons balsamic vinegar
1 cup freshly grated mozzarella
1/2 cup shredded provolone
Instructions
Mix Parmesan cheese, breadcrumbs, basil, oregano and parsley in shallow dish.
Slightly beat the egg in a shallow bowl.
Salt and pepper chicken breasts then place in beaten egg turning over to coat the chicken. Dredge the chicken breasts in the breadcrumb/Parmesan mixture.
Place butter and oil in a large ovenproof skillet, melt and coat the pan. Cook chicken on medium heat until golden brown. About 5 minutes each side.  Place skillet in oven at 300 degrees for 5 minutes.
Mix the marinara sauce and balsamic vinegar in microwavable bowl.  Heat for 2 minutes at 50% power or until warm.  Remove chicken from oven.  Carefully add the marinara.  Sprinkle the mozzarella and provolone cheese evenly over the chicken. Cover loosely with foil and allow to simmer for about 5 minutes or until the cheese is melted.
Keywords: parmesan crusted chicken, baked chicken parmesan, how to make chicken parmesan, easy chicken parmesan
https://www.smalltownwoman.com/wp-content/uploads/2019/05/Beth-1.pdf