Easy Chicken Parmesan is a scrumptious recipe that can be on the table in about 30 minutes.  This delicious classic is a family favorite, so filling and full of natural wholesome ingredients.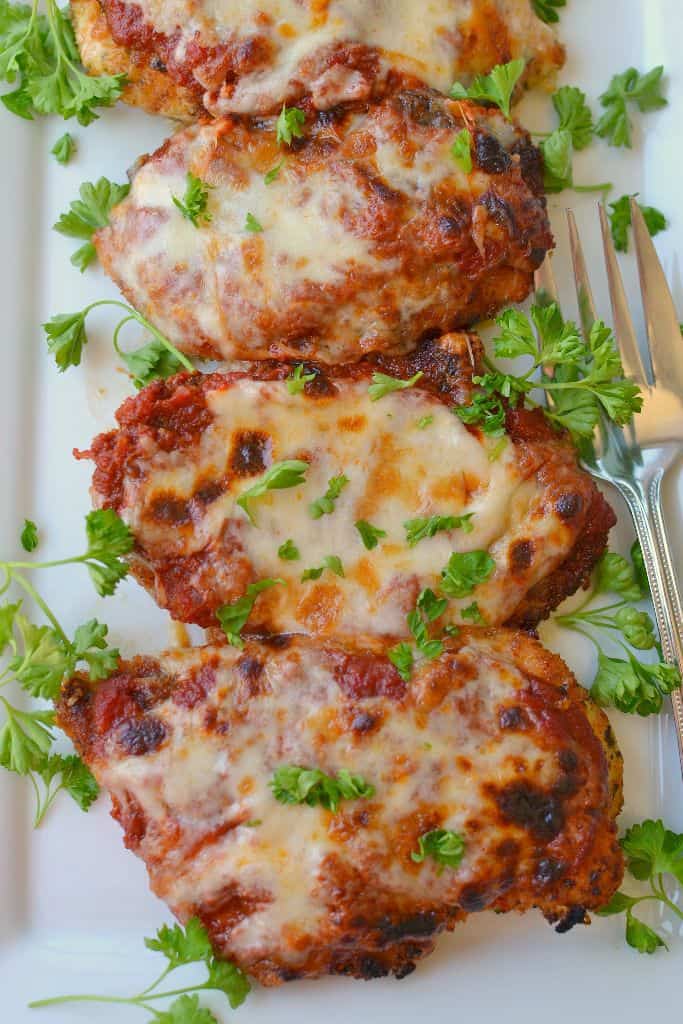 My family loves this recipe.  There is nothing quite like Easy Chicken Parmesan.  It makes the whole house smell so good. This particular version of chicken Parmesan comes together real fast.  My husband and son had two helpings of this last night and they probably would have come back again for more if it had not been all gone.   This scrumptious recipe comes together so quickly that it makes for a perfect weeknight meal. You can prepare the whole recipe in one ovenproof skillet and a couple of small bowls and one shallow plate. I like to mash flavored croutons up for this recipe in place of breadcrumbs.  I think the croutons have less artificial ingredients, taste better and make more crispy chicken.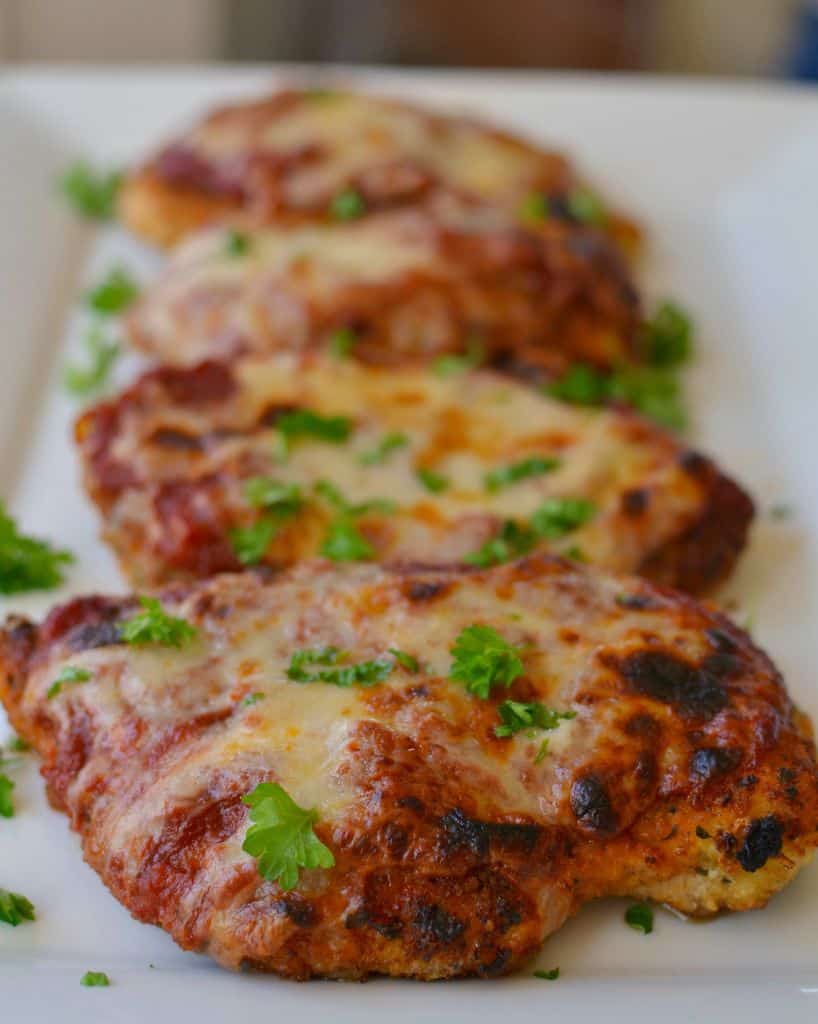 We are big chicken eaters so I am always creating new easy ways to keep us out of our chicken rut. After all chicken is so versatile.  There are are just so many things you can do with it and so many different flavor variations.    Here are some of our favorite chicken recipes.  Some are my recipes and some are fellow blogger favorite chicken recipes.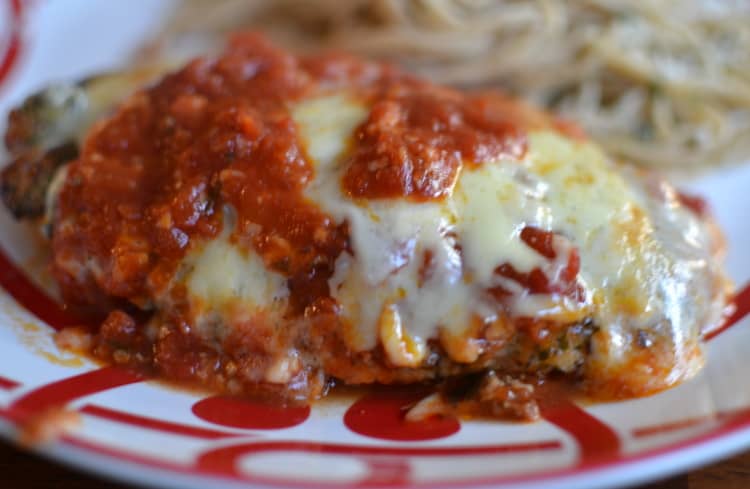 See how amazing that Easy Chicken Parmesan looks?  Your family will be singing your accolades and you will not even notice because you will be sinking your teeth into a delectable piece of Easy Chicken Parmesan.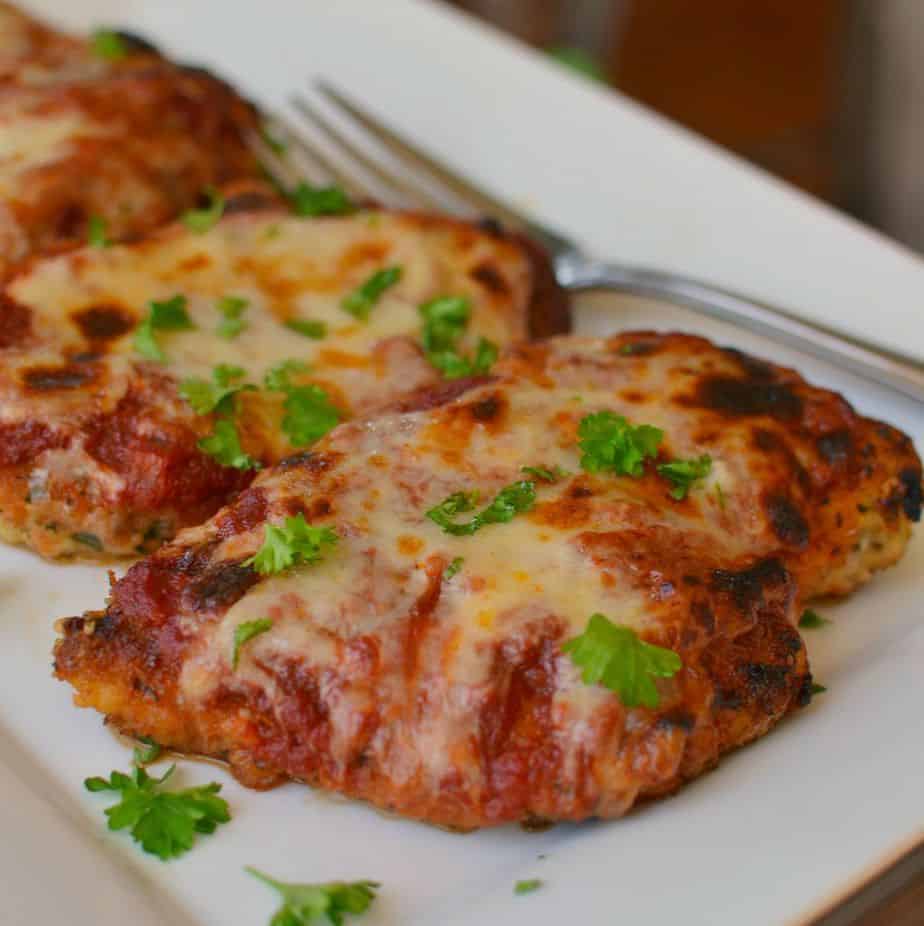 Print
Easy Chicken Parmesan
Scale
Ingredients
1/4 cup Parmesan cheese
1/3 cup breadcrumbs
1/2 teaspoon dried basil
1/2 teaspoon dried oregano
1 tablespoon dried parsley
1 egg
2 large chicken breasts halved lengthwise
2 tablespoons butter
2 cups marinara sauce
2 teaspoons balsamic vinegar
1 cup freshly grated mozzarella
1/2 cup provel ropes or grated provolone
Instructions
Mix Parmesan cheese, breadcrumbs, basil, oregano and parsley in shallow dish.
Slightly beat egg in small shallow bowl.
Salt and pepper chicken breasts then place in beaten egg turning over to coat the chicken. Dredge the chicken breasts in the breadcrumb/Parmesan mixture.
Place the butter in a large ovenproof skillet, melt and coat the pan. Cook chicken on medium heat until golden brown. About 5 minutes each side. Place chicken on oven proof plate uncovered and place in oven at 250 degrees for 15 minutes or until no longer pink. .
Mix the marinara sauce and balsamic vinegar in the skillet pan on low heat and warm it up for about 5 minutes. Add chicken back to skillet. Spread the mozzarella and provel cheese evenly over the chicken. Cover loosely with foil and allow to simmer for about 5 minutes. The cheese should be nicely melted.
Cover the handle (if it is not an ovenproof skillet) and put under the broiler for about 1-2 minutes to lightly brown the cheese. .
Notes
If provel is not available in your area you can substitute provolone cheese.
When I modified the recipe I removed 2 tablespoons of potato flakes from the breadcrumb mixture. I removed a tablespoon of vodka from the marinara mixture. I replaced the egg white with one whole egg and I replaced the gouda cheese with mozzarella.
Other chicken recipes you will love!!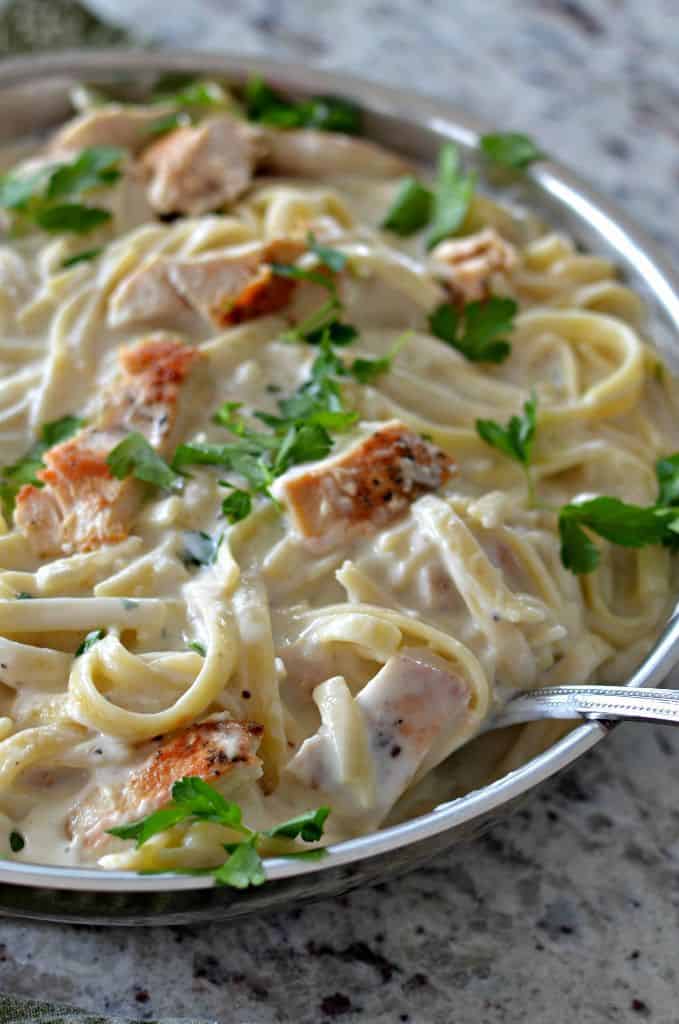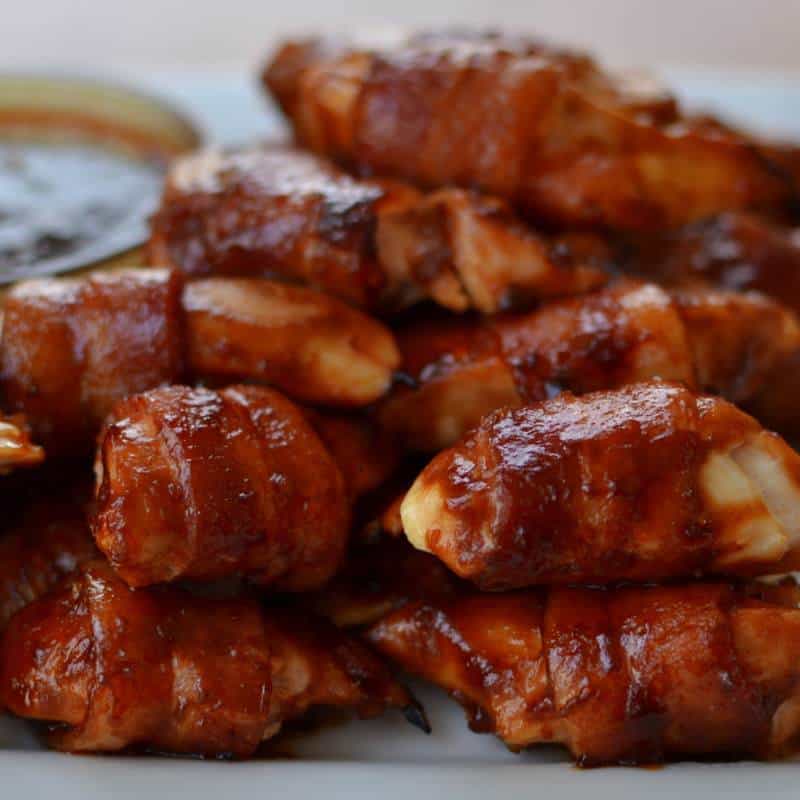 Sweet Bacon Wrapped Chicken Bites
https://www.smalltownwoman.com/wp-content/uploads/2019/05/Beth-1.pdf