Delicious and easy Chicken Chow Mein with crispy noodles, golden browned chicken breasts, cabbage, carrots, onions and celery is sure to become of your family's favorite feasts!  For a super elegant complete meal, serve with Sweet Pork Dumplings and Crab Rangoon Egg Rolls.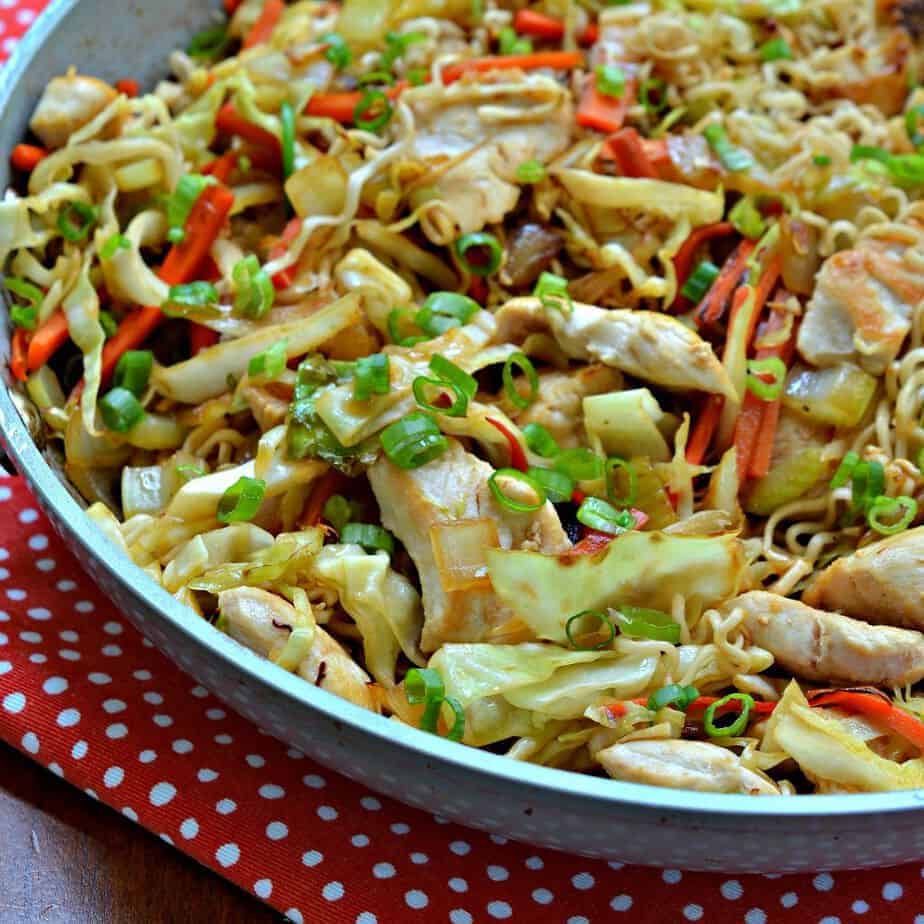 Do you like Asian cuisine? We just love it and this Chicken Chow Mein is one of all our all time favorites. We a little advanced prep, it really comes together quite quickly.  Don't worry if you don't have a wok! A large non-stick skillet works really well too!  I like to boil the noodles and cut all the vegetables about thirty minutes ahead of time.  This allows me time to cut the meat and prepare any sauce mixtures right before starting the stir fry.  If your life is anything like mine, there will be multiple interruptions.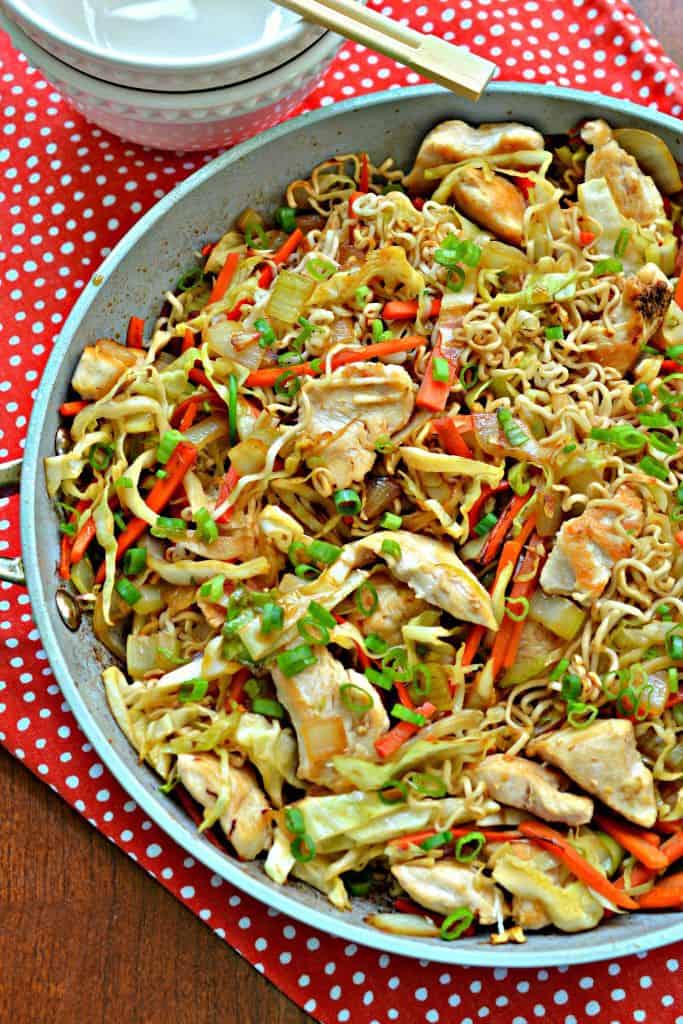 How do you make Chicken Chow Mein?
Preparation
First, chop all your vegetables leaving the cabbage for last. Cover everything with lightly dampened paper towels while you work.   Meanwhile, cook your Chinese noodles according to package instructions.  The ones I purchase take about 3 minutes and I am usually right on top of that so they do not overcook as you want them just a little bit firm.  Drain the noodles well and move them to a large bowl.  Add about 1 teaspoon sesame oil and toss well to coat.  Set the noodles aside for just a few minutes
Now chop your chicken into small bites size pieces.  Then mix together your soy sauce, mirin, sesame oil and ginger in a small bowl. If you like a lot of sauce like my family does double the sauce ingredients.
Cooking
Now things really start to get moving so the Chow Mein needs your undivided attention. Heat a nonstick skillet or wok over medium heat until a drop of water added to the skillet sizzles.  Add the noodles that you set aside.  Work in two batches spreading the noodles out in the pan.  Leave undisturbed for 1-2 minutes or until they start to get crispy. Now flip the noodles over and let the other side get crispy.  Set the cooked noodles aside and add about 1 tablespoon of vegetable oil.
Turn the heat up to medium-high and once the oil is almost smoking add the chicken.  Cook until golden brown on both sides working in batches so you don't crowd the skillet. Remove the chicken to a plate.  Now add a little more vegetable oil to the skillet over medium-high heat. Once it is good and hot add the cabbage, carrots, onions and celery.  Cook until the vegetables are crisp-tender which is usually about 2-3 minutes.  Turn the heat to low and add the garlic. Cook for about 30-60 seconds stirring constantly as there will be a lot of residual heat in the pan.
Finally, turn the heat up to medium adding the chicken and noodles back to the pan to warm.  Add the sauce and stir to combine.  Serve as soon as possible while everything is at its best.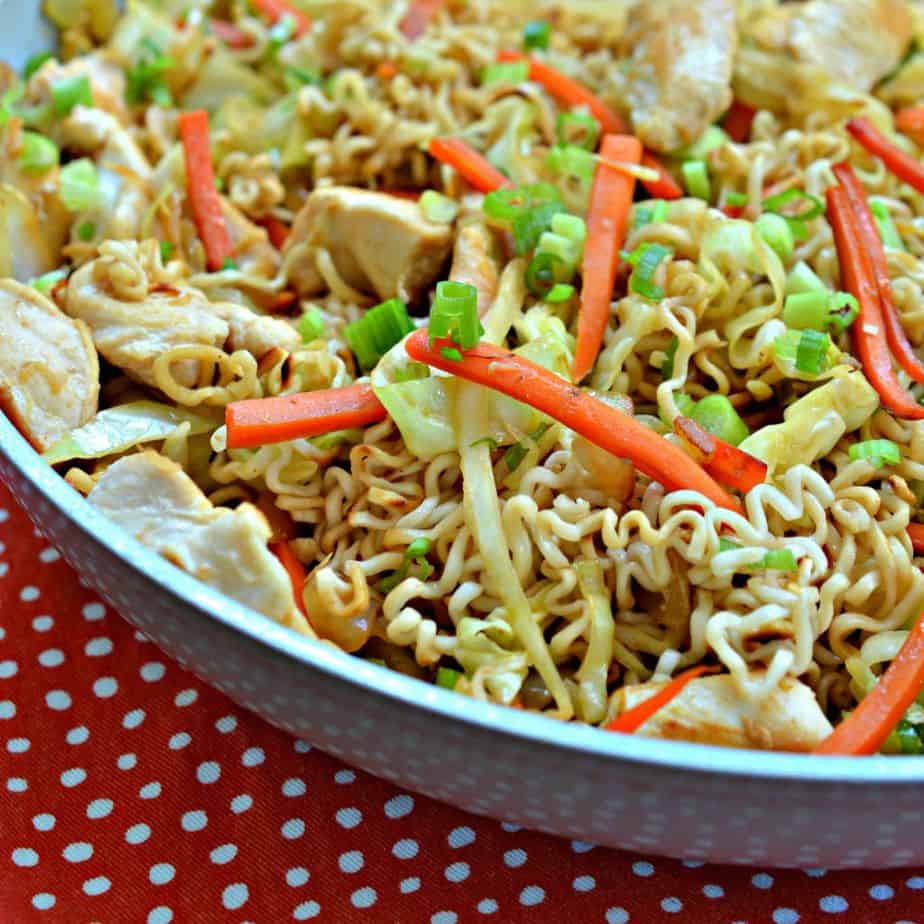 Helpful tips for making Chicken Chow Mein
Chinese noodles can be found in the Asian food section of your grocery store.
Do not overcook the noodles as you want them to have a little bit of firmness to them.
Chop your carrots, onions and celery fairly small and shred your cabbage thin so it ensures a quicker cooking time.
Do not cube your chicken instead cut in bite-size slices that are longer and thinner. This will help cook it all the way through without drying it out.
When cooking the chicken and vegetables use medium-high to high heat and an oil with a high smoking point like vegetable or canola.
Plan on serving this as soon as possible so the vegetables are still crisp-tender.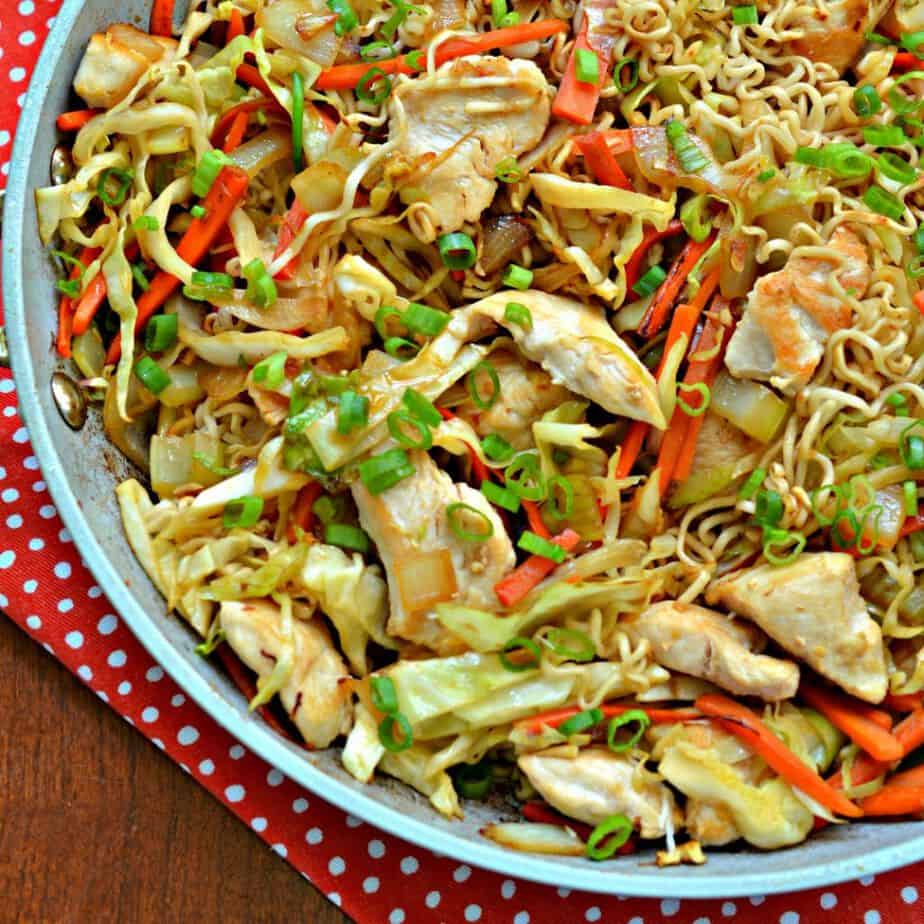 What is the difference between chow mein and lo mein?
Honestly, the difference is really just in how the noodles are prepared.  With chow mein, the noodles are boiled al dente (a little firm when bitten), drained well, coated with oil and pan-fried to give them a little crispiness.  Lo mein noodles are boiled soft and added at the completion of the dish.  Usually, for chow mein a thinner noodle is used that resembles a ramen noodle which is thin and curly.  I used dried Chinese noodles.  For lo mein, usually a thicker more straight noodle is prepared.
Other stir fry dishes you will love!!
Print
Chicken Chow Mein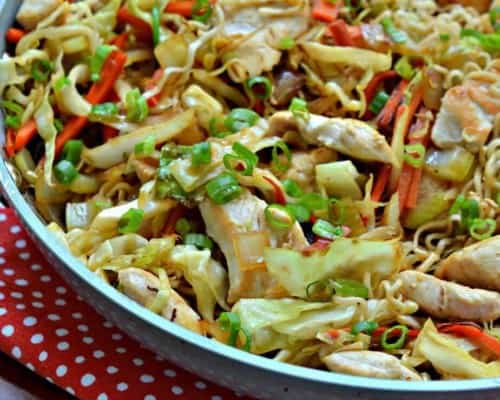 A delectable classic Chinese dish filled with chicken, carrots, cabbage, celery, onions and crispy pan-fried noodles. Make this easy Chicken CHow Mein at home and it will easily replace your favorite takeout!
Author:
Prep Time: 15
Cook Time: 20
Total Time: 35 minutes
Yield: 4 servings 1x
Category: main meal chicken
Method: stir fry
Cuisine: Chinese
8 ounces dry Chinese noodles
1 teaspoon sesame oil
2 tablespoons vegetable oil
1 – 1 1/4 lbs chicken breast cut into small bite size pieces
3 cups thinly sliced green cabbage
2 carrots cut in matchsticks
1 medium onion chopped
2 stalk celery chopped
2 cloves garlic minced
4 thinly sliced green onions
Sauce 
1/4 cup low sodium soy sauce
1 1/2 tablespoons mirin (see notes)
1/2 teaspoon sesame oil
2 teaspoons grated ginger
Instructions
Boil Chinese noodles according to package instructions.  Drain well and toss with 1 teaspoon sesame oil. Heat large skillet over medium heat until a drop of water added sizzles.  Working in 2 batches add the noodles and cook undisturbed for 1-2 minutes or until they get crispy.  Flip and crisp the other side.  Repeat with second batch of noodles. Remove to bowl.
Meanwhile mix together soy sauce, mirin, sesame oil and ginger. Set aside.
Add 1 tablespoon vegetable oil to same skillet over medium high heat.  Working in batches cook the chicken until golden brown on both sides and cooked through. Remove chicken to plate.
Add 1 tablespoons vegetable oil to same skillet over medium high heat until almost smoking.  Add cabbage carrots, onions and celery; cook until crisp tender. Reduce heat to low and add garlic stirring constantly.
Return cooked noodles and chicken to the skillet and stir to reheat.  Add the sauce and stir to coat.  Top with sliced green onions and serve immediately.
Notes
Mirin is sweetened sake and is available at some high-end grocery stores. You can substitute 1 tablespoon sherry with 1/2 tablespoon of brown sugar for mirin.  If you can not find the mirin and you do not want to purchase the sherry simply add 1/2 -1 tablespoon of brown sugar to sweeten the sauce.
Keywords: chow mein, chicken and vegetable stir fry, chicken chow mein recipe, chicken stir fry, Chinese cuisine
On the hunt for more delicious recipes?  Follow Small Town Woman on Facebook, Pinterest, and Instagram.
https://www.smalltownwoman.com/wp-content/uploads/2019/05/Beth-1.pdf