Slow Cooker Pot Roast Recipe is an easy beef roast recipe that even the novice chef can handle. The easy-to-make gravy mixes right in the crock after the vegetables and beef are done.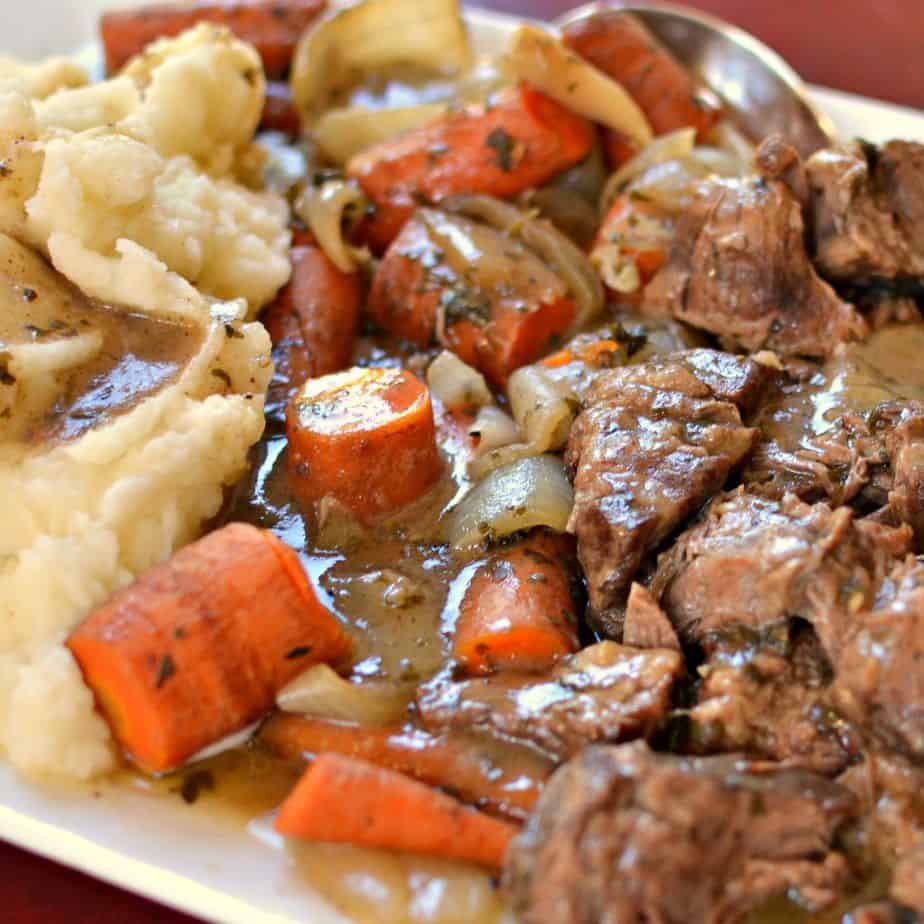 Summer is almost here in full force. The day's temperatures are creeping into the nineties, and the lawn needs a sprinkle here and there. My hubby calls me the air conditioning gypsy, so I am well aware of the heat that summer brings. I love to break out my crock pot during the summer months. It helps keep the heat down when you don't have to turn on the stove. It is a great advantage when you feel that grilling is not an option.
What is Slow Cooker Pot Roast?
Slow Cooker Pot Roast and Vegetables are tender, flavorful, slow-cooked chuck roast, carrots, and onions smothered with creamy beef gravy seasoned to perfection. It is such great comfort food and close to heavenly when served over creamy homemade mashed potatoes. It takes just a few minutes to throw in the crock pot. You can come home to the most fabulous mouth-watering smells; the finishing step is quick and easy.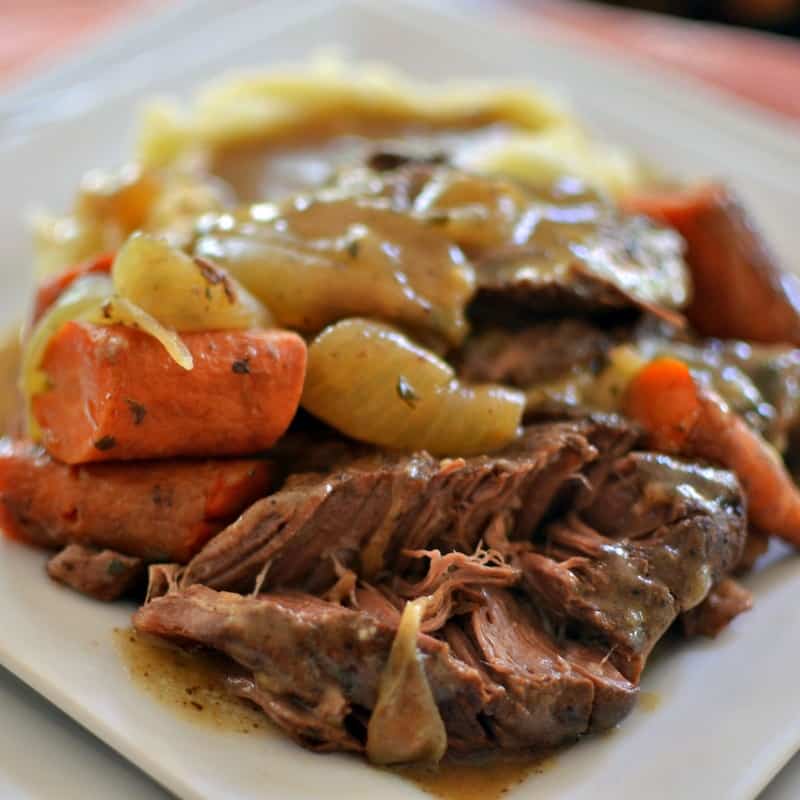 How do you cook it?
A Pot Roast Recipe is easy to cook and one of my family's favorite meals. It is a dump-and-go recipe of beef, vegetables, herbs, and spices that are slow-cooked in the crock pot or in a Dutch oven. You can use the juices to make a simple gravy when it is finished cooking. You can add everything at once, or if you don't want your vegetables that pretty soft, add them 1 1/2 -2 hours before the roast is complete.
What is a Dutch oven?
A Dutch oven is a large, heavy pot with a lid suitable for both the top of the stove and inside the oven. So you brown your roast right in the pan on the top of the stove, add all your goodies and put the lid on, and pop it in the oven. It is fantastic for anything slow-cooked; brisket, ribs, chuck roast, pork roast, and even soup and chili. The Dutch oven is inexpensive and works like a charm.
This Crock Pot Roast Recipe is the ultimate weeknight meal providing the family with a much-needed delicious meal after a long day at work or school. In a hurry, scrap the mashed potatoes and make it super simple by throwing in chunks of potatoes with the carrots and onions.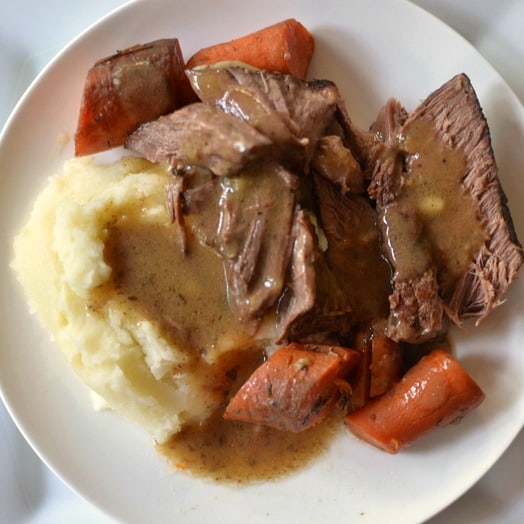 Got big eaters? You can easily increase the size of the chuck roast to 3 lbs and throw in another onion and a couple more carrots. You will not need to change any other part of the recipe.
Is the heat moving in yet? If not, it will be soon, and you can give this simple, fabulously tasty Chuck Roast Crock Pot Recipe a whirl!
Other crock pot recipes you will love!
Print
Slow Cooker Pot Roast Recipe
Crock Pot Roast and Vegetables is tender, flavorful slow, cooked chuck roast, carrots and onions smothered with creamy beef gravy perfectly seasoned.
Author:
Prep Time: 20 minutes
Cook Time: 6 hours
Total Time: 6 hours 20 minutes
Yield: 4 servings
Category: main meal beef
Method: slow cooker
Cuisine: American
Salt & pepper
1–2 tablespoon olive oil
2–3 lb chuck roast
1 (14.5 ounce) can low sodium beef broth
2 tablespoons Worcestershire Sauce
3 cloves garlic crushed
1 tablespoon dried parsley
1 teaspoon dried oregano
1/2 teaspoon onion powder
1–2 onions quartered
3–4 large carrots cut in thirds
2 tablespoons butter
3 tablespoons flour
Optional: Mashed potatoes or cooked egg noodles.
Instructions
Salt & pepper both sides of the chuck roast. In a large skillet, heat olive oil over medium heat. Add chuck roast and brown on both sides. Remove and place in a crock pot. Add beef broth, Worcestershire sauce, garlic, parsley, oregano, onion powder, onions, and carrots. Cook on high for 1 1/2 hours and low for an additional 4-5 hours.
Remove chuck roast and vegetables and place on cutting board. Cover loosely with aluminum foil. Turn the crock pot to high. Melt butter and whisk in flour. Slowly whisk the butter/flour mixture (a little at a time) into the liquid in the crock pot. When thoroughly whisked in, cover and let cook for 10 minutes. Slice or shred the chuck roast with a fork. Serve with vegetables and gravy.
Optional; Serve over mashed potatoes or egg noodles.
Notes
Some of the readers have responded that they like to add the onions and carrots after a couple of hours so they are not as soft.
Keywords: slow cooker pot roast, crock pot pot roast, pot roast and vegetables, comfort food dinner, beef roast
On the hunt for more delicious recipes? Follow Small Town Woman on Facebook, Pinterest, and Instagram.
https://www.smalltownwoman.com/wp-content/uploads/2019/05/Beth-1.pdf