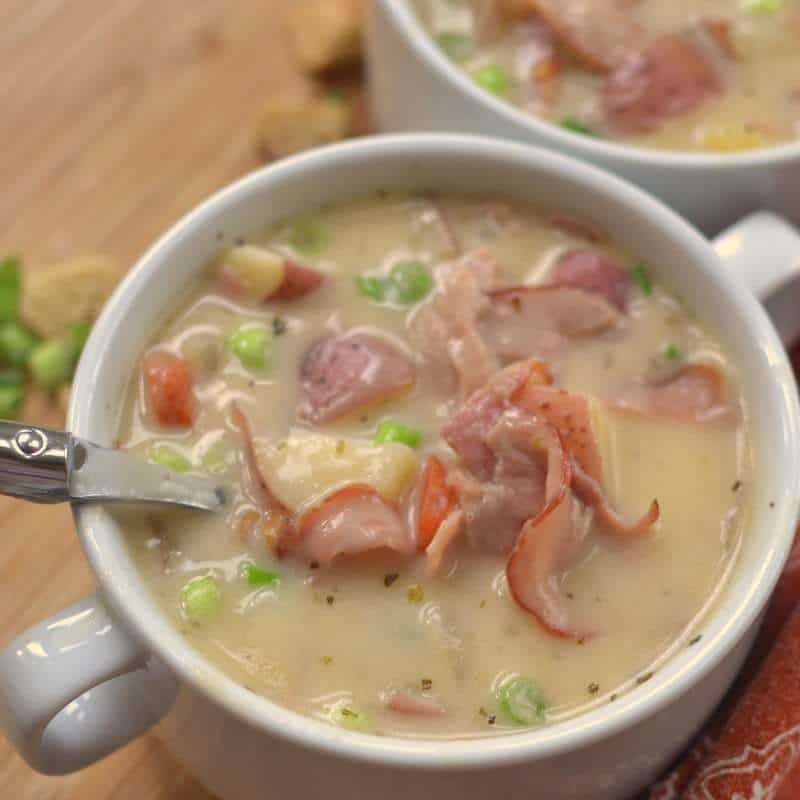 Anytime of the year is perfect for a good warm bowl of soup. Whether it is 110 degrees or 10 degrees soup is always welcome in our house. We love it! This Creamy Potato Ham Soup is a delectable combination of sweet ham and creamy potato goodness!! This superb soup recipe takes no time at all to make. Your family will be filled with healthy for you creamy goodness.
This beautiful bowl of soups starts with skillet sauteed onions, celery, carrots, potatoes and ham and takes it to new heights of delicious goodness. Butter, flour and milk are added to create a creamy broth that makes this soup the perfect comfort food. Have I told you that I LOVE this recipe!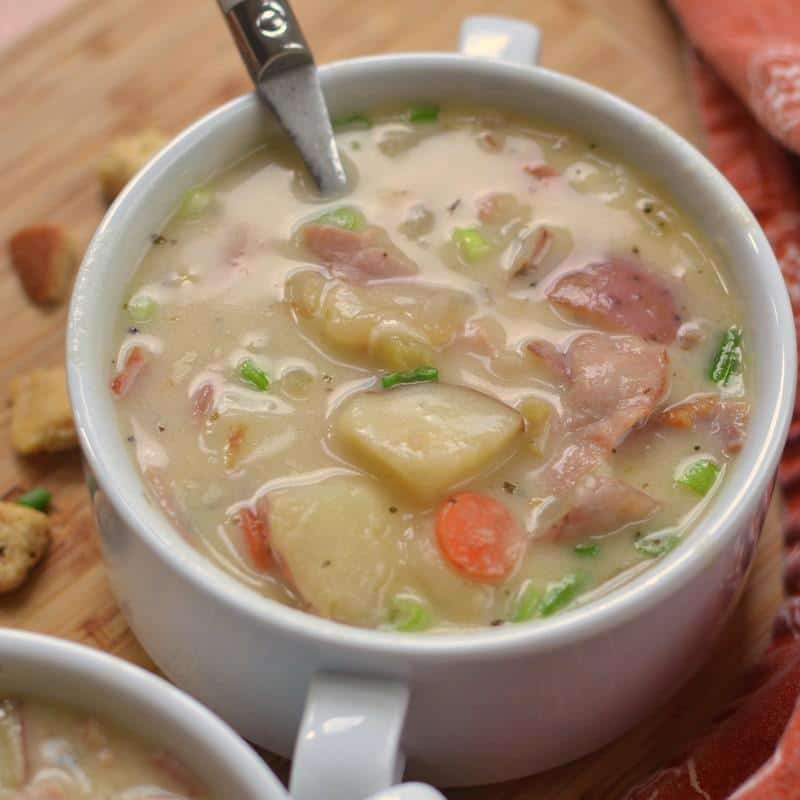 So if you are expecting twelve inches of snow or if fall is just beginning to show its lovely face or maybe its 95 degrees and there is no way you are turning on the stove than this delectable creamy soup is just what you need.
Ingredients
2 tablespoons olive oil
1 medium onion chopped
2 stalks celery chopped
1 carrot sliced in thin rounds
3 cups red potatoes chopped in large bite size pieces (jackets on)
1/2 lb sweet deli ham cut in strips
3 cups low sodium chicken broth
1 teaspoon oregano
1 teaspoon basil
1/2 teaspoon onion powder
1/2 teaspoon garlic powder
3 tablespoons butter
3 tablespoons flour
1 cup milk
Salt & pepper
Instructions
In large stockpot heat oil over medium heat. Add onion, celery, carrot, red potatoes and deli ham. Cook until the onions and ham start to crisp on the edges; approximately 5-7 minutes. Add the chicken broth, oregano, basil, onion powder and garlic powder. Simmer until the potatoes are tender; approximately 15 minutes.
In skillet melt butter and whisk in flour. Cook over low heat until bubbly and well combined; approximately 1 minute. Slowly whisk in milk working to make it creamy and to get out any lumps. When thoroughly mixed and thickened slowly stir into soup. Simmer until warmed. Salt & pepper to taste.
Notes
Wondra flour is terrific for soups and gravies.
https://www.smalltownwoman.com/creamy-potato-ham-soup/
Other soups you will love!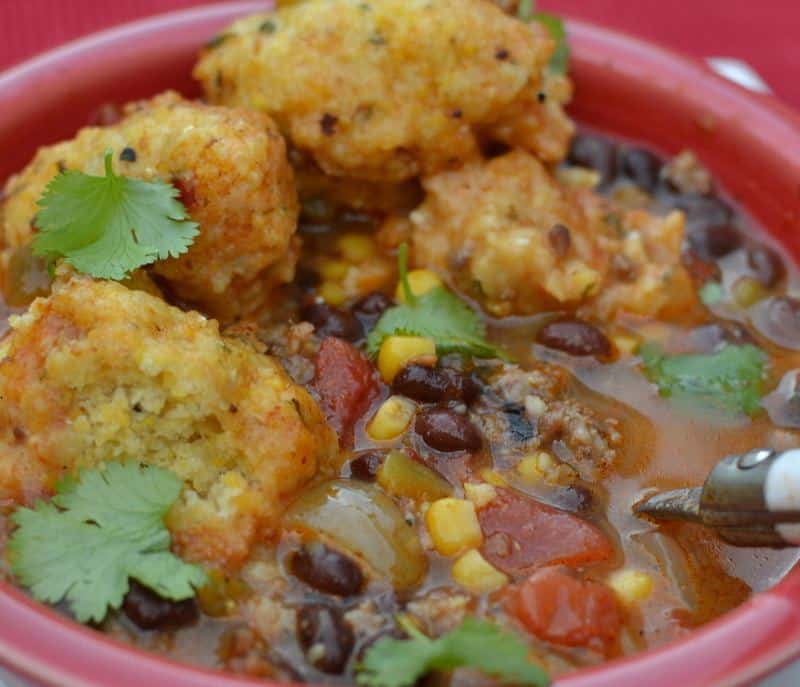 Southwest Chowder with Cornbread Dumplings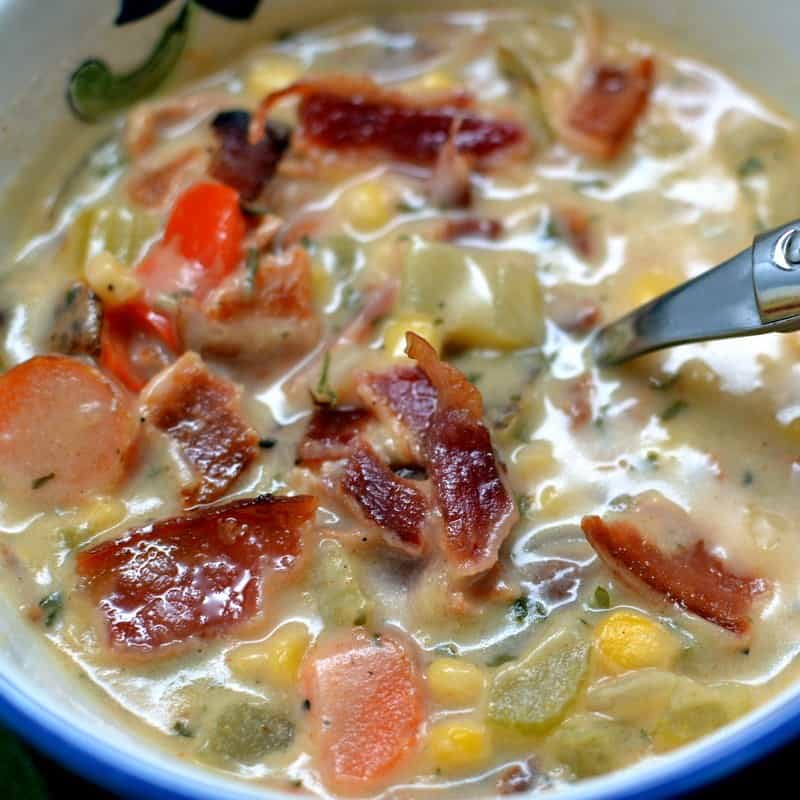 Bacon Potato and Corn Chowder