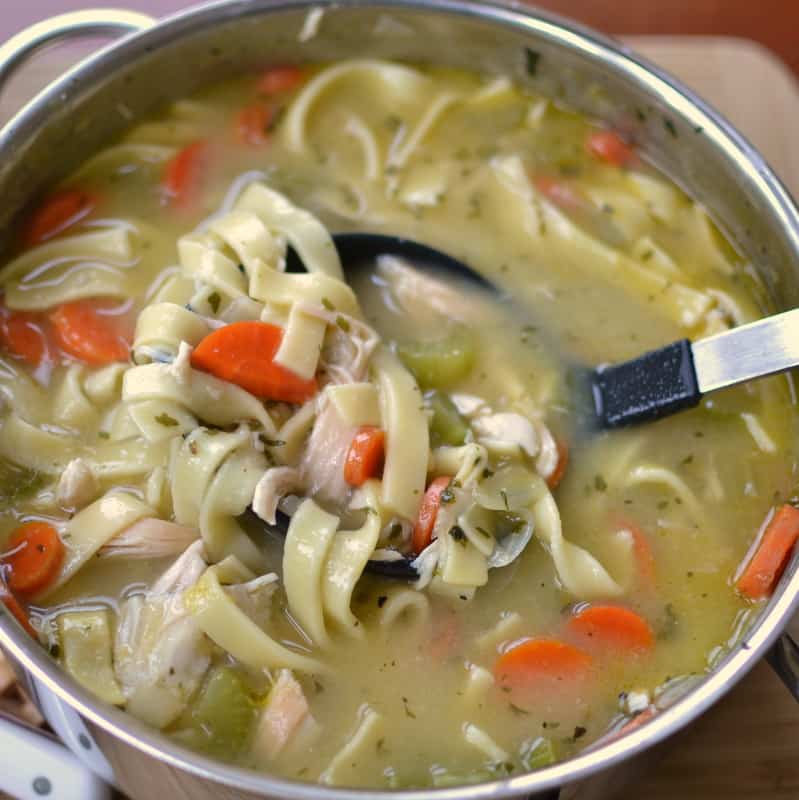 School is back in session and fall is quickly approaching.  The days are getting a little shorter and so is my available time to make meals. Soup weather is on the horizon. This 30 Minute Chicken Noodle Soup is delectable, easy and quick.  It takes full advantage of already cooked rotisserie chicken.  I purchased this one at Costco but they are available everywhere.  They are delicious tender and juicy making them perfect for a pot of great soup.
This recipe calls for half of that chicken so you can plan another dinner with the rest of the chicken a couple of days later.  Triple Cheese and Rotisserie Chicken Nachos, Quick & Easy Tex Mex Chicken Chimichangas and Barbecue Chicken Grilled Cheese are just a few of my favorites using precooked rotisserie chicken.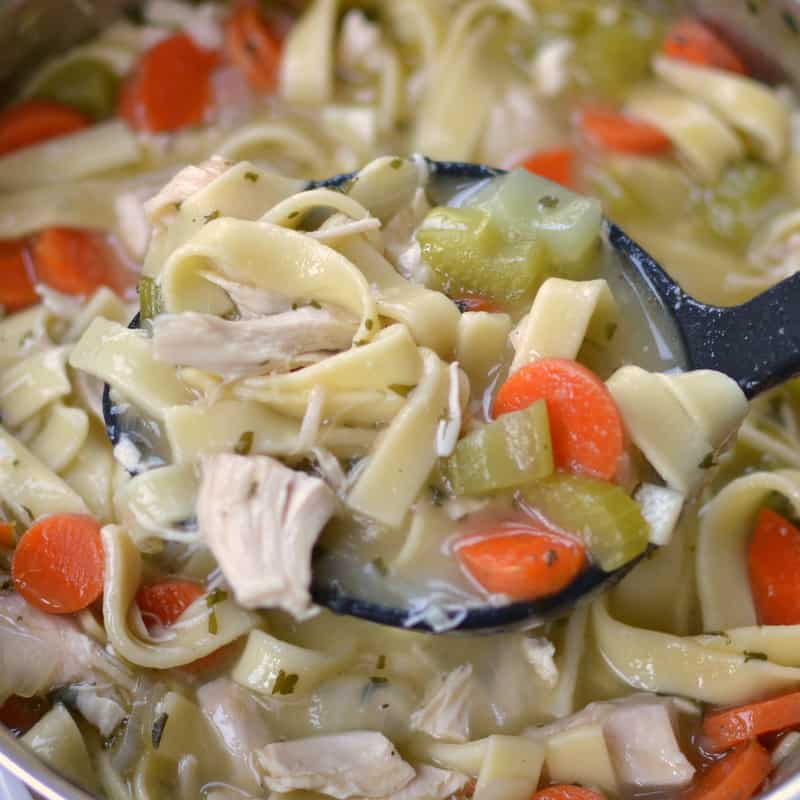 I just love soup.  It really does warm the soul.  This 30 Minute Chicken Noodle Soup combines onions, celery, carrots, roasted chicken and noodles in a perfectly seasoned creamy broth.  It is easy to prepare and can be completed in 30-35 minutes depending on the thickness of your egg noodles.  I just love the Amish Homestyle Egg Noodles but they do take a few minutes longer to cook. Even my picky son loves this soup and asks for seconds and thirds.
"Only the pure in heart can make a good soup."  Ludwig van Beethoven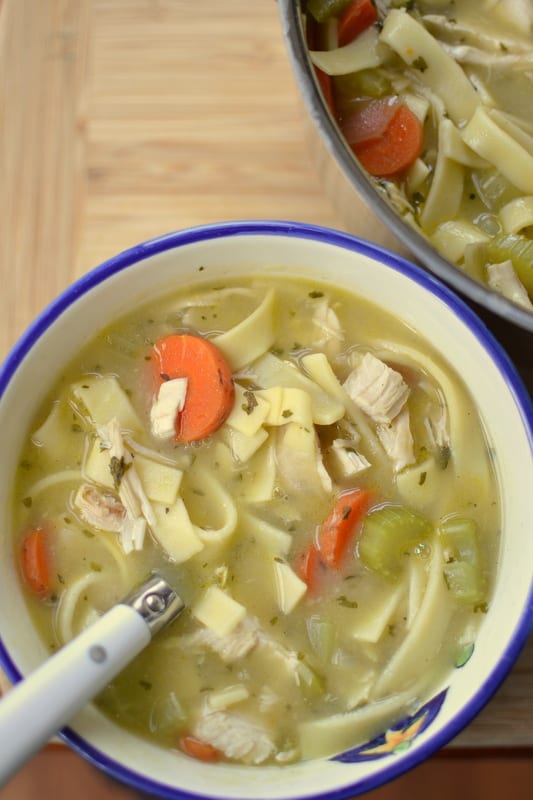 So if you feel like you are burning both sides of the candle but you still want to prepare your family healthy hearty meals than put this 30 Minute Chicken Noodle Soup on your meal plan. You and your loved ones will really love it.
"Soup is a lot like a family. Each ingredient enhances the others; each batch has its own characteristics; and it needs time to simmer to reach full flavor."  Marge Kennedy
You can find lots of other fun soup quotes at BrainyQuote Soup Quotes!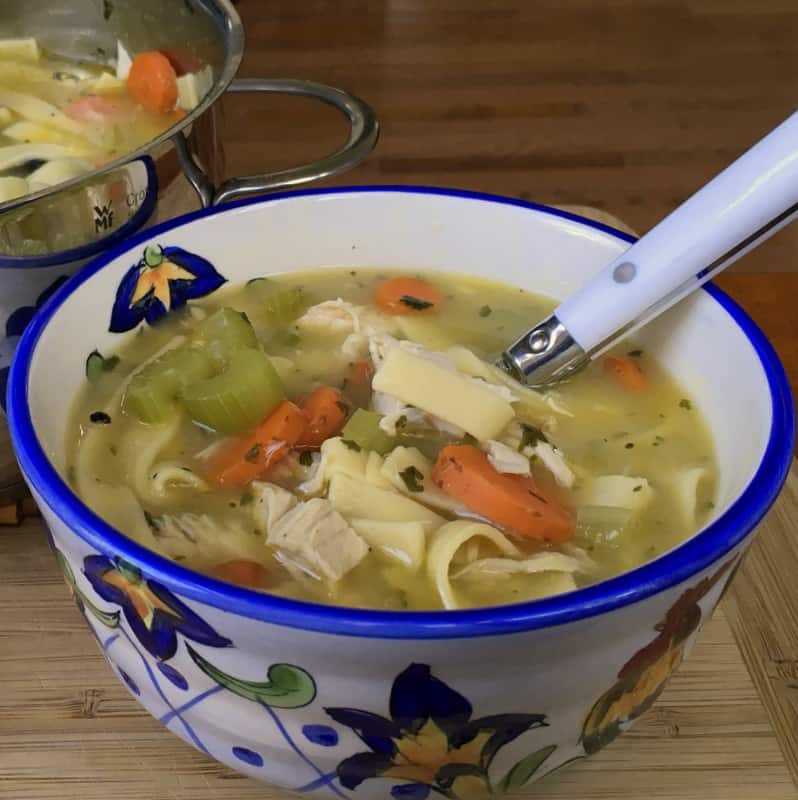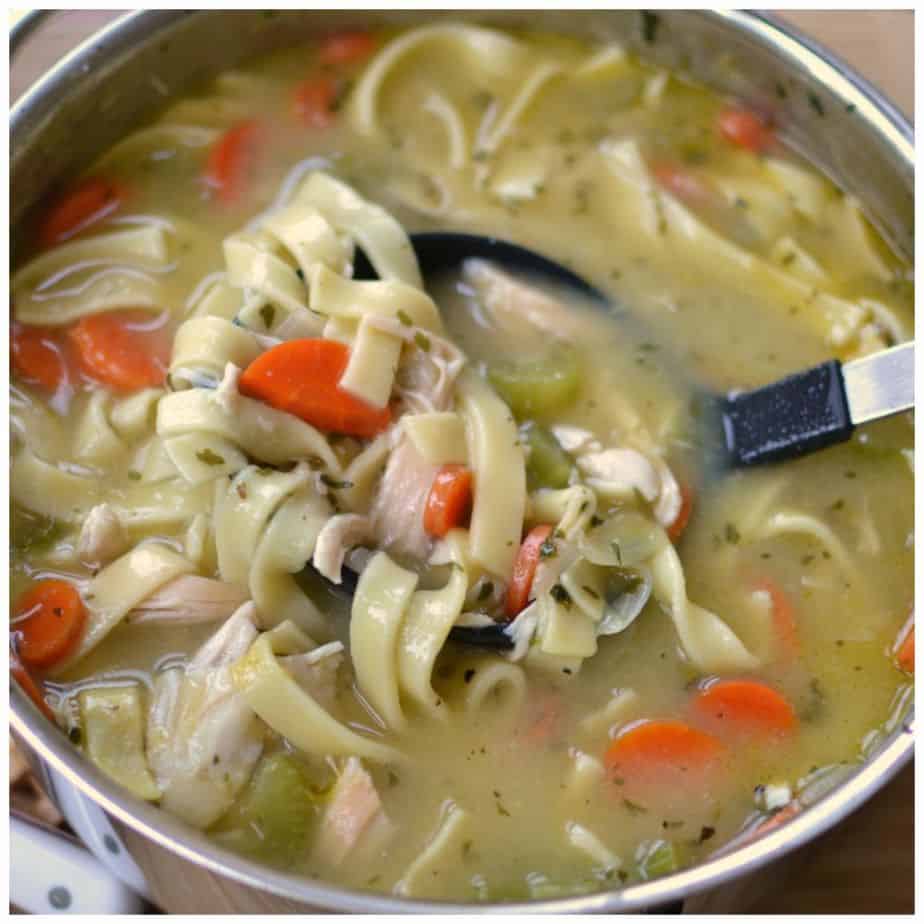 Print
30 Minute Chicken Noodle Soup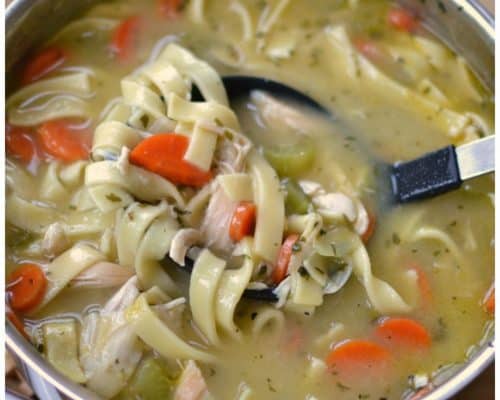 Satisfy your chicken noodle soup craving with this easy 30-minute recipe. A delicious homemade soup will cure just about any ailment, and this hearty chicken noodle soup is a perfect cure!
Author:
Prep Time: 15 minutes
Cook Time: 15 minutes
Total Time: 30 minutes
Category: Soup
Method: Stovetop
Cuisine: American
Scale
Ingredients
1 tablespoon vegetable oil
2 large carrots sliced in thin rounds
2 stalks celery chopped
1 small onion chopped
1/8 teaspoon ground dried sage
1/4 teaspoon ground dried thyme
1/4 teaspoon ground dried rosemary
1/4 teaspoon onion powder
1 teaspoon dried parsley
6–8 cups low sodium chicken broth
2 cups cut up cooked chicken (rotisserie chicken)
2 cups uncooked wide egg noodles (I use the Amish homestyle noodles
2 tablespoons butter
2 tablespoons all purpose flour
Instructions
In large stock pot or heavy saucepan heat oil over medium heat. Add carrots, celery and onion and cook until just starting to soften; approximately 3-5 minutes. Reduce heat to medium low. Add sage, thyme, rosemary, onion powder and parsley and cook for 30 seconds. Add chicken broth and bring to low boil. Add chicken and egg noodles and cook until noodles are soft; 8-15 minutes (varies depending on your egg noodle)
Melt butter in microwave and stir in flour. Slowly add butter/flour mixture to soup whisking in small amounts at a time. Cook for 1-2 minutes. Serve immediately
Keywords: chicken noodle soup, 30-minute chicken noodle soup, homemade chicken noodle soup
https://www.smalltownwoman.com/wp-content/uploads/2019/05/Beth-1.pdf