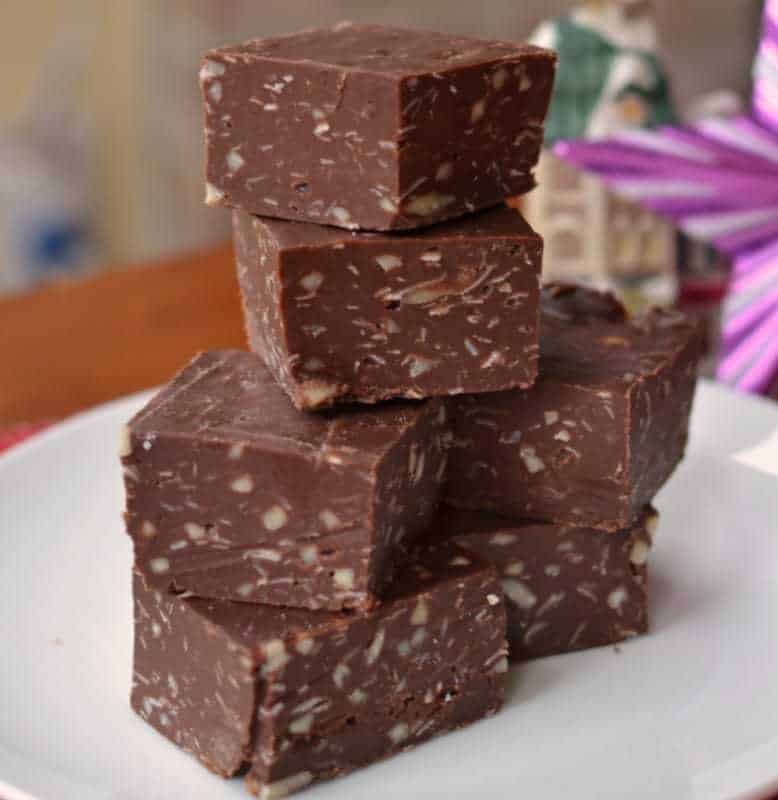 This time of the year is perfect for all kinds of yummy goodies!!! Are you a lover of all things creamy and chocolate? Do you love fudge but don't want the hassle of finding your candy thermometer and stirring till you feel like you need an ice pack for your arm. Not to mention that if you don't get that cooked fudge to just the right temperature for just the right amount of time you are not going to end up with the creamy result you are looking for. Instead you will end up with with grainy gritty pieces that you have to throw away or pawn off on the neighbors!! This easy microwaveable Foolproof Almond Joy Fudge is your answer to beautiful creamy delicious fudge with very little effort. No candy thermometer, no broken arm, and no messed up fudge that you have to find a home for!!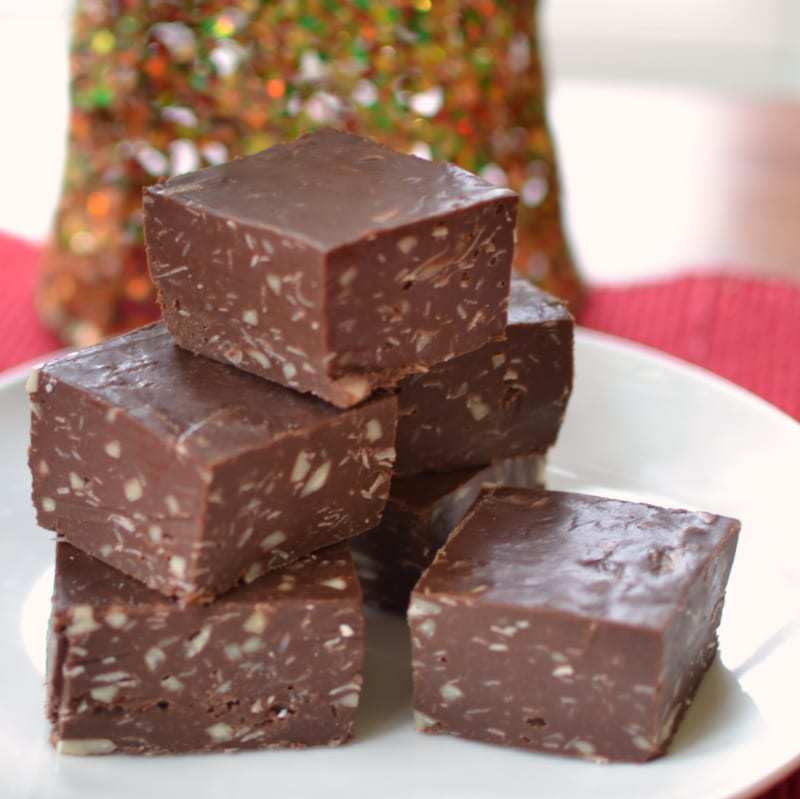 Instead you will have wonderful pieces of creamy goodness that you can be proud of!! Your friends and family will be showering you with praise and compliments. They never need to know that you whipped this beauty up in a whole whooping five minutes. Let's just keep it our little secret. I won't tell if you don't tell!!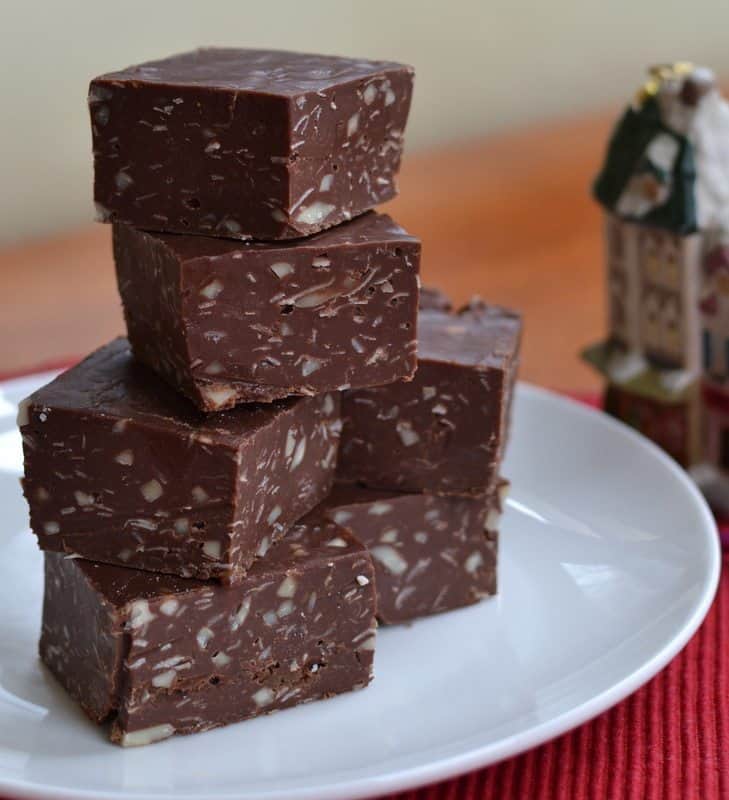 Foolproof Almond Joy Fudge is a sweet creamy combo of chocolate, almonds and coconut! So if you have five minutes and the desire to make a creamy sweet treat to share with your loved ones I got your back.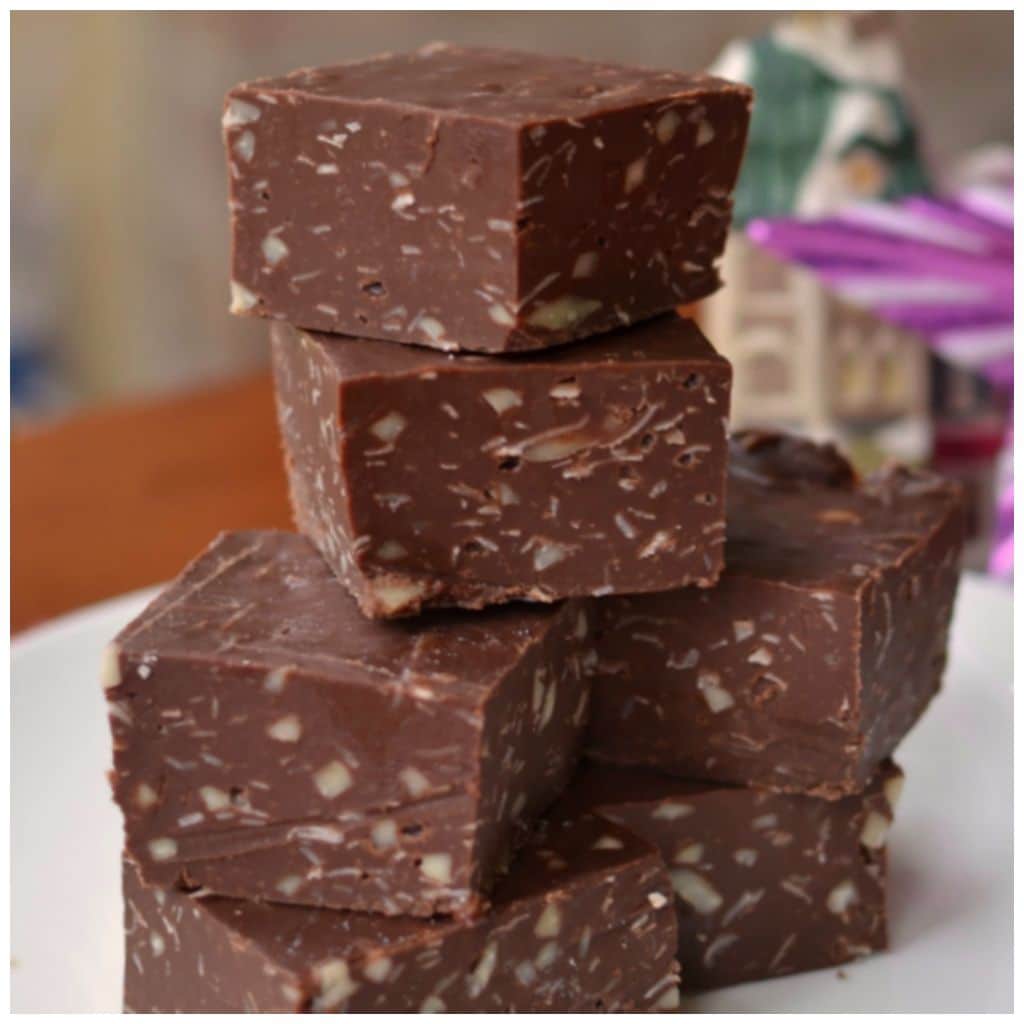 Print
Foolproof Almond Joy Fudge
3 cups semi sweet chocolate chips (I use Ghirardelli)
1 can sweetened condensed milk (14 ounce)
1/4 cup butter
1 cup sweetened flaked coconut
1/2 cup slivered almonds
Instructions
Line 8 x 8 inch pan with parchment paper leaving an overhang. You will use this overhang to help remove the fudge from the pan.
In large microwavable bowl add chocolate chips, sweetened condensed milk and butter. Cook in microwave at 50% power until chips are melted; approximately 3-5 minutes. Stir a couple of times during the cooking process. After chips are melted quickly stir in coconut and almonds.
Pour into parchment lined pan and smooth with the back side of a spoon lightly sprayed with nonstick baking spray. Refrigerate until set. Using the overhang lift fudge out of pan and place on cutting board or plate. Peel off parchment paper.
On the hunt for more delicious recipes? Follow Small Town Woman on Facebook, Pinterest, and Instagram.
https://www.smalltownwoman.com/wp-content/uploads/2019/05/Beth-1.pdf