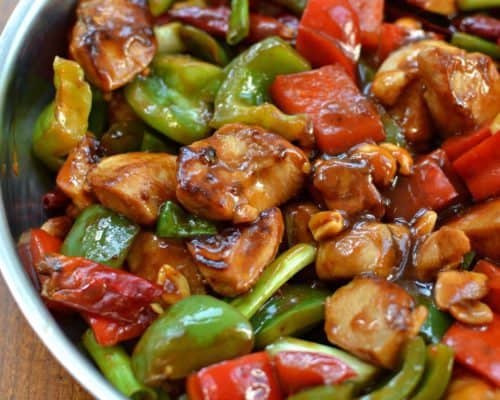 Kung Pao Chicken is the ultimate stir fry experience. It is loaded with delicious peppers, scallions and peanuts in a sweet and salty slightly spicy sauce.
Notes
I use low sodium soy sauce for all my cooking.
Hoisin sauce, sesame oil. sriracha and sambel oelek can be found in the oriental section of most grocery stores.
Dried chilies are usually found in the Mexican section or fresh produce section with the other dried peppers.
I like to soak my dried chilies for about 30-60 minutes in lukewarm water to re hydrate them prior to cooking.
If you don't like too much heat cut the chilies open and remove seeds prior to hydrating them or cooking with them.
Keywords: CHICKEN STIR FRY, DINNER, DRIED CHILI PEPPERS, GREEN BELL PEPPER, GREEN ONION, HOISIN SAUCE, KUNG PAO, PEANUTS, RED BELL PEPPER, SCALLIONS, SESAME OIL, STIR FRY