This scrumptious easy crust-less Pumpkin Dump Cake is like eating the best part of the pumpkin pie topped with a crunchy cinnamon pecan topping.  The base is super quick to come together as it is all mixed in one bowl. The topping has three simple ingredients that take less than five minutes to prepare.  I love to take this treat to potlucks, family reunions, fall and holiday parties.  It is always a big hit and I always come home with an empty dish.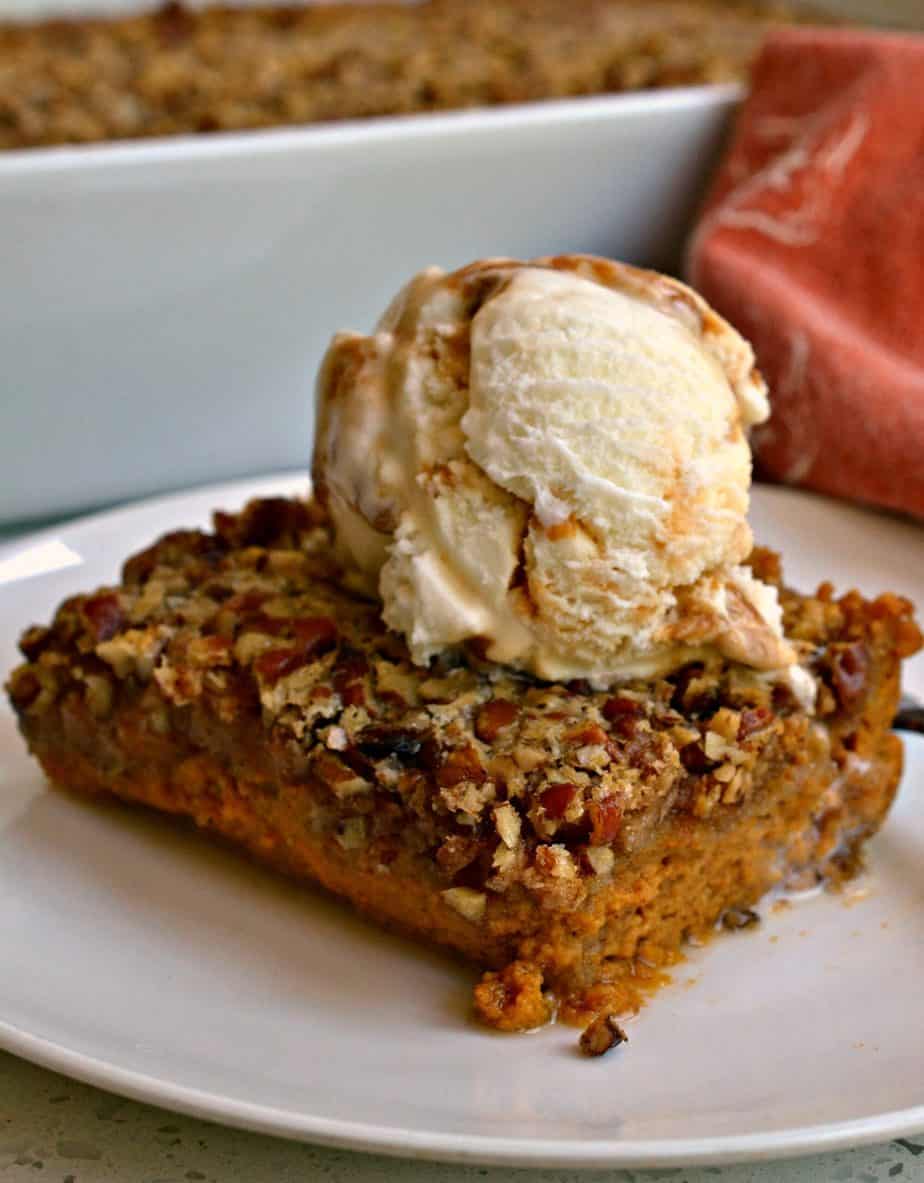 I just love pumpkin.  Actually I love everything about fall.  From the bright color colored mums, to the changing colors of the beautiful maples and sweet gum trees, to the cool crisp nights.  It is my absolute favorite time of the year.  With it comes pumpkin, pumpkin and more pumpkin.  I just can not get enough of it.  Pumpkin Cake with Cream Cheese Filling, Whipped Pumpkin Butter, Pumpkin Bread with Cinnamon Glaze and this recipe are just a few of our favorites.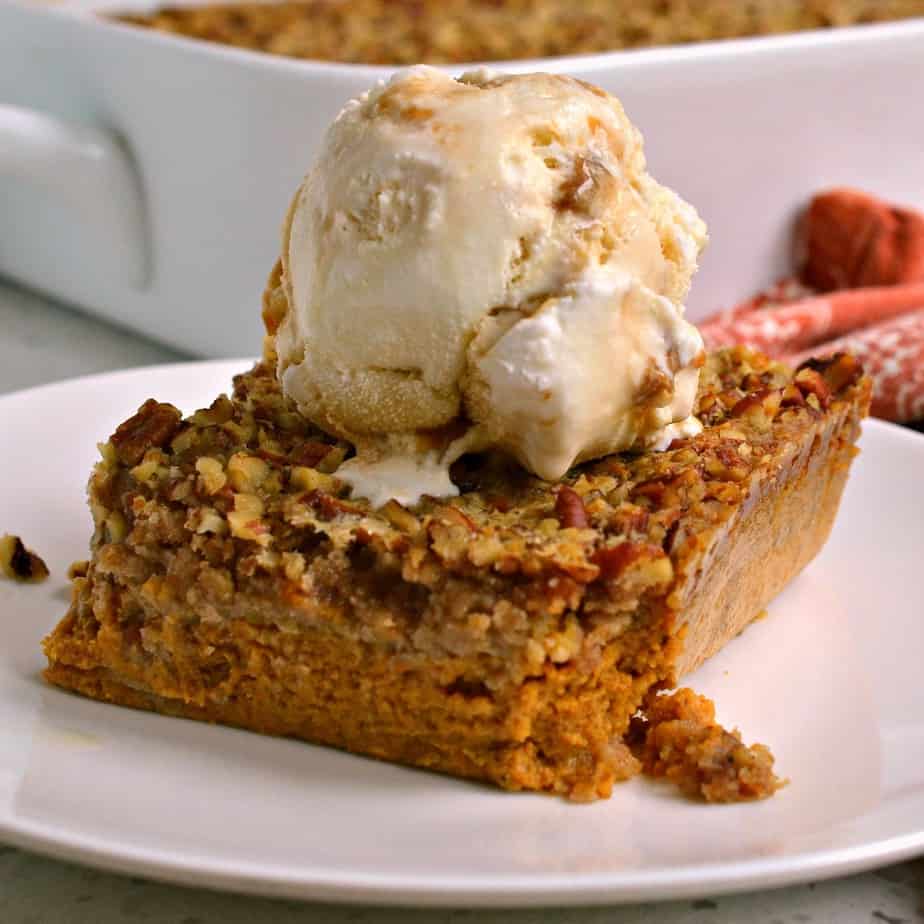 How to make Pumpkin Dump Cake
Start by mixing your pumpkin, evaporated milk, eggs, sugar, brown sugar, cinnamon, ground ginger, ground cloves and nutmeg together.  Next pour the mixture into a greased and floured 9 x 13 inch pan.  Now sprinkle with the spice cake mix and chopped pecans. Top with pats of butter and bake for about 1 hour.  If desired top with fresh whipped cream or homemade ice cream.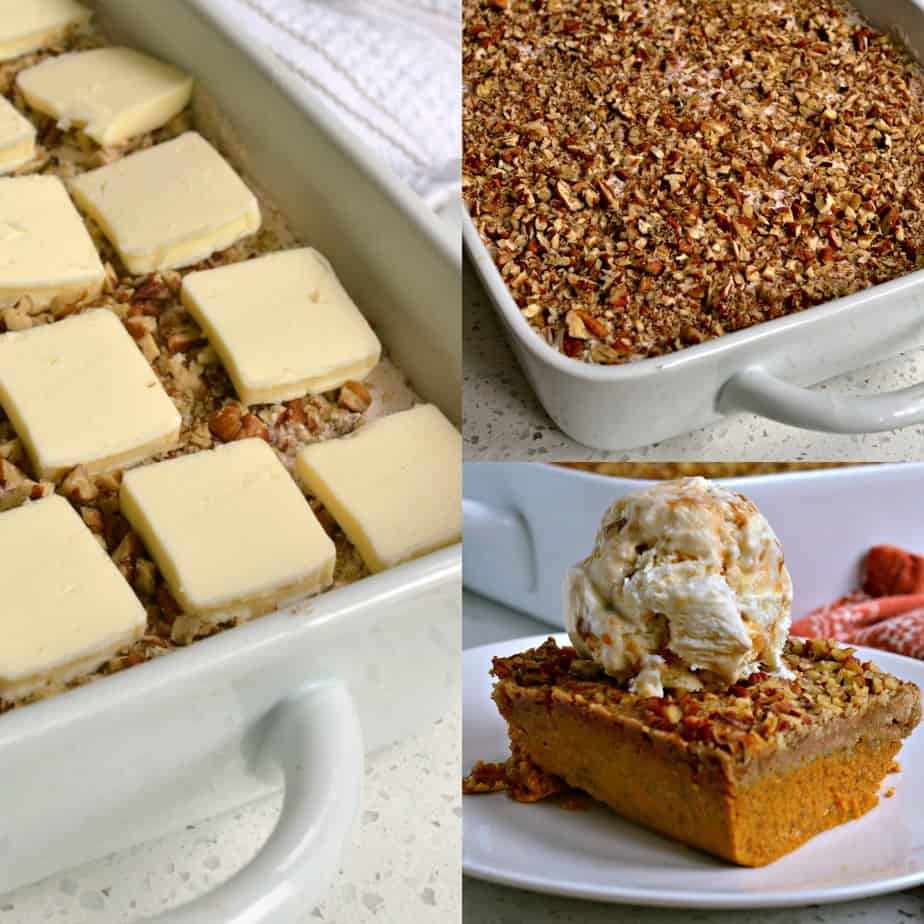 Tips and recipe notes for Pumpkin Dump Cake
Use pumpkin puree for this and not pumpkin pie filling as the pie filling has spices already added to it.
For best results use good quality fresh spices.  I have a fresh spice store about 20 minutes from here and the aromas of the fall spices will almost make you drool.
Walnuts are an excellent substitute for the pecans.
If you can not find a spice cake mix simply use a butter cake mix.  Remember you are only using the dry cake mix.  You are not using any of the additional mix ingredients listed on the box.
This cake is delicious a la mode or with fresh whipped cream.
Store this pie and any leftovers from this pie in the fridge.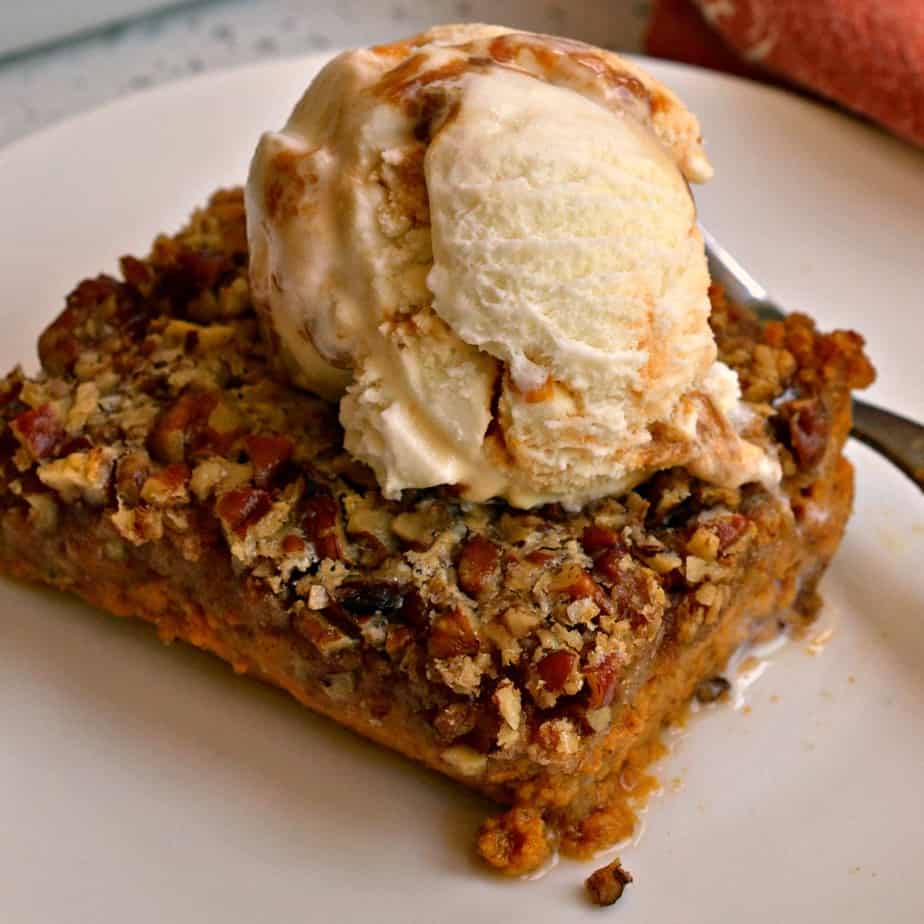 Can you use fresh pumpkin to make this recipe?
Yes you most certainly can. I prefer to use the pie pumpkins.  They are sweeter, have more flavor, and have less moisture. They are the little pumpkins generally between 3-8 lbs.  A 30 ounce can of pumpkin is just shy of 4 cups so you will need about a 4-5 lb. pie pumpkin for this recipe.
Simply cut the pumpkin in half from the top down.  Now scrape out the seeds and stringy fibers reserving the seeds if you are going to roast them. Next place cut side down on baking sheet and roast at 375 degrees for 1 – 1 1/2 hours or until tender.  Then remove from the oven and allow to cool.  When cool enough to handle scoop pulp from rind. Next puree it in a food processor or simply mash it with an old fashioned potato masher.  Finally place the puree in a sieve and set it over a bowl to catch the moisture. Let the puree drain for 1 hour.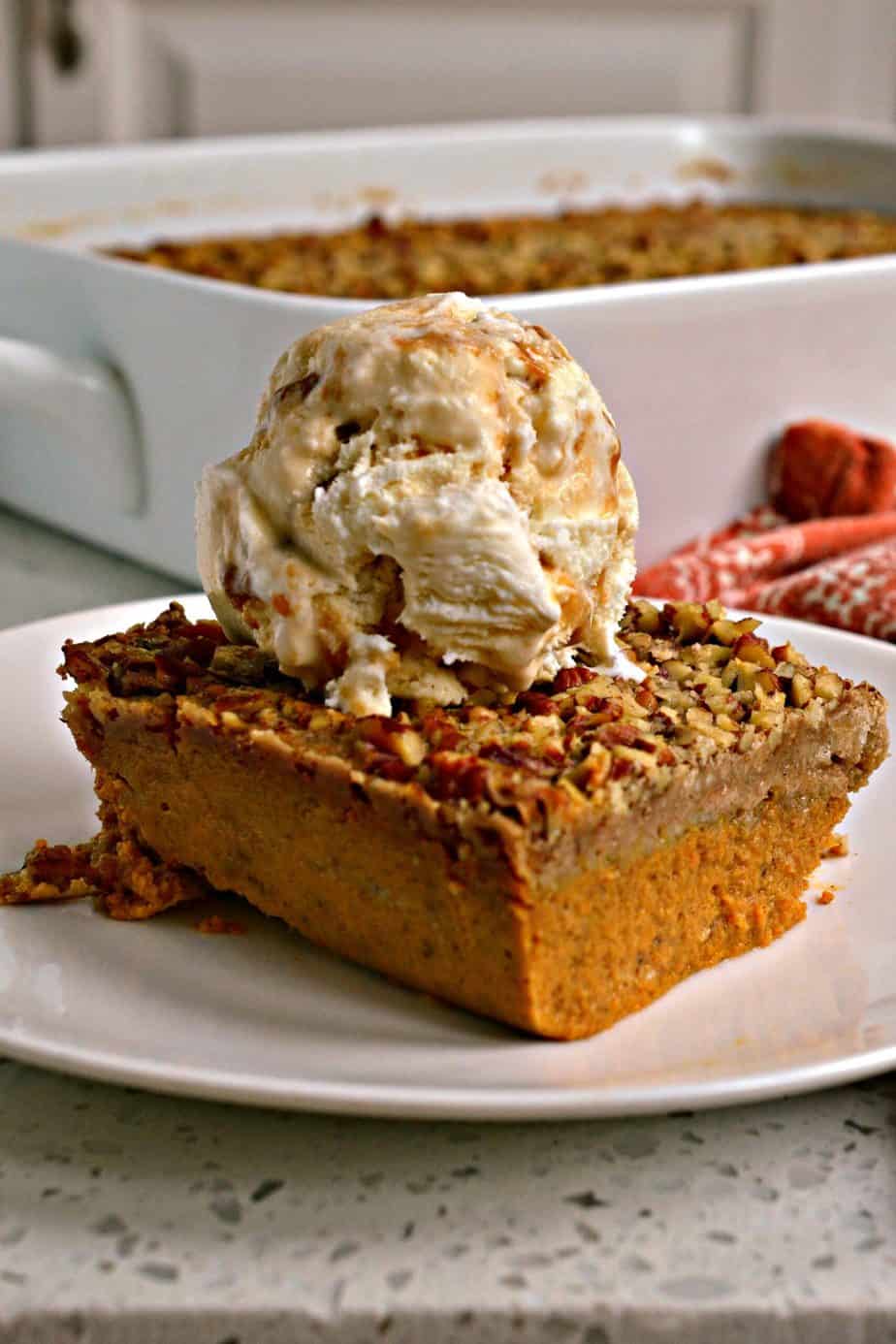 Print
Pumpkin Dump Cake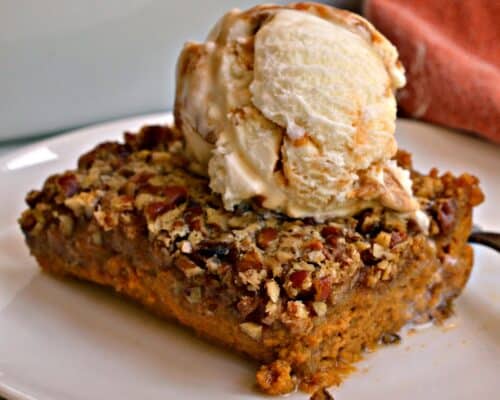 This family friendly pumpkin dump cake is so easy to make and so luscious with pumpkin pie filling and a sweet cinnamon crunchy pecan topping.
Author:
Prep Time: 10 minutes
Cook Time: 50 minutes
Total Time: 1 hour
Yield: 12 servings 1x
Category: dessert
Method: bake
Cuisine: American
Scale
Ingredients
2 (15 ounce) cans pumpkin puree
1 (12 ounce ) can evaporated milk
3 eggs
1/2 cup sugar
1/2 cup brown sugar
2 teaspoons ground cinnamon
1 teaspoon ground ginger
1/4 teaspoon ground cloves
1/4 teaspoon ground nutmeg
1 (15.25) spice cake mix (dry)
1 cup chopped pecans
3/4 cup unsalted butter sliced in about 1/4 inch pats
Instructions
Preheat oven to 350 degrees.  Grease and flour a 9 x 13 inch pan.
Stir together pumpkin puree, evaporated milk, eggs, sugar, brown sugar, cinnamon, ginger, cloves, and nutmeg.  Pour into prepared pan.  Sprinkle evenly with dry cake mix and chopped pecans.  Top evenly with butter pats.
Bake for 50 -60 minutes or until lightly browned on the edges.
Keywords: pumpkin pie dump cake, pumpkin pecan dump cake, pumpkin spice dump cake
https://www.smalltownwoman.com/wp-content/uploads/2019/05/Beth-1.pdf