This delectable Roasted Broccoli Cauliflower Soup is plump full of natures wholesome goodness and  flavor.  The broccoli, cauliflower and potatoes are roasted in the oven to give it a little more of a smoky slightly crunchy texture.  The base is a welcoming combination of onions, garlic, chicken broth, cream and bold white cheddar.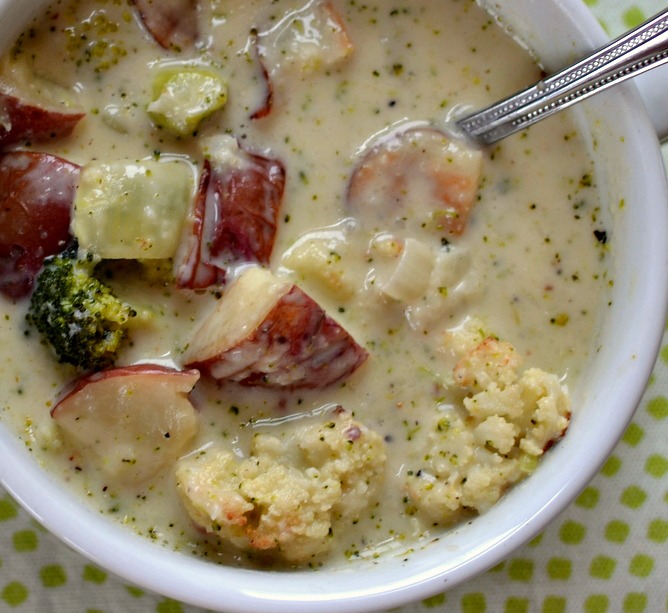 Soup weather is here and we could not be happier about the soup but maybe not about the weather.  This scrumptious Roasted Broccoli Cauliflower Soup takes this recipe to a whole new level by first roasting the vegetables.  This technique helps lend a little bit of smoky flavor to this soup along with a touch of crispy edges from the roasted vegetables.  You can eat this soup nice and chunky like I did or puree whatever portion you desire.  Your kitchen is your playground so make it to suit you.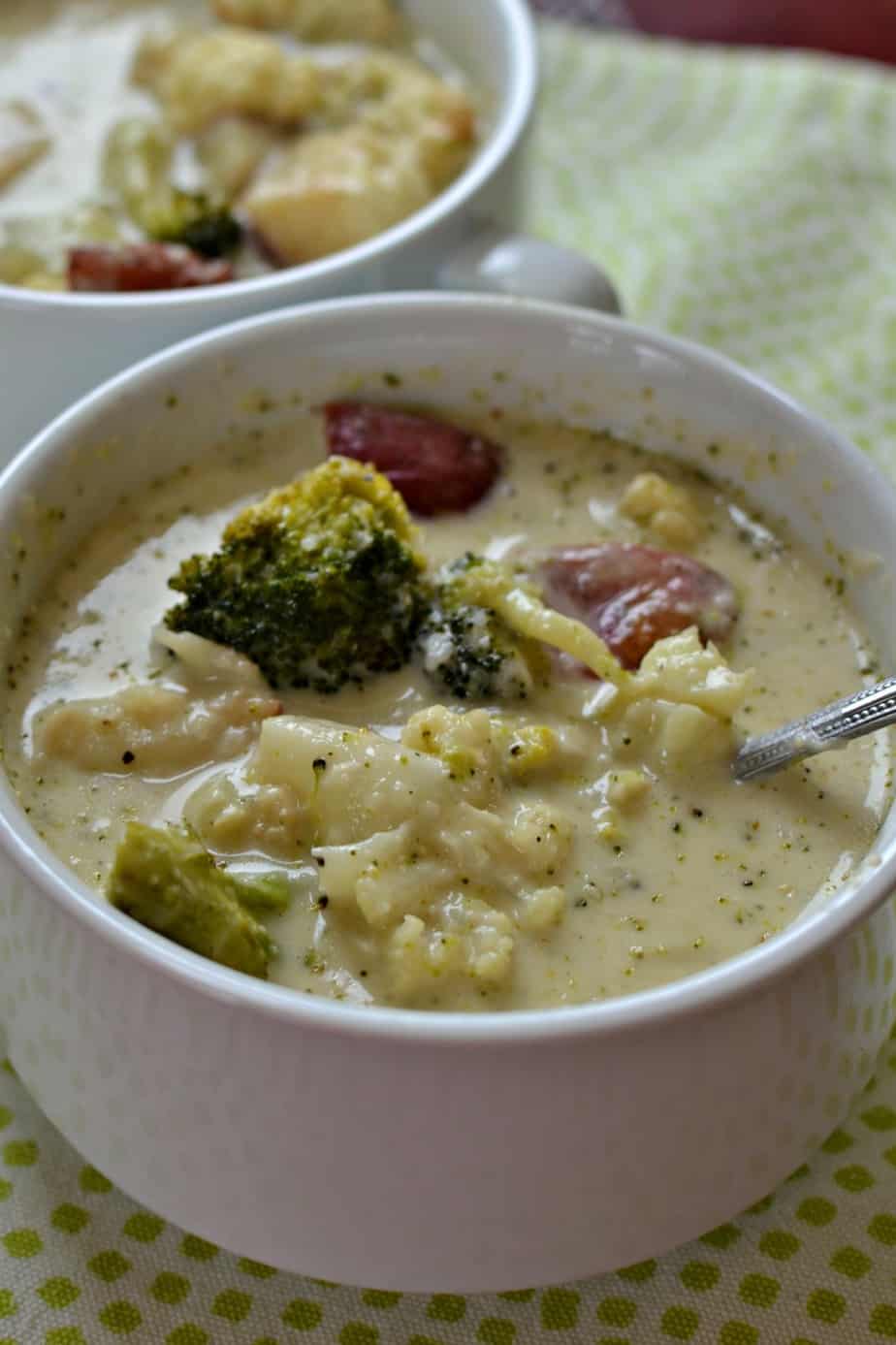 How do you make Roasted Broccoli Cauliflower Soup?
Start by coating your vegetables with olive oil.  This can easily be done in a large zipper bag.  Place them on a large baking sheet and sprinkle with salt, pepper, garlic powder and onion powder.  Then place them in the oven for roasting.  You will need to remove them in stages as broccoli roasts the fastest, then cauliflower and finally potatoes.
Now in a dutch oven or heavy stockpot over medium melt the butter.  Add onion and cook for about 5 minutes.  Then reduce the heat and add the minced garlic and cook for an additional minute.  Now mix in the flour stirring constantly for about 1 minute.  Add the chicken broth and the cream alternating between the two and simmer for a few minutes.  Now whisk in the white cheddar about 1/2 cup at a time.
Finally coarsely chop your roasted broccoli and cauliflower.  Next stir the chopped broccoli, cauliflower and cubed roasted potatoes into the soup along with the cumin.  Simmer for 5-10 minutes to get all the flavors to meld together.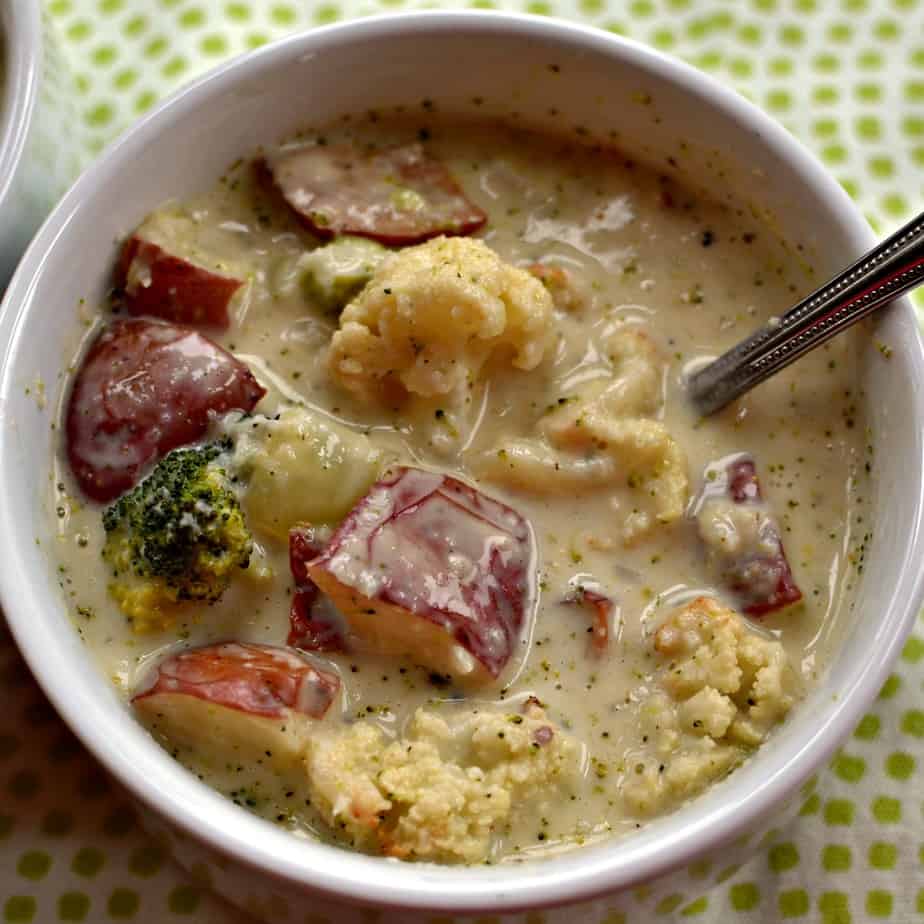 Helpful tips for making Roasted Broccoli Cauliflower Soup
Do not crowd your veggies on the baking sheet.  They need space for the heat to flow in and around them.  If necessary use two baking sheets.
The vegetables will finish roasting at different times.  Broccoli only needs about 15 minutes, cauliflower about 25 minutes and potatoes about 35 minutes.  Roast just until fork tender.
If you like your soup less chunky in the final step remove 1 1/2 cups and puree in a blender or food processor.  Do not forget to remove the inner circle on the blender lid when pureeing hot foods.
Season to taste with plenty of fresh ground black pepper, a little more ground cumin, a pinch of ground cayenne pepper or crushed red pepper.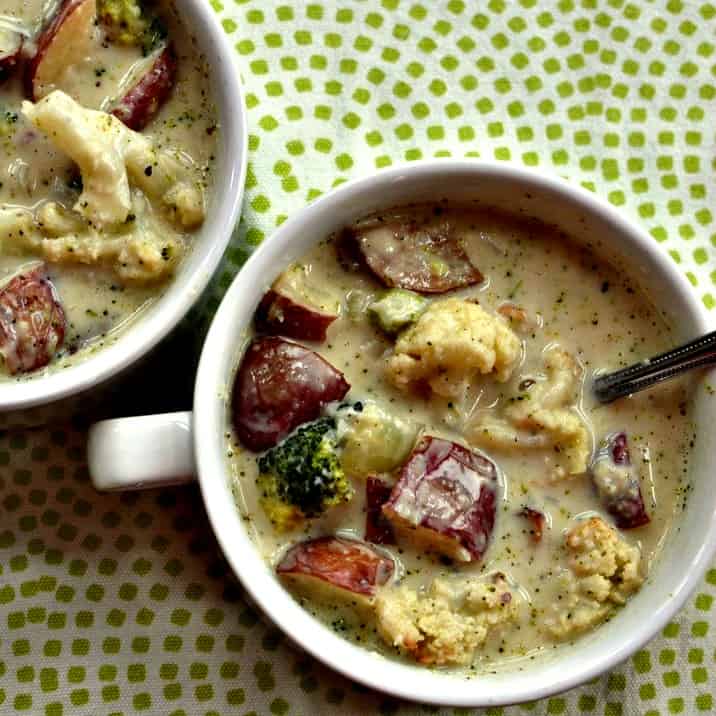 Some fun additions to this soup might be bacon, ham, or small pieces of kielbasa sausage. However it is a delicious hearty soup just like it is!  So if it is still cold in your neck of the woods, if you are a forever soup lover or if you are just looking for a hearty meal for you and your loved ones put this Roasted Broccoli Cauliflower Potato Soup on the list this week.  You will be glad that you did.
Other soup recipes you will love!
This post was originally published February 23, 2017 and was republished December 17, 2019 with new content.
Print
Roasted Broccoli Cauliflower Soup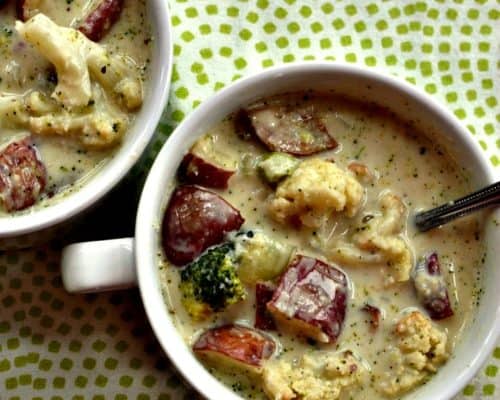 This family friendly creamy cheesy soup gets its unique taste and texture from roasting the vegetables.  If you prefer a creamier version simply puree 1-2 cups and add it back to the soup.
Author:
Prep Time: 15 minutes
Cook Time: 60 minutes
Total Time: 1 hour 15 minutes
Yield: 4 serving 1x
Category: soup
Method: roast/stove top
Cuisine: American
Scale
Ingredients
1/4 head cauliflower separated into large bite size pieces (approximately 1 1/2 cups)
1/4 head broccoli sperated into large bite size pieces (approximately 1 1/2 cups)
3 small red potatoes cubed into small bite size pieces (approximately 3/4 lb)
2 tablespoons olive oil
1/2 teaspoon salt
1/2 teaspoon pepper
1/2 teaspoon garlic powder
1/2 teaspoon onion powder
3 tablespoons butter
1/2 onion finely chopped
2 large cloves garlic minced
3 tablespoons flour
4 cups low sodium chicken broth
1/2 cup half n half
1 1/2 cup shredded sharp white cheddar
1/4 teaspoon ground cumin
Instructions
Preheat oven to 400 degrees.
In large ziploc bag combine cauliflower, broccoli, potatoes and olive oil. Shake to coat. Spread over nonstick baking sheet. Sprinkle with salt, pepper, garlic powder and onion powder. Bake for 15 minutes and remove broccoli. Bake for another 10 minutes and remove the cauliflower. Bake for another 10 minutes and remove the potatoes. All veggies should be fork tender before removing. Remove to plate.
In large saucepan melt butter, add onion and cook for 5 minutes. Reduce heat and add garlic; cook for additional 1 minute. Add flour and cook for 1 minute; stirring constantly.  Add chicken broth and half n half alternating between the two. Simmer until thickened; approximately 5 minutes whisking frequently. Add cheddar 1/2 cup at a time whisking in each time.
Coarsely chop broccoli and cauliflower. Add cauliflower, broccoli, potatoes and cumin to broth. Stir and simmer for 5-7 minutes.
Keywords: broccoli cauliflower soup, broccoli and cauliflower soup, broccoli cauliflower cheese soup, broccoli cauliflower soup recipe, broccoli soup, cauliflower soup, cheesy cauliflower soup, cheesy broccoli soup, broccoli and cauliflower soup recipe, broccoli and cauliflower cheese soup, soup
https://www.smalltownwoman.com/wp-content/uploads/2019/05/Beth-1.pdf