Savory Sweet Swedish Meatballs are delicious tender beef meatballs in a hearty rich cream sauce with a hint of sweetness.  They are the ultimate comfort meal and absolutely delicious served over Amish egg noodles.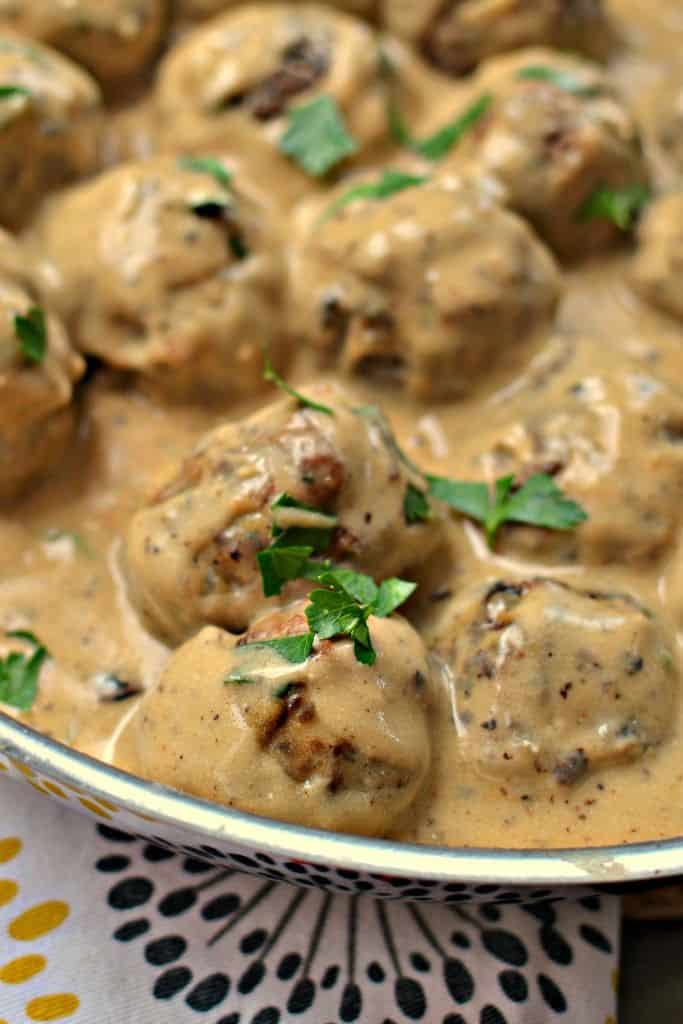 If you have never tried Swedish meatballs you really must.  They are indeed a real treat! They are super easy to prepare and can be cooked and on the table in about thirty five minutes.  Almost any veggie could accompany the meal.  I went with a real simple zucchini and yellow squash quick pan saute.
What are Swedish Meatballs?
The meatball itself is somewhat similar to the Italian meatball with a pinch of nutmeg in place of the Italian herbs and spices.  The sauce however is completely different from an Italian sauce.  It is a roux based gravy that gets a large portion of its flavor from the brown bits that were left in the pan after cooking the meatballs and from the nutmeg.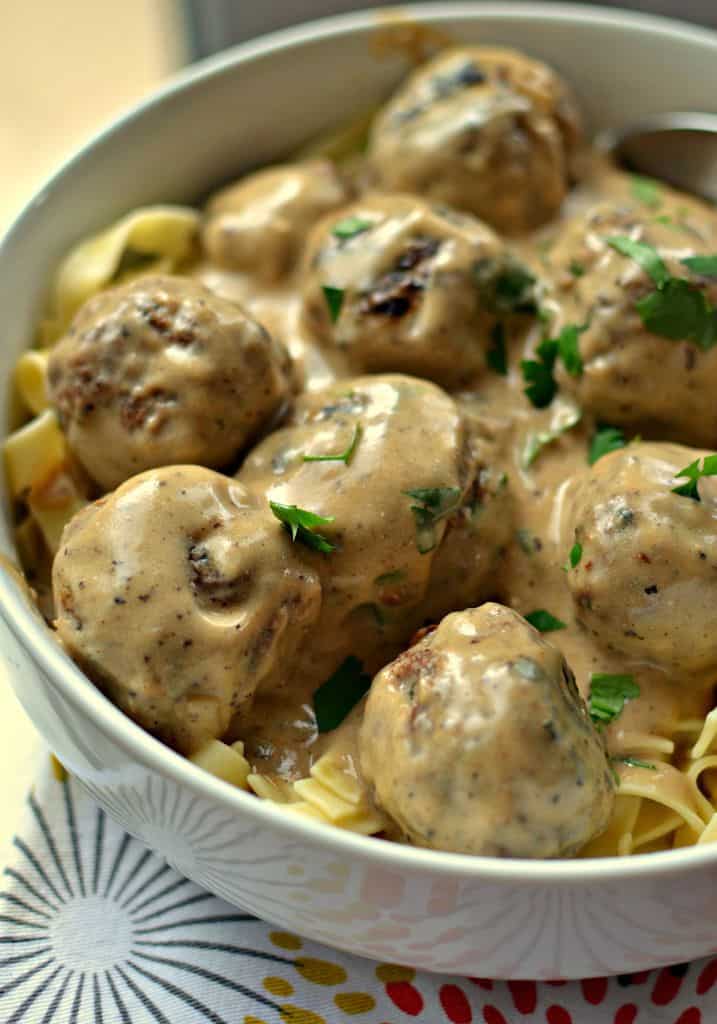 How to make Swedish Meatballs.
Mix the beef, onion, breadcrumbs, egg, spices and parsley together.  Shape into meatballs and cook in skillet until golden brown.  Move meatballs to plate and cover to keep warm. Add butter to skillet and scrape to loosen the brown bits.  Whisk in flour until smooth. Slowly whisk in beef broth and cook over low heat until thickened. Add the sour cream whisking it in until it is well combined. Add the parsley, nutmeg, pepper & salt to taste. Return meatballs to pan and simmer for about ten minutes.  Sprinkle with fresh parsley and serve over cooked egg noodles, rice or mashed potatoes.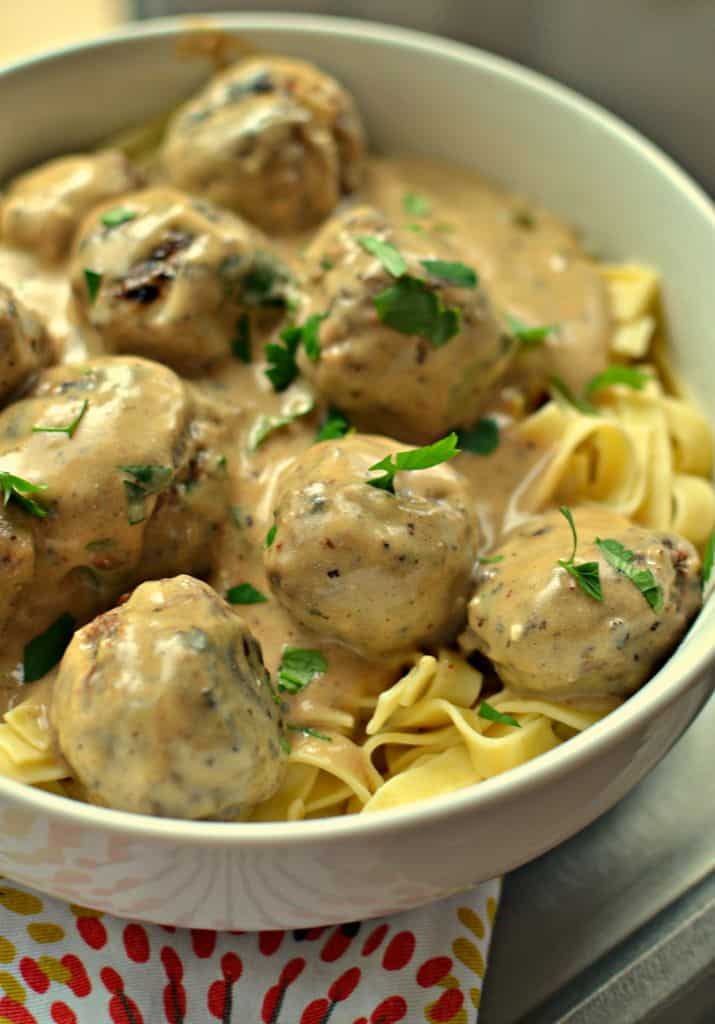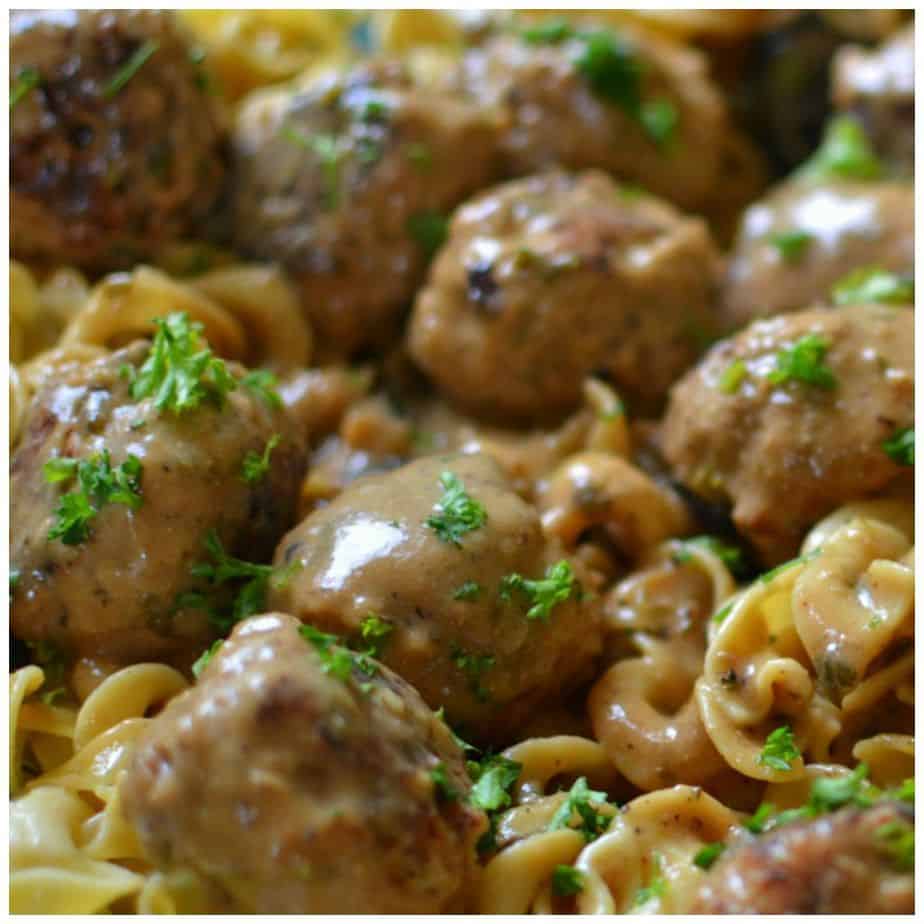 Helpful hints for making Swedish Meatballs.
Freeze the shaped raw meatballs for about ten minutes prior to cooking them.  It helps them hold their round shape.
I like to use a couple of tablespoons of sherry or brandy to loosen the brown bits left from the meatballs on the bottom of the pan.
I use my stainless steel skillet for this recipe. A lot of the flavor from the gravy comes from the brown bits left in the bottom of the pan and that is not going to happen with a nonstick skillet.
If the gravy becomes to thick waiting for the family to get home from school and work add a little bit more beef broth. Chicken broth and milk will work as well.
Give these Savory Sweet Swedish Meatballs a whirl and you will find yourself a little piece of heaven in a chaotic world!
Other ground beef recipes you will love!
This recipe was originally published July 25, 2014 and was republished June 21, 2018 with new pictures, relevant information and helpful hints.
Print
Sweet & Savory Swedish Meatballs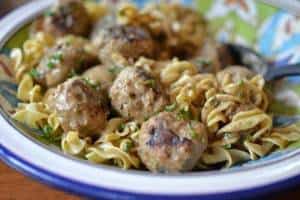 Savory Sweet Swedish Meatballs are delicious tender beef meatballs in a hearty rich cream sauce with a hint of sweetness.
Author:
Prep Time: 20 minutes
Cook Time: 30 minutes
Total Time: 50 minutes
Yield: 4 servings 1x
Category: Beef
Method: Stove top
Cuisine: Swedish
Scale
Ingredients
Meatballs
Olive oil
1/2 medium onion finely diced
1 lb ground turkey or beef
1/2 cup panko bread crumbs
1 large egg
1/4 teaspoon of nutmeg
Pinch of allspice
Fresh ground pepper
1/2 teaspoon of sea salt
1 tablespoon fresh parsley
Sauce
2 tablespoons butter
3 tablespoons flour
2 cups low sodium beef broth
1/2 cup sour cream
Fresh ground pepper and sea salt
1/4 cup fresh parsley plus 1-2 tablespoons for sprinkling on top of dish
1/8 teaspoon nutmeg
Instructions
Combine the onion, ground turkey (or beef), bread crumbs, egg, nutmeg, allspice, a few cranks of your pepper-mill, salt and parsley in a bowl. Mix with your hand or a spoon. Shape in to one inch balls. Spray to coat saucepan with olive oil. Add meatballs and brown on all sides for about 7-10 minutes on medium heat. Remove from heat, cover and keep warm.
Using the same pan to make the sauce loosen the browned bits from the bottom. Melt the butter over medium low. Whisk the flour into the butter stirring constantly. Add the beef broth slowly to the flour mixture whisking constantly. Once the sauce has thickened add the sour cream whisking it in until it is well combined. Add the parsley, nutmeg and pepper & salt to taste. Return the meatballs to the sauce and simmer for 7-10 minutes. Sprinkle with 1-2 tablespoons fresh parsley.
Notes
If the sauce becomes to thick just thin it with a couple of tablespoons of beef broth.
Keywords: COMFORT FOOD, DINNER, EASY, EGG NOODLES, MEATBALLS, ONE SKILLET RECIPE, SAVORY, SAVORY SWEET SWEDISH MEATBALLS, SWEDISH MEATBALLS
https://www.smalltownwoman.com/wp-content/uploads/2019/05/Beth-1.pdf