Oven Roasted Parmesan Asparagus is a quick and easy side dish combining healthy asparagus, minced garlic and freshly grated Parmesan Cheese.  This tasty side is one of my go to recipes for easy weeknight meals.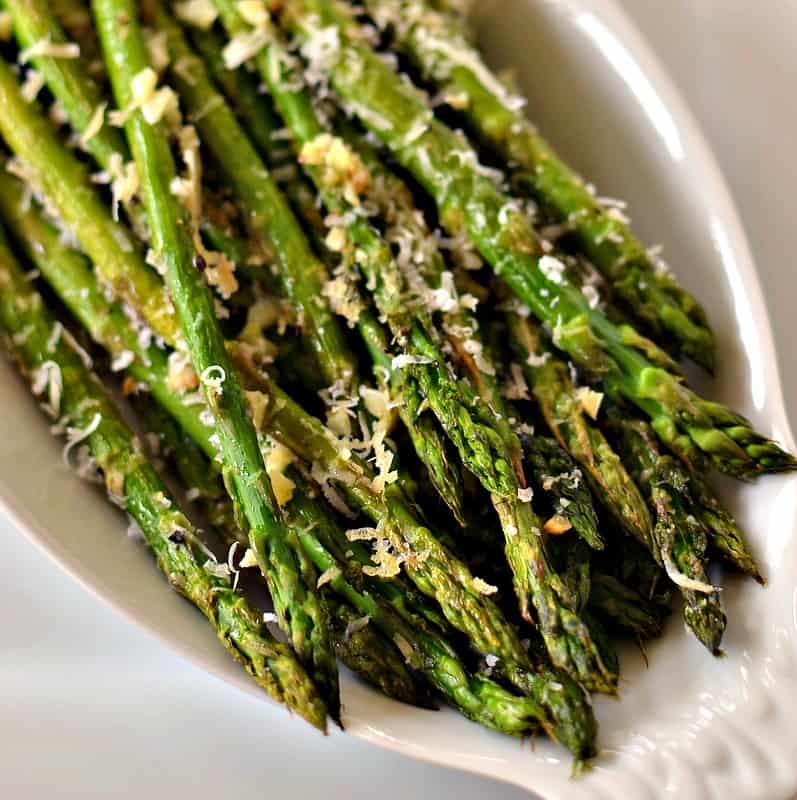 This super easy Oven Roasted Parmesan Asparagus is a delicious healthy side dish that only has five ingredients and takes fifteen minutes to prepare. I love to serve it with Grilled Marinated Chicken, Herb Butter T Bone Steaks or Three Cheese Stuffed Manicotti.
Asparagus is one of those vegetables that you either love or love to hate!  We absolutely love it!  It is so incredibly easy to cook with and unbelievably healthy. This easy recipe is so full of flavor you will wonder why it has not been on your regular rotation for years.   There is something to be said about those simple traditional recipes that we have been preparing for years.   I like to use freshly grated Parmesan cheese as the flavor is out of this world great.  This easy side is perfect with pasta, fish, chicken and half a dozen other main courses.   Be sure to see my other delectable recipe using asparagus.  I have several listed at the bottom of this post.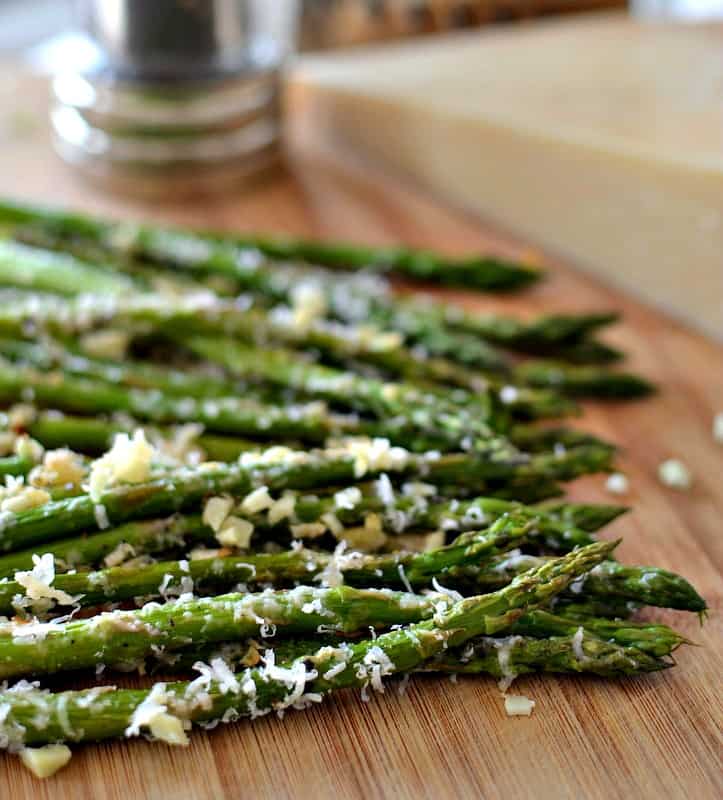 How do you make Oven Roasted Parmesan Asparagus?
Start by washing, trimming and drying your asparagus.  Next lay it out in a single layer on a baking sheet.  Brush with olive oil and sprinkle with garlic.  Then grate some Parmesan cheese right over the top. Finally bake for about 10-15 minutes or just until tender.
Helpful tips for making Oven Roasted Parmesan Asparagus
Look for good quality fresh asparagus that has a nice dark green color, looks plump on the stem and not shriveled and has clean crisp (not soft or slimy) tips.  Please see my section on properly storing asparagus.
Use freshly grated Parmesan Cheese. It is flavor packed and it makes this recipe so tasty.
Cook the asparagus just until they are tender which is usually about 10-15 minutes depending on the thickness of the asparagus. It should be just fork tender. Do not over roast as then it starts to shrivel, dry out and become tough.
Plan on serving fairly promptly as it is best served warm while it is just a teeny bit crisp.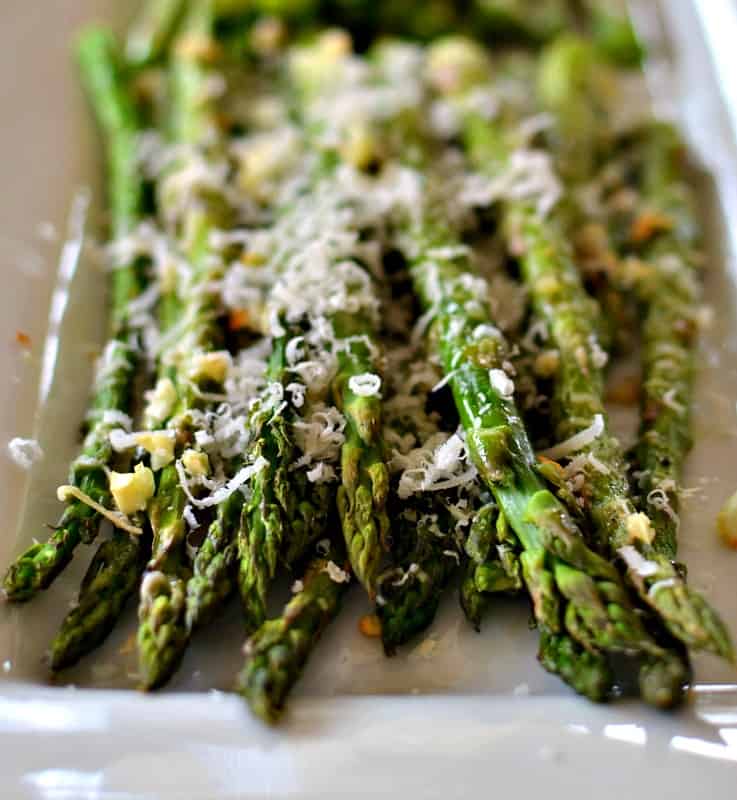 How do you store raw asparagus properly?
Asparagus is a lot like celery in that it needs moisture to stay crisp.  Asparagus should be stored stem side down in a little less than an inch of cool water to keep it from drying out. Cover it loosely with a plastic bag.  Tall thin measuring cups are great for this.  The water should be changed daily and the asparagus is good for up to about a week.
How do you trim asparagus?
There are two ways to trim asparagus. One is simply to snap it. You simply take the woody end of the asparagus and bend until it snaps.  The asparagus always seems to break right where the dry ends and the crisp juicy begins.
The second way is quite faster but perhaps less accurate.  I use this method when I am under time constraints.  I just simply use my eyes and intuition to access where the the dry end begins and cut the ends off in bulk.  It usually ends up being about 1.5 – 2 inches. Either way both of these methods work for trimming asparagus.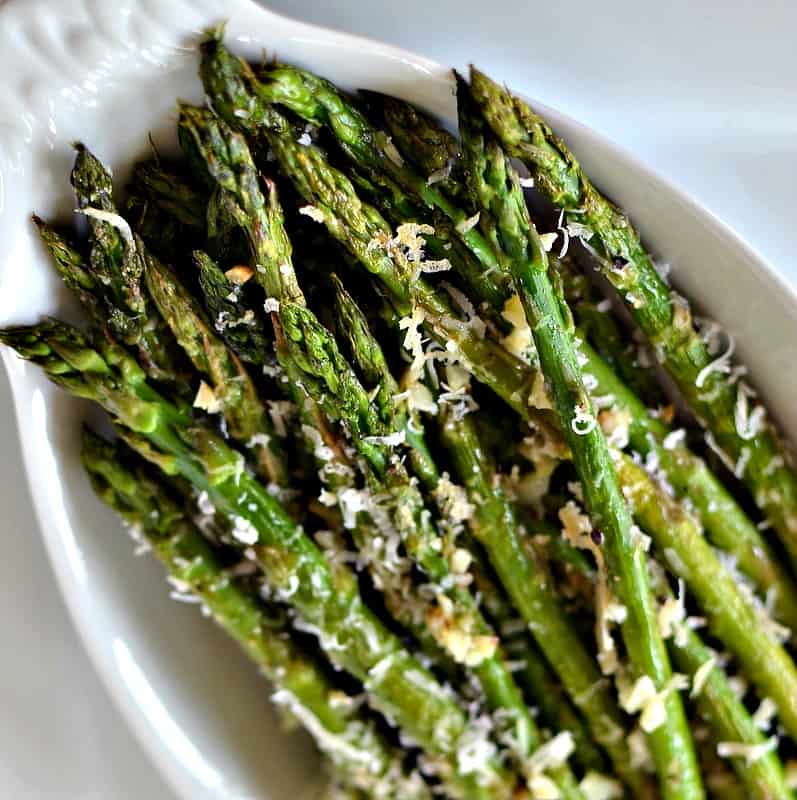 Put the ingredients for this easy, delectable Oven Roasted Garlic and Parmesan Asparagus on your shopping list today!  Your family will be singing your praises and you can feel great about the health benefits for you and your loved ones.
More asparagus recipes you will love!
This post was originally published February 8, 2018 and was republished March 5, 2020 with new content.
Print
Oven Roasted Garlic and Parmesan Asparagus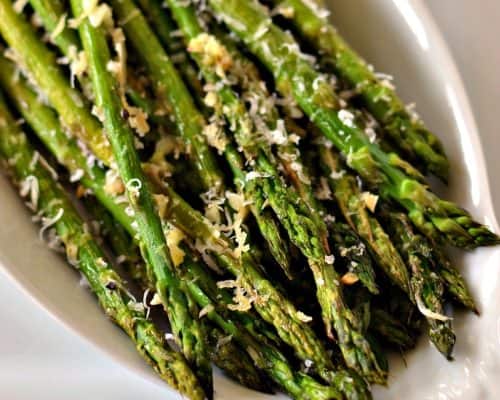 A healthy easy weeknight friendly vegetable side dish combining healthy asparagus, minced garlic and freshly grated Parmesan cheese. Ready in under 20 minutes.
Author:
Prep Time: 5 minutes
Cook Time: 10 minutes
Total Time: 15 minutes
Yield: 4 servings 1x
Category: vegetable side
Method: roast
Cuisine: American
Scale
Ingredients
1 lb asparagus spears trimmed
2 tablespoons olive oil
1/4 cup fresh grated Parmesan cheese
2 cloves garlic minced
Salt & pepper to taste
Instructions
Preheat oven to 400 degrees. Arrange asparagus in single layer on baking sheet. Brush with olive oil and sprinkle with garlic and 2 tablespoons Parmesan cheese. Bake until crisp tender; approximately 8-15 minutes or until just fork tender.
Sprinkle with remaining Parmesan cheese and serve.
Notes
Roasting time will vary depending on thickness of asparagus.
Keywords: vegetable side dish, healthy side dish, parmesan asparagus, roasted parmesan asparagus, garlic parmesan asparagus, asparagus with parmesan cheese
https://www.smalltownwoman.com/wp-content/uploads/2019/05/Beth-1.pdf