Cauliflower Au Gratin combines roasted cauliflower and broccoli in a creamy cheddar cheese sauce sprinkled with a super easy crumb topping.  This delectable casserole comes together quickly, easily and contains no canned soup.  You can make this yummy casserole with all cauliflower or all broccoli if you desire.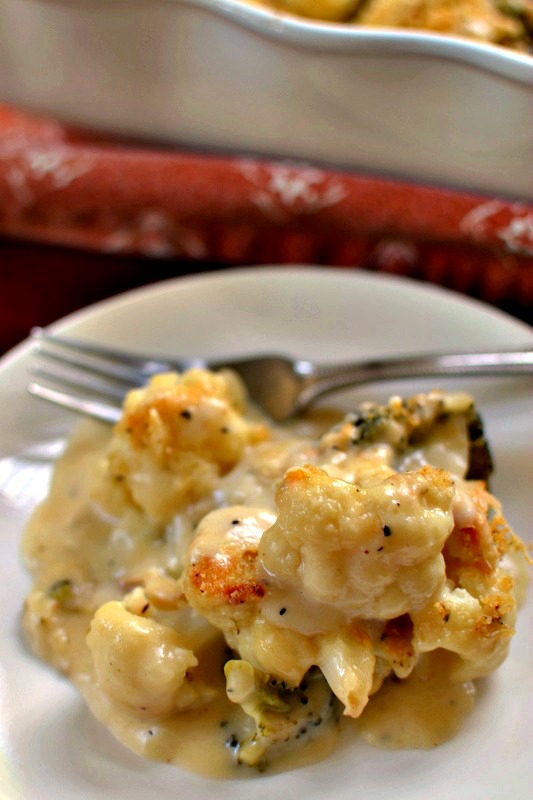 I decided yesterday that I had my temporary fill of summer recipes like pasta salads and fruit salads so I decided to cook a nonseasonal recipe.  You remember those don't you?  The ones that can be cooked and loved anytime of the year! This Cauliflower Au Gratin is fabulous whether it is hot steamy and sticky outside or whether there are twelve inches of snow on the ground. Cauliflower Au Gratin combines roasted cauliflower and Broccoli in a heavenly creamy cheddar cheese sauce.  It is lightly sprinkled with a super easy crumb topping and baked to golden perfection.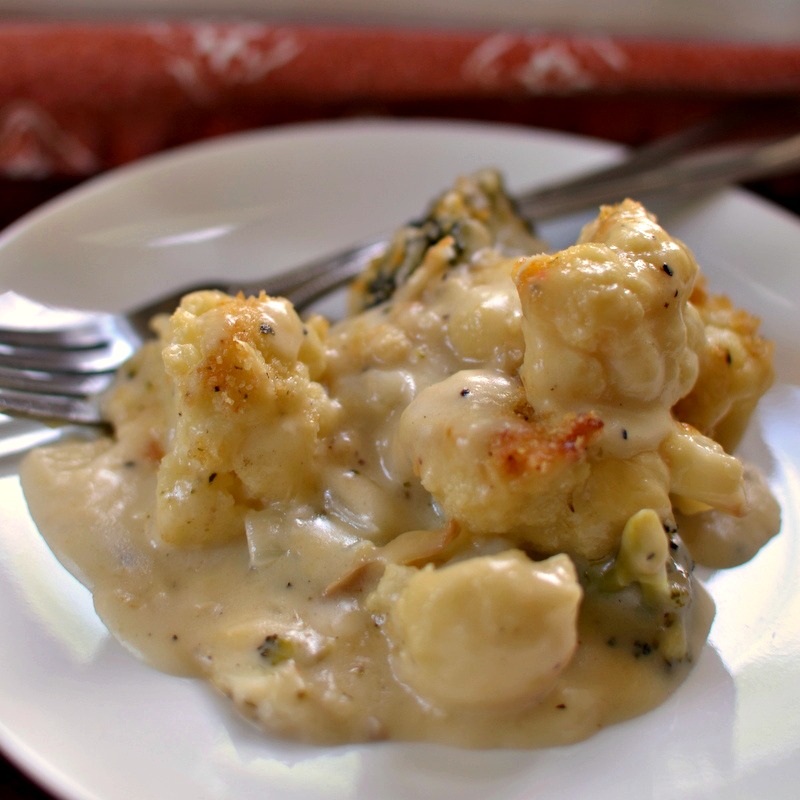 How to make Cauliflower Au Gratin with Broccoli
First and foremost you are going to roast your cauliflower and broccoli in the oven until it is very lightly browned. Place the vegetables in a casserole dish sprayed with nonstick spray for easier cleanup.
Meanwhile cook the onion and garlic in a little butter.  Whisk in the flour and cook for a couple of minutes whisking constantly.  Slowly add the milk and the low sodium chicken broth alternating between the two and whisking constantly. Reduce the heat and whisk in cheddar cheese until smooth and creamy.  Add nutmeg and season with salt and pepper to taste. Pour the cheese mixture over the roasted cauliflower and broccoli.
Using a food processor or a sealed bag crush the ritz crackers with the oregano and onion powder.  Then drizzle in the butter and shake to coat. Finally sprinkle the mixture over the broccoli and cauliflower and bake.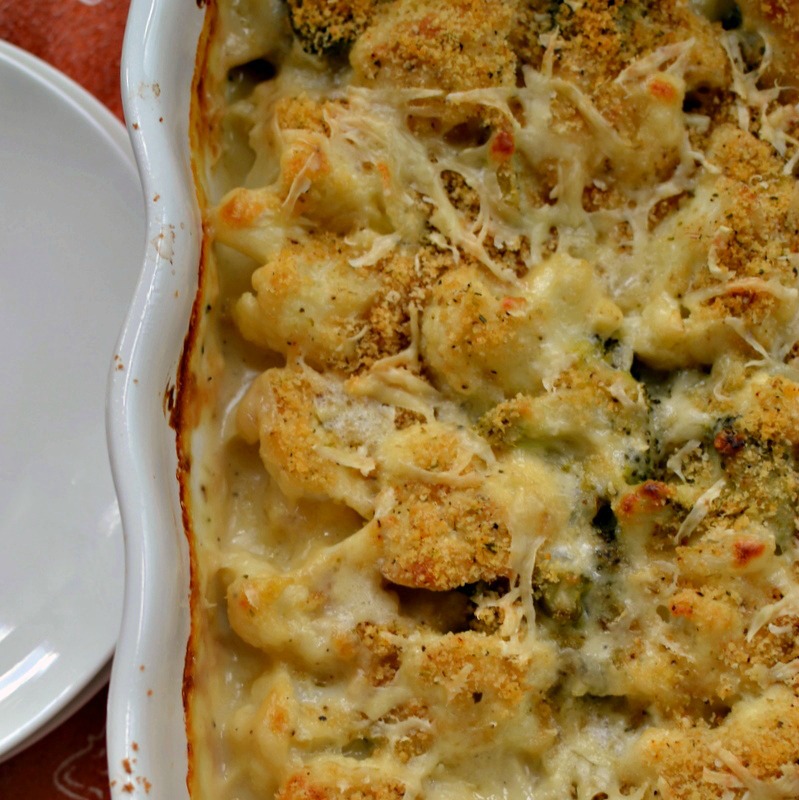 How to easily cut cauliflower and broccoli into florets.
Wash them both as a full head under cool running water. This allows you to grab a hold of the large stem end and shake almost all of the water out. Then using a cutting board simply take a sharp knife and cut the florets off the main stem.  They cut very easily and sometimes even seem to fall off so much pressure on the knife is not needed.  Cut the larger florets into halves or quarters to make them bite size.
Helpful hints for making Cauliflower Au Gratin
This recipe can be made with all cauliflower or all broccoli or any combination of the two.
After washing and cutting your cauliflower and broccoli florets dry them well because you want them to roast not steam.
Spray your casserole dish with nonstick cooking spray for easier cleanup.
Preheat the oven and load the casserole onto the middle rack of the oven.
Use good quality cheddar cheese.  It really does make a difference.
If Ritz crackers are not your thing substitute fresh ground croutons or bread crumbs.
For added flavor reserve a little bit of cheddar and sprinkle it on top of the crushed crackers.
Other great cheeses for this dish are Gouda, Gruyere and Monterey Jack. Feel free to mix them up and have fun. Cooking is all about fun and relaxation.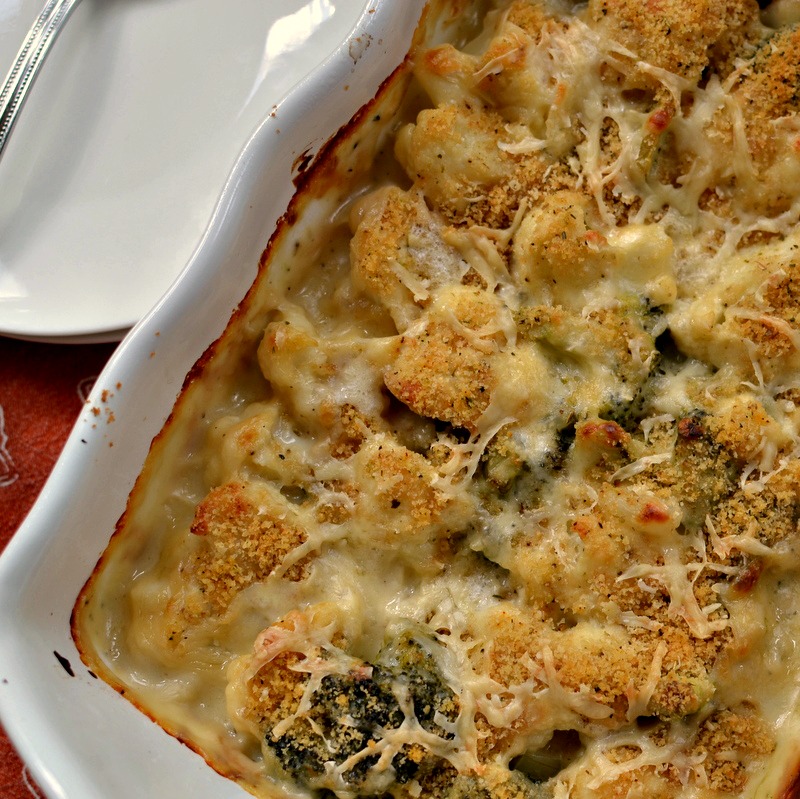 Cauliflower Au Gratin is so amazing, easy to prepare, dependable and loved by multiple generations. Put this great recipe on your to try list. You will be so pleased and happy that you did. Every delicious bite is a sweet creamy taste experience.  I made this dish many times and it goes like hot cakes.  Speaking of hot cakes have you tried my Buttermilk Bacon Pancakes?  Oh my goodness! Sorry got a little side tracked there.  Food runs through my mind constantly!!
Other vegetable recipes you will love!
This post was originally publish June 20, 2017 and was republished October 1, 2019 with new content.
Print
Cauliflower Au Gratin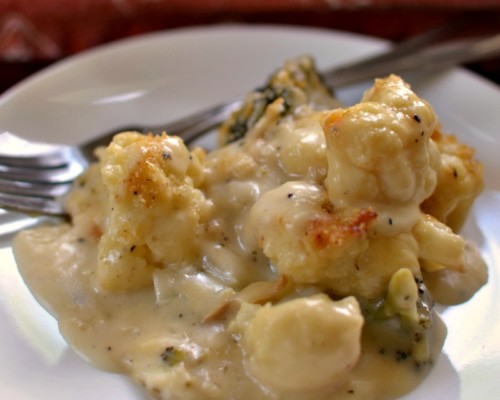 Roasted cauliflower and broccoli are combined in an easy to make rich creamy cheese sauce and topped with a buttery Ritz cracker crumb topping.
Author:
Prep Time: 15
Cook Time: 50
Total Time: 1 hour 5 minutes
Yield: 8 1x
Category: vegetable Casserole
Method: stove top and baking
Cuisine: American
Scale
Ingredients
1 small head broccoli, cut into florets
1 small head cauliflower, cut into florets
4 tablespoons unsalted butter
1 small onion chopped
2 large cloves of garlic minced
1/4 cup flour
1 1/2 cups milk
3/4 cup low sodium chicken broth
2 1/4 cups shredded white cheddar
Pinch of nutmeg
Salt & pepper to taste
Crumb Topping
20 Ritz crackers
1 teaspoon dried oregano
1/2 teaspoon onion powder
3 tablespoons melted butter
Instructions
Preheat oven to 400 degrees. Spray large baking dish with nonstick baking spray. Add broccoli and cauliflower and bake 15 or until very lightly browned.
In large skillet over medium heat melt butter. Add onion and cook for 5 minutes. Add garlic and cook for an additional 30 seconds. Whisk in flour and cook for 90 seconds whisking constantly. Slowly whisk in milk and chicken broth alternating between the two. Turn heat to low and add cheddar whisking frequently until cheese is melted and mixture is smooth and creamy. Whisk in nutmeg and salt & pepper to taste. Pour over roasted broccoli and cauliflower.
In food processor crush crackers. Add oregano, onion powder and melted butter. Pulse a couple of times. Sprinkle over cheese sauce.
Bake for 25-30 minutes or until light golden brown.
Keywords: broccoli bake, cauliflower bake, broccoli and cauliflower casserole, vegetable casserole, broccoli and cauliflower au gratin, vegetable
https://www.smalltownwoman.com/wp-content/uploads/2019/05/Beth-1.pdf