Garlic Mashed Potatoes with Bacon and Chives is a heavenly combination of mashed red potatoes with roasted garlic, sour cream, crispy bacon and fresh chives. It is the perfect side dish for all of your barbecue, beef, chicken and pork entrees.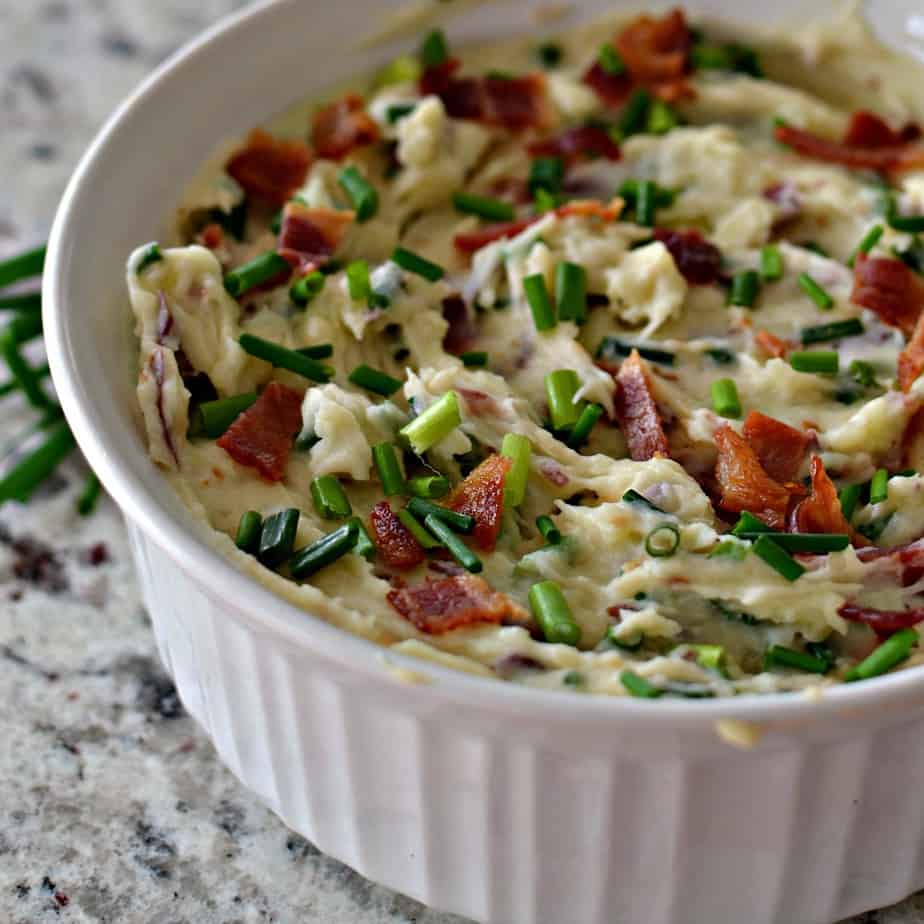 Are you a spud fan?  My family loves potatoes.  We like them fried, sauteed, baked, scalloped, smashed, mashed and any other way they can be prepared.  These mashed potatoes are super easy to prepare as the bacon can be cooked and chopped ahead of time and the garlic can be roasted ahead of time and stored in the fridge.  You can mash the potatoes for this recipe with an old fashioned potato masher or break out your mixer.
How do you roast garlic for this recipe?
Pull away any excess layers of paper like skin from the garlic bulb and discard them.  Using a sharp knife cut off the tips on the non-root end. Drizzle olive oil over the top of the garlic and rub in with your fingers.  Wrap the bulb up tightly in aluminum foil, place on a baking sheet and pop it in the oven.
Roast the garlic at 400 degrees for about 35-40 minutes. The larger the bulb the greater the cooking time. It is done when it is golden brown and soft when poked with a fork. It smells very aromatic and needs to cool before handling.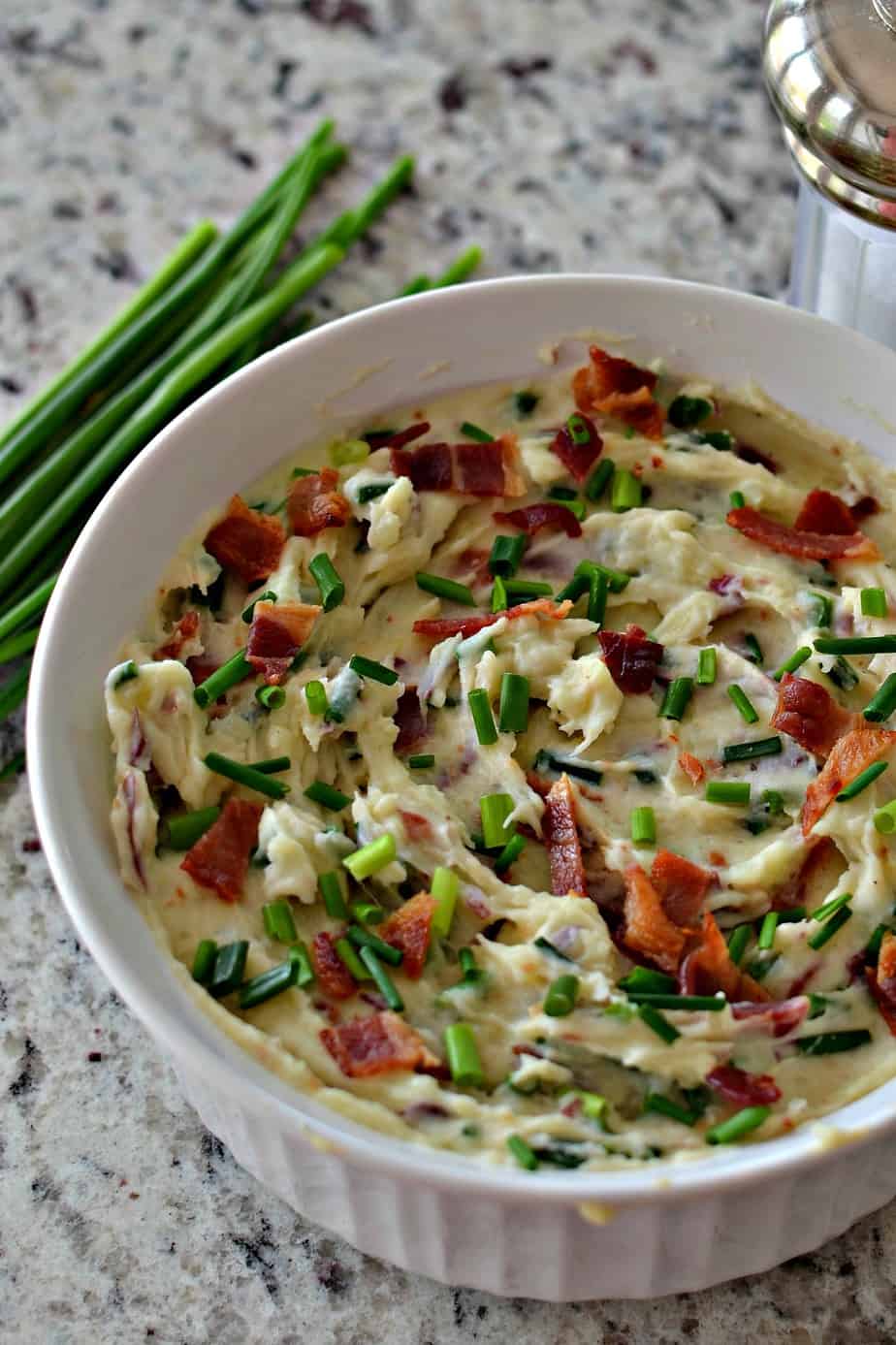 How do you make Garlic Mashed Potatoes?
Start by roasting the garlic with a little bit of olive oil drizzled over the top for about forty minutes.  Now simply boil the potatoes until tender. Then drain the potatoes very well.  Next add the butter, milk, sour cream and roasted garlic to the pan with the potatoes. Cover and and let the butter melt.
Now using a mixer or old fashioned potato mashed combine until smooth and creamy.  Next stir in the bacon and chives. Finally season to taste with salt and pepper.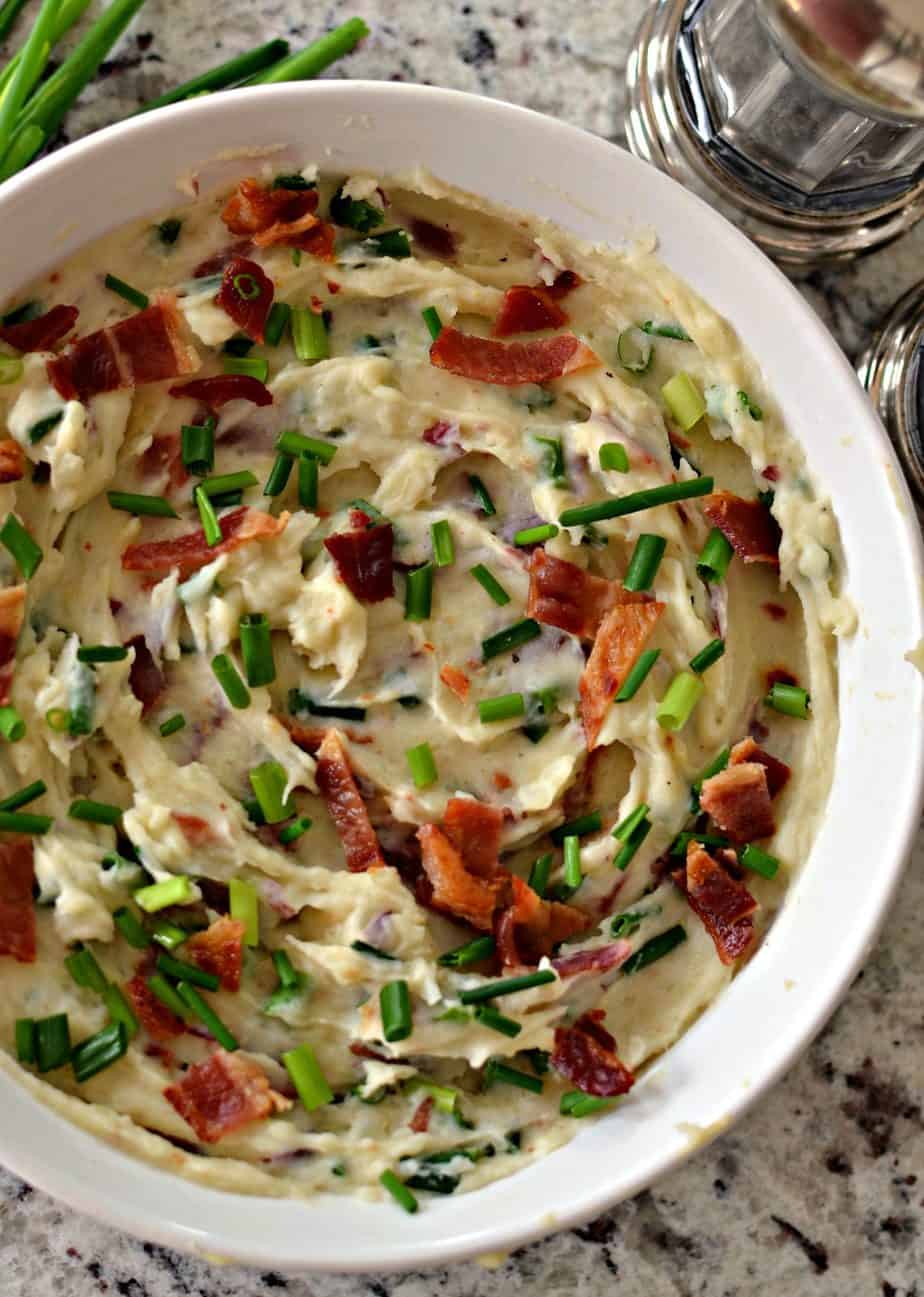 Garlic Mashed Potatoes with Bacon and Chives combines red potatoes with their jackets on, roasted garlic, butter, sour cream, milk, crispy cooked bacon and fresh chives.  It is the ultimate side dish for all you potato lovers.Are you grilling this weekend? Maybe it is still too cool and your are going to bake a brisket.  Whatever you decide these Garlic Mashed Potatoes with Bacon and Chives are the perfect side for you all your dinner needs.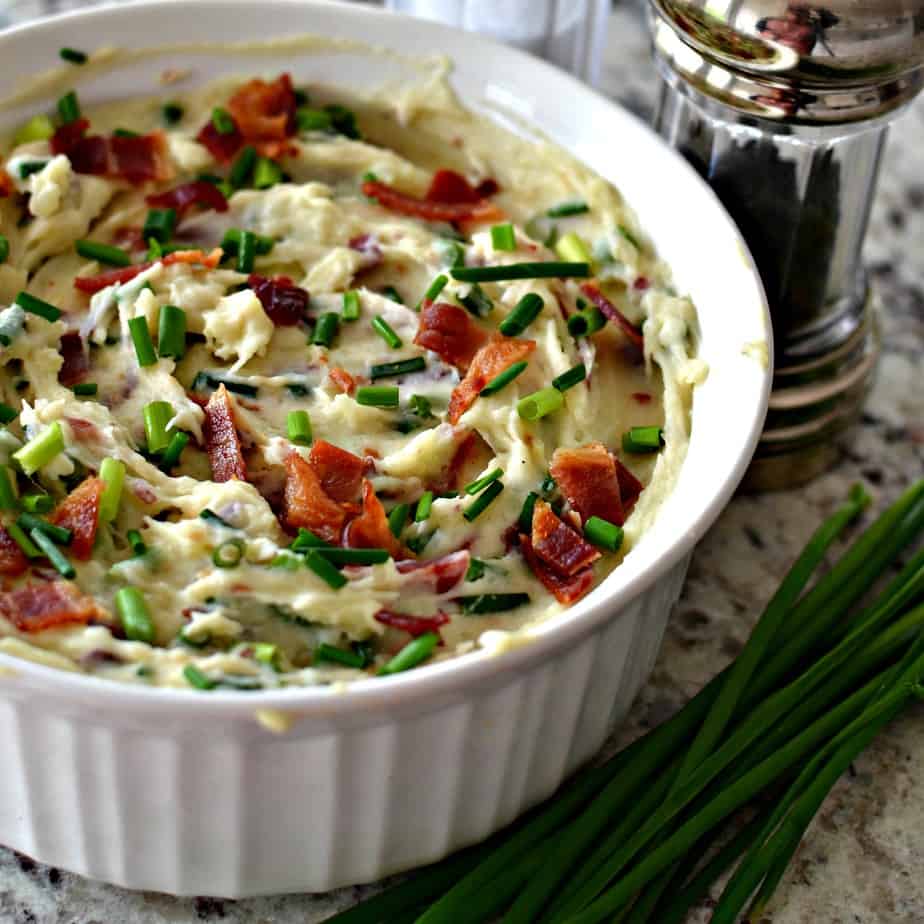 Put these Garlic Mashed Potatoes with Bacon and Chives on your to try list today and prepare to have your taste buds tickled. Leave a comment and let me know what you think.
More potato recipes you will love!
This post was originally published April 27, 2018 and was republished March 10, 2020 with new content.
Print
Garlic Mashed Potatoes
Red potatoes are mashed with sweet roasted garlic, butter, milk and sour cream.  Crispy smoked bacon and fresh chopped chives are stirred in taking these creamy potatoes over the top.
Author:
Prep Time: 10 minutes
Cook Time: 50 minutes
Total Time: 1 hour
Yield: 4 servings 1x
Category: side dish potatoes
Method: bake/stovetop
Cuisine: American
1 head garlic
1–2 teaspoons olive oil
2 lbs red potatoes (jackets on)
1 teaspoon salt
4 tablespoons butter
1/3–1/2 cup milk
1/2 cup sour cream
4 slices crispy cooked bacon chopped
1/3 cup chopped fresh chives
Salt and pepper
Instructions
Preheat oven to 400 degrees. Cut off the tip of the head of the garlic exposing the cloves. Drizzle olive oil over the head rubbing all over the cuts. Wrap in aluminum foil and place on baking sheet. Bake for 35-40 minutes or until the cloves feel soft.
Place potatoes in large pot covered with cold water. Add salt and bring to a boil, reduce heat to simmer and cook until fork tender; about 15-20 minutes. Drain well.
Add butter, milk, sour cream and 4-6 of the roasted garlic cloves to pot with hot potatoes. Cover and let sit until butter is melted. Mash with old fashioned potato masher or mixer. Stir in bacon and chives. Salt and pepper to taste.
Notes
Start with 1/3 cup of milk and add more if the consistency is too thick.
The garlic will push right out of the clove if you gently squeeze on the bottom.
You can reserve 1 slice of chopped bacon and 1 tablespoon chives for the top. The number of garlic cloves you add should coincide with how much you like garlic.
Keywords: best garlic mashed potatoes, easy garlic mashed potatoes, mashed potatoes, mashed potatoes with bacon and chives, mashed red potatoes, roasted garlic mashed potatoes recipe
On the hunt for more delicious recipes?  Follow Small Town Woman on Facebook, Pinterest, and Instagram.
https://www.smalltownwoman.com/wp-content/uploads/2019/05/Beth-1.pdf