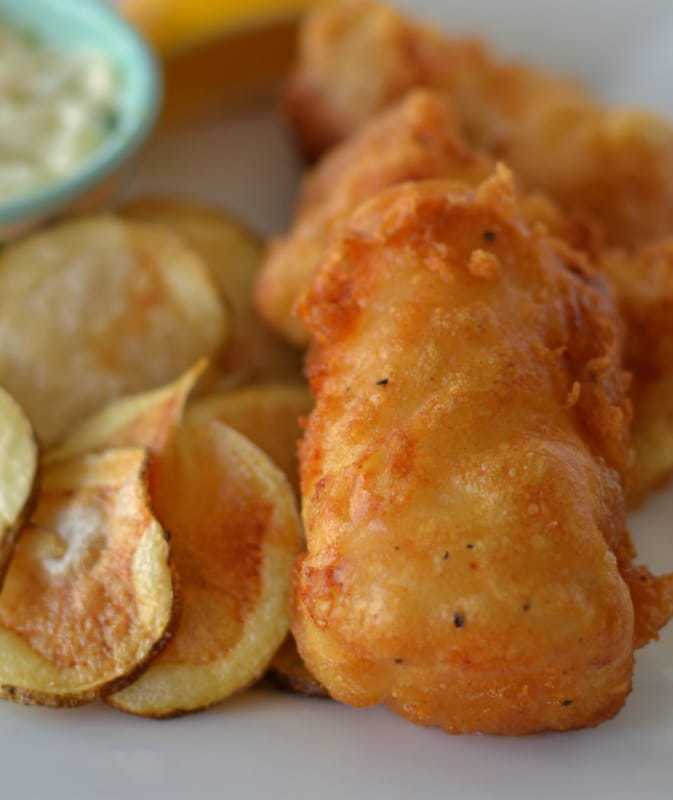 It is fish season!  With Easter brings Lent. With Lent brings all kinds of awesome fresh fish and fish sales.  I love fresh water cod.  It cooks up so nice and tender.  It is really hard to mess up.  This Beer Battered Fried Cod with Fresh Chips is the perfect recipe for the whole family.  My kids love it so much that they are always asking for seconds.  You don't need to have a deep fryer to make this happen.  A heavy duty pot and high temperature candy thermometer will work.  It takes a little bit of practice cooking the food in small batches and waiting for the oil to heat back up before adding the next batch.  You will need to keep a close eye on the thermostat and make adjustments to try to keep the oil right around 350 to 375 degrees. Too low and you'll get greasy food, too high and it'll burn.  I brought the deep fryer out for this batch because I was taking pictures and I wanted it as close to perfect as I could.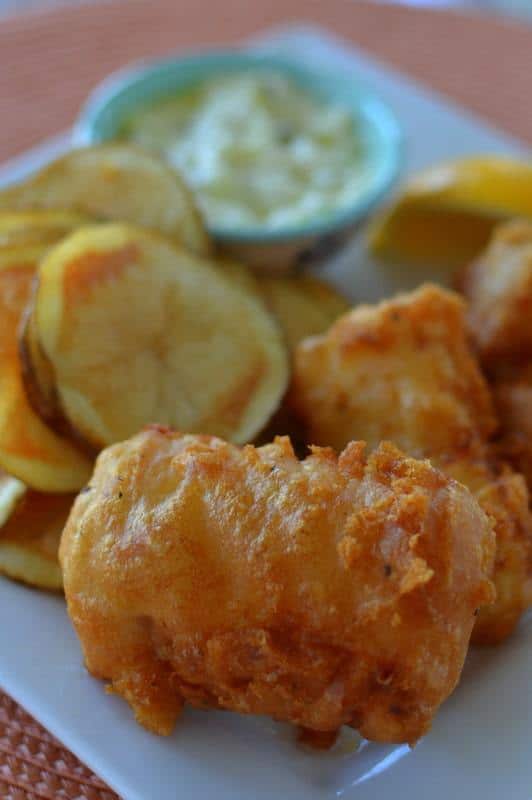 The batter for this Beer Battered Fried Cod with Fresh Chips is so easy to mix up. I just dip the pieces of fish in some flour and dunk them into the batter and use a tongs to take them out of the batter and into the fryer. That way you will not get the dreaded breading fingers.  The russet potatoes are sliced thin and added to the fryer.  They are fried up golden brown and lightly sprinkled with salt.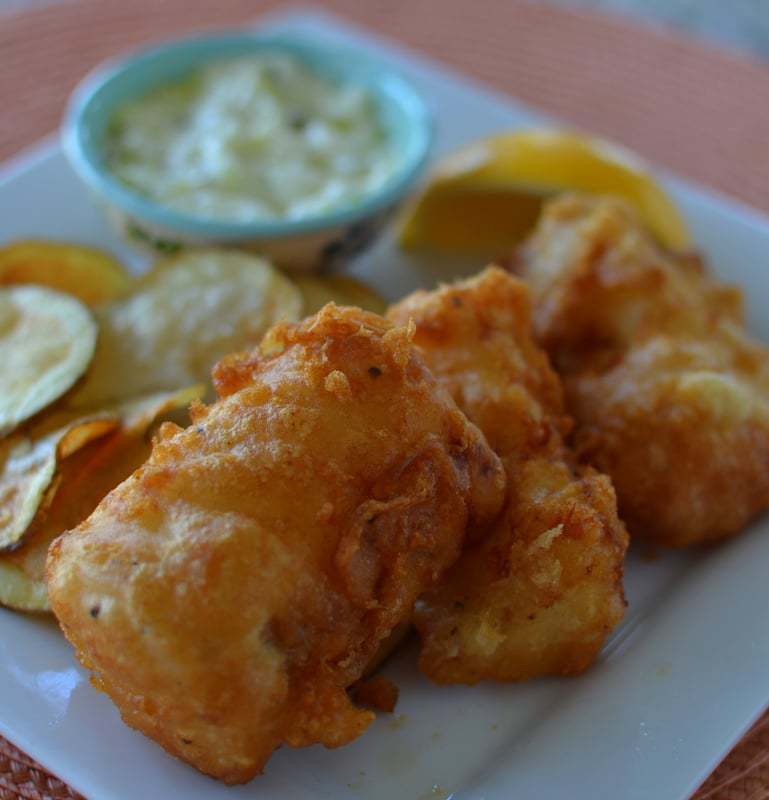 So if you like beer battered fish than you must give this Beer Battered Fried Cod with Fresh Chips a whirl.  It is better than any restaurant's version and a lot easier on the old pocketbook.
Side dishes to go with fried fish
Print
Beer Battered Fried Cod with Fresh Chips
1 1/2 – 2 lbs cod cut in chunks
1 1/4 cup all purpose flour
1/4 teaspoon ground cayenne pepper
1/2 teaspoon cumin
1/2 teaspoon fresh ground pepper
1/2 teaspoon garlic powder
1/2 teaspoon onion powder
Optional: 1 teaspoon Cajun Seasoning
1 egg beaten
1–1 1/2 cups beer
Vegetable oil for frying
3–4 medium russet potatoes thinly sliced
Instructions
Set 1/4 cup of flour aside on a shallow plate. In medium bowl combine 1 cup flour, 1/4 teaspoon ground cayenne pepper, cumin, pepper, garlic powder, onion powder, Cajun seasoning (if adding), beaten egg and 1 cup to 1 1/2 cups beer depending on how thick you want the batter.
Heat oil to 375 degrees.
Dip fish pieces in flour on shallow plate and then into batter. Fry battered fish in the hot oil until browned, about 4 minutes. Place on paper towels while working in small batches.
Fry potatoes in small batches until golden brown. Move to paper towels to drain. Lightly salt.
Notes
I fry about 3/4 of a potato at a time and 2 pieces of fish at a time.
I cut my fish in chunks that are about 1 inch thick and 2-3 inches long.
I love the Cajun seasoning but for those of you who like it more mild do not add it.
You can place everything on paper towels in a shallow metal pan in the oven at 200 degrees while you work.
On the hunt for more delicious recipes?  Follow Small Town Woman on Facebook, Pinterest, and Instagram.
https://www.smalltownwoman.com/wp-content/uploads/2019/05/Beth-1.pdf