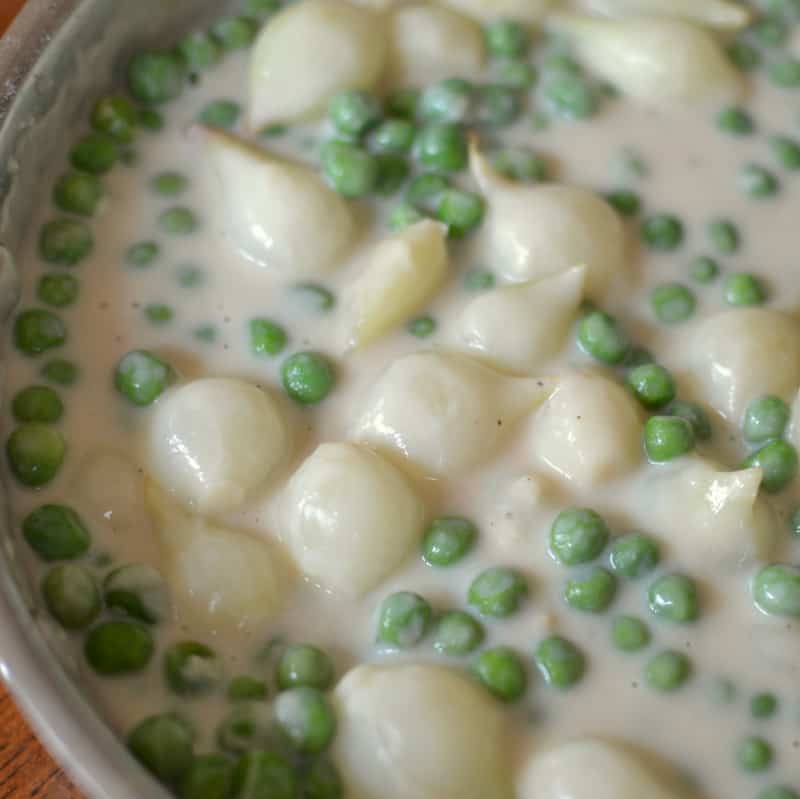 I am a believer that one can never have enough fall and winter vegetable recipes. Especially ones like this Creamed Peas and Pearl Onions. They are simply amazing. I think they are our new favorite family vegetable. It is a super simple recipe that includes seven ingredients and maybe twenty minutes of your time. These are perfect served with Easy Pan Fried Chicken and Cream Gravy or Marinated Herb Butter T-Bone Steaks. There are so many main courses that these would be perfect with.
Are you a pea lover? Than you must try this fabulous Chicken Primavera at Dinner at the Zoo! Peas are low in fat but high in protein, fiber and micro nutrients. A cup of peas has less than 100 calories. . Did you know that because of peas strong anti-inflammatory properties they aid in the prevention of wrinkles, Alzheimer's, arthritis, bronchitis, osteoporosis and candida. You can find other health benefits to peas at Real Food For Life!
Peas are usually one of those foods that people either love or hate. My husband is a huge pea lover. I am not a huge pea lover but I am most certainly in love with these Creamed Peas and Pearl Onions!!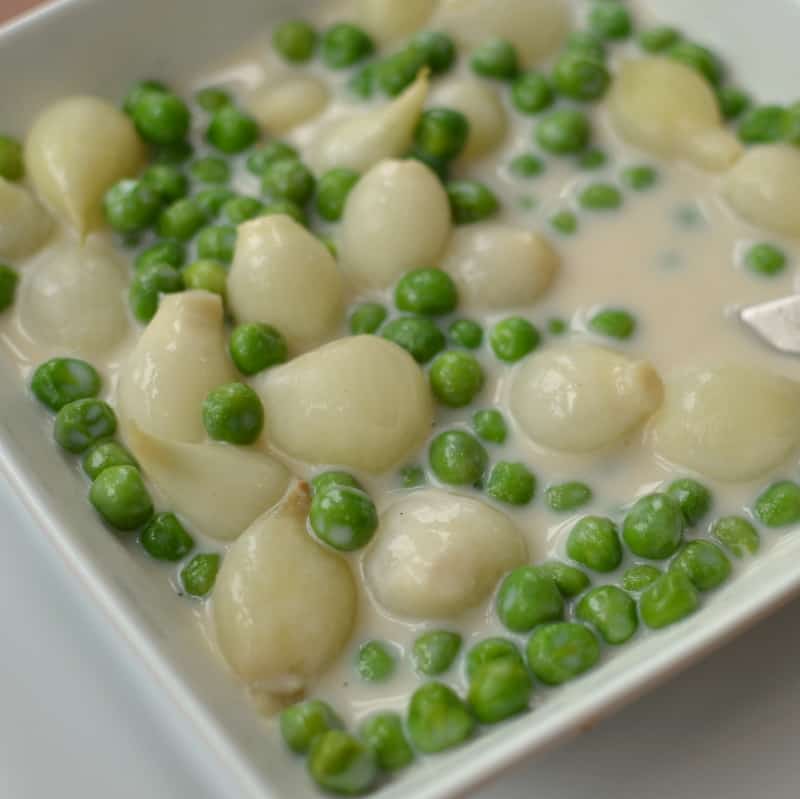 These sweet Creamed Peas and Pearl Onions combines peas and pearl onions into the creamiest classic quick side dish ever. These tasty little beauties are even awesome in the summer over a baked potato with some Balsamic Vinegar Barbecue Pork Ribs. Okay now I have managed to make myself famished.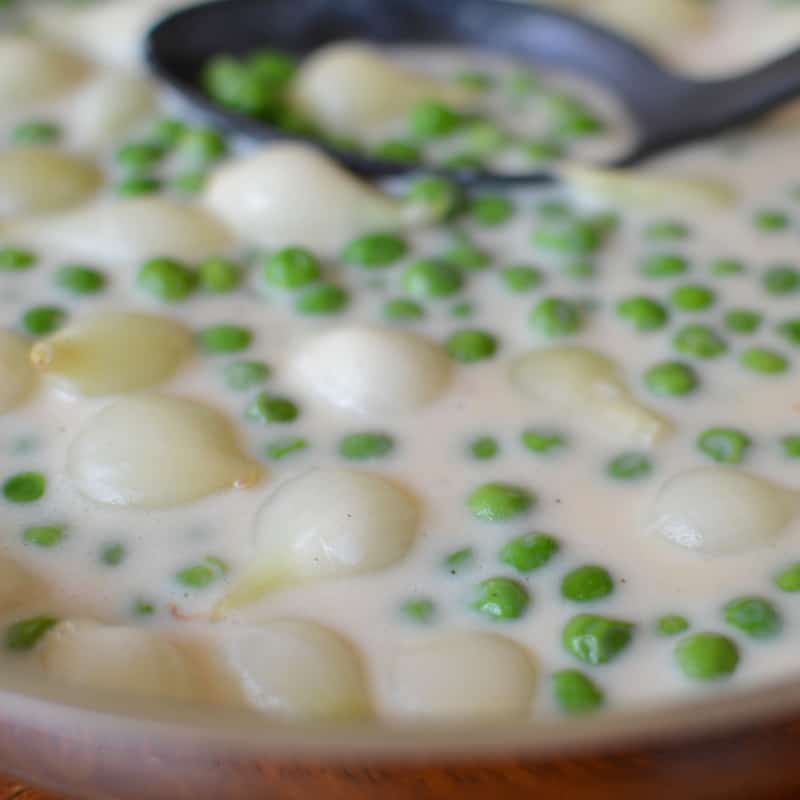 So if you like peas (or maybe you are married to someone who loves peas) than this recipe is right up your alley. Delay no longer! Get those ingredients down on your grocery list and you will be set to chow down on these Creamed Peas and Pearl Onions before you know it.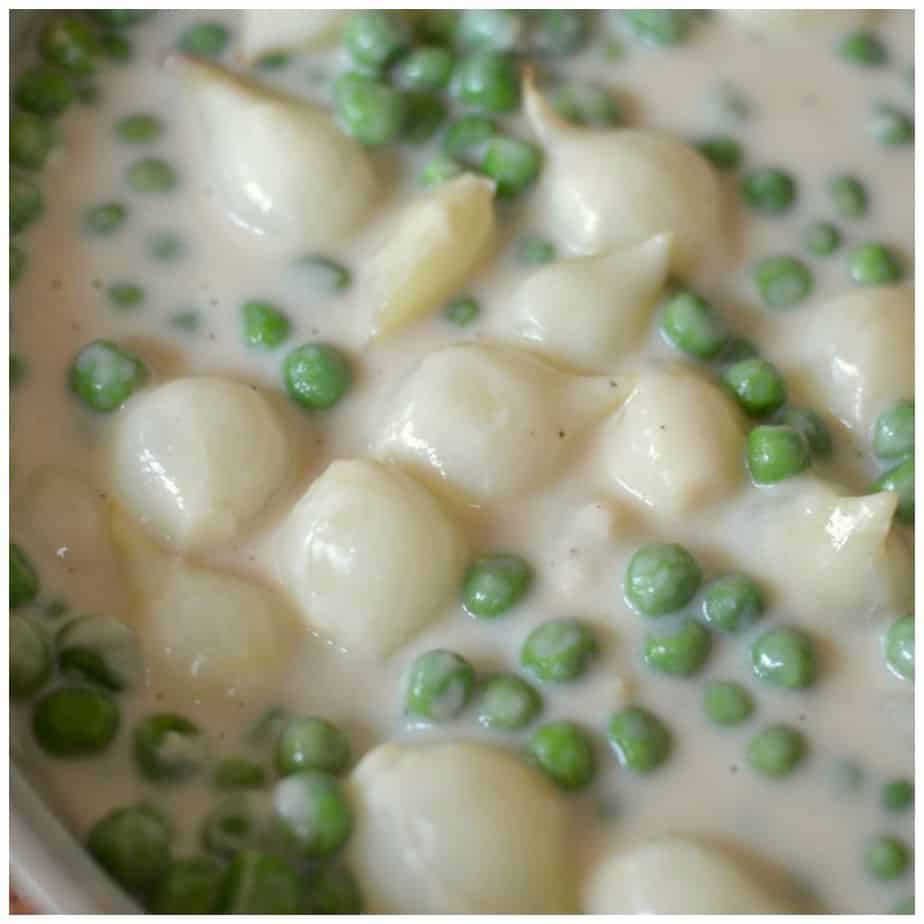 Creamed Peas and Pearl Onions
Ingredients
8 ounces fresh pearl onions
2 tablespoons butter
2 tablespoons all purpose flour
2 cups milk
2 cups frozen baby peas
Salt and pepper to taste
Instructions
Slice off the root ends on the pearl onions and drop into boiling water for about a minute. Drain and rinse with cold water. Pinch the stem end and a peeled onion will pop out. Set them aside.
In large skillet over medium low heat melt butter. Whisk in flour and continue whisking until mixture is a light golden brown. Slowly whisk in milk and continue whisking until mixture thickens slightly; 2-3 minutes.
Add peas and pearl onions (that were set aside). Simmer for 3-4 minutes. Salt and pepper to taste.
Notes
This dish tastes best served right away.
https://www.smalltownwoman.com/creamed-peas-and-pearl-onions/
Other pea recipes you will love!!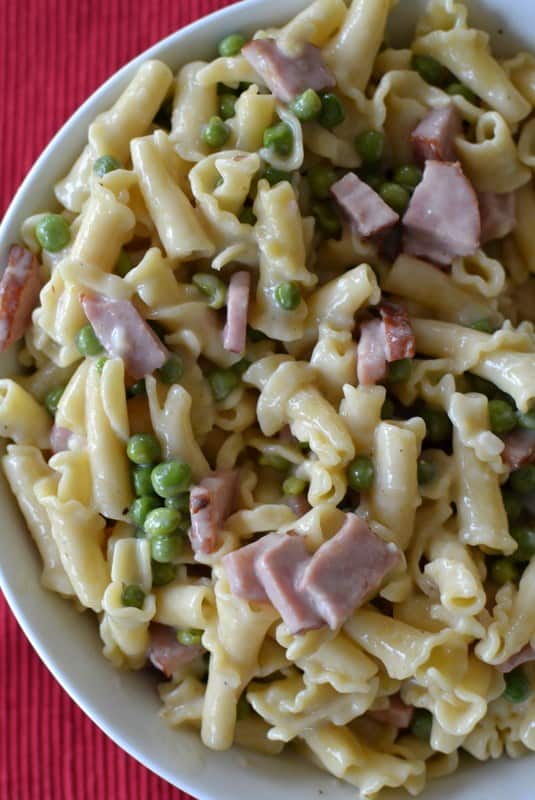 One Pot Cheesy Ham and Pea Campanelle