Sweet Oven Roasted Corn is amazingly easy, so dependable and mouthwatering good.  You can have this prepped and in the oven in about ten to fifteen minutes.
Do you have big plans for the summer?  Have you broke out your grill for some burgers or brats?  This Oven Roasted Corn is perfect for those awesome summer grilled meals.  Cook some this evening and your family will be singing your praises.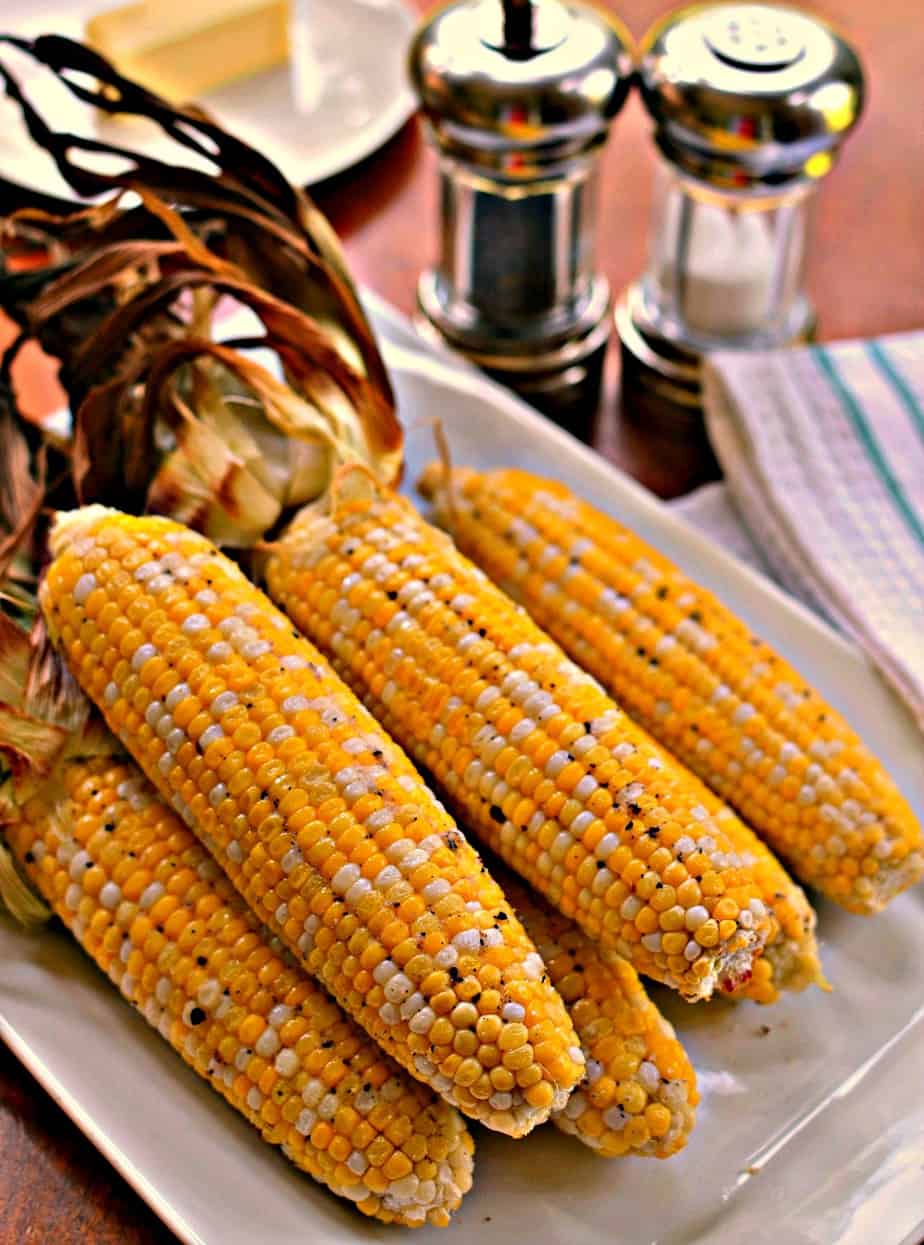 Nothing speaks summer like fresh sweet corn.  There are so many ways to fix it.  You can boil it like my parents did for most of their life.  You can grill it and that is delicious if you manage to get it cooked without charring it too much.  My favorite and by far the easiest is in the oven.  This Oven Roasted Corn is a family and friend favorite.  I think my son would love to have it every night if we could.  A handful of ingredients, all of which you probably have on hand (except for maybe the corn), ten to fifteen minutes prep and thirty minutes cooking time and you are ready for delicious drool worthy sweet baked buttery corn.  Great now I have made myself hungry!!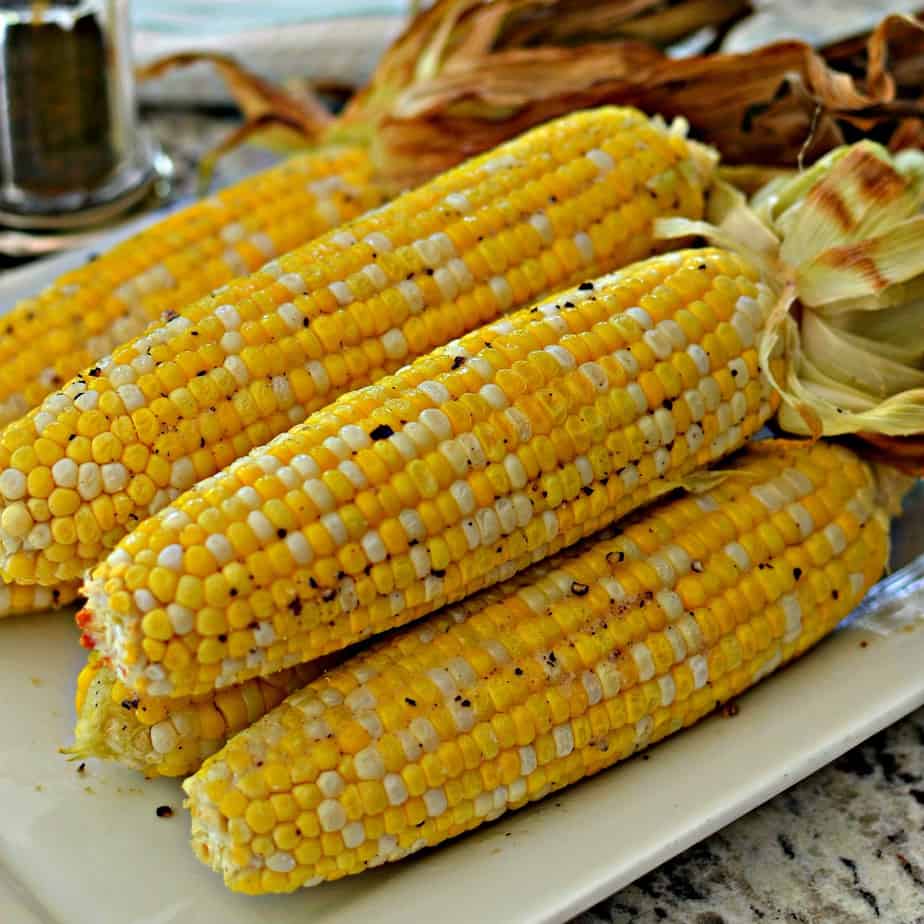 How do you make Oven Roasted Corn?
Start by shucking your corn and removing the silks.  Now rub softened butter all over the corn.  This can done easily but just peeling the wrapping from the butter as you need it.  That way it is a little more sanitary and your hands don't get all messy.  Now in a small bowl or small ziploc storage bag combine the sea salt, ground pepper, garlic powder and onion powder.  Sprinkle evenly over the ears of corn and place on a rimmed baking sheet in the oven.  Cook for about 15 minutes then flip and cook for 15 more minutes.
If you liked your corn a little charred turn on the broiler the last couple of minutes of cooking but stay close by because broilers are really unpredictable. If cooking with the husks still attached make sure that they do not come in contact with any of the ovens gas flames (including the broiler) or electric heating elements.  When in doubt remove the husks.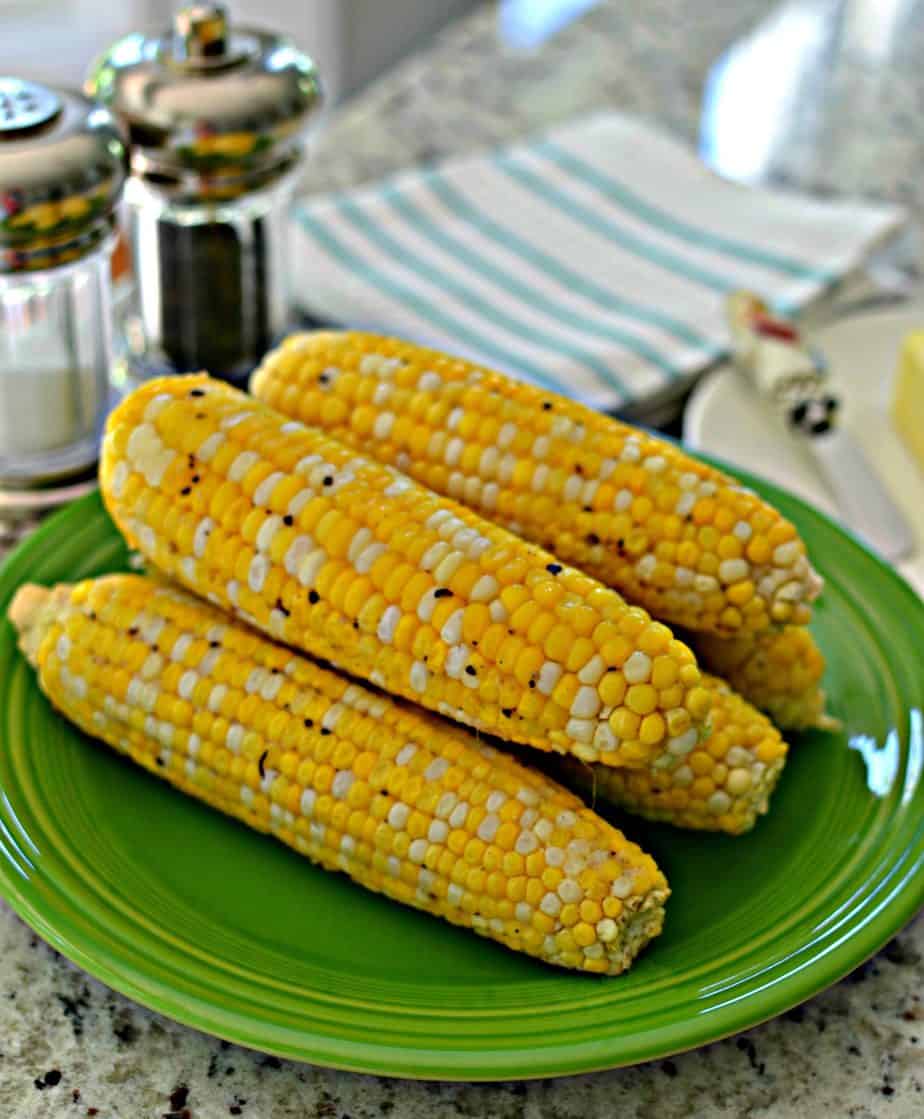 See what I mean.  Isn't that beautiful corn.  My friends you have got to try this.  We are huge corn lovers! We live here in the Midwest and we sure know how to grow some heavenly sweet corn. Are you and yours huge corn lovers?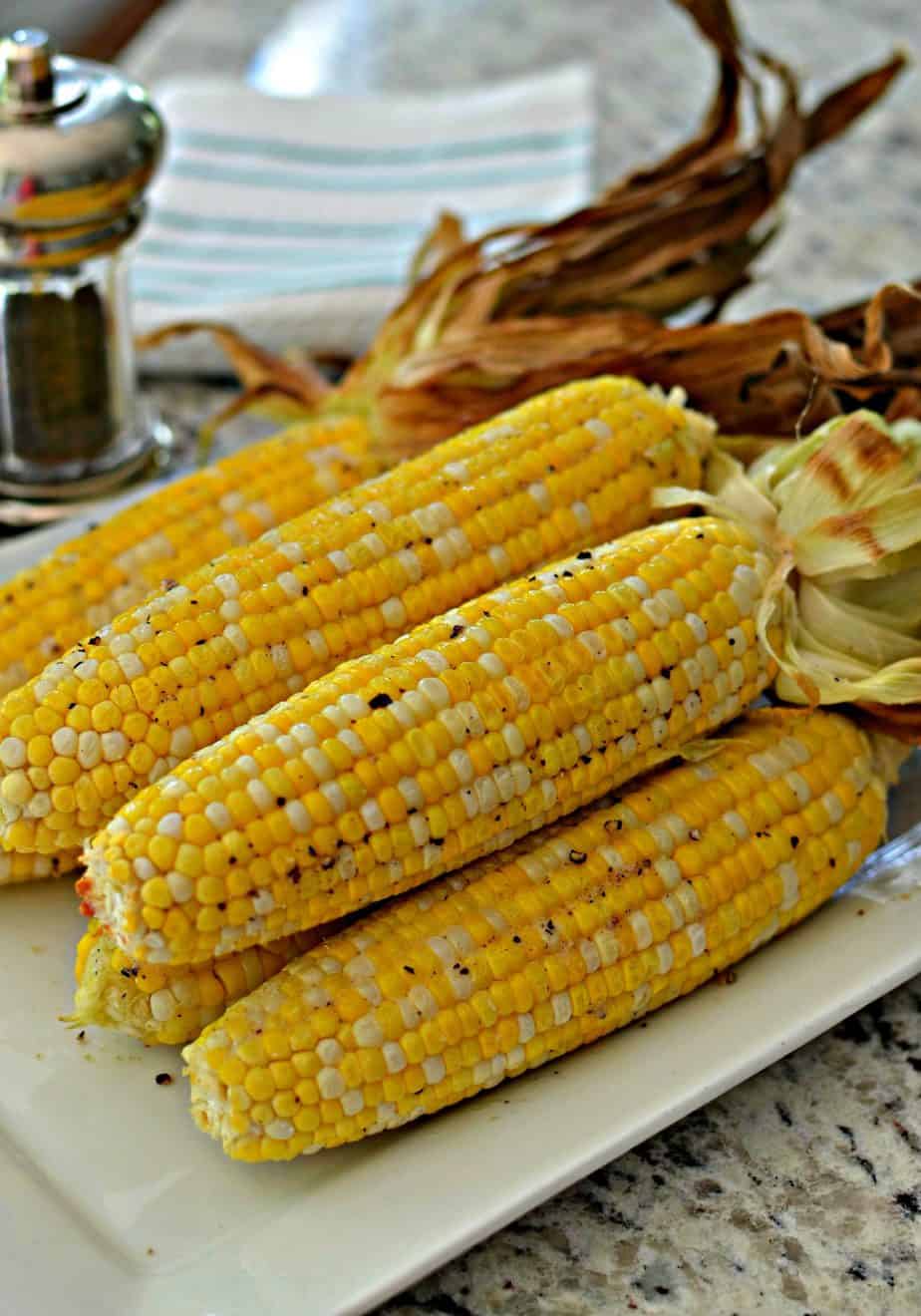 More corn recipes you will love!!
On the hunt for more delicious recipes?  Follow Small Town Woman on Facebook, Pinterest, and Instagram.
This post was originally published May 31, 2018 and was republished April 8, 2020 with new content.
Print
Oven Roasted Corn
Fresh corn is a summer staple, and this oven roasted corn recipe is the perfect side. Perfectly seasoned, salty, buttery corn pairs perfectly with anything from barbecue to fresh summer salads, sandwiches, and more.
Author:
Prep Time: 10 minutes
Cook Time: 30 minutes
Total Time: 40 minutes
Yield: 6 servings 1x
Category: Side
Method: Oven
Cuisine: American
6 ears of corn shucked and silks removed
1/2 cup butter (1 stick) softened
1 1/2 teaspoons sea salt
1 teaspoon fresh ground pepper
3/4 teaspoon garlic powder
1/4 teaspoon onion powder
Instructions
Preheat oven to 400 degrees.
Rub corn with softened butter. You will have some butter leftover for lathering on after roasting.
In small bowl combine sea salt, ground pepper, garlic powder and onion powder. Sprinkle over corn and place in oven.
Cook for 15 minutes. Flip and coat with remaining butter. Cook for another 15 minutes.
Keywords: oven roasted corn, corn on the cob, roasted corn on the cob
https://www.smalltownwoman.com/wp-content/uploads/2019/05/Beth-1.pdf