This easy and savory Ham and Broccoli Quiche is loaded with sweet caramelized onions, creamy Swiss and Gouda cheese, ham, and broccoli.  It always gets rave reviews from family and friends.  I love to serve it with Summer Fruit Salad and Bloody Mary Cocktails.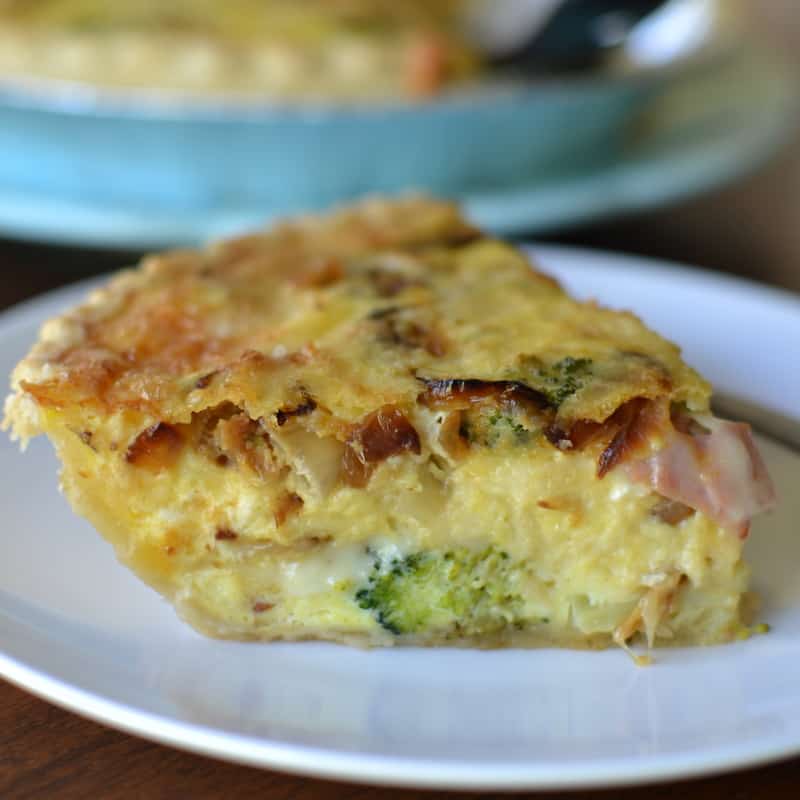 Weekends are the best times to make the most awesome breakfasts!  You can sleep in a bit, get up and whip up something special, pop it in the oven, take your sweet pooch for a walk and come back and have a marvelous meal.  Nothing like an awesome feast to start the day.  Don't forget to brew a fresh cup of coffee.  This Caramelized Onion Ham Broccoli Quiche is absolutely one of our favorite breakfasts. Of course you have to love onions because they are the star here.  The caramelized onions do take a little bit of time but feel free to do them the night before and store in the fridge.  That way you will have a head start on your Sunday morning treat.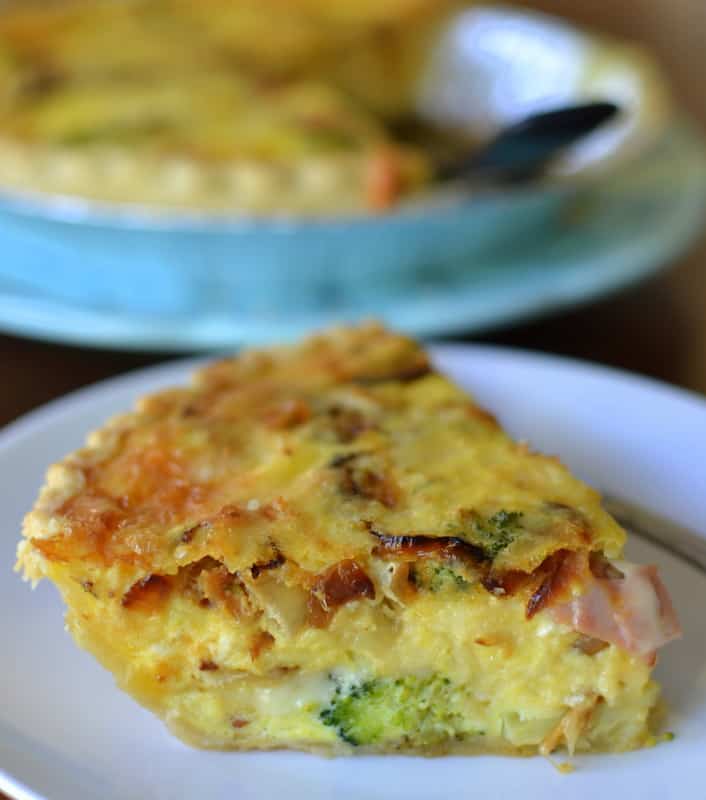 This gorgeous Caramelized Onion Ham Broccoli Quiche combines sweet caramelized onions, honey ham, fresh broccoli, Gouda, Swiss and Parmesan cheeses into a memorable meal.  Leftovers are just as tasty and can be reheated in the microwave for about 45 seconds at 50% power. They are perfect for a holiday party, special luncheon or birthday brunch.
Please remember to put the quiche on a cookie sheet.  This deep dish quiche is filled to the brim with all kinds of goodness so it aids in getting the quiche in and out of the oven and catches any drips so your oven stays nice and clean.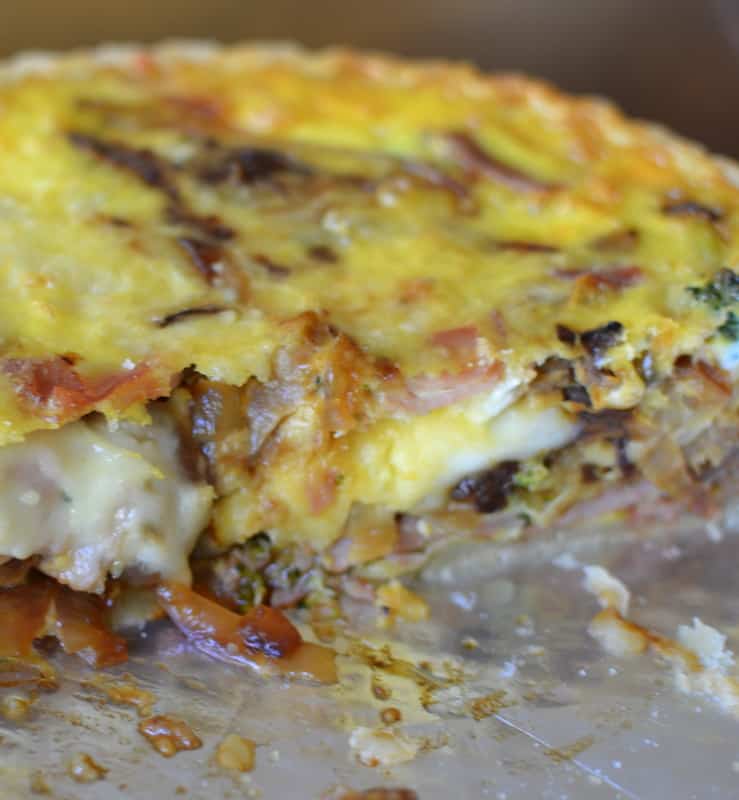 This Caramelized Onion Ham Broccoli Quiche is the perfect weekend treat.  So make a breakfast that you can feel good about feeding your family. Trust me!  Your family will be singing your praises!
Other breakfast recipes you will love!
Caramelized Onion Ham Broccoli Quiche
This savory ham and broccoli quiche is baked with sweet caramelized onions and creamy cheese. It's the perfect casual brunch dish that will wow a crowd!
Author:
Prep Time: 15 minutes
Cook Time: 90 minutes
Total Time: 1 hour 45 minutes
Yield: 8 servings
Category: Breakfast
Method: Bake
Cuisine: American
1 deep dish frozen pie crust
3 tablespoons butter
3 small vidalia onions sliced in half and cut in thin half moons
1/4 lb thin sliced deli honey ham diced
1 1/2 cups broccoli florets coarsely chopped
2 cloves of garlic minced
1/4 teaspoon salt
1/4 teaspoon fresh ground black pepper
1/4 teaspoon onion powder
1/4 teaspoon dried oregano
2/3 cup Gouda shredded
2/3 cup Swiss shredded
1/4 cup fresh Parmesan cheese shredded
6 eggs
1/4 cup whipping cream
Instructions
In large skillet over medium low heat melt butter. Add onions slices and cook for about 30-40 minutes or until they reach a rich brown color; stirring every few minutes. Add ham and broccoli to the skillet the last 3-4 of minutes of cooking. Add garlic, salt, pepper, onion powder and oregano and cook for additional 1 minute.
Place the pie shell on a baking sheet. Place half of the skillet mixture in the frozen pie shell. Top with approximately half of each cheese. Top with remaining skillet mixture and then with remaining cheese.
Whisk eggs and whipping cream together and slowly pour over the ingredients in the pie shell.
Bake at 350 degrees for approximately 40-45 minutes or until it has puffed and is lightly browned. Let cool for 10-15 minutes before slicing.
Keywords: ham and broccoli quiche, caramelized onions, brunch quiche, breakfast quiche, breakfast recipe, brunch recipe, quiche
On the hunt for more delicious recipes?  Follow Small Town Woman on Facebook, Pinterest, and Instagram.
https://www.smalltownwoman.com/wp-content/uploads/2019/05/Beth-1.pdf