These delectable Breakfast Muffins are loaded with pork sausage, sweet red bell peppers, green chiles and sharp cheddar. The end result is a beautiful hearty breakfast muffin full of the best that breakfast has to offer. I love to serve them at my brunch buffets with Summer Fruit Salad and Easy Frosty Strawberry Mimosas.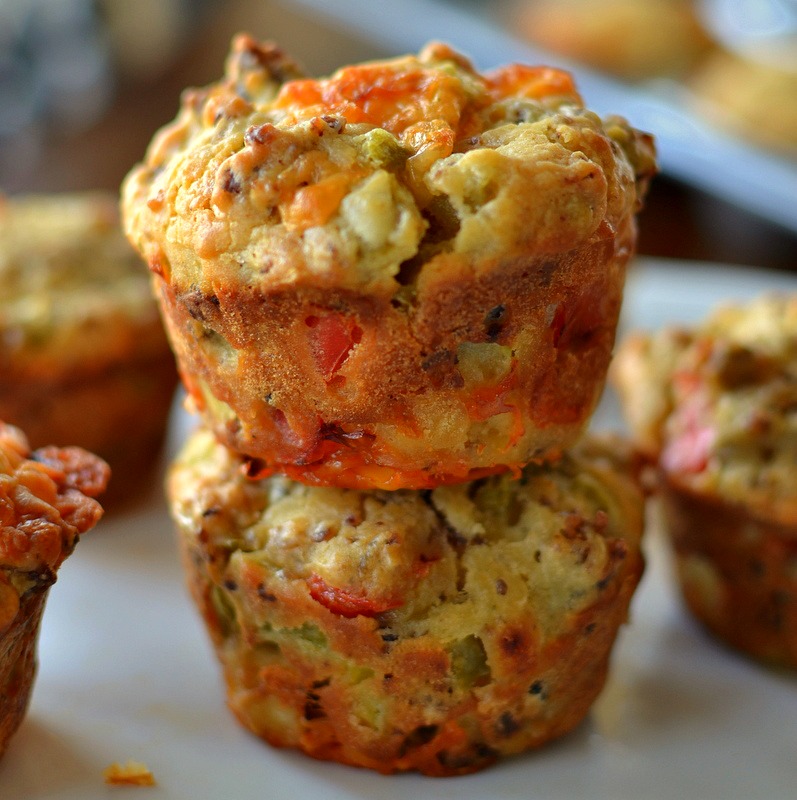 Well the holidays are over and on comes the hustle and bustle of school and work. The mornings are so busy there is hardly time for a hot cup of Joe. The alarm goes off and there is exercise, breakfast, lunches to pack and a whole plethora of activity.
My husband is a high maintenance individual. He likes milk with his coffee, blueberries and grapes with his yogurt, added seasoning in his salad dressing and the list goes on and on. He even has a certain pen that he uses when he works and usually it sits on the kitchen counter. I pick it up and use and leave it someplace else. We have to run around and try to find this pen. I am pretty simple I like my coffee black, my salad dressing without extra garlic (well yeah) and I could not care less what pen I use. I am a fly by the seat of my pants kind of gal. Is there any other way to be? Sometimes these kinds of crazy mornings call for easy to prepare recipes that can be made quickly or made in advance like these scrumptious Breakfast Muffins.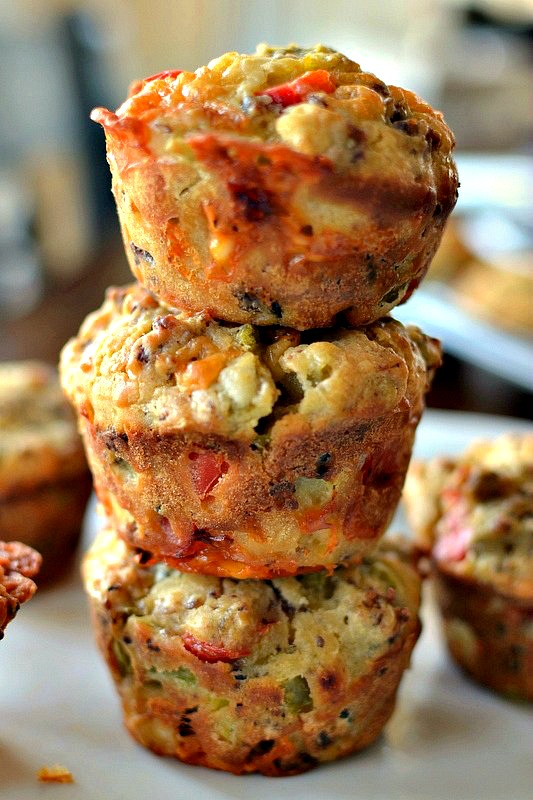 These On the Go Sausage Cheddar Breakfast Muffins make crazy mornings a tad bit easier. They can be prepared ahead of time and then popped into the microwave for a quick 20 second reheat and presto breakfast is served. It is the perfect hand held breakfast for eating in the car.
How to make breakfast muffins
First in a large bowl whisk together the flour, baking soda, baking powder, cayenne pepper and crushed red pepper. Set it aside for just a few minutes. Next in a large skillet brown the sausage. Drain any excess fat and then add the red peppers and cook for a couple more minutes. Remove the pan from and heat and let cool while you complete the next step.
Now in a small bowl whisk together the buttermilk and eggs. Pour the egg mixture into the flour mixture. Then add the sausage mixture, drained green chiles, cubed cheddar cheese and melted butter. Mix just until everything is combined. Finally divide the mixture evenly in the prepared muffin pan. They will only rise a little bit so go ahead and fill pretty close to the top. Bake until golden brown.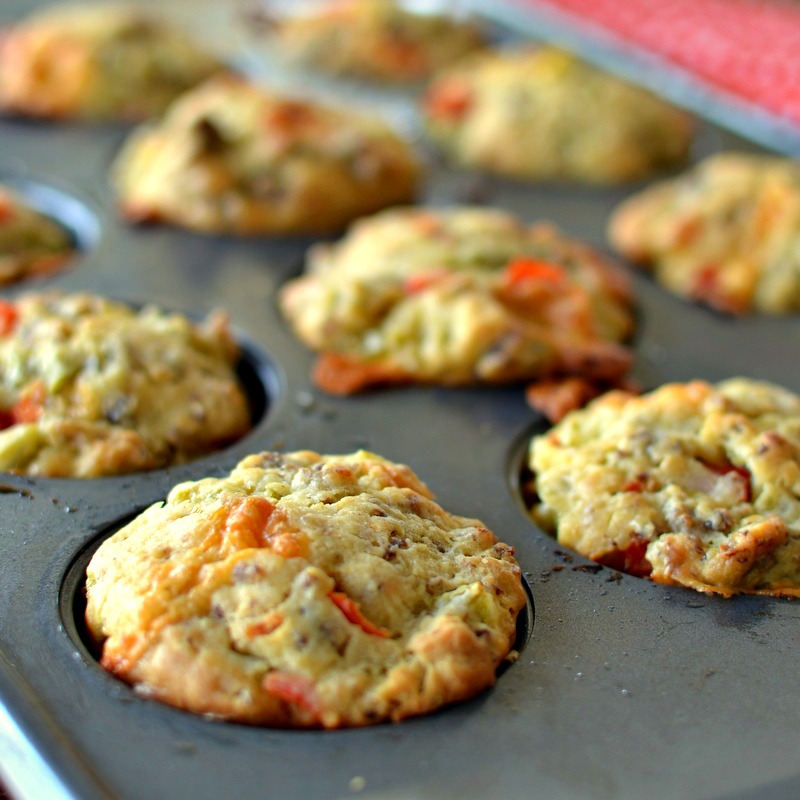 Recipe notes and helpful tips
Spray your muffin pan well with nonstick baking spray.
Use good quality sharp or smoked cheddar cheese.
If you don't want to purchase buttermilk make your own. Add one tablespoon white vinegar or one tablespoon lemon juice to one cup milk and let sit for five minutes. Use promptly or place in the fridge till you are ready.
You can use any colored bell pepper in this recipe but I like the sweetness of red bell pepper and the contrasting color with the green chiles.
These muffins only rise a tad so fill the muffin tin fairly full.
Always preheat the oven and load the muffins on the middle rack in the center of the oven.
Remember breakfast is the most important meal of the day. It cranks up your metabolism and keeps you moving.
More amazing breakfast recipes you will love!
Print
Breakfast Muffins with Sausage and Cheddar
These easy to make Breakfast Muffins are freezer friendly and are plump full of sausage, peppers, and sharp cheddar cheese. Bake a batch for your family today.
Author:
Prep Time: 20
Cook Time: 25
Total Time: 45 minutes
Yield: 12 muffins
Category: breakfast
Method: bake
Cuisine: Southern
Nonstick baking spray
2 cups flour
1/2 teaspoon baking soda
1/4 teaspoon baking powder
1/8 teaspoon ground cayenne pepper (see notes)
1/8 – 1/4 teaspoon crushed red pepper (see notes)
1 lb bulk pork sausage
1/2 finely chopped red bell pepper (about 1/2 cup)
1 cup buttermilk
2 eggs
1 can (7 ounces) green chiles drained
2/3 cup very finely cubed cheddar cheese (see notes)
2 tablespoons butter melted
Instructions
Preheat oven to 375 degrees. Spray standard 12 count muffin pan with nonstick cooking spray.
In large bowl whisk together flour, baking soda, baking powder, cayenne pepper and crushed red pepper. Set aside.
In large skillet brown sausage; add red peppers and cook for additional 2 minutes. Drain any excess fat and remove from heat.
In small bowl whisk buttermilk and eggs together. Pour into flour mixture. Add sausage mixture, drained green chiles, cubed cheddar cheese and melted butter to flour mixture. Mix just until flour is Combined. Divide evenly in muffin pan. You can fill to the top as they only rise a tiny bit. Bake until golden brown; about 25-30 minutes.
Notes
These muffins should be refrigerated in an airtight container. They stay fresh for 3-4 days.
The spices in this are very mild when combined with the other ingredients. If you are concerned cut it down to a pinch or two.
You can shred the cheese but I like it better with little bits of cheese. Cut it in very small cubes like 1/4 inch.
Keywords: sausage muffins, muffins, breakfast muffins, breakfast on the go, breakfast muffin recipe, breakfast muffin cups, easy breakfast muffins
On the hunt for more delicious recipes? Follow Small Town Woman on Facebook, Pinterest, and Instagram.
This post was originally published January 5, 2018 and was republished December 5, 2019 with new content.
https://www.smalltownwoman.com/wp-content/uploads/2019/05/Beth-1.pdf