This Summer Fruit Salad is a real crowd pleaser.  Cantaloupe, honey dew, watermelon, pineapple, raspberries, blueberries and blackberries are drizzled with lightly sweetened orange lime juice.  I love to serve this with some of my favorite grill recipes like Dry Rub Grilled Pork Tenderloin and Grilled Flank Steak.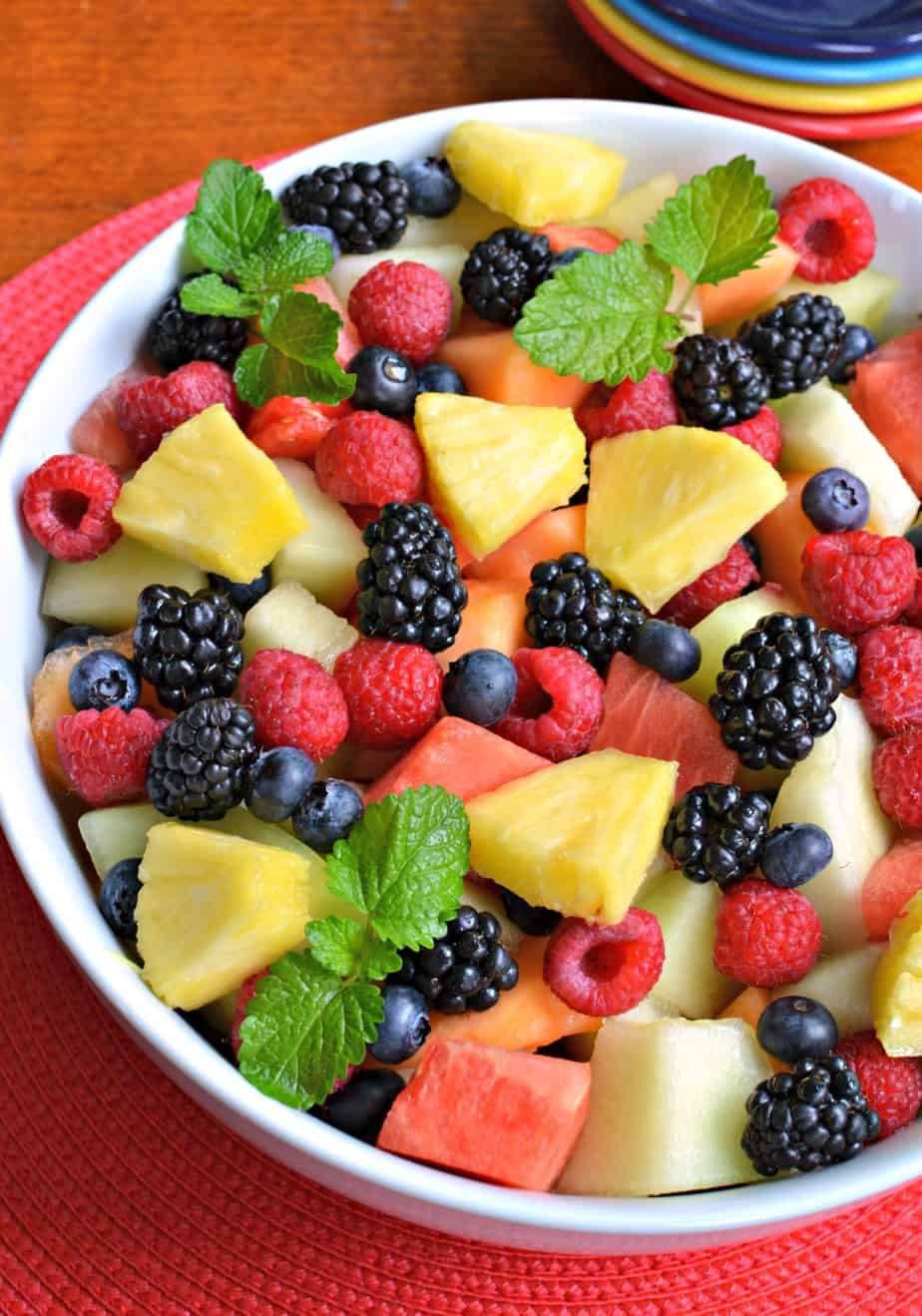 Summer really brings such amazing flavors to the table.  Nature really is incredible in her taste and bounty.  I know our summers would not be complete without Summer Fruit Salad.  This tasty treat is perfect for graduation parties, patio parties, neighborhood shindigs and pot lucks.  It is as beautiful as it is tasty and can be assembled in short order (as my late mother used to say).  The berry family is in full glory and flavor right now with the best of the best of the harvest coming in. This easy salad has a simple orange lime drizzle that comes together in minutes.
If you don't like pineapple replace it with strawberries.  If we put strawberries in our fruit salad then my son can not eat it because he is allergic to them.  He has always been so disappointed about the fact that he can not eat them.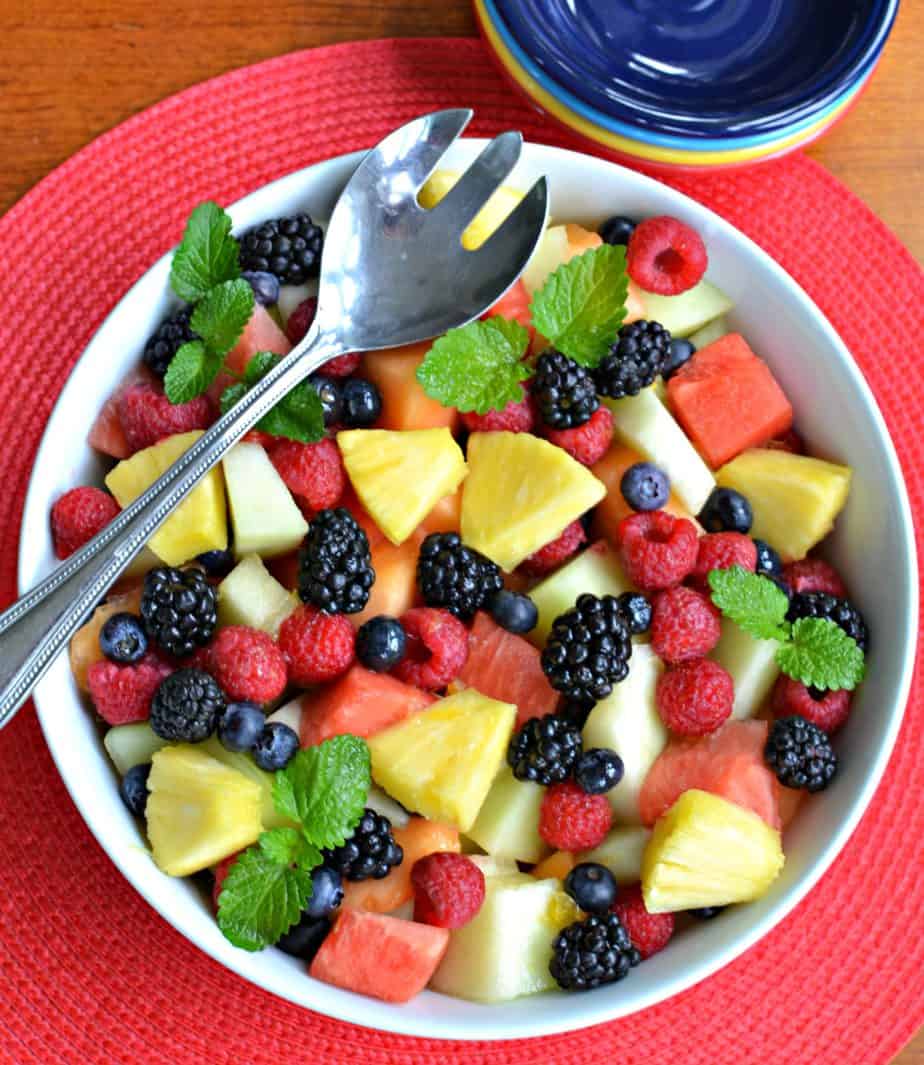 How do you make Summer Fruit Salad?
First simply juice an orange and a lime and stir in a little honey.  Now in a large bowl add the cantaloupe, honey dew, watermelon and pineapple.  The good solid heavy fruit should be added to the bowl first.  Now drizzle with half of the juice and toss gently to coat.
Next add the berries and drizzle with the remaining juice.  Then toss very gently to coat. Finally garnish with fresh mint.  My favorite mint herb is bee balm.  It is gorgeous, smells fantastic and tastes a little like minty sage.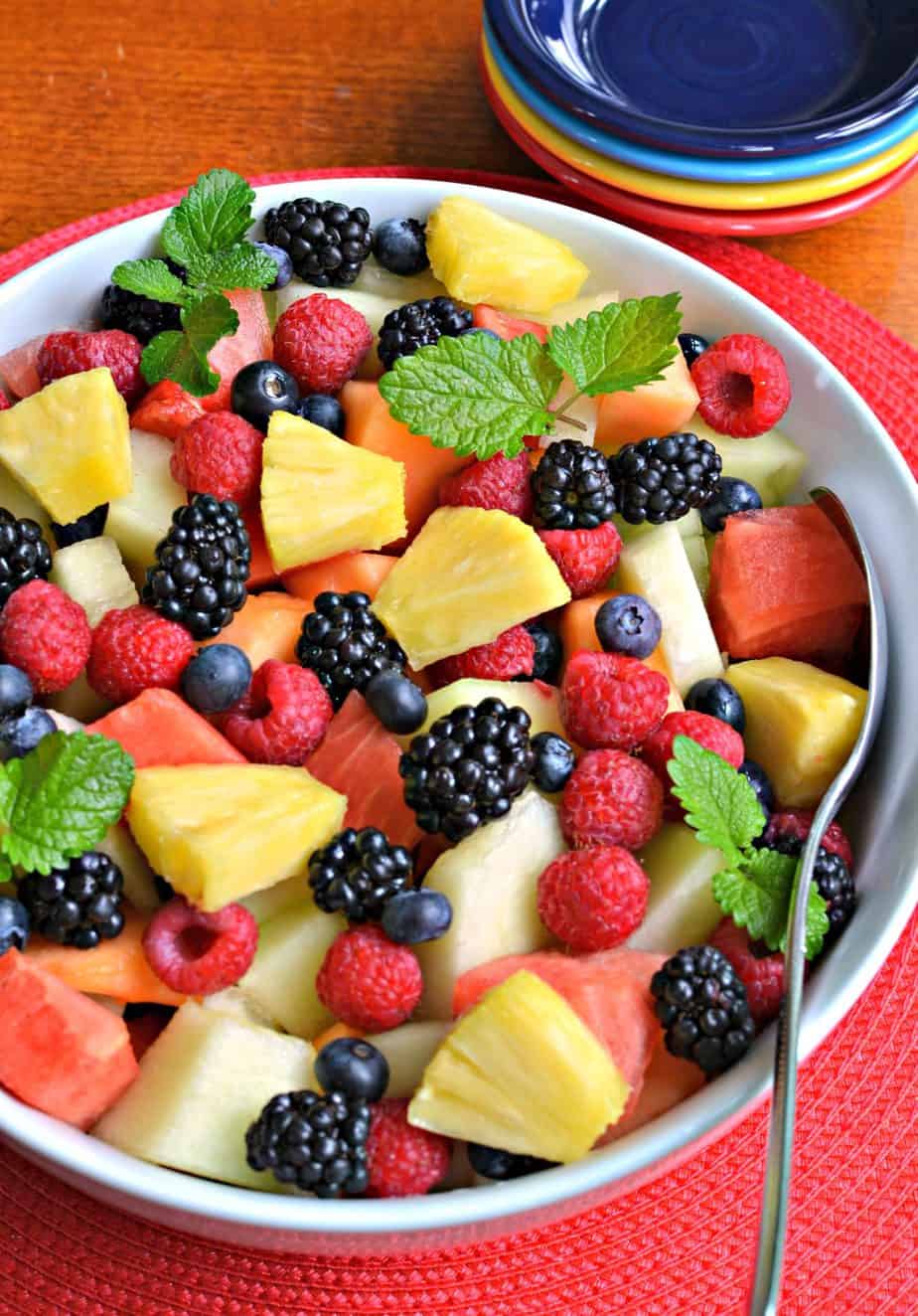 Flavor variations
Add halved strawberries and sliced bananas.  To keep the bananas from browning toss the sliced bananas in the orange lime juice before adding the honey.
Replace the berries in the recipe with kiwi slices and grape halves.  Substitute a juiced lemon for the juiced lime.
For a little more flavor punch add a little orange and lime zest to the drizzle.  If desired brown sugar can be substituted for the honey.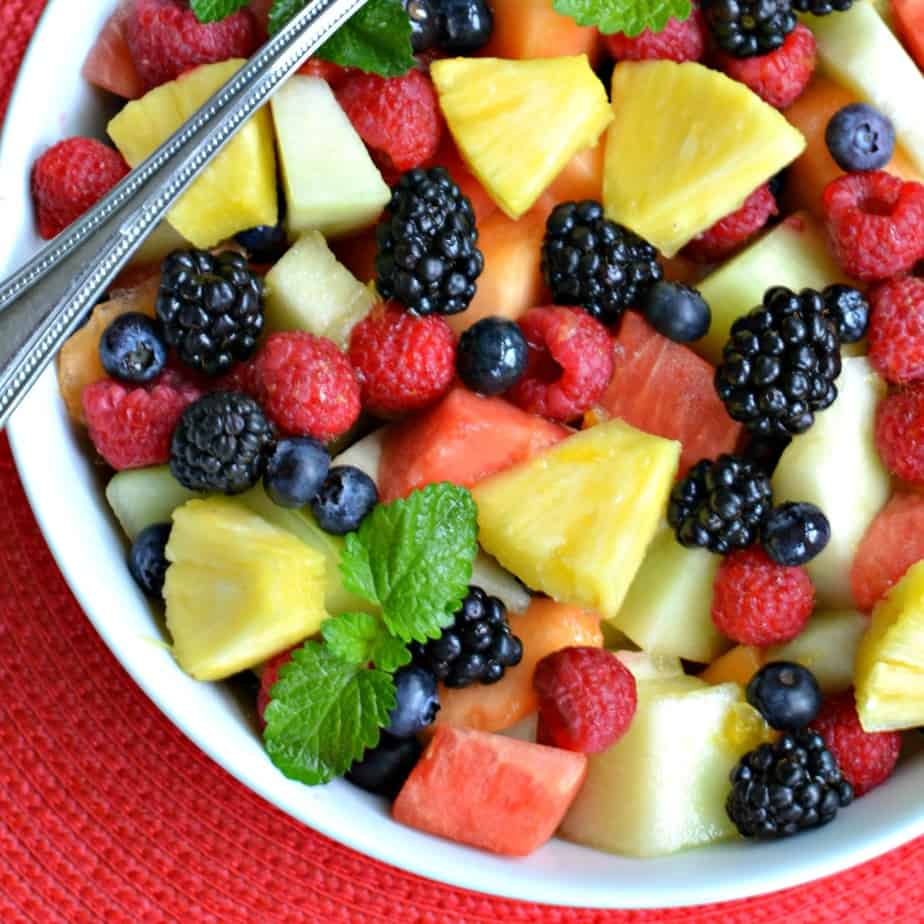 This fruit salad has so much to offer. It is so unbelievably flavorful, full of vitamins, minerals and fiber and astonishingly colorful! Make sure you get some of the best fruit that the season has to offer.  I hope you have a fantastic Memorial Day and you have a chance to try out this delectable recipe.
More fruit salad recipes you will love!
This post was originally published May 16, 2018 and was republished May 7, 2020 with new content.
Print
Summer Fruit Salad
This colorful and refreshing summer fruit salad has all the best summer fruits. Melons, berries, and pineapple come together in this colorful mix that's perfect for a summer picnic!
Author:
Prep Time: 10 minutes
Total Time: 10 minutes
Yield: 6 cups 1x
Category: Salad
Cuisine: American
1 medium orange
1 medium lime
1–2 tablespoons honey
1/2 cantaloupe cut in bite size chunks
1/2 honey dew melon cut in bite size chunks
1/4 watermelon cut in bite size chunks
1/2 pineapple cut in chunks
1 cup raspberries
1 cup blackberries
1 cup blueberries
Optional bee balm or mint sprigs
Instructions
Juice the orange and lemon. Stir in 1-2 tablespoons of honey (to taste). In large bowl add cantaloupe, honey dew, watermelon and pineapple. Drizzle with half of the orange lime juice and stir to combine. Add raspberries, blackberries and blueberries. Drizzle with the second half of the orange/lime juice. Stir gently to combine. If desired garnish with bee balm or mint sprigs.
Keywords: summer fruit salad, mixed fruit salad, summer salad, fruit salad
On the hunt for more delicious recipes?  Follow Small Town Woman on Facebook, Pinterest, and Instagram.
https://www.smalltownwoman.com/wp-content/uploads/2019/05/Beth-1.pdf