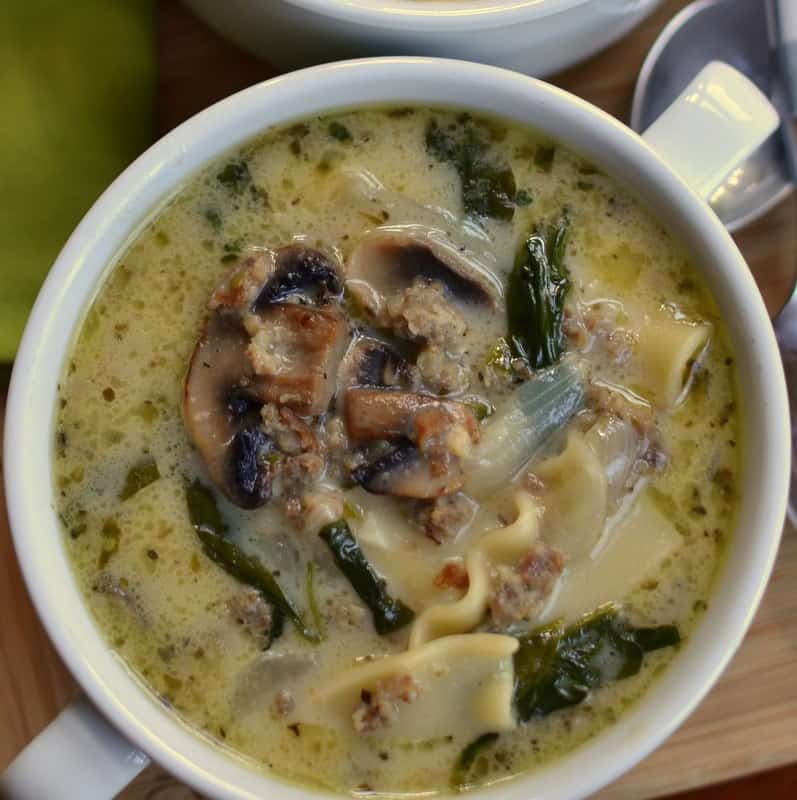 I think I have mentioned once or twice that I love soup!!  I mean honestly who in world doesn't?  Isn't it after all the greatest comfort food category. This Creamy Alfredo Lasagna Soup is the ultimate meal.  It is chock full of sausage, mushrooms, spinach and lasagna in a creamy Parmesan broth that is seasoned to perfection.    Of soup and love …the first is best!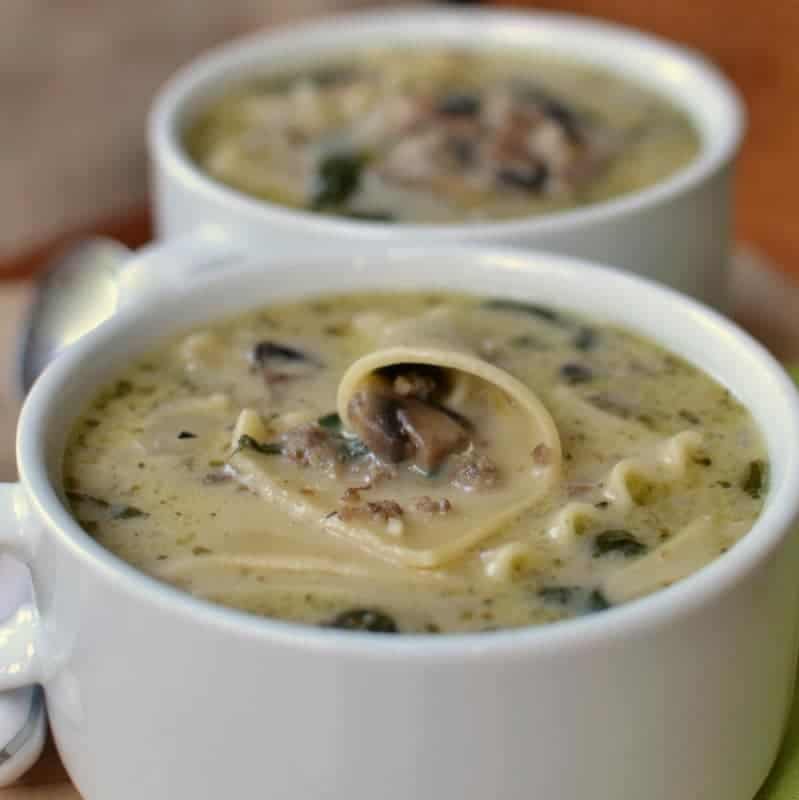 So if fall is the air or there is six feet of snow on the ground this soup is guaranteed to leave you feeling a little better. Perhaps you are just looking for a scrumptious warm meal like Mom and Grandma used to make!! What did Mom used to say about soup? Worries go down better with soup!  She was correct.  This easy to fix soup can be whipped up real fast and leftovers are delicious too.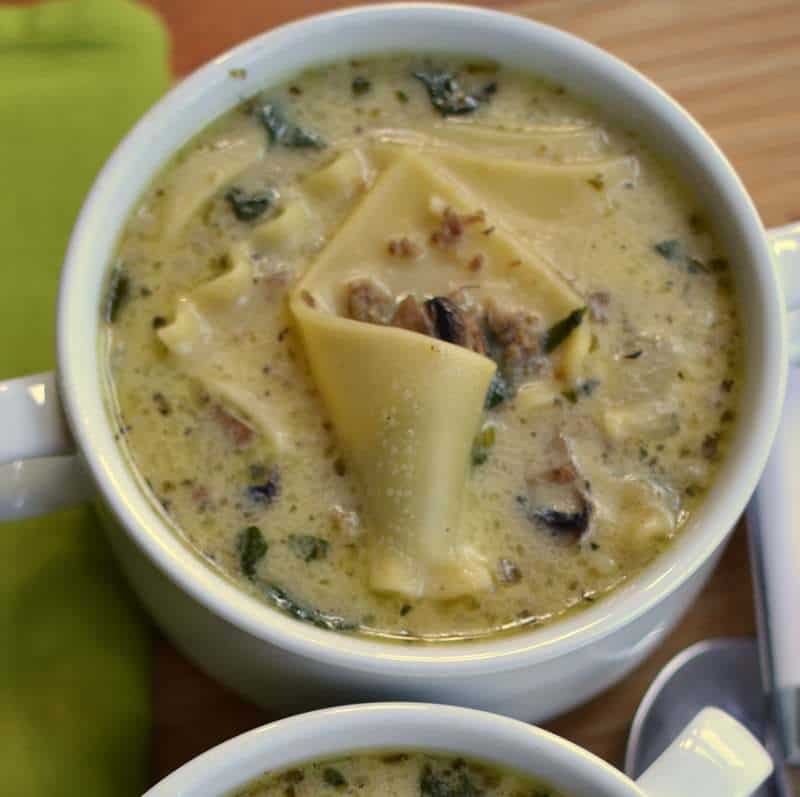 So if a bowl of soup is your creme de la creme than you must give this one a whirl.  It is divine.  In the famous words of Ludwig van Beethoven "Only the pure in heart can make a good soup."
Other soup recipes you will love!
Print
Creamy Alfredo Lasagna Soup
This Creamy Alfredo Lasagna Soup is packed with sausage, mushrooms, spinach, and lasagna noodles, all in a rich parmesan cheese broth. This hearty, warming soup is perfect for cold winter months,
Author:
Prep Time: 10 minutes
Cook Time: 20 minutes
Total Time: 30 minutes
Yield: 4 servings 1x
Category: soup, main course
Method: stovetop
Cuisine: Italian
1/2 lb ground sausage
1 small onion chopped
8 ounces mushrooms sliced
2 cloves garlic minced
4 cups baby spinach
5 cups low sodium chicken broth
5 lasagna noodles broken
1 teaspoon dried oregano
1/2 teaspoon dried basil
3 tablespoons butter
3 tablespoons flour
1 cup milk
1 cup Parmesan grated
Instructions
Brown ground sausage in a large saucepan over medium heat. Add onion and mushrooms; cook 5-6 minutes over medium-low heat.
Add garlic and spinach and cook for 1 minute while stirring.
Add chicken broth and simmer for 5 minutes.
Add broken lasagna noodles, oregano and basil and bring to a low boil.
Cook for 10-12 minutes or until the noodles are tender.
Meanwhile, in a skillet over medium-low heat, melt butter. Whisk in flour and continue cooking for 1 minute; whisking constantly. The butter/flour mixture should be bubbling.
Slowly whisk in milk until mixture is smooth and thickened; about 3-5 minutes.
Turn off heat and slowly whisk in Parmesan cheese. If cheese is not melting place over very low heat and whisk constantly. When Parmesan is fully melted and mixture is creamy, slowly add to soup mixture whisking in.
Keywords: lasagna soup, easy lasagna soup, quick lasagna soup recipe, parmesan lasagna soup
On the hunt for more delicious recipes?  Follow Small Town Woman on Facebook, Pinterest, and Instagram.
https://www.smalltownwoman.com/wp-content/uploads/2019/05/Beth-1.pdf