CREAMY TOMATO BASIL SOUP IS LIKE A MATCH MADE IN HEAVEN WITH SUN KISSED GARDEN TOMATOES AND FRESH SWEET BASIL. THIS DELECTABLE SOUP IS SO EASY TO PREPARE.
Make this delicious creamy soup while the garden ripened tomatoes are at their peak of flavor.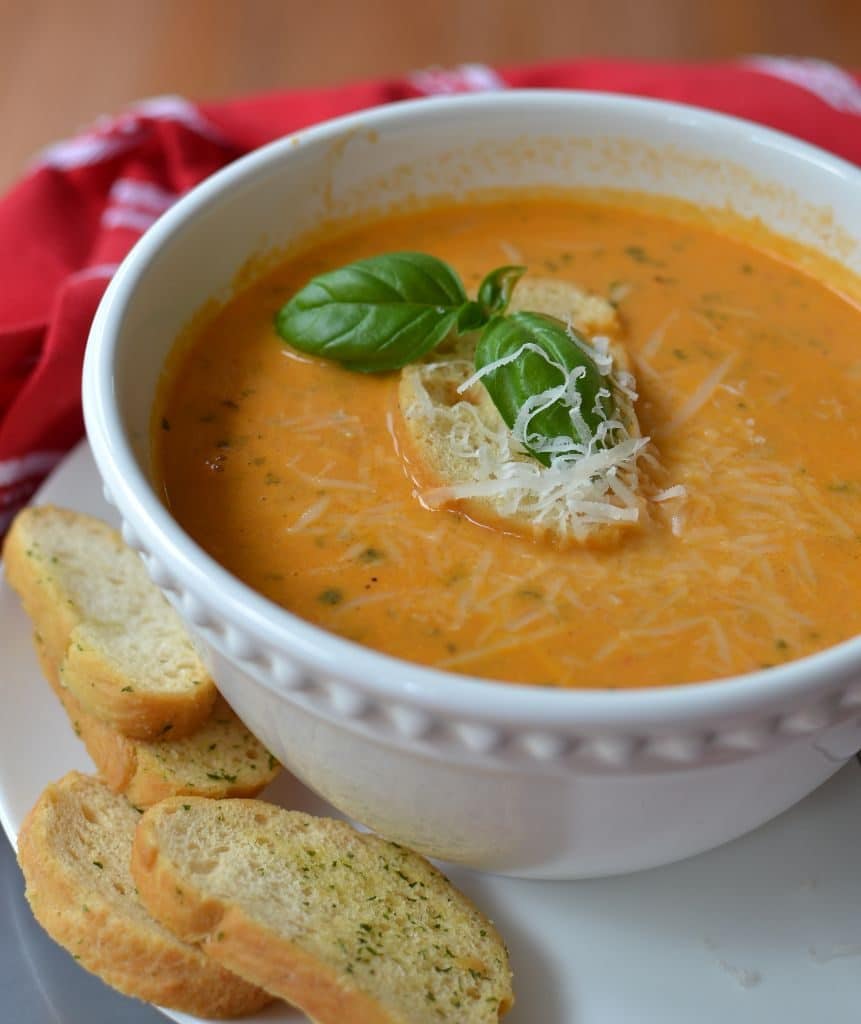 I know a lot of you probably think that it isn't quite soup weather but at our house soup is great anytime. This creamy tomato basil soup is the best during the summer months when those sun ripened fruits are at their finest. Just think of the difference in taste between that winter hot house tomato and the ones you pull out of your garden in the heat of the summer. That makes the difference between a good bowl of tomato soup and an amazing bowl of tomato soup!
The other key to making this soup epic is fresh basil. If you have never grown fresh basil before it is so easy and holds up well to the hot dry climate of Missouri. My plant usually takes off real fast and provides enough to even share with the neighbors but is not so unruly that it takes over my garden like some herbs.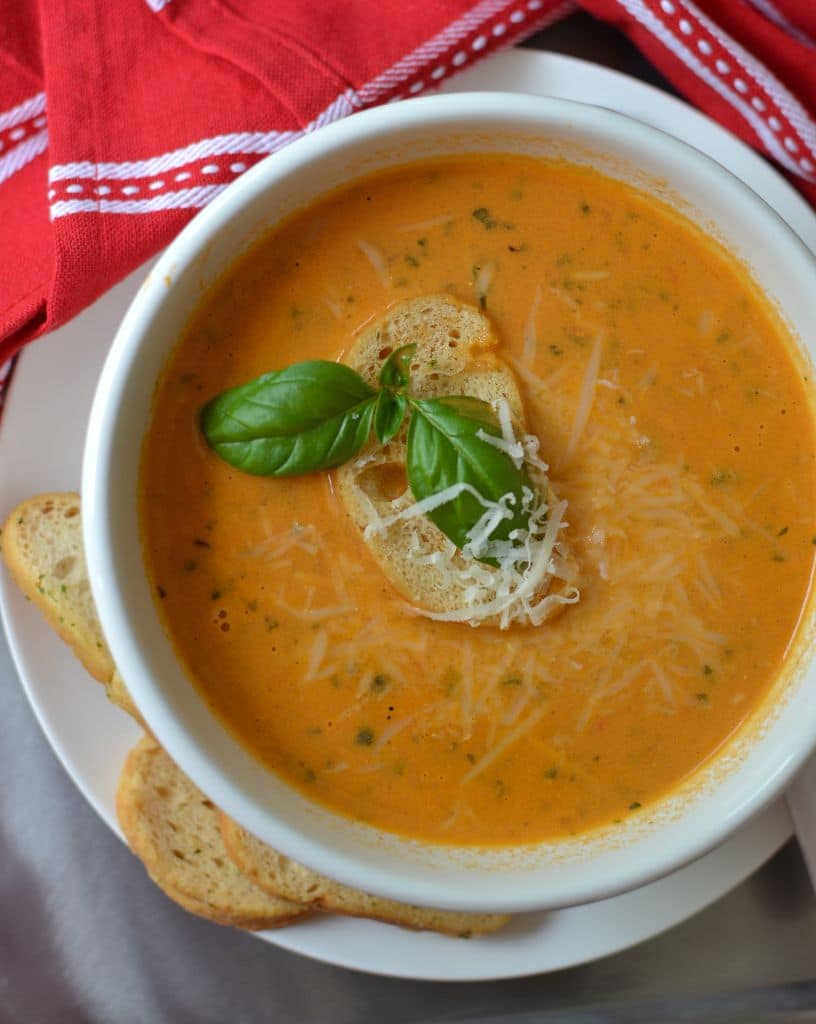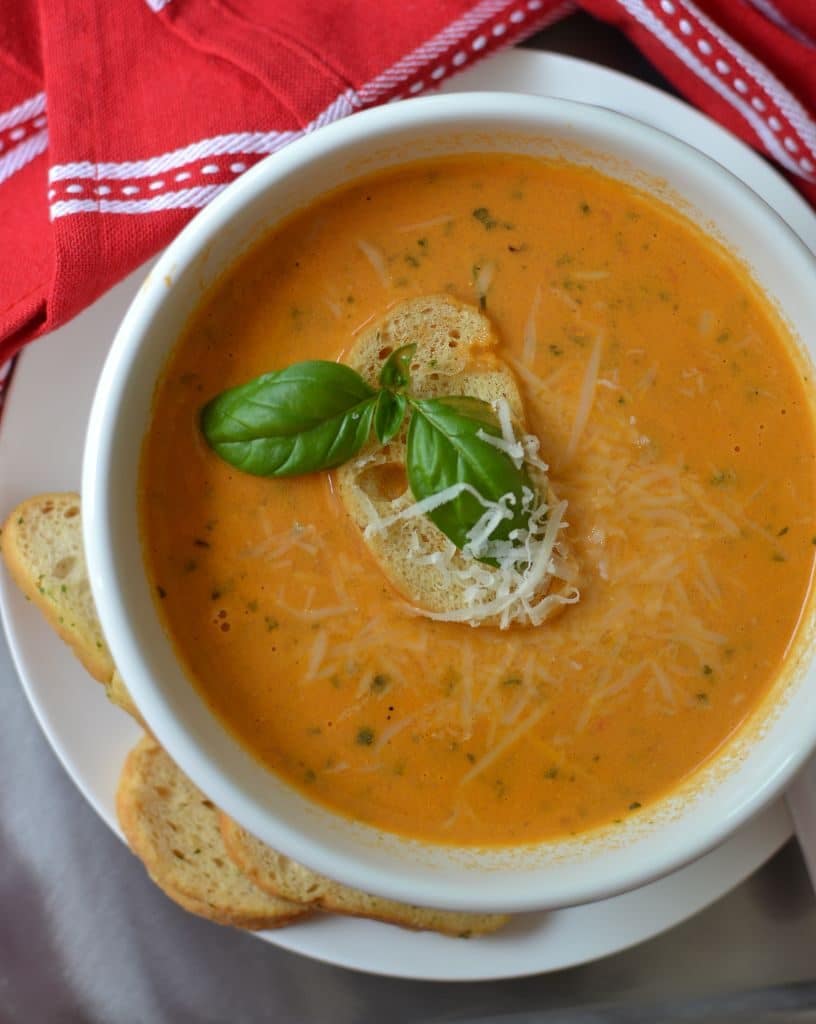 HOW DO YOU MAKE CREAMY TOMATO BASIL SOUP RECIPE?
First you simply saute the shallots and garlic in a little butter. Add the tomato sauce, vegetable broth, pepper and peeled tomatoes and simmer for at least one hour. Add the basil and puree using an immersion blender or stand blender. Add brown sugar and cream and heat through without boiling. It is just that easy to get one of the most delectable soups ever.
HELPFUL HINTS ON MAKING TOMATO BASIL SOUP!
Use good red ripe sun kissed tomatoes preferably ones right out of your garden.
Simmer those beautiful tomatoes for at least one hour and up to four hours replacing any broth that may have cooked down with filtered water.
If using a blender to puree the soup work in small batches and remove the cap to allow the steam to escape. Because it can build up enough steam to blow the lid off the blender.
I like lots of basil in this soup however you should add about 15 leaves and taste it before adding more.
When picking up a can of tomato sauce buy good quality. It does make a difference in this soup. Muir Glen is a brand that is consistently good.
OTHER DELICIOUS ADD INS FOR THIS TOMATO BASIL SOUP!
Crispy bacon coarsely chopped
Freshly grated Parmesan cheese
Garlic toasted French bread or croutons
Roasted pepitas.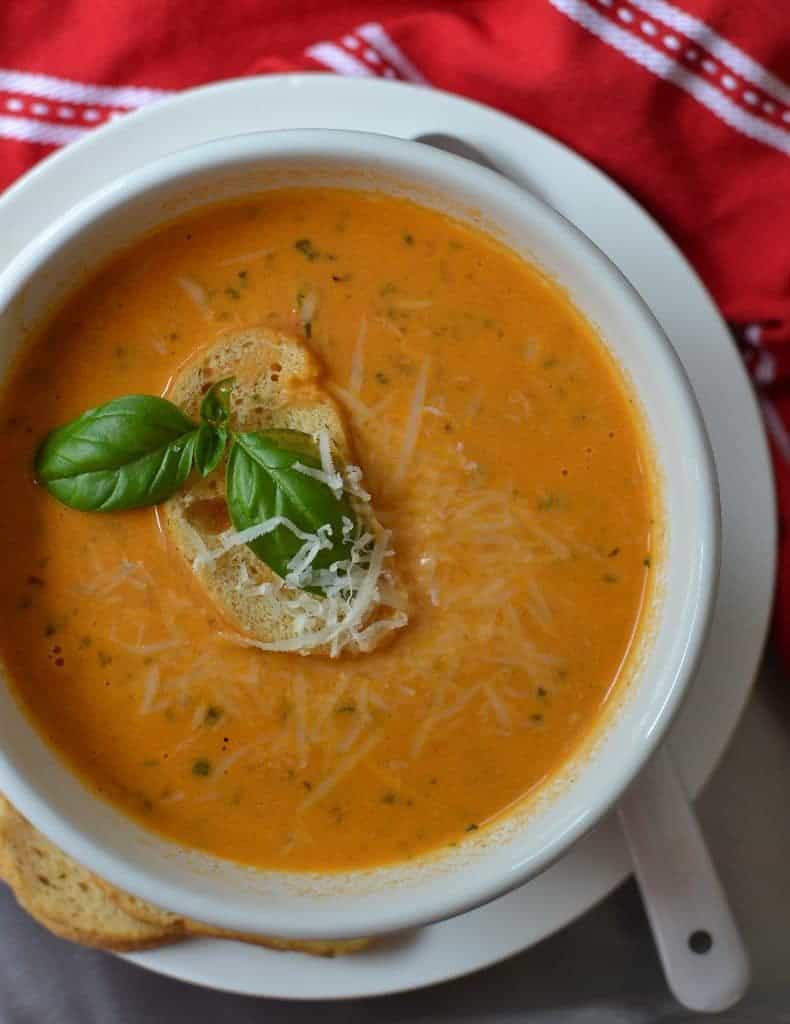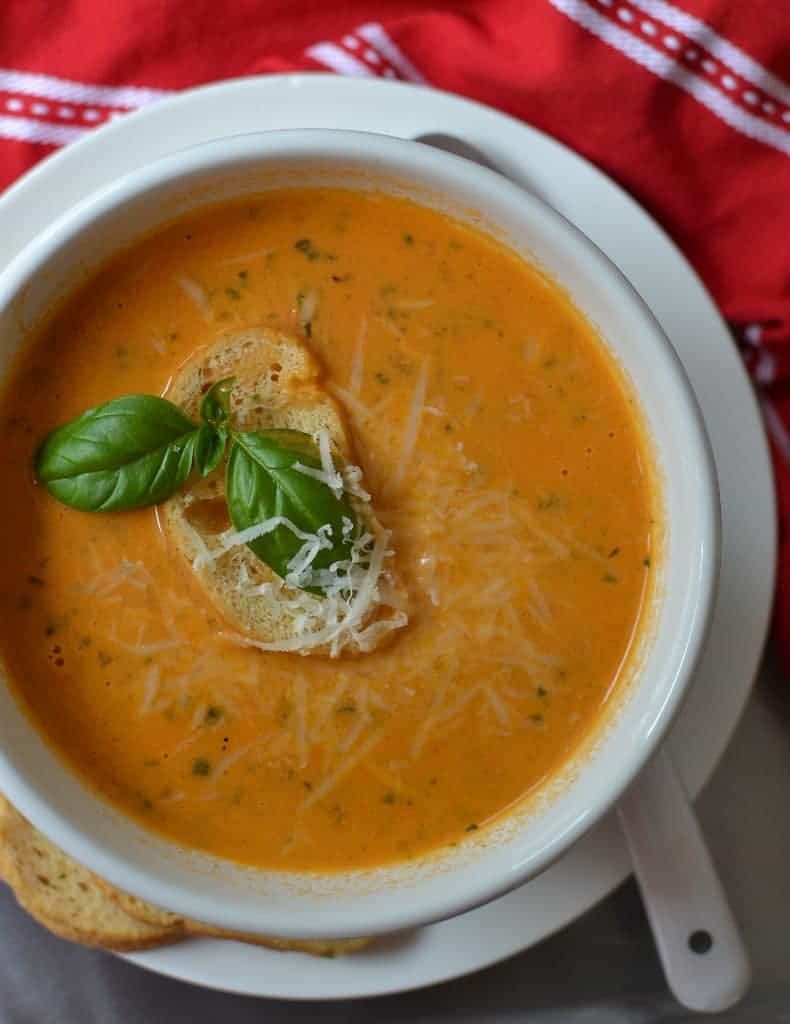 So what are you waiting for? Tomatoes are at their peck right now and once you taste this fabulous soup you will want to make it again and again!
OTHER DELICIOUS TOMATO RECIPES YOU WILL LOVE!
Print
Creamy Tomato Basil Soup
Author:
Prep Time: 20 minutes
Cook Time: 2 hours
Total Time: 2 hours 20 minutes
Yield: 4 1x
Category: Soup
Method: Stovetop
Cuisine: American
Scale
Ingredients
4 large red ripe tomatoes (about 2 lbs.)
2 tablespoons butter
4 shallots thinly sliced
3 cloves garlic minced
4 cups vegetable broth
1 can (15 ounce) tomato sauce
1/4 teaspoon fresh ground black pepper
15–40 fresh basil leaves
2 tablespoons brown sugar
1 cup heavy whipping cream
Optional: Parmesan cheese for garnish
Optional: croutons for garnish
Instructions
Bring large pot of water to boil. Add tomatoes for 1 minute and then plunge into ice bath. Remove the skins by peeling them off. Cut out stems and quarter tomatoes.
In dutch oven or large stockpot melt butter over medium heat. Add shallots and cook for 3-4 minutes or until slightly tender. Add garlic and cook for additional 1 minute. Add vegetable broth, tomato sauce, tomatoes and pepper. Simmer for 1-4 hours. Replace any lost fluid from a long simmer with filtered water.
Add 15 basil leaves and puree with immersion blender. If desired add more. Stir in brown sugar and whipping cream. Garnish as desired and serve.
Notes
If using a blender to puree soup remove cap and work in small batches so as not to build up too much heat in the blender.
Keywords: BASIL, CREAMY SOUP, FRESH BASIL, FRESH TOMATO RECIPE, SOUP, SUMMER SOUP, TOMATO RECIPE, TOMATO SOUP
https://www.smalltownwoman.com/wp-content/uploads/2019/05/Beth-1.pdf