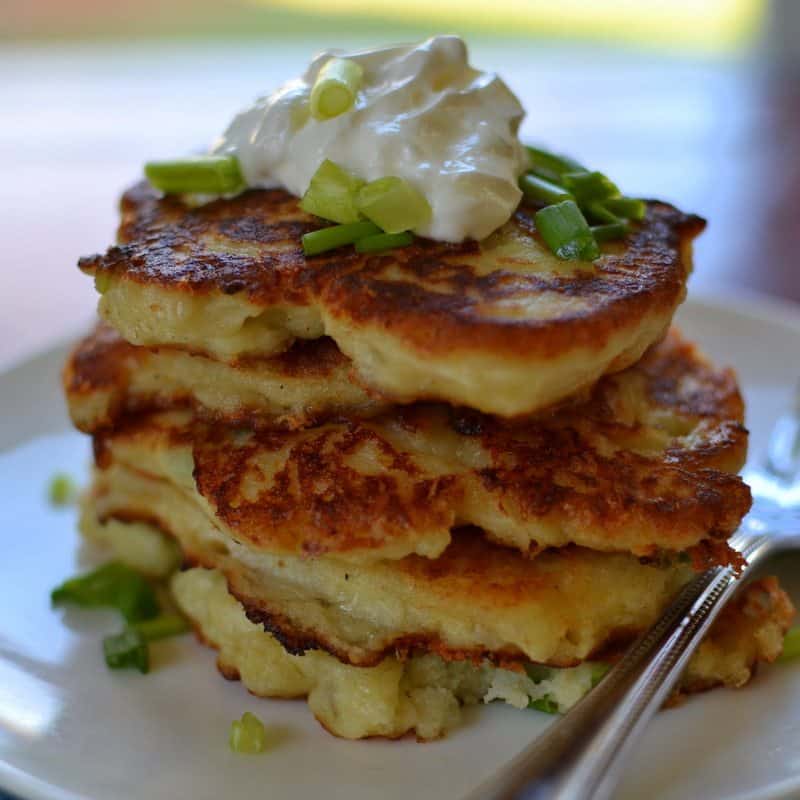 Have you ever wondered what you could to spruce up those leftover mashed potatoes?  Leftover mashed potatoes seem to lack the pizzazz that they had when they were freshly mashed.  You try to make them just as good by doctoring them up with a little butter, salt and pepper. You toss in a little bit chicken broth, cover them and place them in the microwave covered with a paper towel.  You reduce the power so they will heat all the way through but no matter how much care and thought you put into your leftover mashed potatoes they are not near as good as the first time….until now.
Meet Crispy Pepper Jack Potato Cakes!  These beauties are made with leftover mashed potatoes, Pepper Jack cheese, an egg, a little flour and a few spices.  They come out so crispy and flavorful.  They put microwaved leftover mashed potatoes to shame.  You can top with scallions and sour cream, chili, eggs or sausage gravy.   They are the perfect accompaniment for roasted chicken, grilled steak or Dry Rub Sweet Barbecue Pork Tenderloin!  They are amazingly easy to mix together and in less than fifteen minutes you have Crispy Pepper Jack Potato Cakes!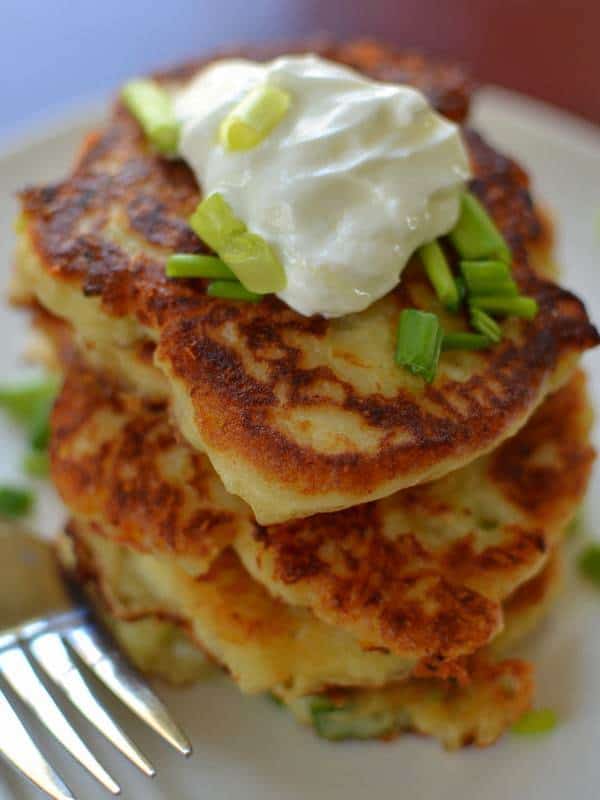 Oh you say that you rarely have leftover mashed taters.  No worries you can cook up a fresh batch or next time you fix them put some aside in an airtight container in the fridge.  They will be good to go for three days. Don't pass up these Crispy Pepper Jack Potato Cakes  They are delicious, easy and dependable.  Even my picky son loves them.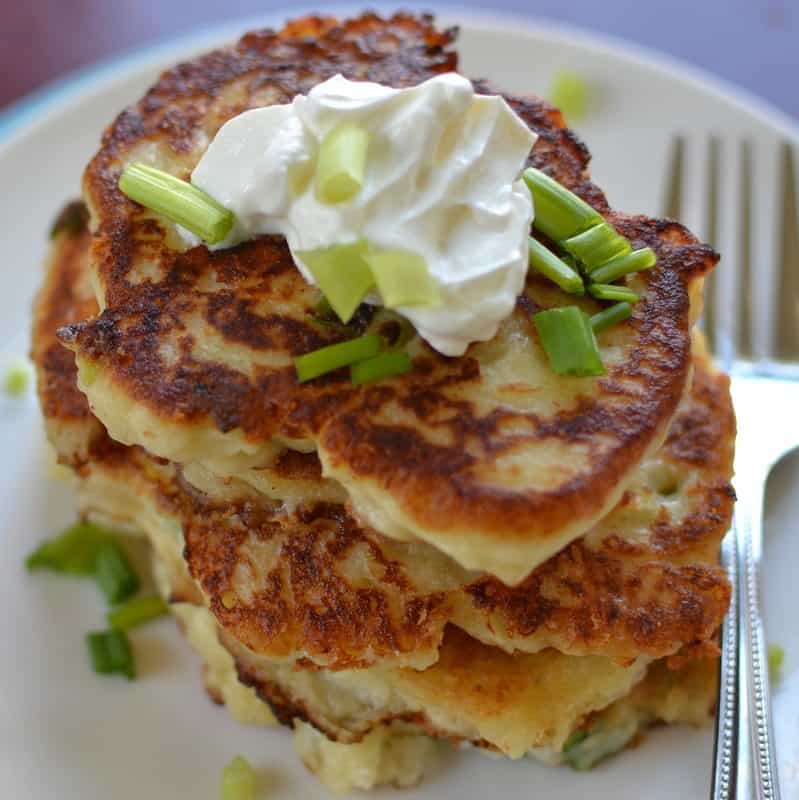 Other potato recipes you will love!
Print
Crispy Pepper Jack Potato Cakes
2 cups cooled mashed potatoes
1/2 cup flour
1 cup shredded Pepper Jack cheese
1 egg beaten
1/4 cup chopped green onions plus more for garnish
2 tablespoons fresh chopped Italian parsley
1/4 teaspoon onion powder
1/4 teaspoon garlic powder
1/4 teaspoon salt
1/4 teaspoon fresh ground black pepper
1/2 teaspoon baking powder
2–3 tablespoons canola oil
Optional: Sour cream
Instructions
In medium bowl mix together mashed potatoes, flour, Pepper Jack cheese, egg, green onions, parsley, onion powder, garlic powder, salt, pepper and baking powder.
Heat 1 tablespoon canola oil in skillet over medium heat. Using large cookie scoop place 3-4 scoops into skillet. Spray spatula with nonstick cooking spray and press to flatten. Shake the spatula just a touch to loosen potato cake back into pan. Cook until golden brown on each side.
Top with sour cream and green onions.
https://www.smalltownwoman.com/wp-content/uploads/2019/05/Beth-1.pdf