My version of Red Beans and Rice is all cooked up in one big pot.  This mouthwatering combination of onions, peppers, celery, Andouille Sausage, red beans, rice and a perfect blend of spices is a super hearty flavor packed meal.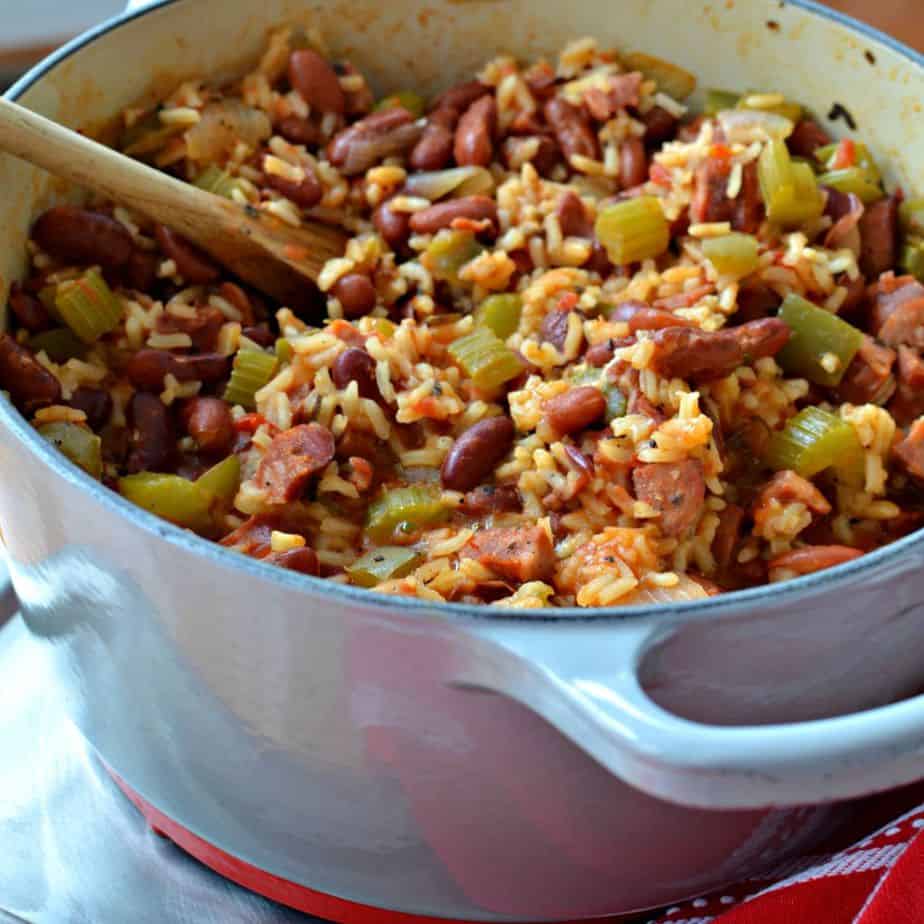 So before we dive right into this Red Beans and Rice I have a confession to make.  I know that I will never get one over on the folks from down south.  They are very serious about their Cajun cooking! The pictures you see here have kidney beans in them which are not to be confused with red beans. I made plans to make this last weekend.  Friday is shopping day but it was also the first day of a huge snow storm. My son and I got to the store before the storm started which is a really good thing because this middle aged woman does not like to drive in snow storms anymore!
Well the grocery store looked like the battle of Armageddon. The area where blocks and bags of shredded cheese are stocked was just an empty void.  We had to purchase brands and sizes that we don't normally buy and of course there were no red beans.  I grabbed the last few cans of red kidney beans and keep moving right along in hopes of getting home before the streets got bad.  So there is my disclaimer.  So the next time I make this with "red beans"  I will retake the photos. That is if the lighting is good and I don't suffer some kind of memory loss.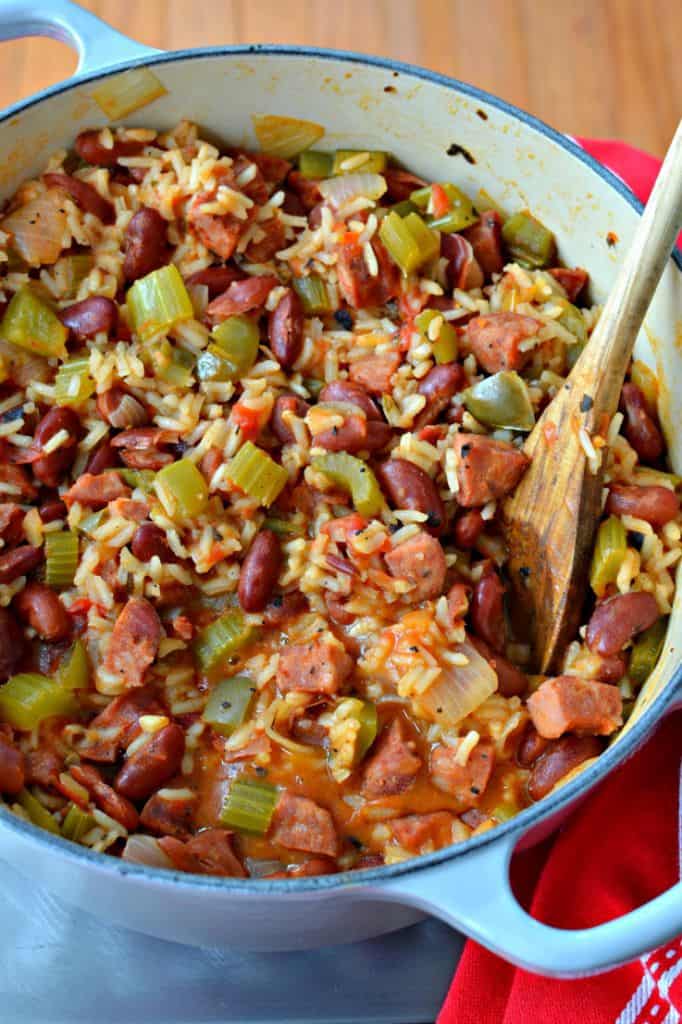 What are Red Beans and Rice?
Red Beans and Rice are a New Orleans Style Cajun meal in which red beans are slow simmered with vegetables, sausage and/or ham and Cajun seasoning.  Traditionally served on Mondays utilizing the leftover meat from Sundays supper however anytime is a great time for Red Beans and Rice.  It is usually spooned over a bed of rice but in my one pot version the rice cooks along with the rest of the goodies.
How do you make Red Beans and Rice?
I like to make this in my dutch oven however any good heavy pot with a tight fitting lid will work. Start by heating a little vegetable oil in the pot over medium heat.  Add the onion, green pepper, celery and sausage. Cook until the onions soften and the sausage lightly browns. This will take several minutes so stir frequently so nothing gets too crispy on the bottom.
Turn the heat down to medium low and add the garlic, oregano and Cajun seasoning and cook for one minutes.  Then add the red beans, chicken broth, tomatoes, and rice.  Bring to a low boil, turn down to simmer and cover with a tight fitting lid.  Cook for fifteen to twenty minutes.  I like to check it after about fifteen minutes to make sure that nothing is cooking too much at the bottom of the pot.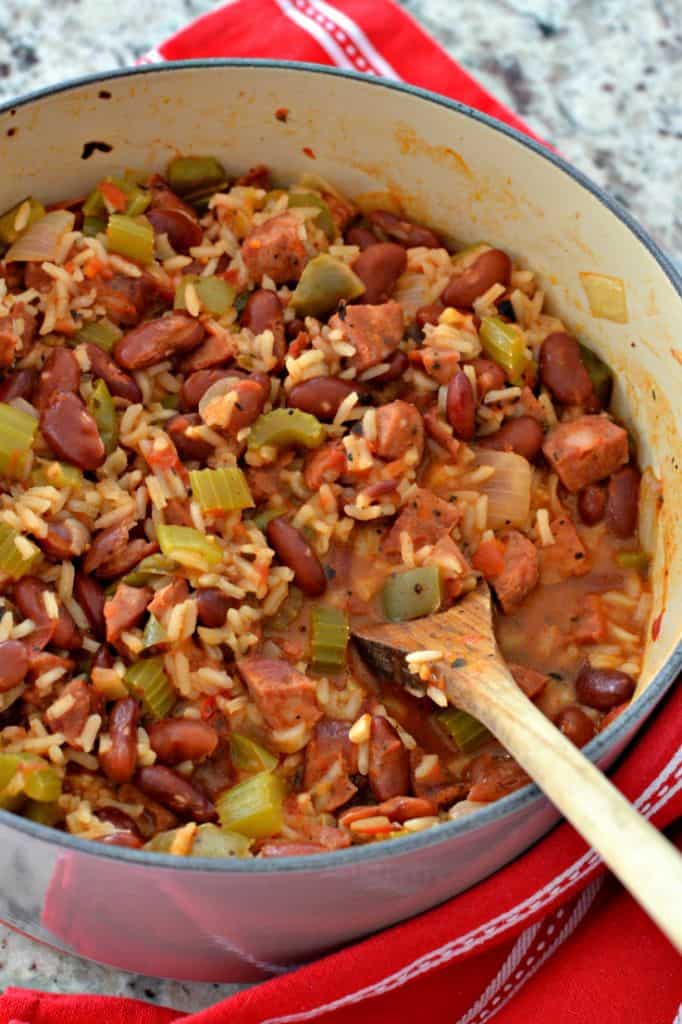 What is Andouille Sausage?
Andouille Sausage is smoked sausage typically used in Creole and Cajun cooking.  It is made of pork, garlic, onions, pepper and seasonings. This delectable sausage is great with more than just Cajun style cooking.  It is delicious with eggs and in omelettes, creamy soups, and cheesy casseroles.  Most of my local grocery stores carry this sausage and one of them even makes it fresh.

What is the difference between Cajun and Creole cuisine?
Boy that is a really good question since they share so many of the same ingredients and spices.    Perhaps the simplest way to explain the difference would be to look at the people who cook the dishes.  You might refer to Cajun cuisine as "country food" and Creole cuisine as "city food.  Though the two cuisines have a lot in common they each come from two distinct cultures.  Creole cuisine uses tomatoes and authentic Cajun cuisine does not.  You might have heard of the Cajun Holy Trinity – onion, celery and bell pepper.  Creole food is considered to be more varied and sophisticated than Cajun cuisine however we love both styles of cooking.
I am sure that my Cajun loving readers will tell me that it is not right to put all of this in one pot but I am a busy lady and sometimes that means making things super easy!
This Red Beans and Rice is power packed, full of flavor, easy and quick making it the perfect busy family meal. Put it your to try list and let me know what you think.
Other Cajun recipes you will love!
On the hunt for more delicious recipes?  Follow Small Town Woman on Facebook, Pinterest, and Instagram.
Print
Red Beans and Rice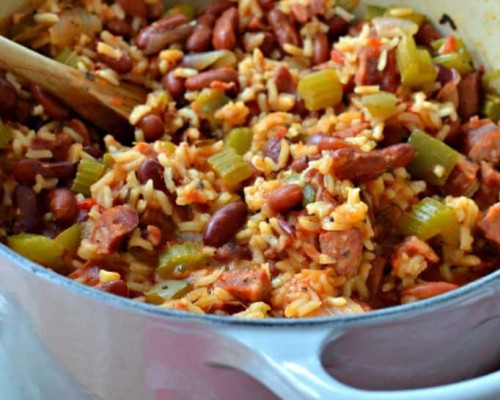 Red Beans and Rice is a mouthwatering combination of onions, peppers, celery, Andouille Sausage, red beans, rice and a perfect blend of spices.
Author:
Prep Time: 10
Cook Time: 25
Total Time: 35 minutes
Yield: 6 1x
Category: main meal
Method: stove top
Cuisine: Cajun
2 tablespoons vegetable oil
1 medium onion chopped
1 green pepper seeded and chopped
3 stalks celery chopped
12 ounces Andouille Sausage chopped
3 cloves garlic minced
1/2 teaspoon dried oregano
1 1/2 teaspoons Cajun seasoning
2 cans (15.5 oz) red beans drained
2 cups low sodium chicken broth
1 can (14.5 oz) diced tomatoes (optional)
1 cup long grain white rice (uncooked)
Instructions
Heat oil over medium heat in dutch oven or heavy stock pot.  Add onion, pepper, celery and sausage. Cook for 5 minutes or until the onion softens and sausage lightly browns. Reduce heat to medium low.  Add garlic, oregano and Cajun seasoning; cook for 1 minute.
Add red beans, chicken broth, tomatoes (if desired) and rice. Make sure that the rice is down in the broth. Stir to combine and bring to low boil.  Reduce heat, cover and cook for 15-20 minutes or until rice is tender.
Notes
I like to add tomatoes however if you want a truly authentic Cajun recipe leave them out.
Keywords: easy red beans and rice, how to make red beans and rice, red beans and rice with sausage, best red beans and rice recipe
https://www.smalltownwoman.com/wp-content/uploads/2019/05/Beth-1.pdf