This Roasted Vegetable Salad with Lemon Vinaigrette combines fresh roasted potatoes, corn and asparagus tossed in a fresh lemon vinaigrette lightly sweetened with honey.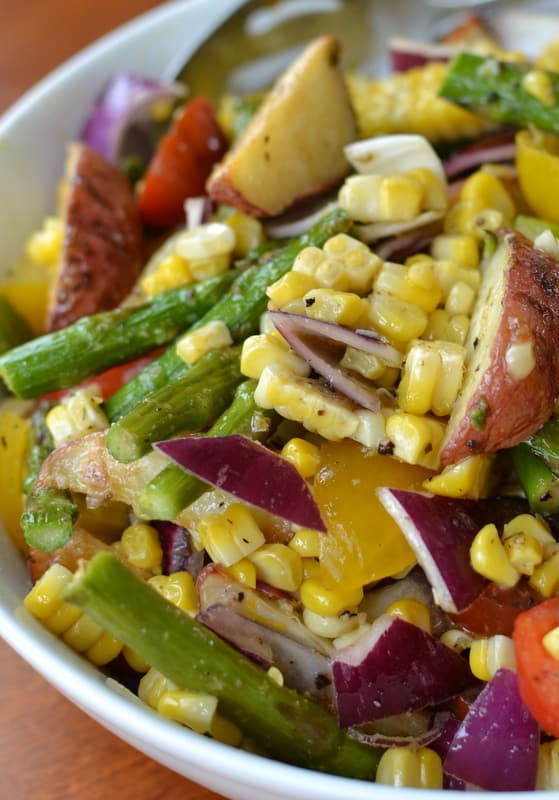 Well spring is almost here. We are expecting a little cold snap this weekend. Perhaps it will knock down the early mosquito population without nipping the buds swelling up on the trees and the bulbs popping up in the garden. With spring comes lots of wonderful recipes that bring us back to natures bounty. The beauty of spring's dishes is amazing and the nutritional value is just what we need after a long winter.
I am really excited about cooking this spring! I love to prepare beautiful and nutritiously rich dishes that we can feel good about eating and feeding our families. It is so much easier to do this in the spring and summer as nature leaves us so many options.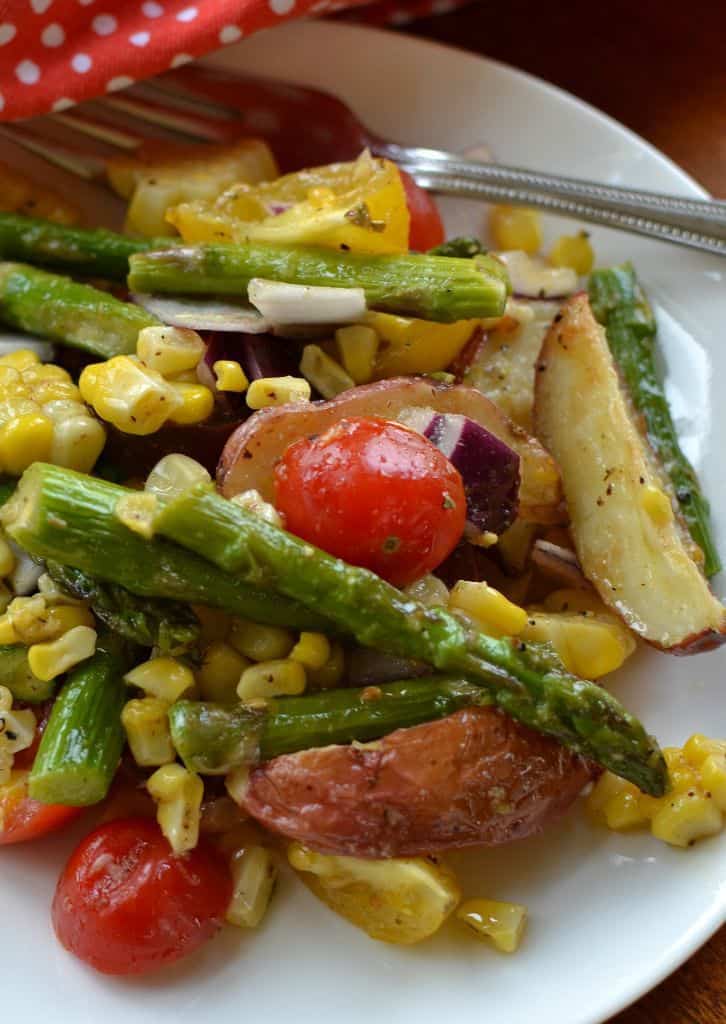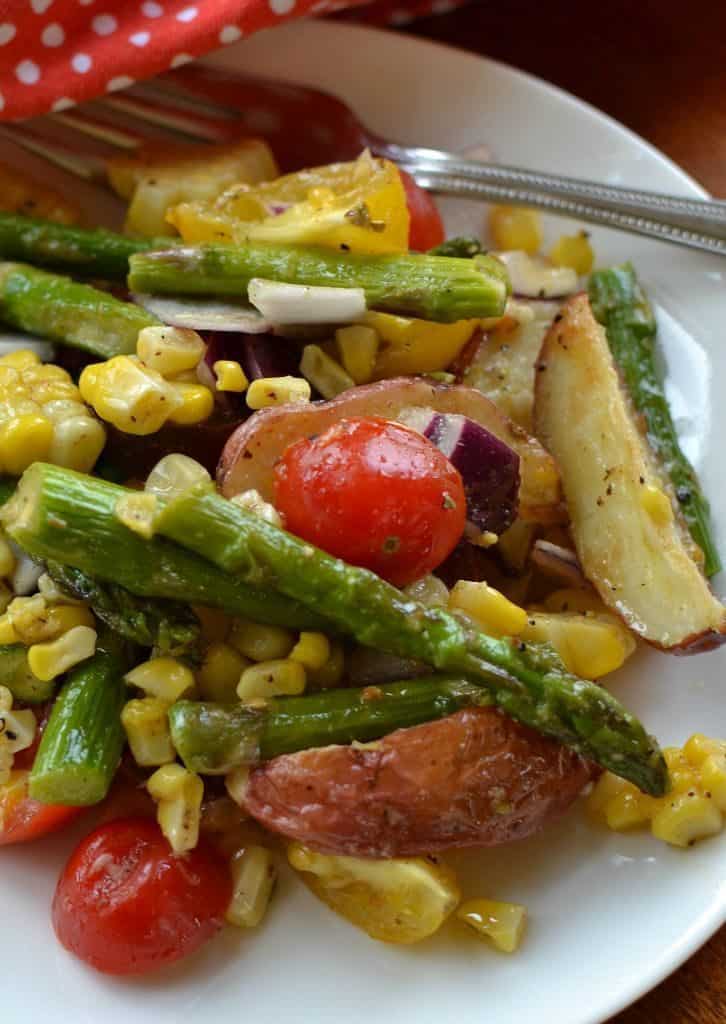 This Roasted Vegetable Salad requires minimal effort and the lemon vinaigrette can be prepared ahead of time. Leftovers hold up quite well and some of my family members might even argue that the salad is even more flavorful the second day. I love lemons and this lemon vinaigrette is lip smacking good with just the right amount of honey.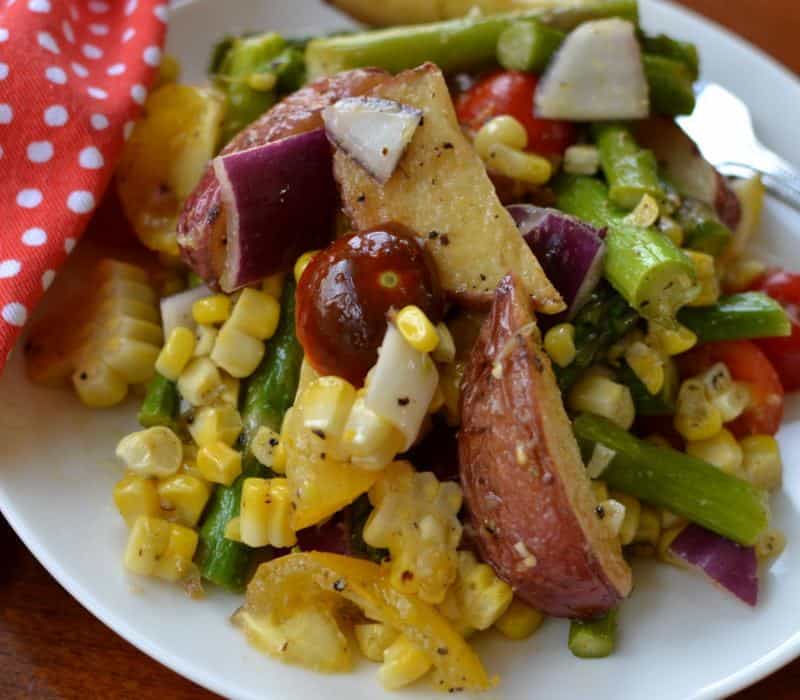 You could make a full meal out of this or pair it with fresh grilled chicken, smoked salmon or even my Dry Rub Sweet Barbecue Pork Tenderloin or my Grilled Flank Steak. This dish goes well with a nice light white wine like Sauvignon Blanc. However you plan to eat it or whatever you plan to pair it with you will love this delightful Roasted Vegetable Salad with Lemon Vinaigrette and your body will appreciate it as well.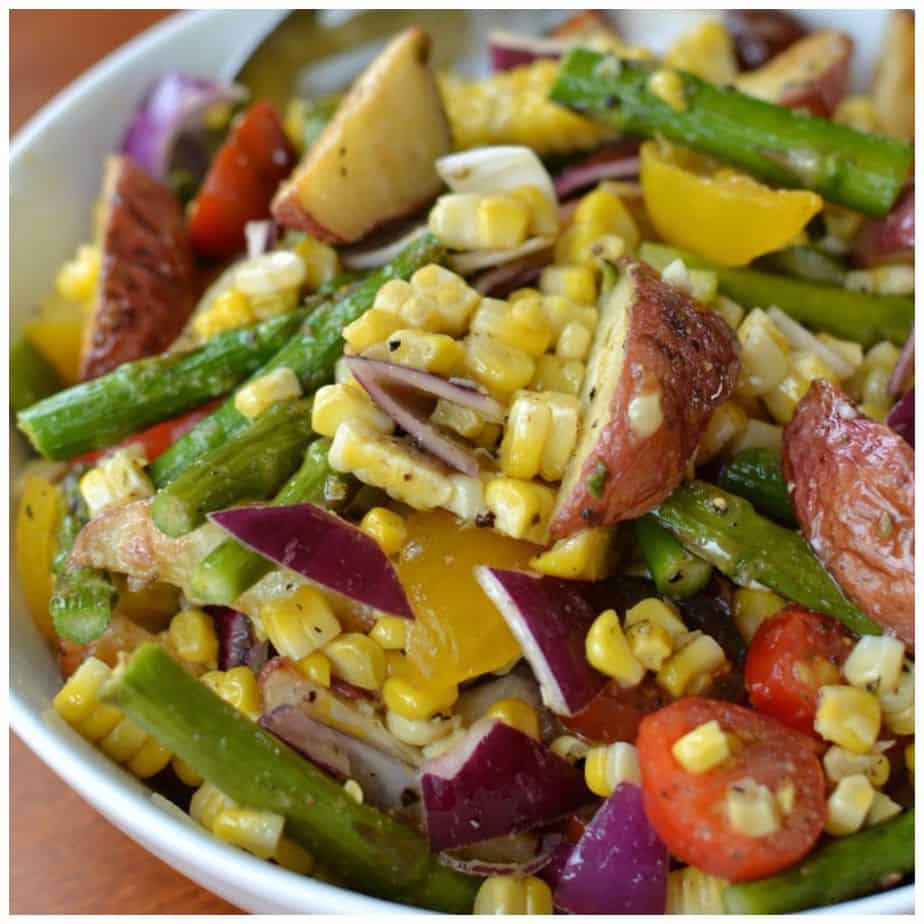 Other vegetable salads you will love!
Print
Roasted Vegetable Salad with Lemon Vinaigrette
This fresh roasted vegetable salad combines roasted potatoes, corn, and asparagus, all tossed in a homemade lemon vinaigrette dressing. Lightly sweetened with honey, it's a refreshing and healthy dish that's perfect for lunch, dinner, or leftovers.
Author:
Prep Time: 15 minutes
Cook Time: 30 minutes
Total Time: 45 minutes
Yield: 4 servings
Category: Salad
Method: Roasting
Cuisine: American
2 tablespoons fresh lemon juice
1 teaspoon finely grated lemon zest
1 clove garlic minced
1 tablespoon honey
1/2 teaspoon dried basil
1/4 cup olive oil
1 1/4 lb red potatoes cut in wedges
1 lb asparagus triimmed and cut in large pieces
2 ears corn cleaned and shucked
3 tablespoon olive oil
1 tablespoon butter
Garlic powder
Onion Powder
Salt
Pepper
2 cups sliced grape tomatoes sliced in half
1/3 cup chopped red onion
Instructions
Combine lemon juice, lemon zest, garlic, honey and dried basil in microwaveable bowl. Microwave for 10-15 seconds to loosen the honey. Slowly whisk in 1/4 cup olive oil. Set aside.
Combine potatoes, asparagus and 3 tablespoons olive oil in large Ziploc bag. Shake to coat. Spread on large baking sheet separating the vegetables. Coat ears of corn with butter and add them to the baking sheet. Sprinkle potatoes, asparagus and corn with garlic powder, onion powder, salt and pepper. Place in oven at 375 degrees. Remove asparagus after 12-15 minutes. Flip potatoes and turn corn. Return baking sheet to oven. Remove corn after 5-7 more minutes. Return potatoes to oven and cook for an additional 10 minutes or until fork tender.
Remove corn kernels from the cob. Combine cooked potatoes, asparagus, and corn with tomatoes and red onion. Whisk lemon vinaigrette and drizzle over vegetable salad. Gently stir to combine. Refrigerate leftovers.
Keywords: roasted vegetable salad, fresh roasted vegetables, lemon vinaigrette dressing
On the hunt for more delicious recipes? Follow Small Town Woman on Facebook, Pinterest, and Instagram.
https://www.smalltownwoman.com/wp-content/uploads/2019/05/Beth-1.pdf