Traditional Irish Colcannon is creamy mashed potatoes mixed with sauteed cabbage and lightly seasoned with salt and pepper.  It is truly a match made in heaven.
We are just a few weeks away from the big St. Patty's day celebrations.  We can always find a reason to celebrate.  I mean why not?  That is what makes life so much fun and so enjoyable.  Are you going to celebrate the big day? We are indeed!  After all my Mother always told me that we had a lot of Irish blood.  What other reason do I need than that?  Are you going to hit the bars or are you going to crash at home and enjoy some corned beef and cabbage?  Are you going to sip on a flavorful Irish Cream Ale or are you going to indulge in your normal Budweiser products?  I love the ales. The Best Irish Beers from Ranker is an awesome list of some of the best Irish beers for your St. Patrick's Day celebration.   Whatever you decide to do these Traditional Irish Colcannon Potatoes and Cabbage should be a part of your celebration.  As a matter of fact they are so amazing they are sure to become a regular in your home.
What is Colcannon?
So inquiring minds want to know.  Colcannon is simply a traditional Irish dish of mashed potatoes with  cabbage or kale.  So easy to make yet so darn delicious.
How do you make Colcannon?
Oh my goodness you won't believe how incredibly easy this really is. Basically you are making buttery creamy mashed potatoes (aka tators) and adding pan fried cabbage with a little bit of green onion.  It is lightly seasoned with just salt and pepper.  So simple and you won't believe how marvelous it tastes!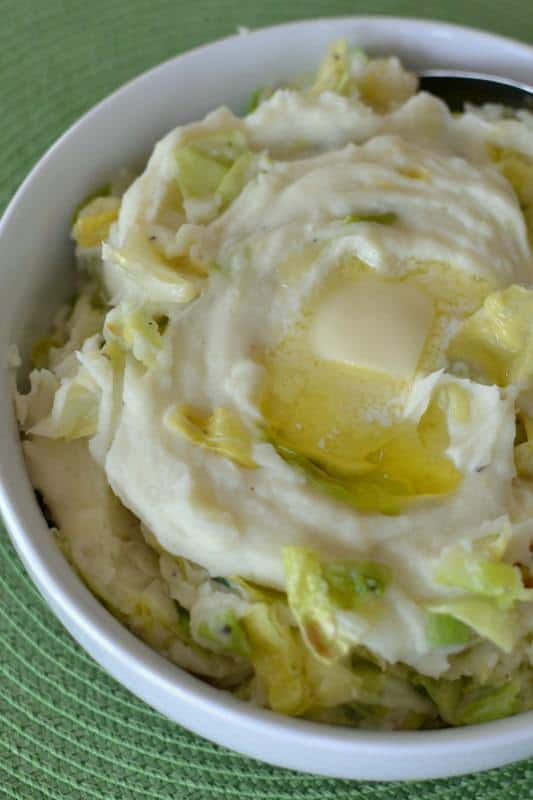 If you have never tried Traditional Irish Colcannon Potatoes and Cabbage than this is a must. They are just that delicious.  What is not to love about mashed potatoes and sauteed cabbage with cream and butter?  It is a match made in heaven and goes with so many many things.  We had them the other night with Dry Rub Baked Ribs but they are perfect with Stuffed Pork Tenderloin Wrapped in Bacon and Gouda Spinach Hasselback Chicken.  They are absolutely amazing with grilled brats!!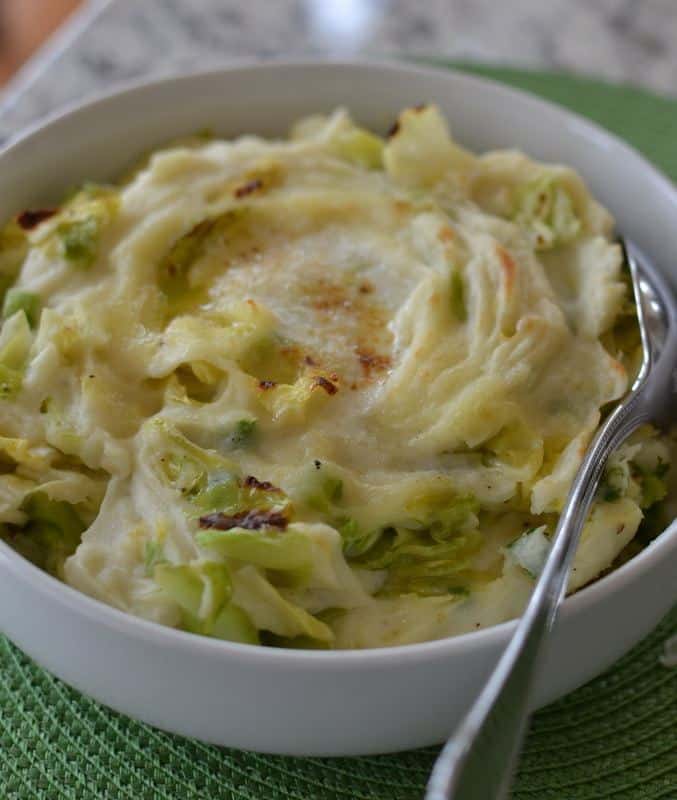 So my food loving friends don't let another week pass by without trying this Traditional Irish Colcannon Potatoes and Cabbage.  It is delicious, easy and dependable every time.  You will be so happy that you tried this amazing recipe!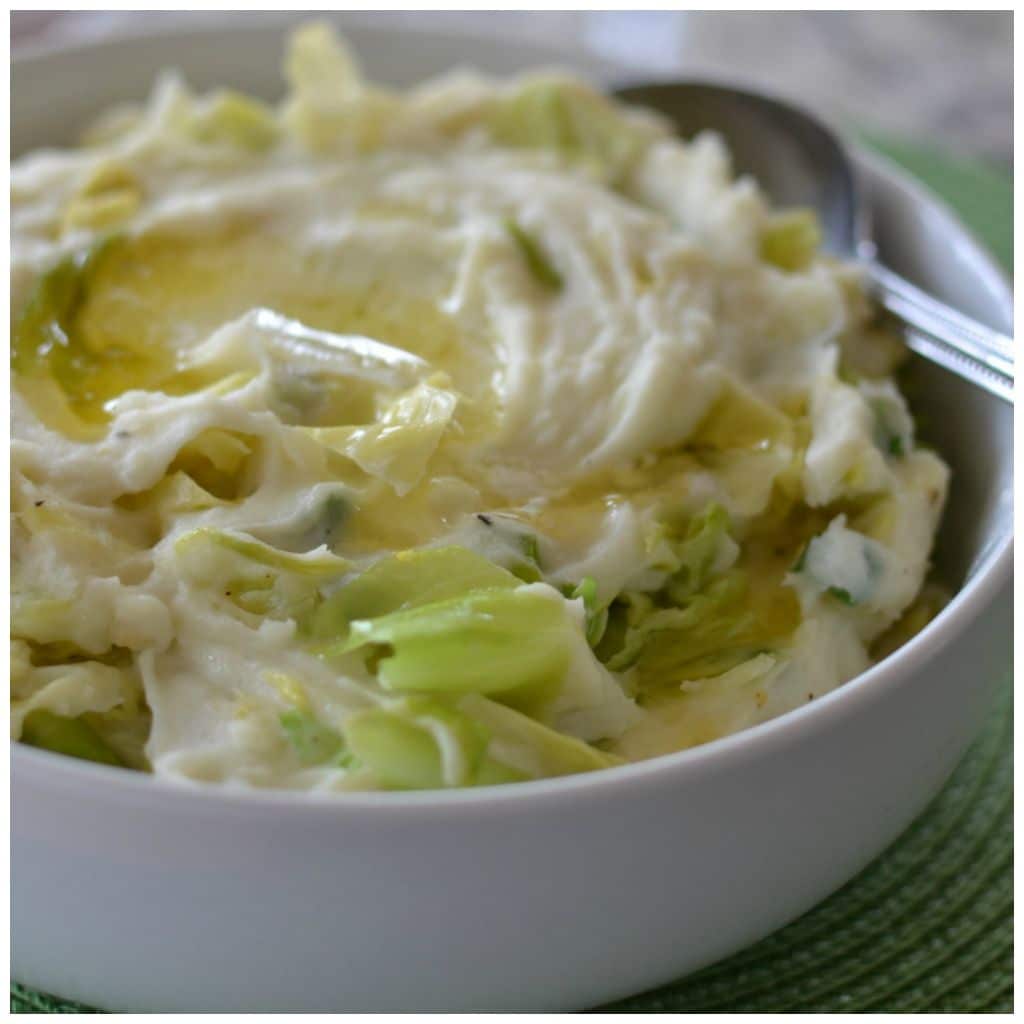 Other cabbage recipes that will tickle your fancy!
Print
Traditional Irish Colcannon Potatoes and Cabbage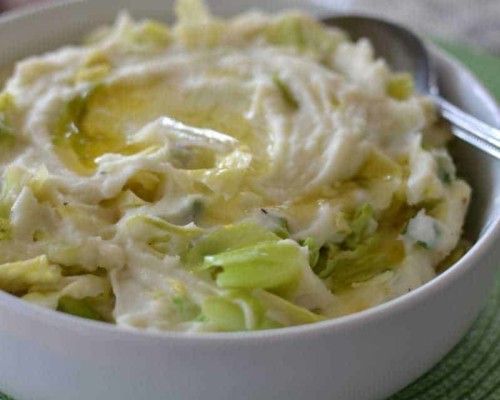 This traditional Irish side dish is made with creamy mashed potatoes, swirled with sauteed cabbage and seasoned to perfection with salt, pepper, and butter. It's a perfect addition to any comfort food meal.
Author:
Prep Time: 10
Cook Time: 30 minutes
Total Time: 40 minutes
Yield: 10 servings 1x
Category: Side
Method: Stove Top
Cuisine: Irish
Scale
Ingredients
5 large russet potatoes peeled and chunked
5 tablespoons butter
1/2 cup heavy cream
1/2 head green cabbage chopped
2 green onions sliced
Salt & pepper to taste
Instructions
Place potatoes in a large saucepan with enough lightly salted water to cover. Bring to a boil, and cook for 15 to 20 minutes, until tender. Drain well making sure to remove excess water. Add two tablespoons butter and cream. Cover and let butter melt.
Melt 2 tablespoons of butter in large skillet over medium heat. Add cabbage and cook until tender: approximately 10 minutes. Add green onions and cook for additional 1 minute.
Mash potatoes and gently stir in cabbage mixture. Season with salt and pepper to taste. Make small well in top and add remaining tablespoon of butter.
Notes
For an extra bonus brown the dish under the broiler for 1-2 minutes.
Keywords: colcannon potatoes, what is colcannon, irish colcannon
https://www.smalltownwoman.com/wp-content/uploads/2019/05/Beth-1.pdf