Zucchini Lasagna is a delicious low carbohydrate casserole that replace the lasagna noodles with zucchini slices. It is equally delectable and it loaded with mouthwatering cheese, sausage and sauce.
Summer is such an amazing time for fresh vegetables.  For those of you with a love of zucchini this fresh low carbohydrate Lasagna Zucchini is an absolute must try.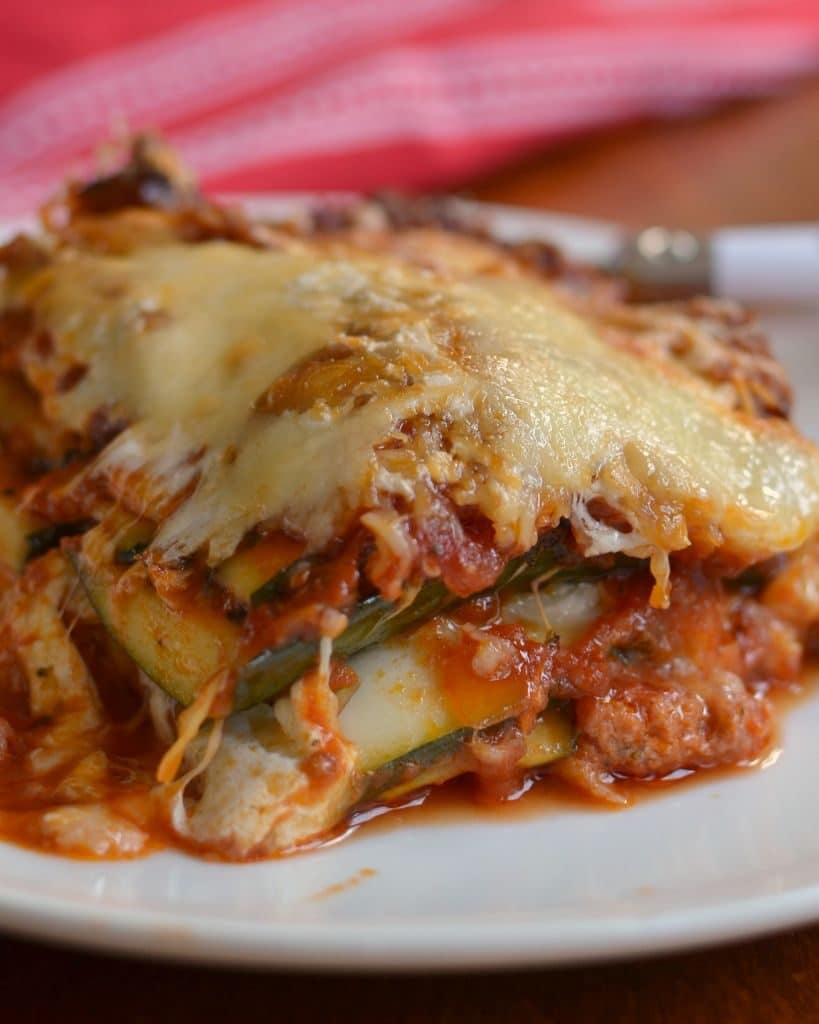 Happy summer to you all!  I hope you are having a terrific one!  How is your garden growing?  Do you have bushels and bushels of zucchini?  No problem because I have one terrific recipe for you!  This Zucchini Lasagna will knock your socks off!!  Zucchini Lasagna is low in carbohydrates and full of flavor!  The noodles in this Zucchini Lasagna recipe are replaced with thin zucchini strips making this lasagna a little healthier and a lot lower in carbs. You won't miss the noodles at all and you will be wondering why you did not do this years ago. This Zucchini Lasagna recipe is simple, dependable and delicious easily making it one of our favorite summer rotation recipes.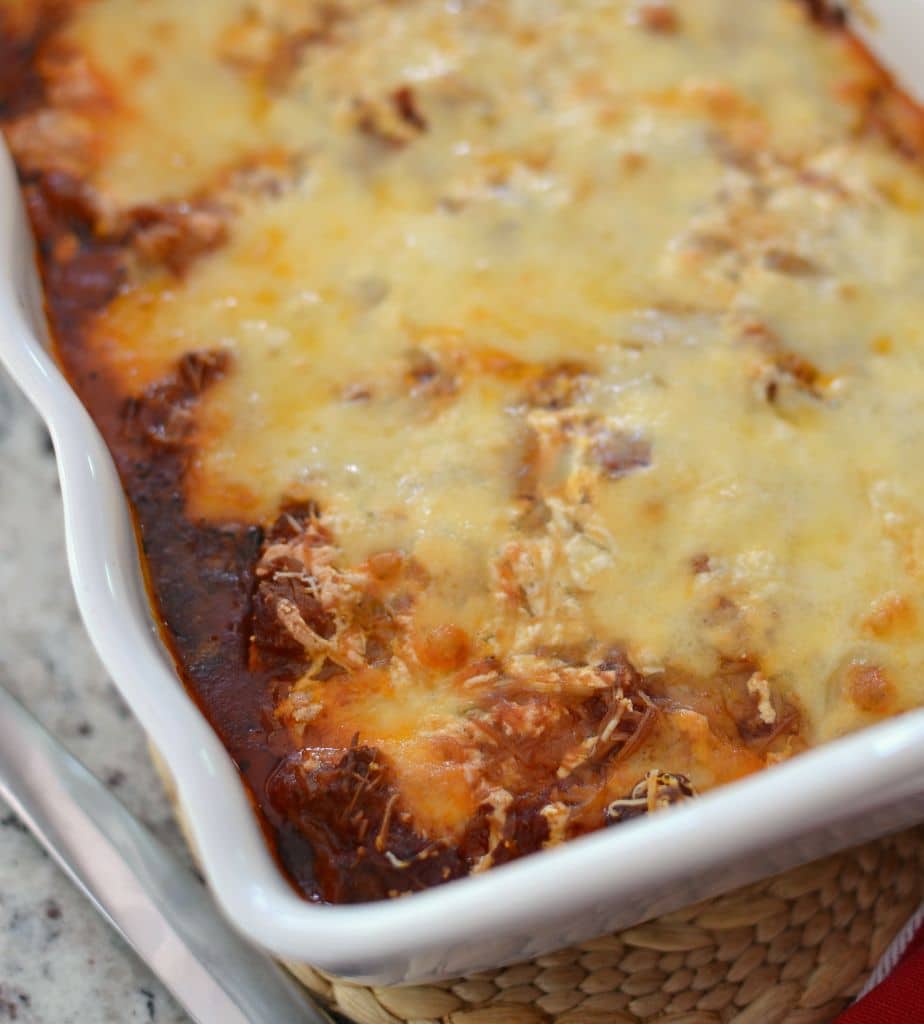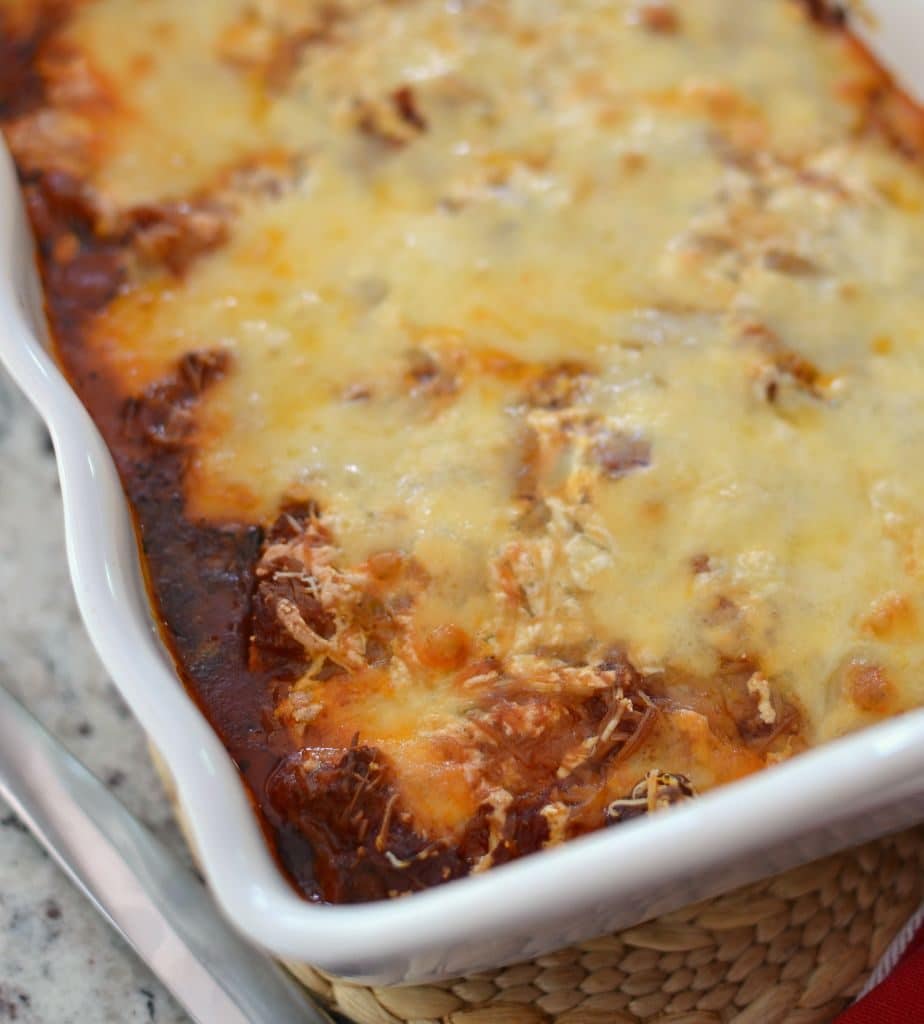 HOW TO MAKE ZUCCHINI LASAGNA.
Simply cut the zucchini into thin slices lengthwise.  Lightly salt it and place on cookie sheets in oven for ten minutes.  Remove from oven and layer like noodles in a casserole dish with mozzarella, Parmesan, Italian sausage and tomato sauce.  It is so easy and your family is going to love it.  Hubby can not get enough of this delectable dish and leftovers (if there are any) heat up perfectly in the microwave.
Other ingredients that you might like in this lasagna:
Fresh Spinach
Fresh Diced Tomatoes
Sliced or shredded carrots
Ricotta Cheese
Provel Cheese (if it is available)
WHAT ARE THE HEALTH BENEFITS TO ZUCCHINI?
Zucchini is very low in calories but makes you feel very full therefore satisfying your appetite.  Zucchini is very low in sugar with a low glycemic index which helps keep the pounds from packing around the middle (I know you know what I am talking about).  It is high in antioxidants and Vitamin C and potassium. Potassium helps to lower blood pressure by balancing out the negative effects of salt.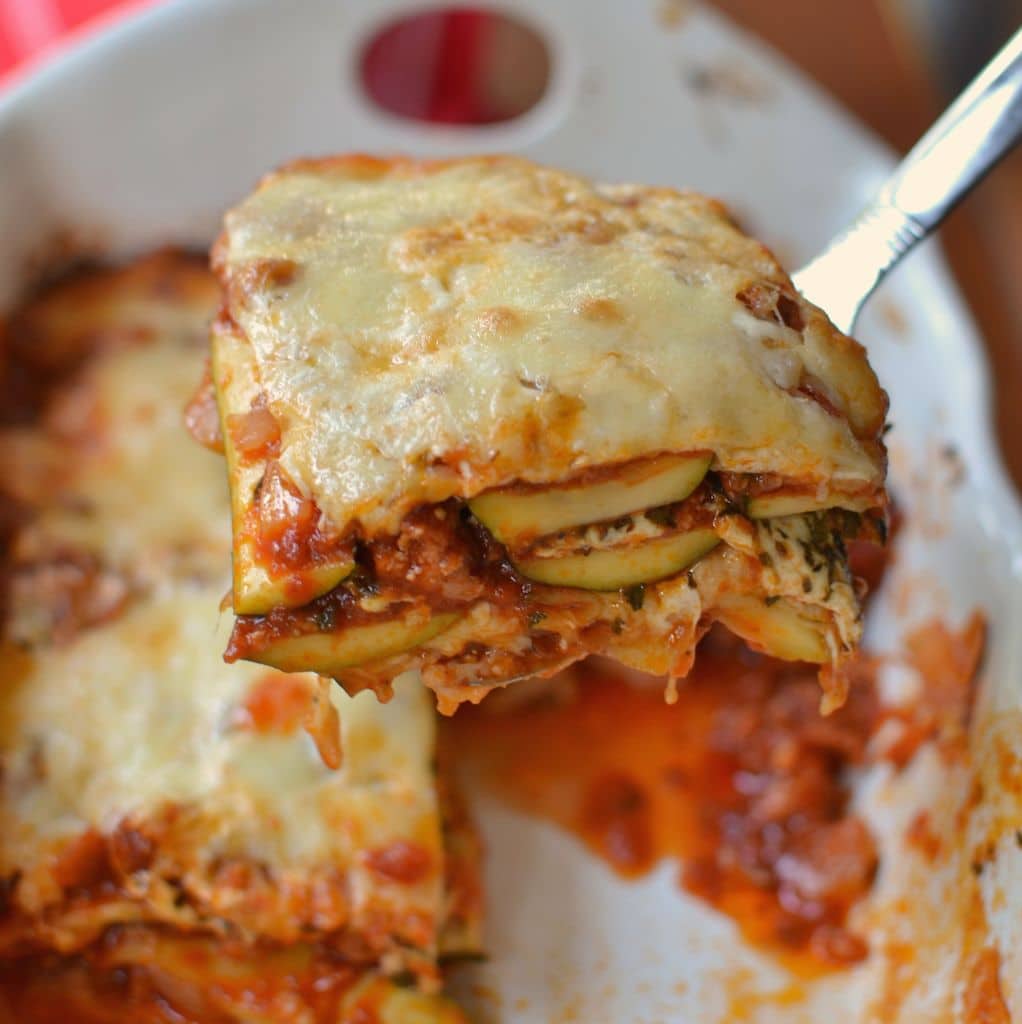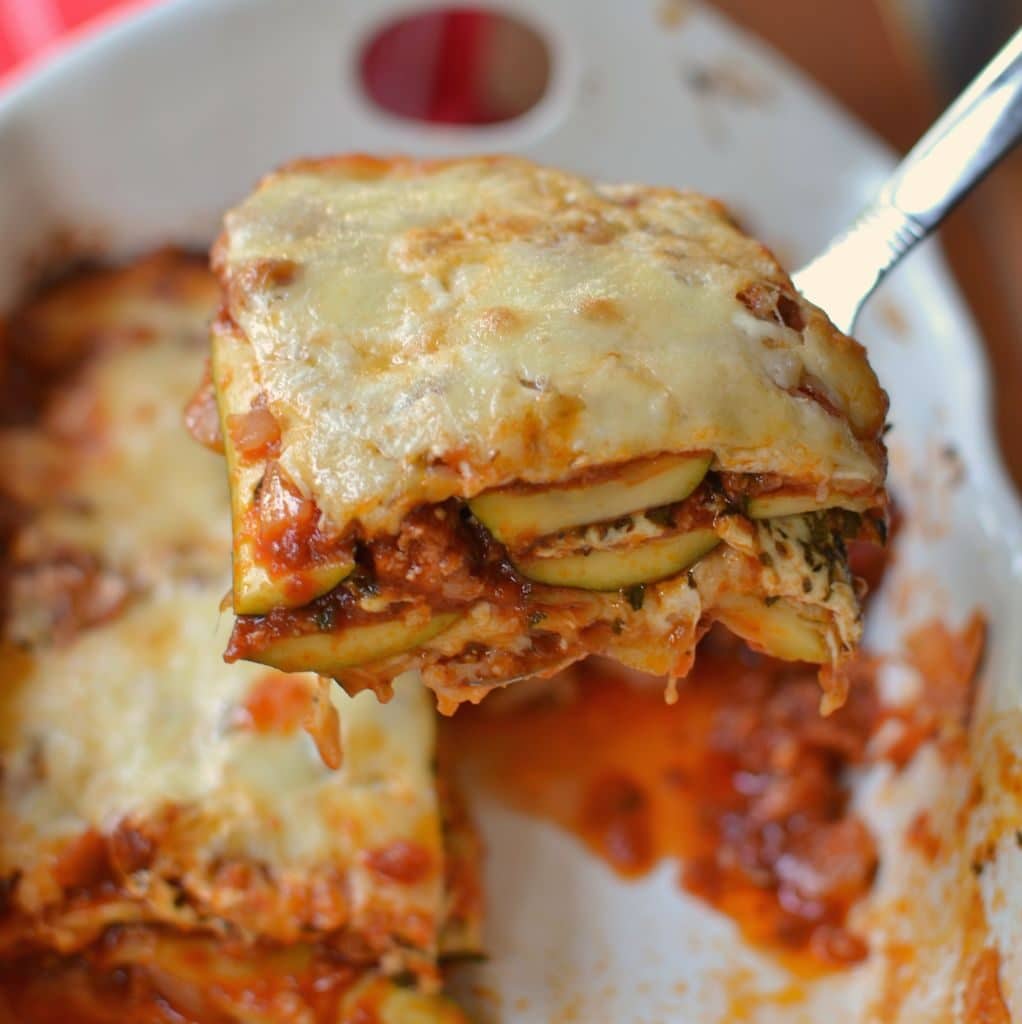 WHAT OTHER IDEAS ARE THERE FOR REPLACING NOODLES WITH ZUCCHINI?
You can make zucchini ravioli by using thin slices of zucchini in the form of a T and adding a heaping tablespoon of cheese/meat mixture in the middle.  Then fold and place in casserole dish, cover with marinara and bake.
Using a spiral vegetable slicer you can cut zucchini in the shape of noodles.  Saute the zoodles for just a couple of minutes (they cook very quickly) and serve with your favorite tomato sauce or alfredo sauce.
Zucchini Roll Ups are made using thin slices of zucchini covered with a thin layer of cheese/meat mixture and rolled up. Larger zucchini are better for this but be careful because if they are too large they get tough.
So if you have bushels of zucchini, adore zucchini or are just watching your carbs this more than satisfying Zucchini Lasagna is a must try!  Put the ingredients on your shopping list today and give this fantastic recipe a whirl.
MORE ZUCCHINI RECIPES YOU WILL LOVE!
Print
Zucchini Lasagna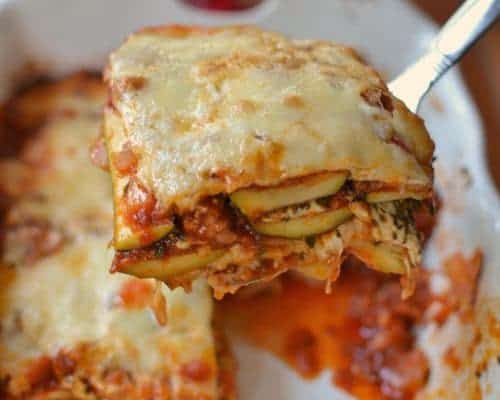 Zucchini Lasagna is a low carbohydrate casserole that replaces the lasagna noodles with zucchini. A healthier alternative to classic lasagna, but with all the delicious, hearty flavor!
Author:
Prep Time: 35
Cook Time: 40
Total Time: 1 hour 15 minutes
Yield: 8 1x
Category: Main Meal
Method: Stovetop and Baking
Cuisine: Italian
Scale
Ingredients
3 medium zucchini thinly sliced lengthwise
Salt
1 lb bulk Italian sausage
1 medium onion chopped
3 cloves garlic minced
1/2 teaspoon dried basil
1/2 teaspoon dried oregano
1/4 teaspoon fresh ground black pepper
1 jar (24 ounce) marinara
2 cups shredded mozzarella
1 cup Italian blend
1/2 cup shredded parmesan
Instructions
Preheat oven to 350 degrees. Spray or brush cookie sheets with olive oil. Sprinkle zucchini lightly with salt. Place in oven and bake for 10 minutes.
Meanwhile in large skillet over medium heat brown Italian sausage. When almost completely browned add onion and cook additional 2-3 minutes. Add garlic, basil, oregano and pepper and cook for additional 30 seconds. Add marinara and simmer for 20 minutes. If sauce gets too thick add a couple of tablespoons of water at a time.
To assemble spoon about 1 1/2 cups of the sauce into the bottom of a 9 X 13 inch casserole. Layer 1/3 of the zucchini, 1 cup mozzarella, 1/2 cup Italian blend and Parmesan. Layer with another 1/3 of zucchini and another 1 1/2 cups of sauce. Layer with the last of the zucchini and top with remaining sauce and cheese.
Cover with foil and bake for 45 minutes at 350 degrees. Uncover and bake for additional 15-20 minutes. Let set for 10-15 minutes before slicing and serving. .
Keywords: Zucchini Lasagna, low carb Zucchini Lasagna, vegetarian Zucchini Lasagna, how to make Zucchini Lasagna, vegetable lasagna,
https://www.smalltownwoman.com/wp-content/uploads/2019/05/Beth-1.pdf