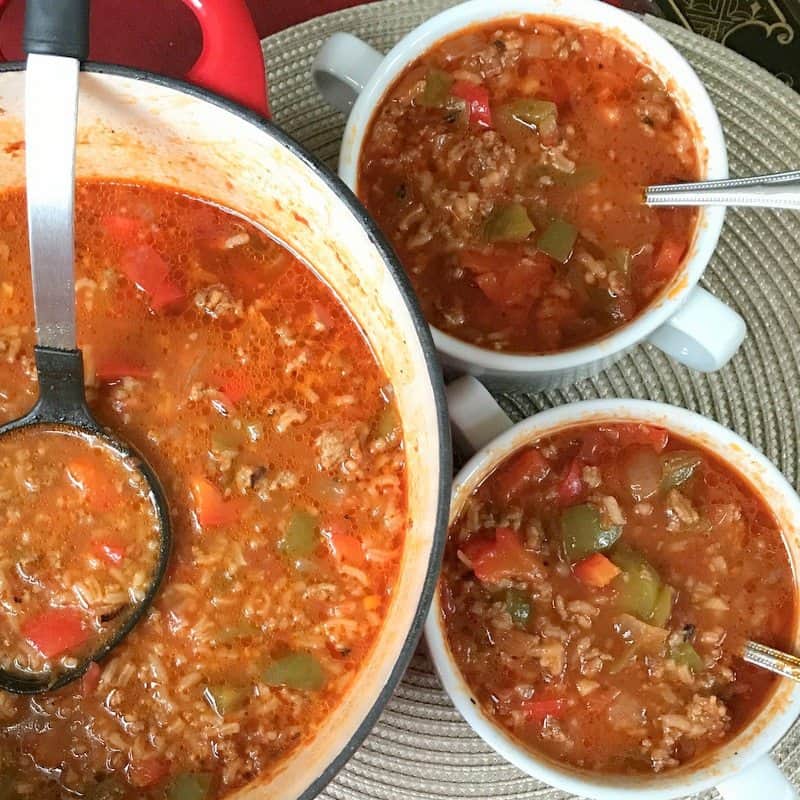 Wow school is going to start in just a couple of weeks and things will start to fly very quickly. Before I know it my life will be total mayhem and the slow somewhat leisurely pace of summer will be behind me. Shortly after that fall will start to appear. It is by far my favorite time of the year. Not only do you get the beauty of the season with the amazing color of the leaves falling from deciduous trees and vibrant blooming mums but you get some of the most delectable comfort recipes ever. I should have been born in October, married in October and had all of my children in October. To me my idea of heaven is an endless October. Do you see a pattern here? LOL
Have you tried any of my other soup recipes? Roasted Broccoli Cauliflower Potato Soup, Savory Cabbage Roll Soup and Creamy Potato Ham Soup are just a few of my favorites. This 30 Minute Stuffed Pepper Soup has the same awesome flavors of stuffed peppers with less work. Just think of it as deconstructed stuffed peppers in soup form.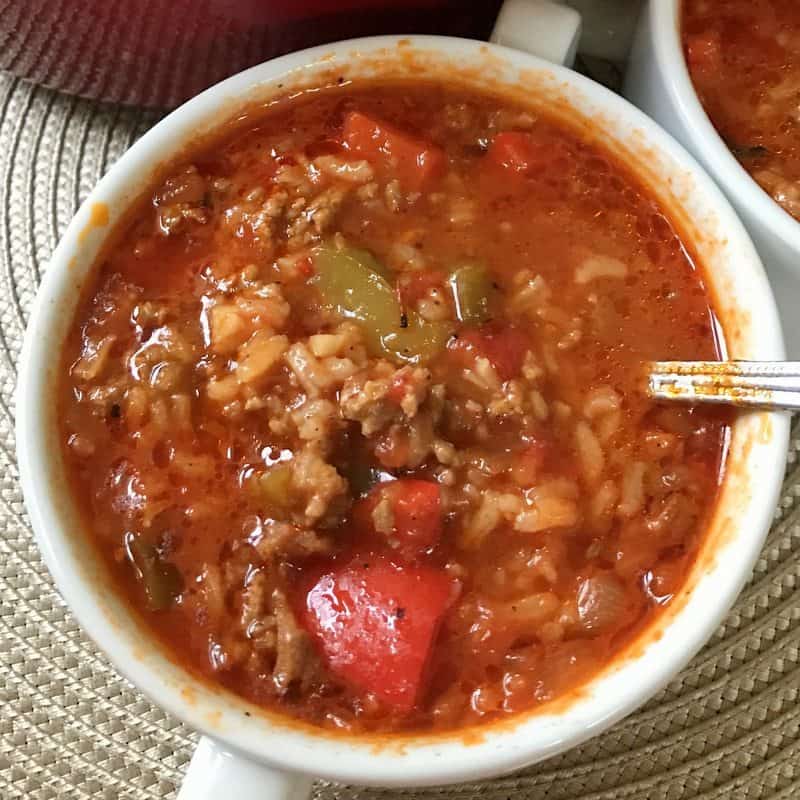 30 Minute Stuffed Pepper Soup is so quick to come together and it is one of those recipes that you can cut and prep as you go. It does not require much simmer time but feel free to if you are busy with something else although your peppers will get pretty soft. It is perfect for a weeknight meal and is enjoyed by my whole family.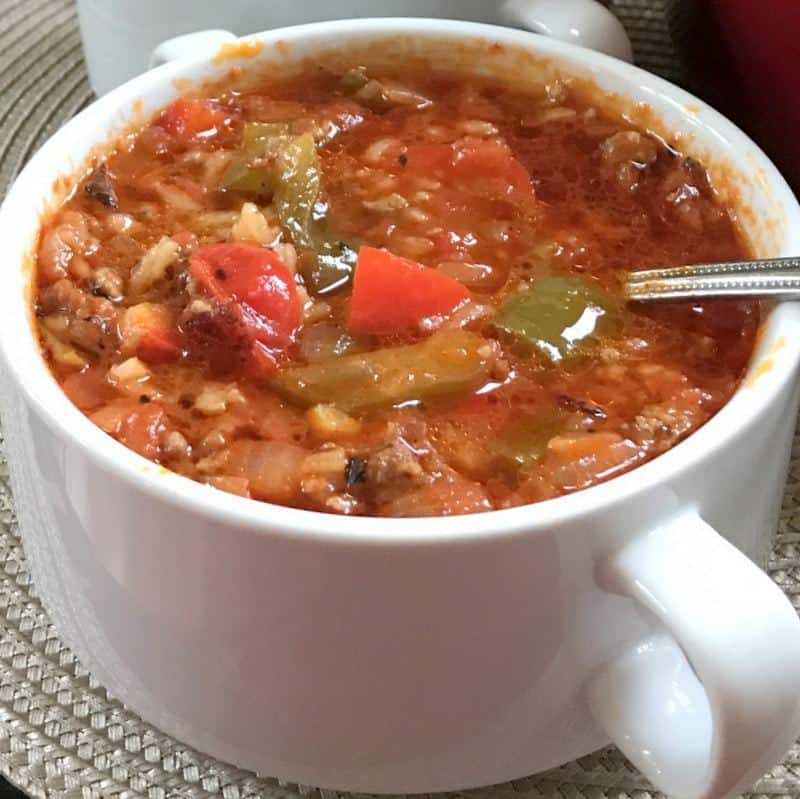 30 Minute Stuffed Pepper Soup is quick, dependable and tasty. Put the ingredients on your list this week. Fall will be approaching before you know it and you want to have all of your favorites in order.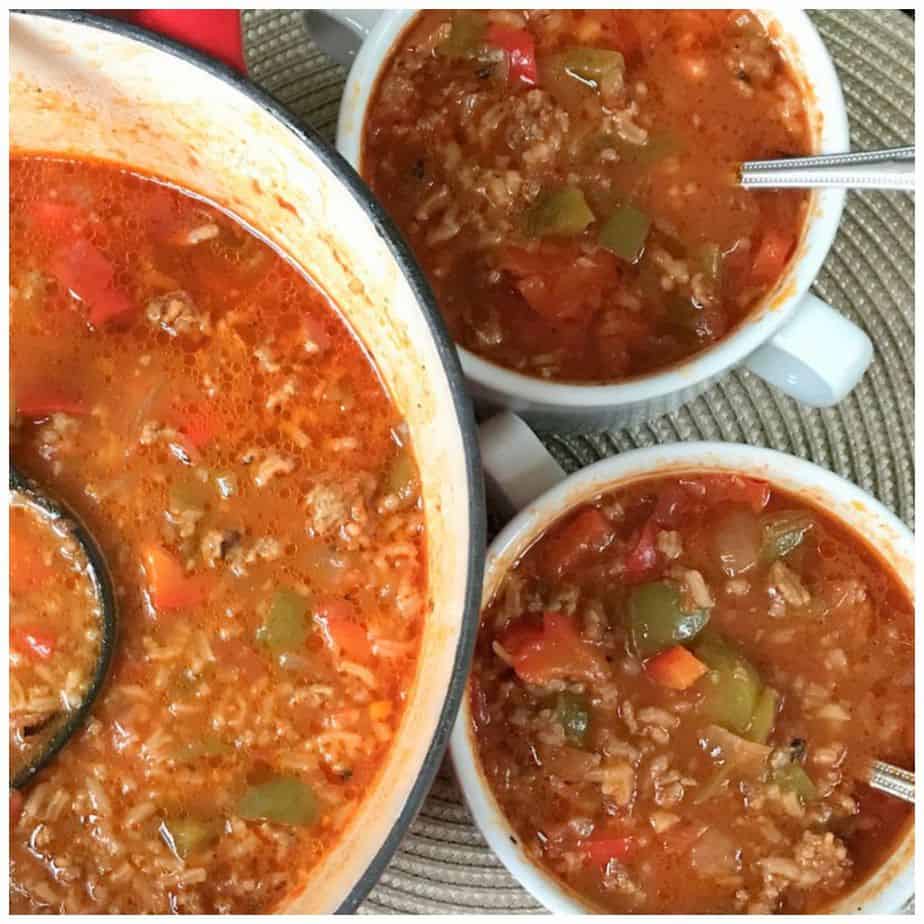 30 Minute Stuffed Pepper Soup
Ingredients
1/2 lb lean pork sausage
1/2 lb lean ground beef
1 small onion finely chopped
1 green pepper finely chopped
1 red pepper finely chopped
3 cloves garlic minced
4 cups low sodium beef broth
2 cups low sodium chicken broth
1 can (14.5 ounce) salsa style tomatoes
1/2 cup uncooked quick cooking rice (I use the jasmine)
Instructions
In dutch oven or heavy stock pot brown sausage and ground beef, When almost completely browned add onion and peppers. Cook for an additional 2-3 minutes. Add garlic and cook for 1 minute. Drain any excess grease. Add beef broth, chicken broth and salsa style tomatoes. Bring to a low boil. Add rice, cover and cook until tender approximately 12-15 minutes.
Notes
You can top with grated cheddar and green onions if desired.
https://www.smalltownwoman.com/30-minute-stuffed-pepper-soup/
Other delicious comfort food recipes you will love!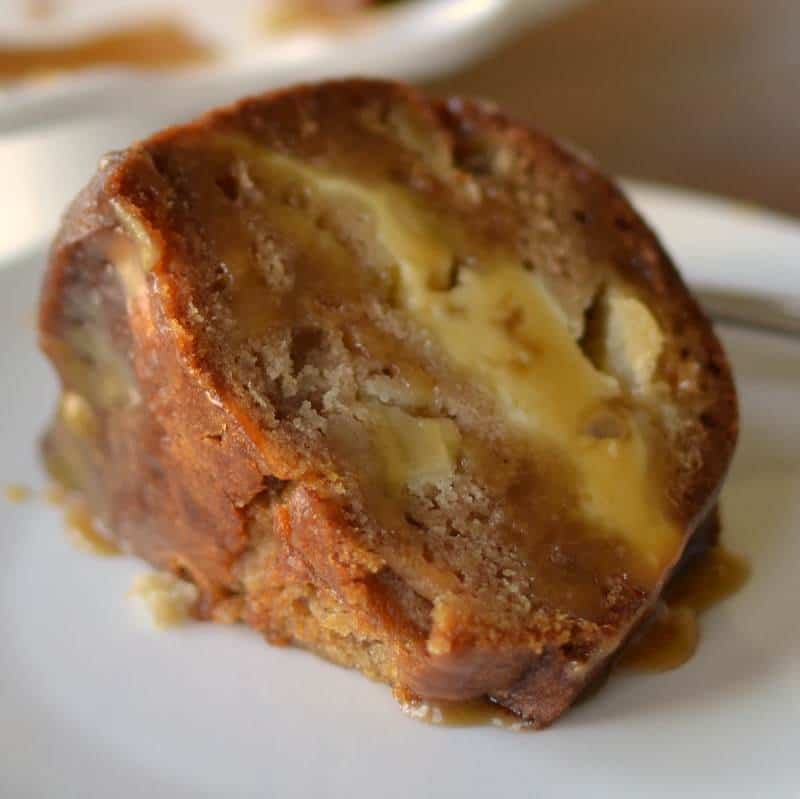 Apple Caramel Cream Cheese Bundt Cake