This delicious Apple Brown Betty recipe brings crisp sweet apples with a touch of lemon together with layers of sweet cinnamon nutmeg crumbs. For the ultimate in comfort food top with all natural vanilla ice cream or warm caramel sauce.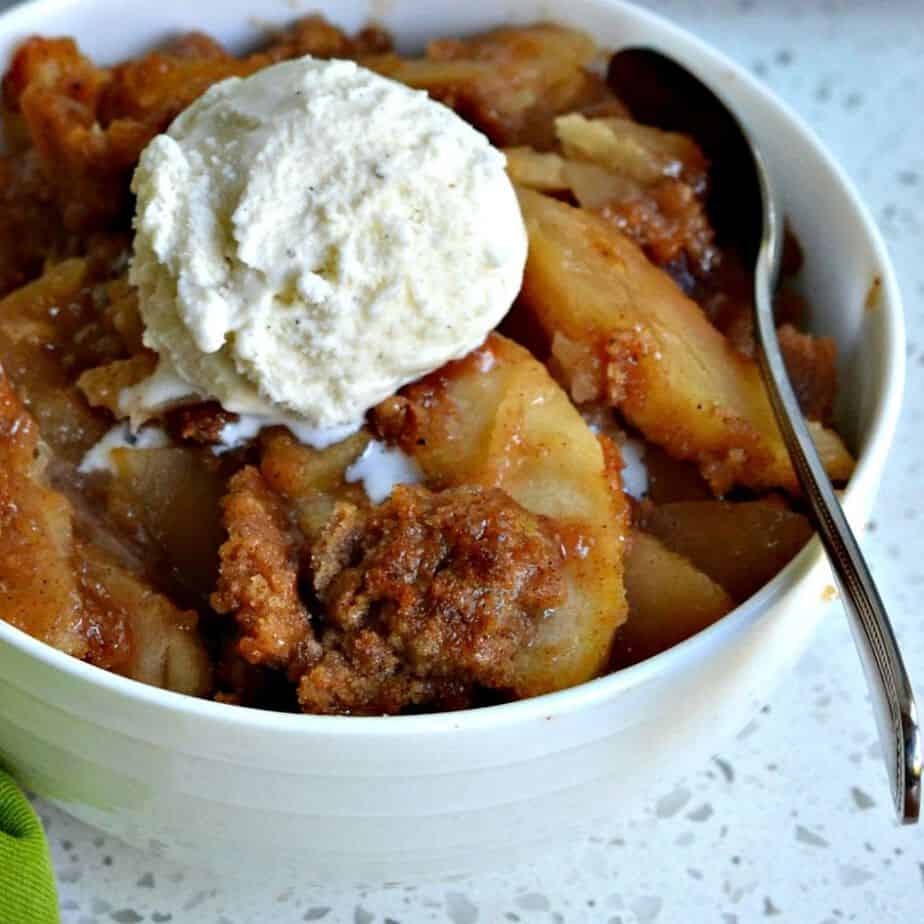 In my opinion apples just make the world a better place. Gone are the days when your choices were Granny Smith or Red Delicious.  I have not touched a Red Delicious apple since I was a kid.  They are just a little too mealy for me. When I bite down I want to hear a good crisp break. So give me a Honeycrisp, Braeburn, Jazz or Pink Lady and I will love and appreciate every single bite. 
Unlike the apple crisp an Apple Brown Betty does not have any oats in the topping. So for all of you that don't like oats this is your recipe.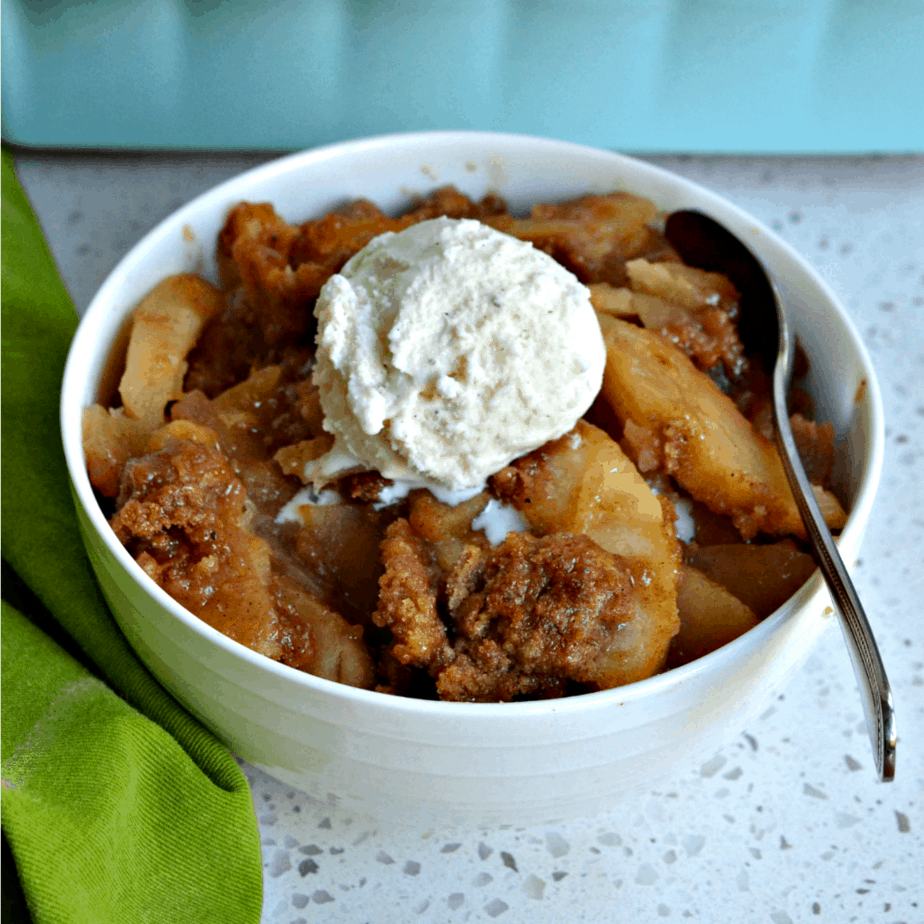 How do you make Apple Brown Betty?
First thing you need to do is peel, core and slice the apples.  But not too thin because you don't want them to get mushy when you bake them.  After you cut them toss them with a little lemon juice in a bowl and place half of the apples in the bottom of a 9 inch pie plate or 8 or 9 inch casserole dish.
Now in a food processor combine your flour, brown sugar, sugar, ground cinnamon, ground nutmeg, ground cloves and salt.  Pulse a couple of times to combine.  Now drop in the butter one tablespoon at a time pulsing once or twice between each tablespoon. Pulse until coarse crumbs form. Once the mixture is combined crumble half of it over the apple slices. Then top with the remaining apples and the rest of crumb mixture. Bake for about 40-45 minutes or until very lightly browned.  This recipe is especially delicious served warm with vanilla ice cream or fresh whipped cream.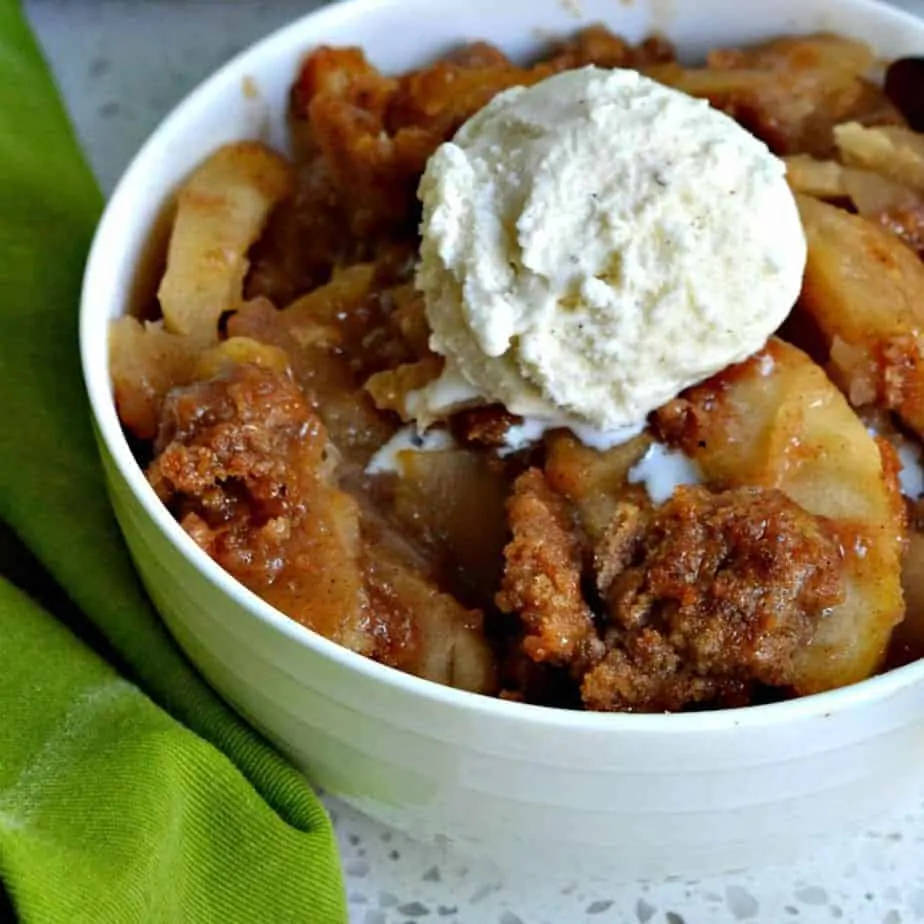 What are the best apples for Apple Brown Betty?
My go to apples for this recipe are crisp tart apples like Honeycrisp or Granny Smith apples. Other good choices are Braeburn or Pink Lady (also known as Cripps Pink).  You can also do a mixture of any or all of these for more texture and flavor.  When you cut your apples slice them at least a quarter inch thick to help keep a little bit of firmness through the baking process.  If you really like them crispy cut them into small cubes.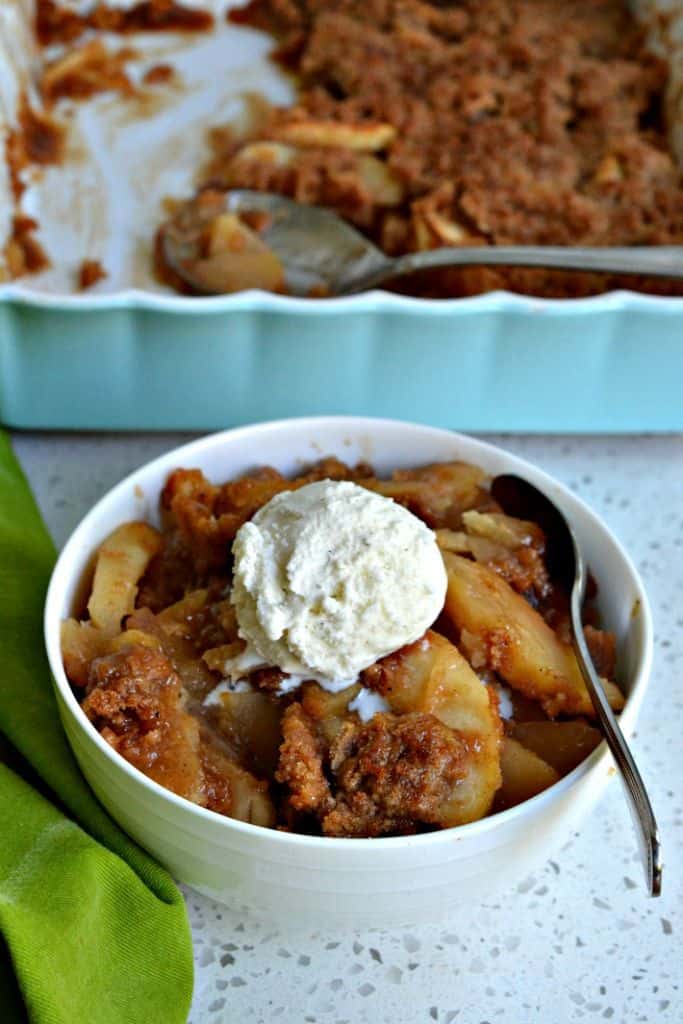 Tips for making the best Apple Brown Betty
Pick apples that are ideal for baking like Honeycrisp, Braeburns, Granny Smiths or Pink Lady.
Don't slice your apples too thin because this recipe is best when the apple still have some firmness to them.
For ease in cleaning grease your baking dish.
Don't skip the lemon juice.  It helps keep the apples fresh while you are getting the rest of the recipe ready and adds a noticeable delectable zippy flavor to the final outcome.
Always preheat your oven and load this dish as close to the center as possible.
For best results do not over bake this recipe. The top should be very lightly browned and the apples still slightly crisp.
This recipe like apple pie is best served warm yet still very delicious cold.
Please store leftovers in an airtight container in the refrigerator.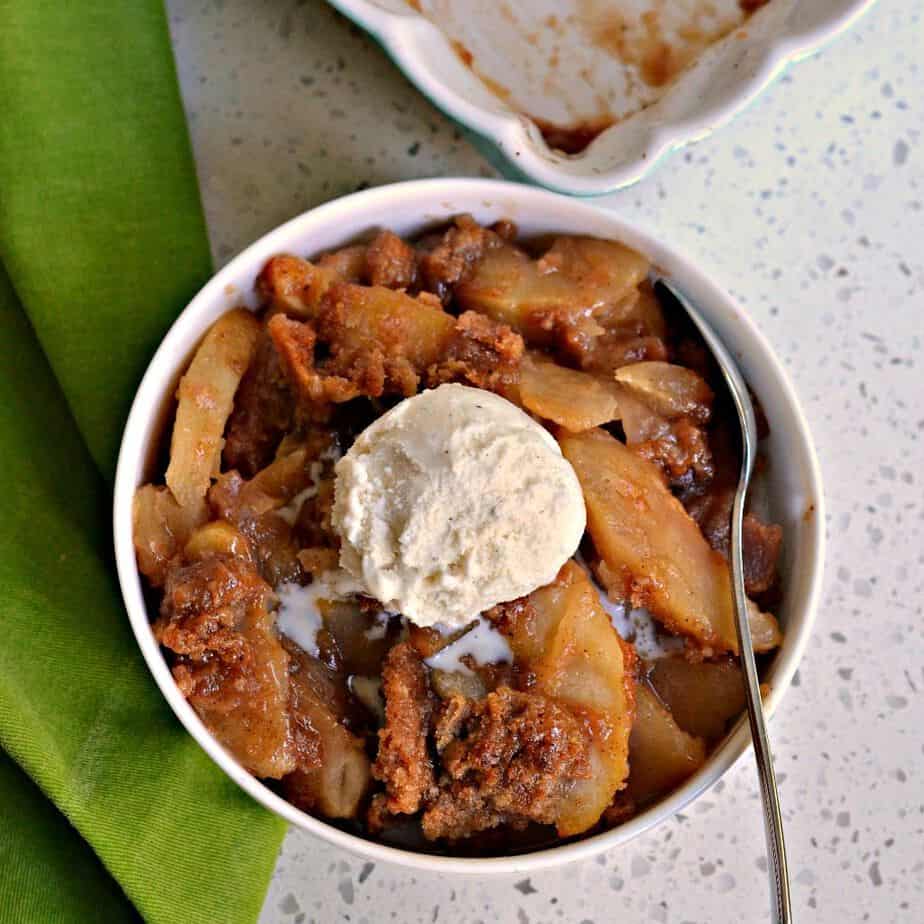 Other apple recipes you will love!
Print
Apple Brown Betty
Crisp tender slices of apple are topped with a sweet buttery cinnamon, nutmeg and clove topping and baked to perfection. Absolutely scrumptious served warm and topped with a scoop of natural vanilla ice cream.
Author:
Prep Time: 10
Cook Time: 40
Total Time: 50 minutes
Yield: 6 servings 1x
Category: dessert
Method: bake
Cuisine: southern
5 Honeycrisp Apples peeled cored and sliced (see notes)
1 lemon juiced (about 2 tablespoons)
3/4 cup all purpose flour
2/3 cup brown sugar
1/3 cup sugar
1 1/2 teaspoons cinnamon
1/4 teaspoon ground nutmeg
1/8 teaspoon ground cloves
1/8 teaspoon salt
1/2 cup butter cold
Instructions
Preheat oven to 350 degrees.  Spray the bottom of a 9 inch casserole dish with nonstick baking spray.
Toss apples with lemon juice and place half of them in the bottom of a 9 inch casserole dish or 9 inch pie dish.
In a food processor combine your flour, brown sugar, sugar, ground cinnamon, ground nutmeg, ground cloves and salt; pulse several times to combine.  Drop in butter 1 tablespoon at a time pulsing between each tablespoon or until butter is fully incorporated and coarse crumbs form.
Sprinkle half the crumbs over the apples. Top with remaining apple slices and the rest of the crumb mixture. Bake for 40-45 minutes or until very lightly browned. Serve warm.
Notes
Pick apples that are ideal for baking like Honeycrisp, Braeburns, Granny Smiths or Pink Lady.
Don't slice your apples too thin because this recipe is best when the apple still have some firmness to them.
For ease in cleaning grease your baking dish.
Don't skip the lemon juice.  It helps keep the apples fresh while you are getting the rest of the recipe ready and adds a noticeable delectable zippy flavor to the final outcome.
Always preheat your oven and load this dish as close to the center as possible.
For best results do not over bake this recipe. The top should be very lightly browned and the apples still slightly crisp.
This recipe like apple pie is best served warm yet still very delicious cold.
Please store leftovers in an airtight container in the refrigerator for up to  days
Keywords: apple brown betty, apple brown betty recipe, apple dessert, fall apple dessert, old fashioned apple brown betty recipe, simple apple brown betty recipe, what is apple brown betty, apple brown betty crisp recipe
https://www.smalltownwoman.com/wp-content/uploads/2019/05/Beth-1.pdf