Asian Noodles with Chicken brings the the flavors of stir fried chicken and vegetables together with a delicious slightly spicy peanut sauce.  It is quick to come together making it the perfect busy family meal.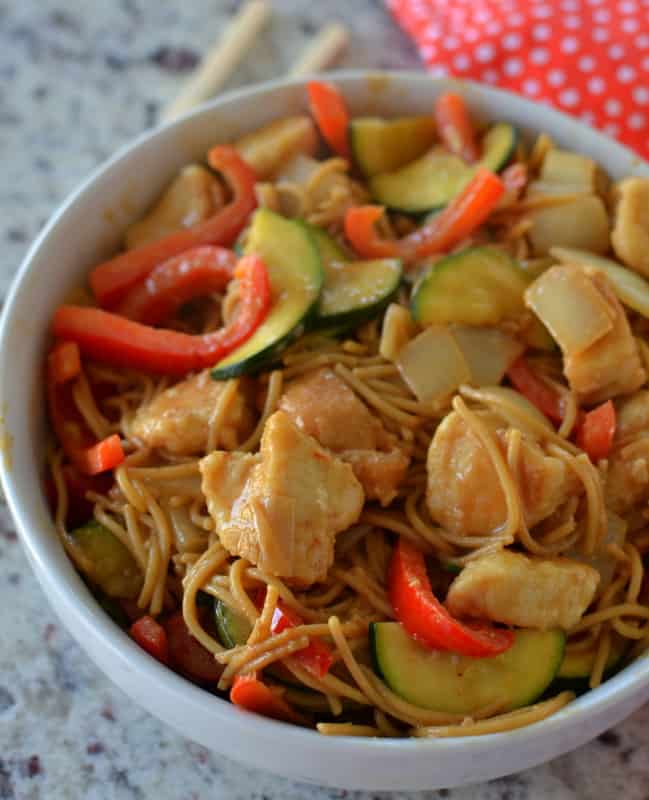 We just love Asian inspired dishes.  They are so flavorful and so packed with fresh vegetables making them the perfect balance of scrumptious taste and nutrition.  I have a wok but I often make our stir fry's in the large skillet.  If you cut your veggies ahead of time and keep your wok or skillet extremely hot stir-fry is a piece of cake! Asian Noodles with Chicken brings crispy stir fried chicken, sweet onions, crispy red bell peppers, zucchini and whole grain spaghetti together in a slightly spicy Asian peanut sauce. Are you always in a hurry?  The delicious sauce can be prepared ahead of time stored in the fridge and added at just the right time.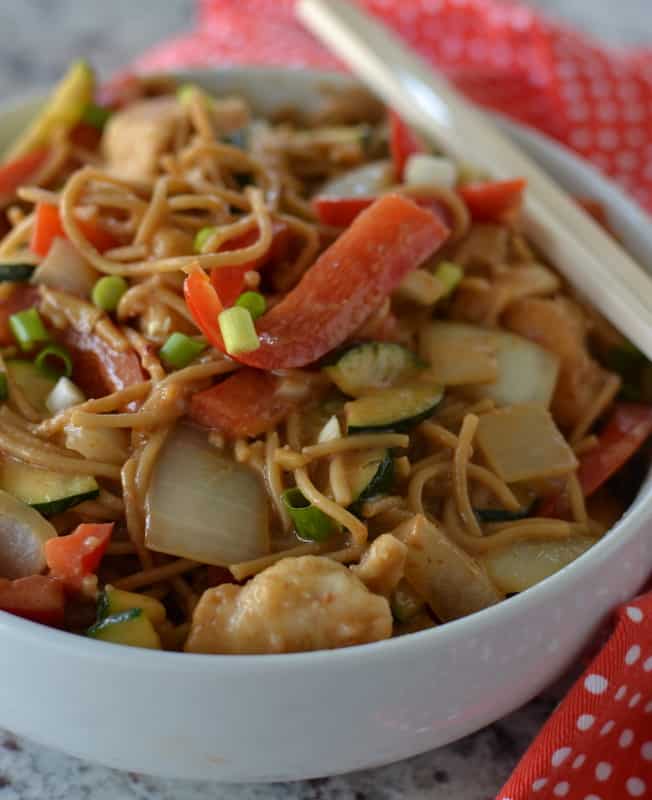 Do you like stir fry?  Do you have a favorite recipe? This Asian Noodles with Chicken is a must try.  You and your loved ones are going to love every single chopstick full of out of this world taste that this recipe has to offer.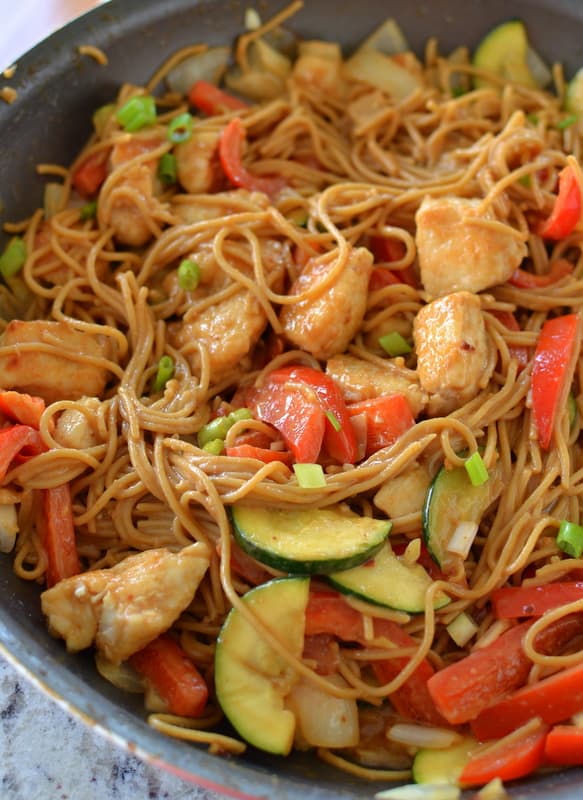 Put this Asian Noodles with Chicken on your to try list and enjoy all the appetizing flavor.
Other Asian recipes you will love!
Asian Noodles with Chicken
(8 ounces) whole grain spaghetti noodles
2 large chicken breasts cut into chunks
1 1/2 tablespoons cornstarch
2 tablespoons canola oil
1 medium onion chopped
1 red pepper seeded and chopped
1 small zucchini halved and sliced thin
Asian Sauce
1/4 cup canola oil
1 1/2 tsp. sesame oil
1/3 cup low sodium soy sauce
1 tablespoon rice vinegar
1 teaspoom Sriracha
1/4 cup creamy peanut butter
2 tbsp honey
2 cloves garlic finely minced
Instructions
Cook spaghetti according to box instructions and drain well.
In large Ziploc bag shake together chicken with cornstarch. Heat 1 tablespoon canola oil in large skillet over medium high heat. Add chicken and cook until golden crispy. Drain on paper towels.
Add another tablespoon canola oil to pan over medium/high heat. Add onion, red pepper and zucchini. Stir fry for 1-2 minutes. Remove to plate. Set skillet aside.
In separate saucepan over medium low heat whisk together 1/4 cup canola oil, sesame oil, low sodium soy sauce. rice vinegar, sriracha, peanut butter, honey and garlic. Cook until warm and slightly thickened; approximately 2 minutes.
In large skillet that you set aside over low heat add cooked spaghetti, chicken, veggies and vinegar/peanut butter sauce. Stir to combine and warm for 1-2 minutes. Serve immediately.
Other delicious Asian recipes you will love!