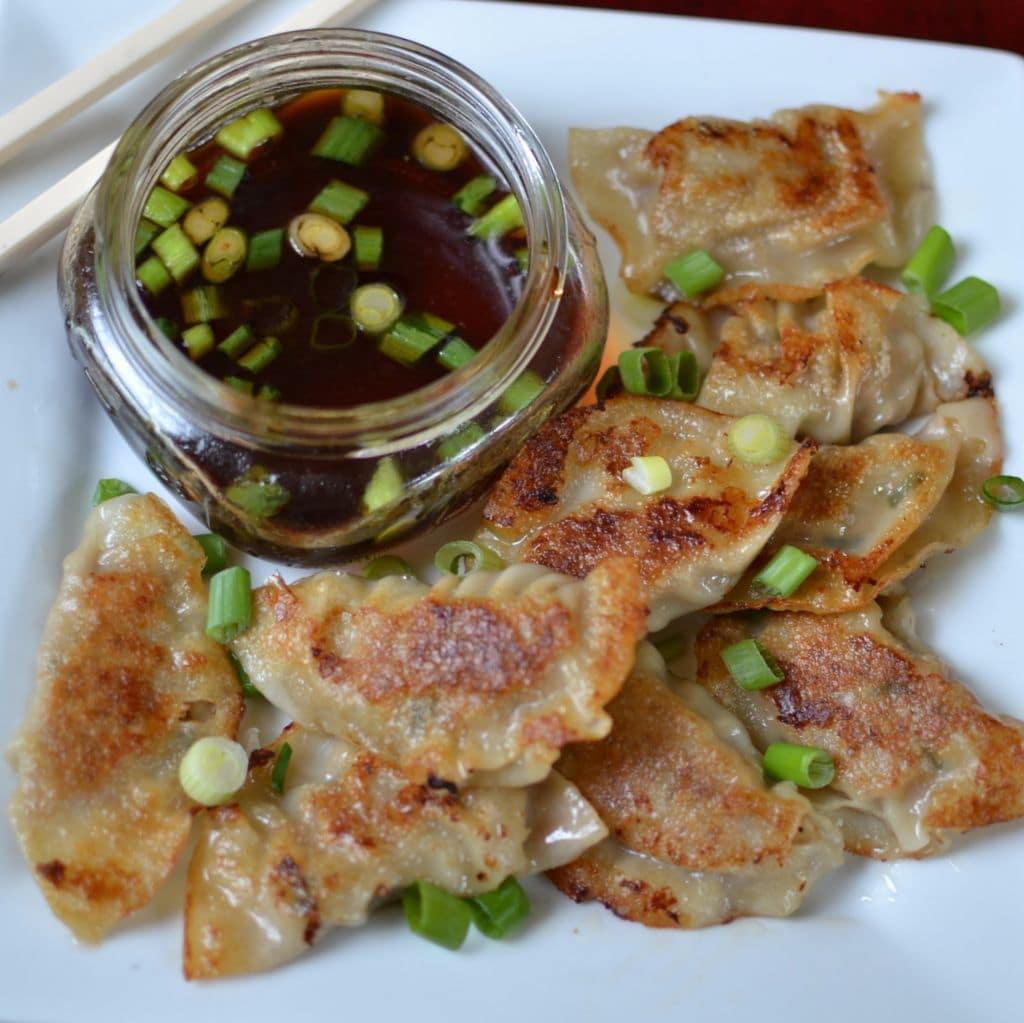 These are so scrumptious! I have made them both ways, steamed & fried and they are equally delicious both ways!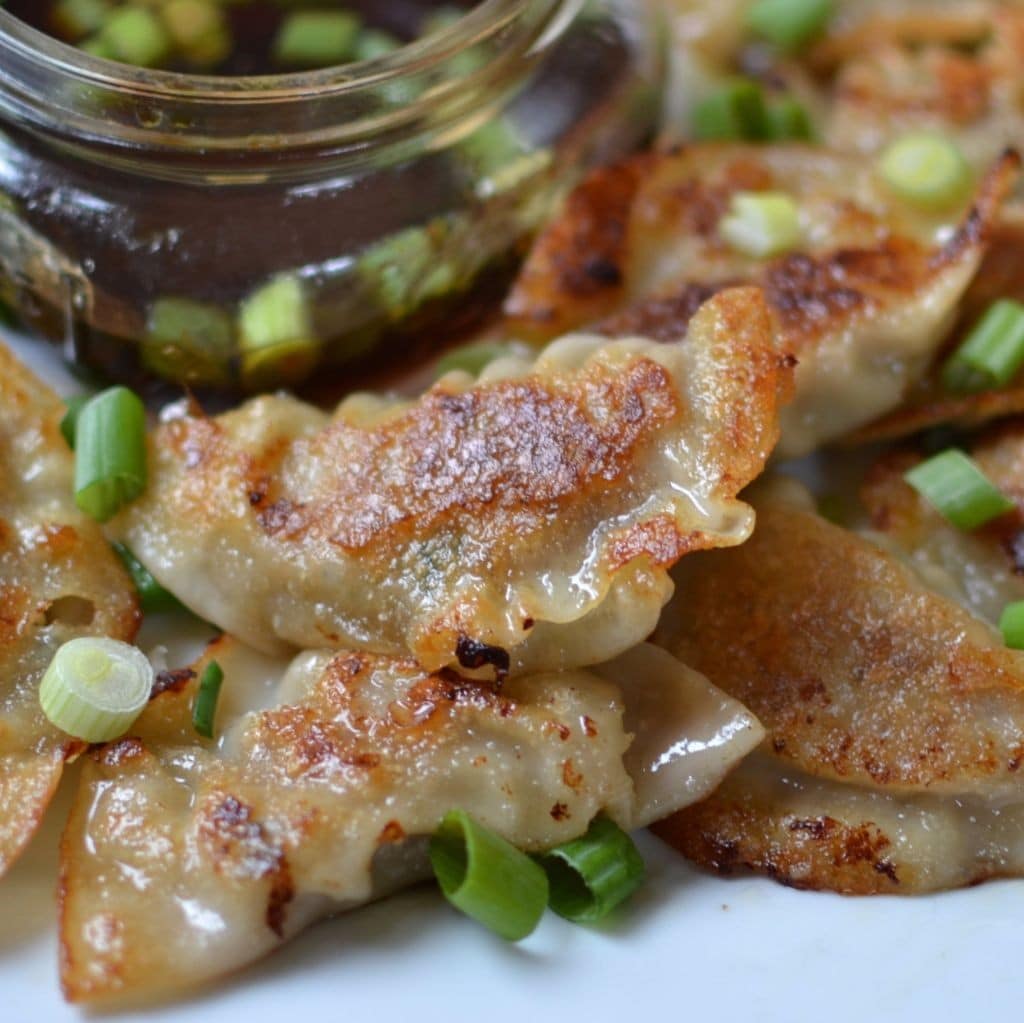 If you have a big family you had better double the recipe because you will find your family eating them faster than you can make them!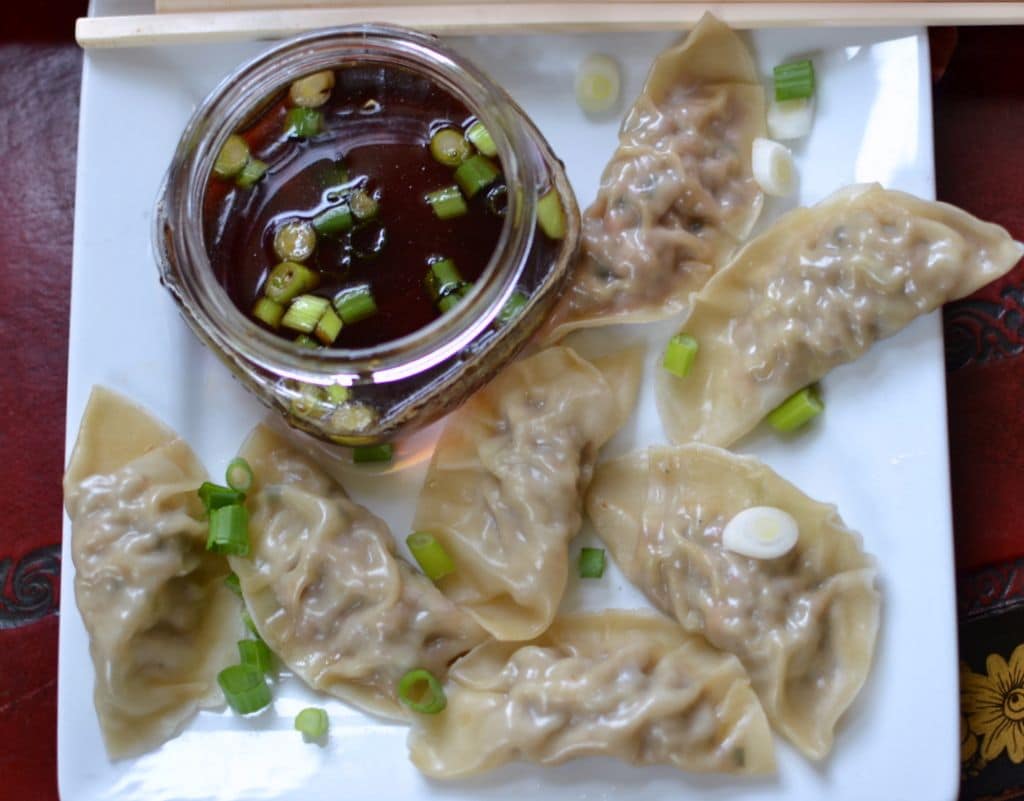 See how delicious they look steamed. Dip them in my delicious dipping sauce and you will find yourself shoveling them as fast as your family!
Sweet Pork Fried Dumplings
2015-05-31 17:53:03
Serves 6
Ingredients
12 oz package all natural round wraps (I use Nasoya wraps)
1 egg beaten
1 lb pork sausage
2 cups finely chopped savoy or napa cabbage
2 tablespoons fresh grated ginger
3 cloves garlic minced
2 tablespoon low sodium soy sauce
1 tablespoon mirin
1/2 teaspoon sesame oil
1/4 cup fresh chopped chives
3 green onions sliced 1/4 inch wide
Olive oil
2/3 cup low sodium soy sauce
1/3 cup mirin
1/8 teaspoon sesame oil
Instructions
Combine beaten egg, sausage, cabbage, ginger, garlic, 2 tablespoons soy sauce, mirin, sesame oil and chopped chives in medium bowl. After mixing place in refrigerator for 30 minutes.
When working with the wraps cover non-stuffed and stuffed ones with cold wet paper towels to keep them from drying out. Holding the wrapper in one hand, dip your index on your free hand in cold water. Moisten 1/2 of the wrap with that finger making a 180 degree circle around the edge of the wrap that is furthest from you. Now place a rounded teaspoonful of the meat mixture in the middle. Fold over and gently seal one end to the other; pressing the wrap together to close tightly. Repeat until meat mixture is gone; placing them on a lightly greased cookie sheet and covering with moistened paper towels.
Add 2 tablespoons olive oil to large skillet over medium heat. Add a batch of the dumplings and cooked until browned on one side; approximately 3-5 minutes. Add 2/3 cup of water to the skillet, cover and cook for 3 minutes. Uncover the pan flip the dumplings and cook until the water is gone and other side of the dumpling has browned; approximately 8-10 minutes.
Mix 2/3 cup soy sauce, mirin and sesame oil in small bowl to serve with the dumplings. Sprinkle several tablespoons of chopped green onion on the sauce.
Sprinkle remaining green onions on the dumplings right before serving.
Notes
As always when mixing raw meat clean all surface areas, cooking utensils and your hands thoroughly.
You can also steam these dumplings in a bamboo steamer or metal steamer for 15-18 minutes.
Adding a little bit of sesame oil to the skillet after the water cooks away helps to brown the other side of the dumpling and gives it a fantastic flavor.
Small Town Woman https://www.smalltownwoman.com/