Fresh Black Bean and Corn Salad is black beans, sweet corn, tomatoes, avocado, red onion and minced jalapenos in a light lime marinade. It is the perfect topping for burritos, quesadillas, tacos and omelettes
This beautiful Black Bean Corn Salad is so versatile. It can be mixed in burritos and quesadillas. It can be topped on a taco salad or stuffed in an egg roll. You can serve with fresh baked tortilla chips or layer it on your scrambled eggs. Or perhaps just serve next to your favorite rib or pork chop recipe. Serve it however you like. I used it on egg burritos this morning. The possibilities are endless.
How to make black bean and corn salad recipe.
It really does not get much easier than this. Cook corn and cut off the cob. Combine corn, black beans, red onion, tomatoes, jalapeno, olive oil, cilantro, avocado, cider vinegar and lime juice. Chill for a little bit to allow the flavors to meld together.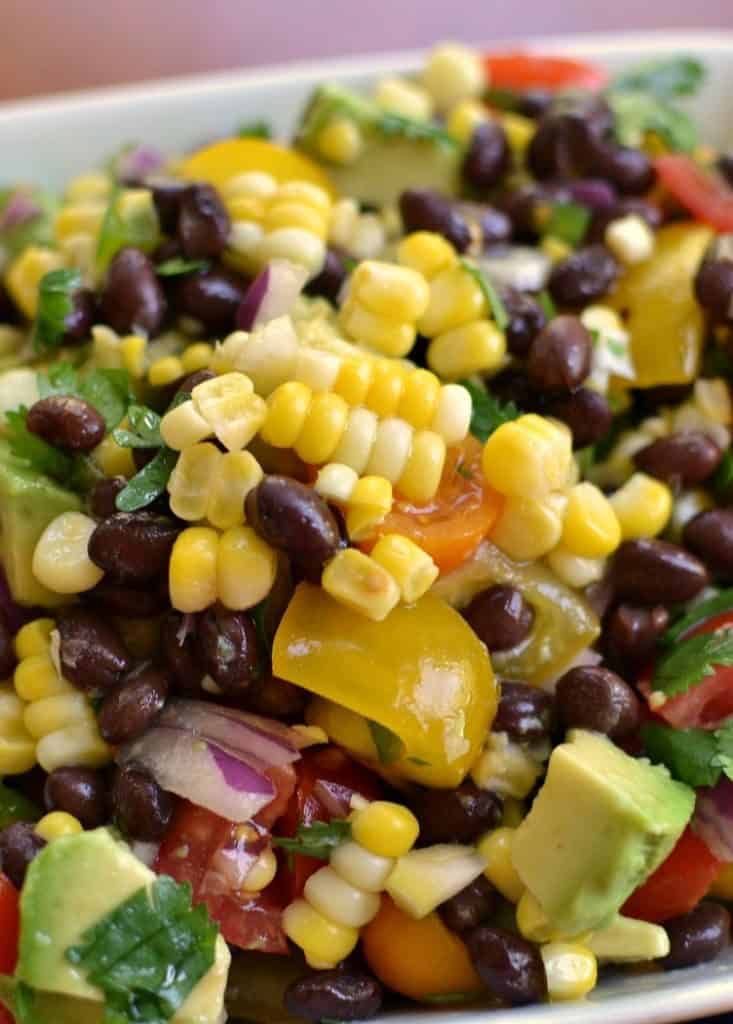 I just love fresh sweet corn! I mean honestly doesn't everyone? Here are some more great corn recipes for your enjoyment!!
Helpful hints on making this Black Bean and Corn Salad!
Start with fresh sweet ripe corn. You really can cook the corn anyway you like as long as you do not overcook it.
If boiling add corn to boiling water. Bring water back to a boil and turn off heat. Cover pot and leave corn in for about seven minutes.
If grilling place the corn directly over hot heat and close lid. Turn about every five minutes until it is slightly charred and cooked through, about 10-15 minutes.
If microwaving place corn with husk on in the microwave. Cook for 2 minutes. Allow corn to stand for five minutes before handling.
If cooking in the skillet cut corn from the cob. Add 1 tablespoon to large skillet over medium high heat. Add corn and cook for 12-15 minutes stirring frequently.
Use whatever seasonal tomatoes are sweetest. At the time that I made this Black Bean and Corn Salad the sweetest tomatoes I was getting were grape tomatoes.
Choose a nice ripe avocado. Peel back the steam or cap at the top of the avocado. If it comes off easily and you find green underneath than you have a nice ripe avocado that is ready to eat. If you find brown underneath than likely your avocado is over-ripe and you will find brown spots in your avocado.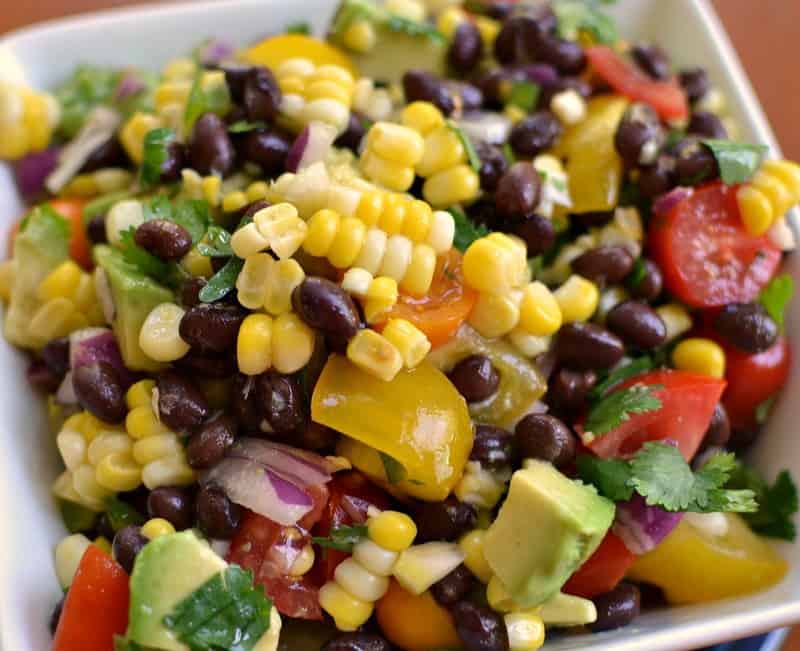 This Black Bean and Corn Salad is beautiful, colorful and delectable. It is so versatile in its uses for dishes that I can not name all the winning combinations. What more could you ask for?
This post was originally published April 24, 2016 and was republished June 30, 2018 with new relevant information, pictures and helpful hints.
Ingredients
1 can black beans (15.25 ounce) drained and rinsed
2 ears corn shucked with silks removed
1/2 cup finely chopped red onion
1 1/4 cups chopped heirloom tomatoes
1/2 jalapeno pepper finely minced
1 tablespoon olive oil
1/4 cup fresh chopped cilantro
1 chopped avocado
1 tablespoon cider vinegar
1 tablespoon lime juice
Instructions
Place corn in boiling water bring. Bring back to boil. Cover and remove from heat. Allow to sit for 7-10 minutes. Cool and remove kernels from the cob.
Combine black beans, corn, red onion, tomatoes, jalapeno, olive oil, cilantro, avocado, cider vinegar and lime juice. Chill for 30 minutes and serve.
https://www.smalltownwoman.com/black-bean-corn-salad/