CRUNCHY GRAPE SALAD IS A UNIQUE FAMILY AND FRIEND FAVORITE RECIPE. IT IS A DELECTABLE COMBINATION OF BOTH RED AND GREEN SEEDLESS GRAPES, CREAM CHEESE, SOUR CREAM, PECANS, WALNUTS AND BROWN SUGAR.
This summer delight is a must try. It comes together in about ten minutes and makes for the perfect seasonal dinner and party salad.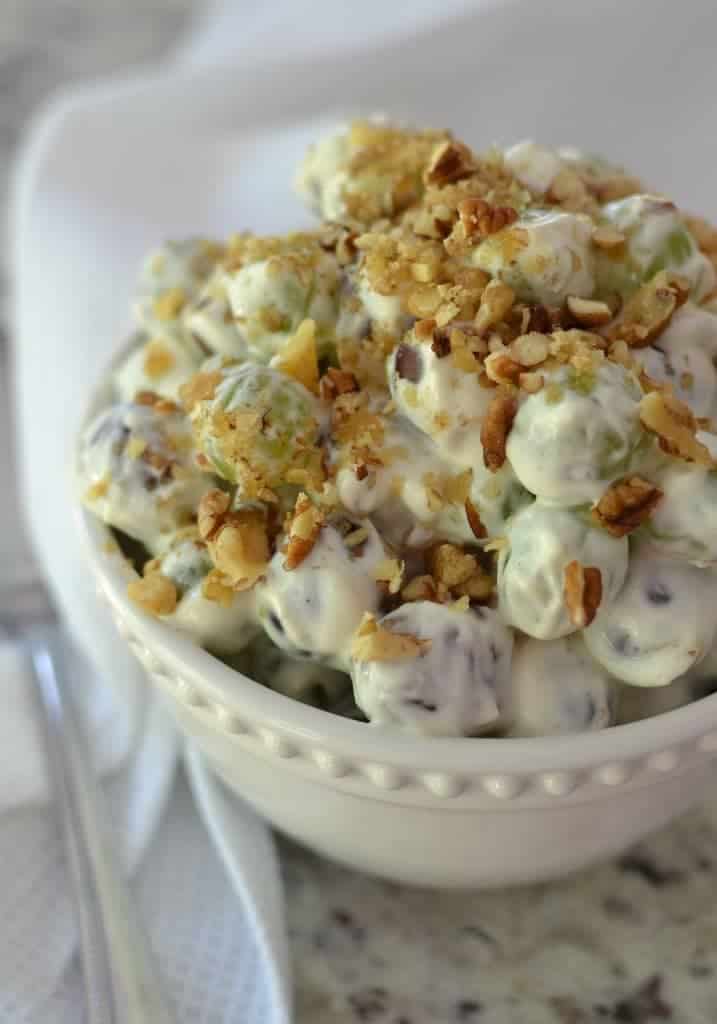 I know this is an unusual salad.  But trust me this is one delicious treat.  Everyone that has tired it loves it.  This Crunchy Grape Salad comes together in a matter of minutes and is a family, friend and neighbor favorite.  It is a prefect side for Balsamic Vinegar Barbecue Ribs or Dry Rub Sweet Barbecue Pork Tenderloin.  It is a fantastic summer dish when grapes are at their best.
HOW TO MAKE CRUNCHY GRAPE SALAD RECIPE
This salad is so darn easy.  Using a mixer beat cream cheese, sour cream, sugar and vanilla until creamy and smooth.  Stir in grapes and sprinkle with brown sugar and nuts.  Folks great side dishes don't get much easier than this!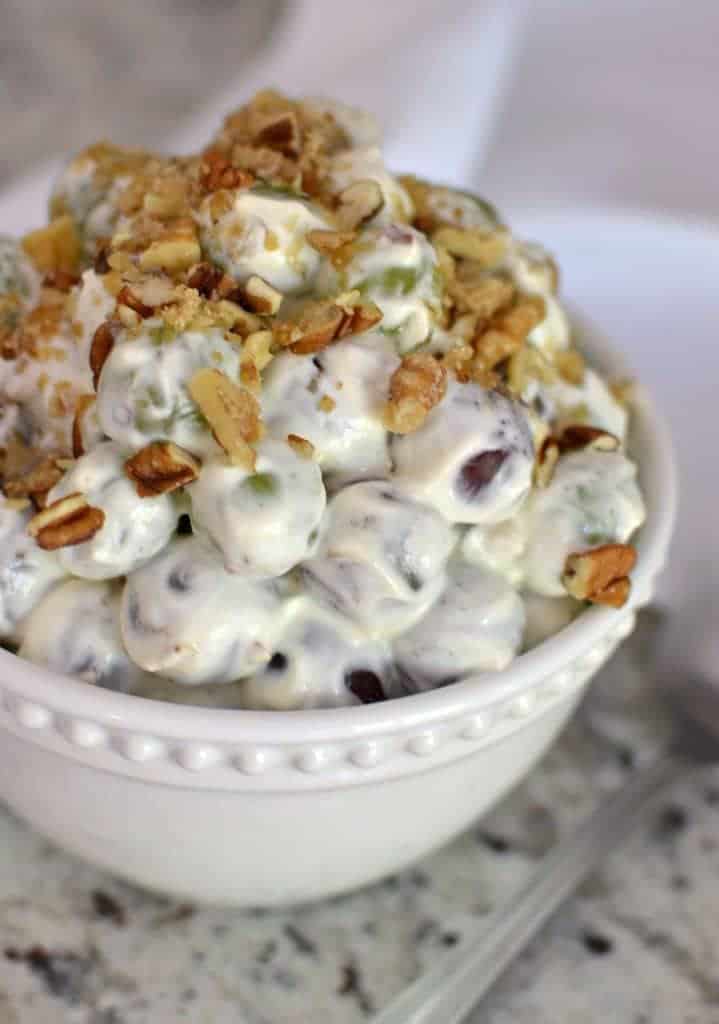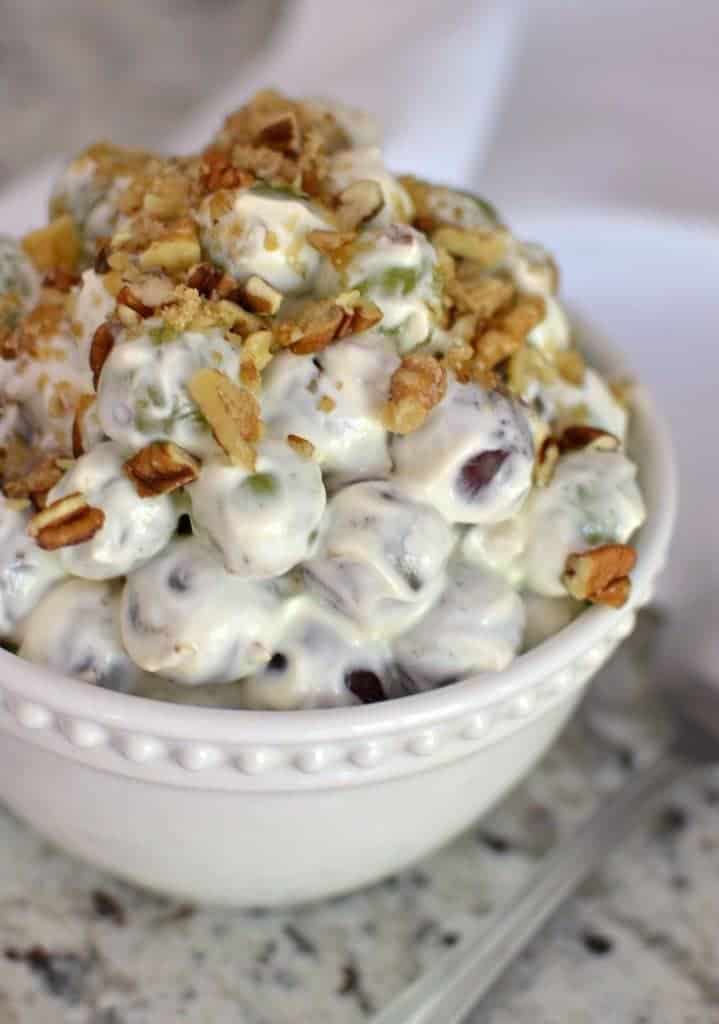 HELPFUL HINTS ON MAKING THIS CRUNCHY GRAPE SALAD EPIC!
Use any kind of seedless grapes including white, red and black.
Use any kind of sweet nuts including pecan, walnuts, almonds and cashews.
Do not use the low fat versions of cream cheese and sour cream.  They add moisture to this dish and you want it smooth and super creamy.
Do you have a special event coming up this summer that calls for one amazing unique salad? If so than this is a must try.  Believe me when I say that your quests will be asking for the recipe.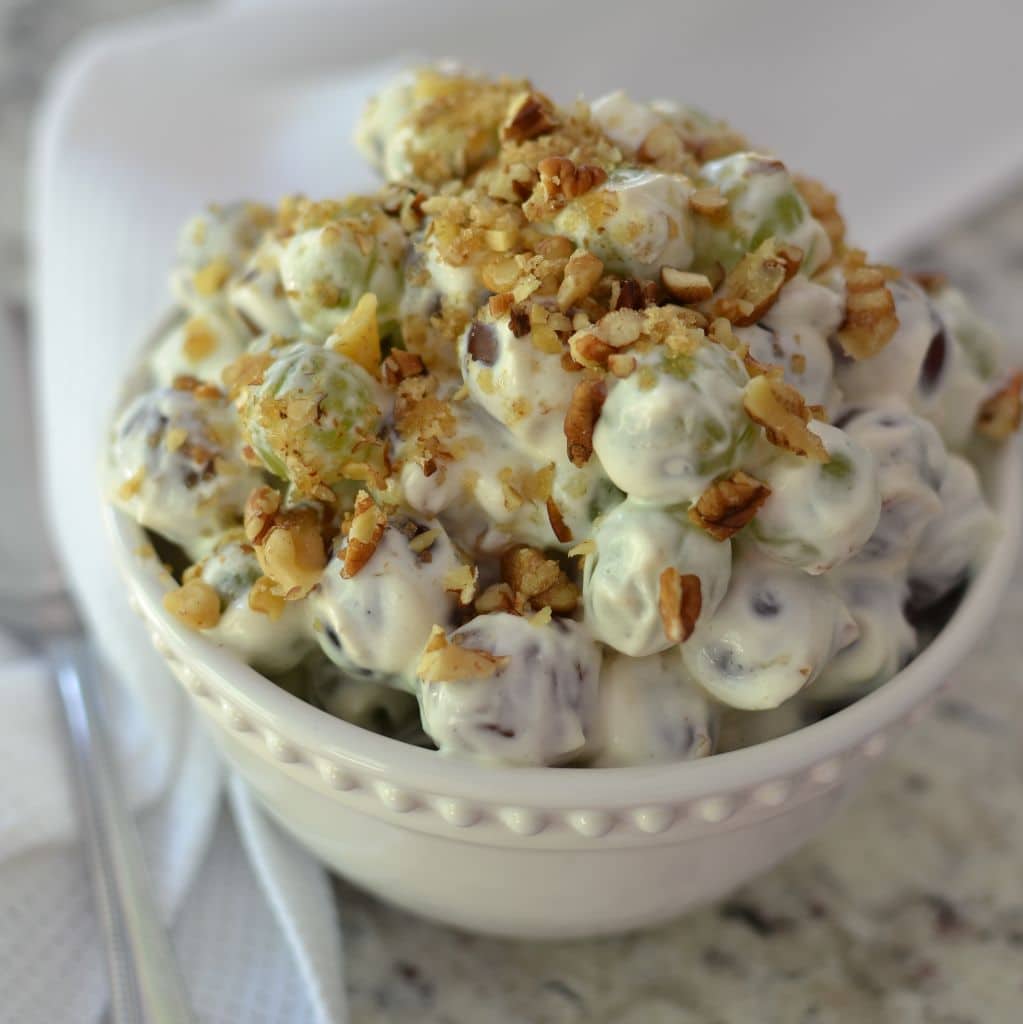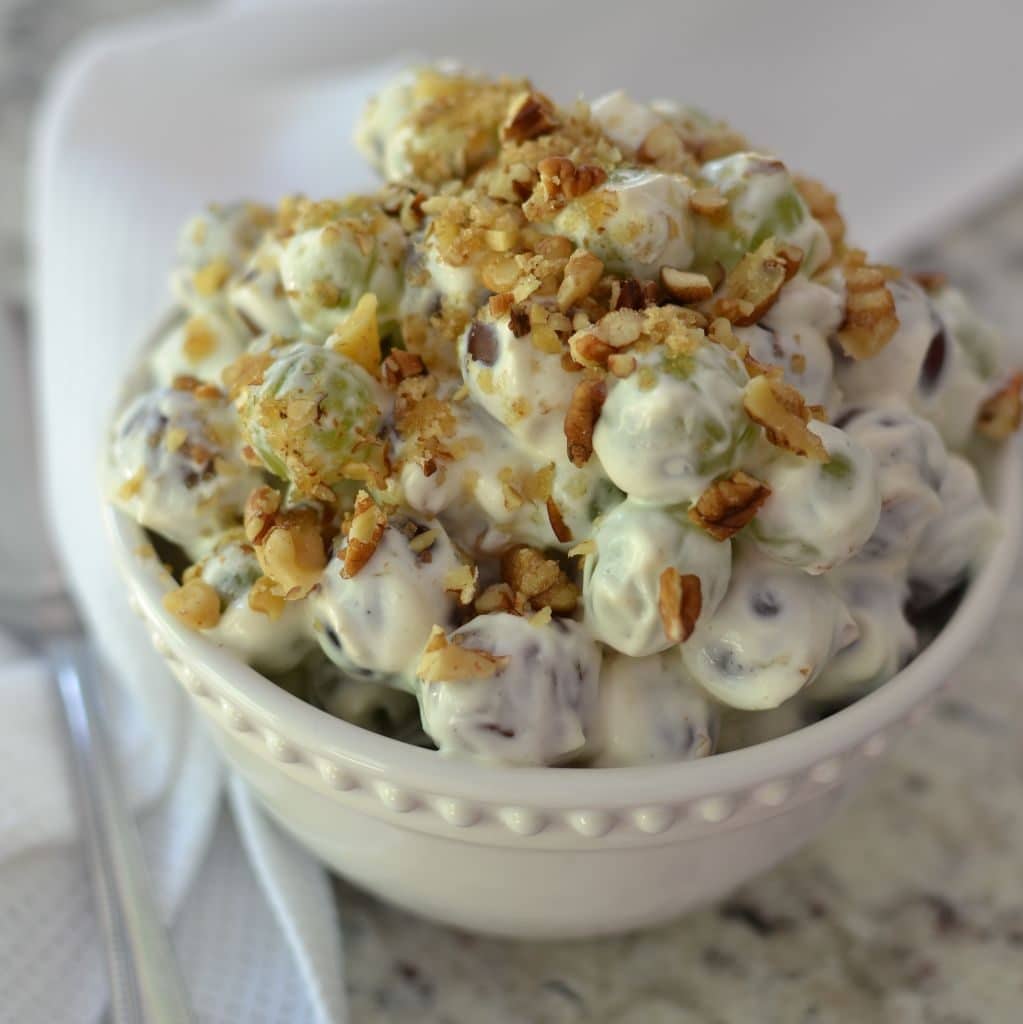 This scrumptious Crunchy Grape Salad is a real crowd pleaser. Put the ingredients on your shopping list today and give this unique salad a whirl.
OTHER SIDE SALAD RECIPES YOU WILL LOVE!
Print
Grape Salad
Crunchy Grape Salad is a delectable combination of both red and green seedless grapes. cream cheese, sour cream, pecan, walnuts and brown sugar.
Author:
Prep Time: 10
Total Time: 10
Yield: 6 1x
Category: Side Dish
Method: Mixer
Cuisine: American
Scale
Ingredients
3 cups green grapes
3 cups red grapes
4 ounces cream cheese softened
1/2 cup sour cream
1 1/2 tablespoons sugar
1/2 teaspoon vanilla
2 tablespoons brown sugar
1/4 cup chopped walnuts
1/4 cups chopped pecans
Instructions
Using mixer blend cream cheese, sour cream, sugar and vanilla until smooth and creamy. Fold in grapes and sprinkle with brown sugar, walnuts and pecans.
Keywords: FRUIT SALAD, GRAPE SALAD, GRAPE SALAD RECIPE, GRAPE SALAD WITH CREAM CHEESE, PECAN GRAPE SALAD, RED GRAPE SALAD RECIPE, SALAD, WALNUT GRAPE SALAD
https://www.smalltownwoman.com/wp-content/uploads/2019/05/Beth-1.pdf