Easy Black Bean Soup brings onions, carrots, celery, tomatoes, green chiles, black beans, and cilantro together in a perfectly seasoned vegetable broth. The end result is a hearty soup with tons of flavor and plenty of healthy nutrition.
This soup is a filling meal on its own but for an over top meal I like to serve it with Mexican coleslaw and cornbread.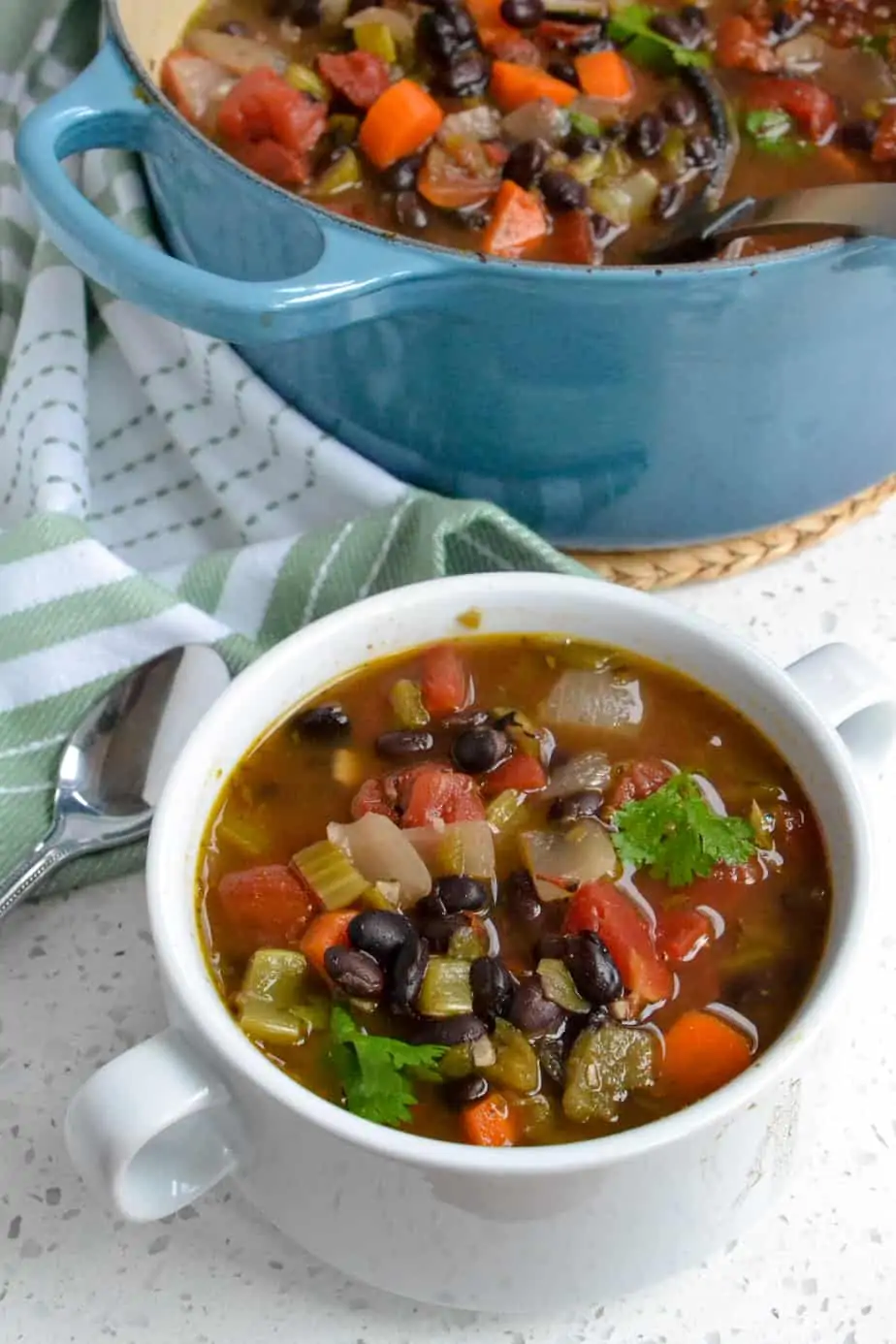 How to make Black Bean Soup
Start by heating a little oil in a Dutch oven or heavy pot.  Then add the onions, carrots, and celery cooking until tender.  Next add the garlic, crushed red pepper, ground black pepper, marjoram, and cumin.  Stir and cook for 1 minute.  Then add the vegetable broth, diced green chiles, and black beans.  Next simmer for 15-20 minutes. . If desired purée a little of the soup with an immersion blender. Garnish with cilantro or red pepper flakes and serve.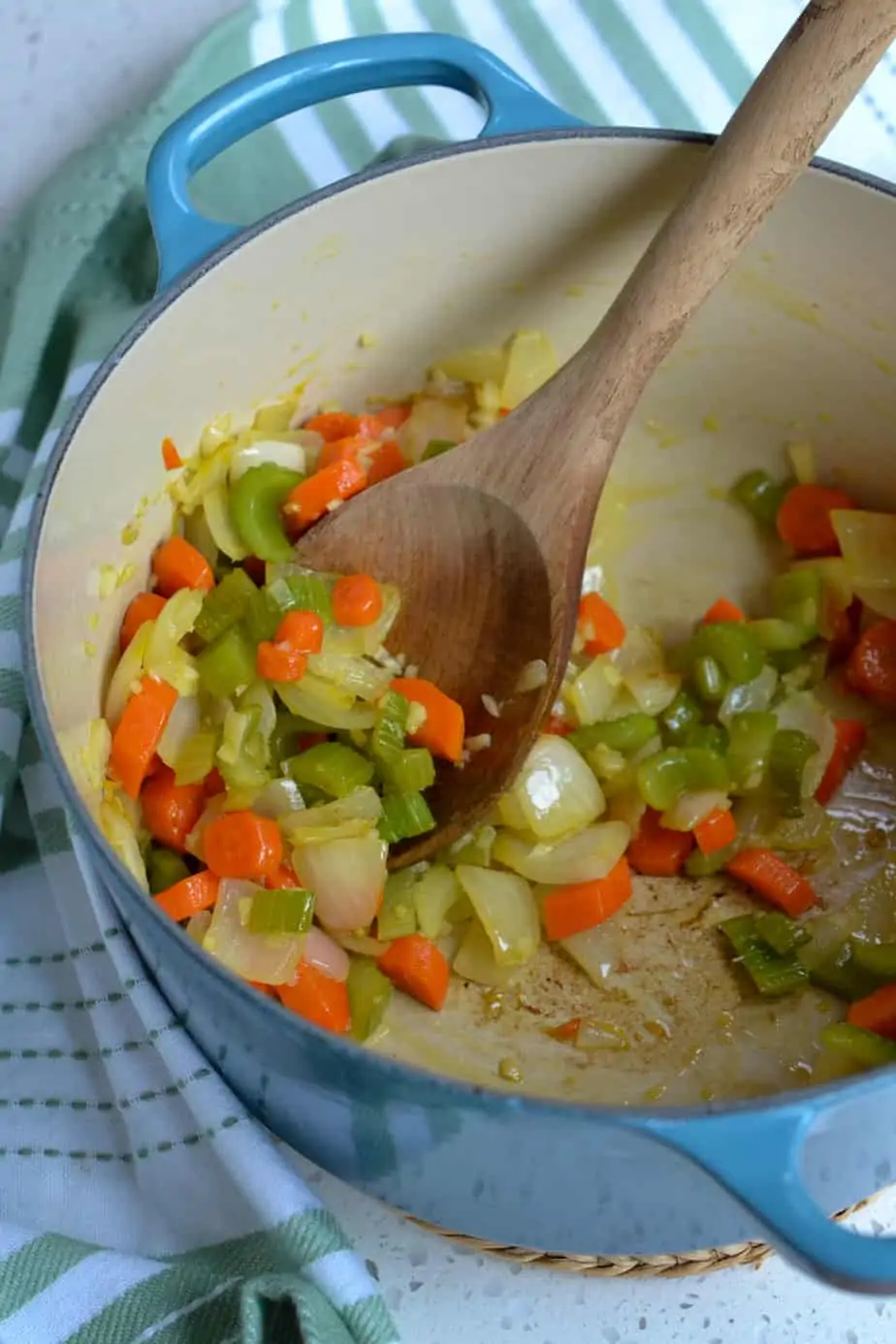 Recipe notes and helpful tips
This recipe calls for canned beans which can contain large amounts of salt.  Be sure to drain and rinse to get the excess sodium off.
Several brands have low sodium canned black beans.  If they have them take advantage of them as the salt from the low sodium beans and the fire roasted tomatoes is plenty for this recipe.
To keep the soup vegetarian and vegan friendly stick with vegetable broth. 
I really like the fire roasted canned tomatoes because they have a unique smoky taste. But any canned diced tomatoes will work.
This soup comes together quickly.  The simmering time is fairly flexible as the contents are warm in about 10 minutes but if you want the flavors to meld together more than you can simmer 20-30 minutes.
If desired purée a portion of the soup using an immersion blender. Blend as little or as much as you liked to reach your desired consistency. Top thicker soup with tortilla chips, sliced avocado, sour cream, guacamole, or salsa.
Store leftovers in an airtight container in the fridge for up to 3 days.
Freeze for up to 3 months by ladling fully cooled soup into quart freezer bags.  Then lay on baking sheets in the freezer until fully frozen.  This allows for easier storage in the freezer.  Be sure to mark the contents and the day it was frozen on the bag.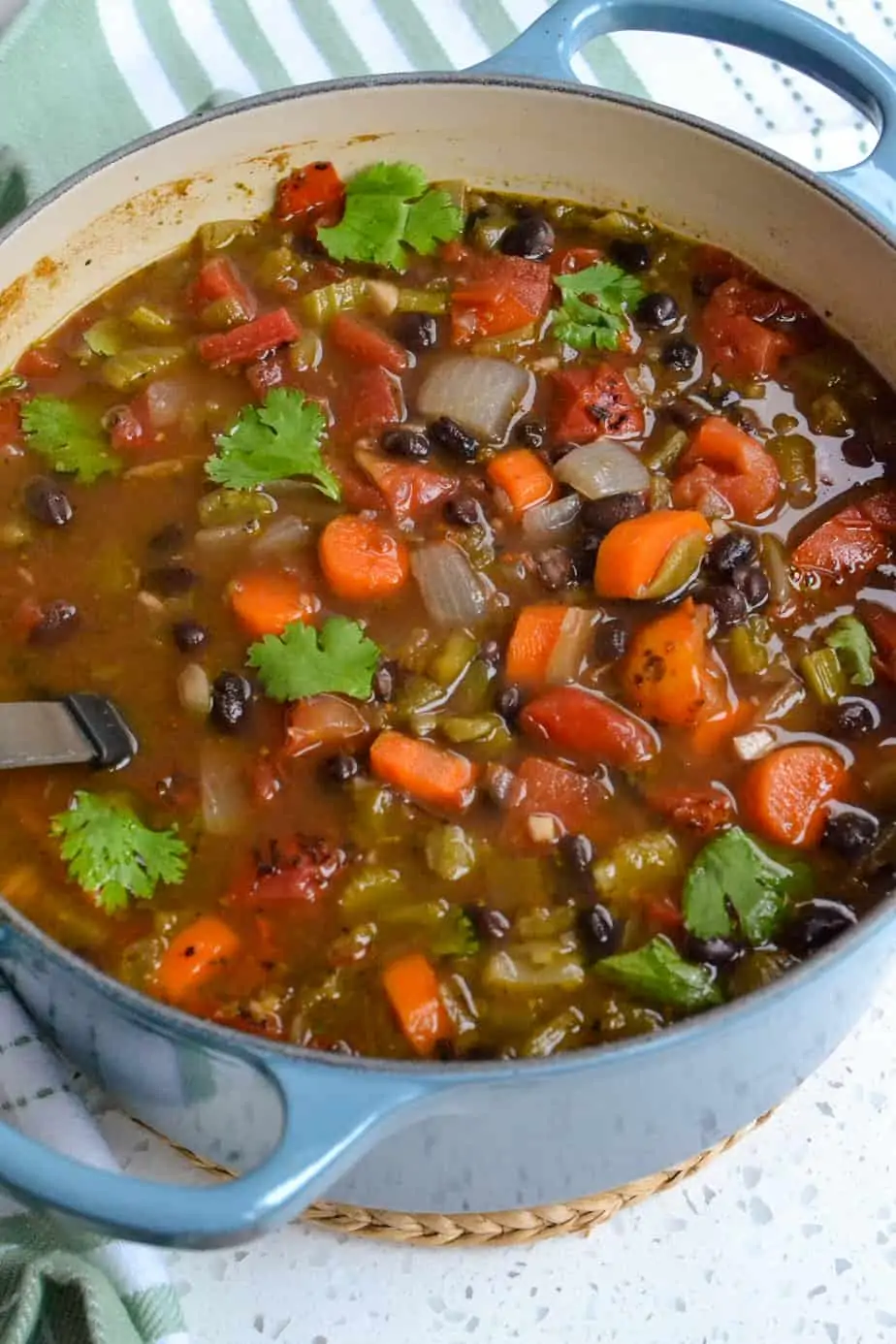 Why choose marjoram over oregano
As you may have noticed by now marjoram is one of my go to spices. Marjoram is a member of the mint and oregano family. In appearance it is hard to tell marjoram from oregano but one whiff of each and you can tell they are distinctly different.
Oregano's smell and taste is more pungent and kind of musty and earthy with a bit of bitterness. While Marjoram is more mild and sweet with mint and woody undertones. I really prefer marjoram in almost every recipe that calls for oregano. Next time you are at the store pick up a jar and see if you feel the same way.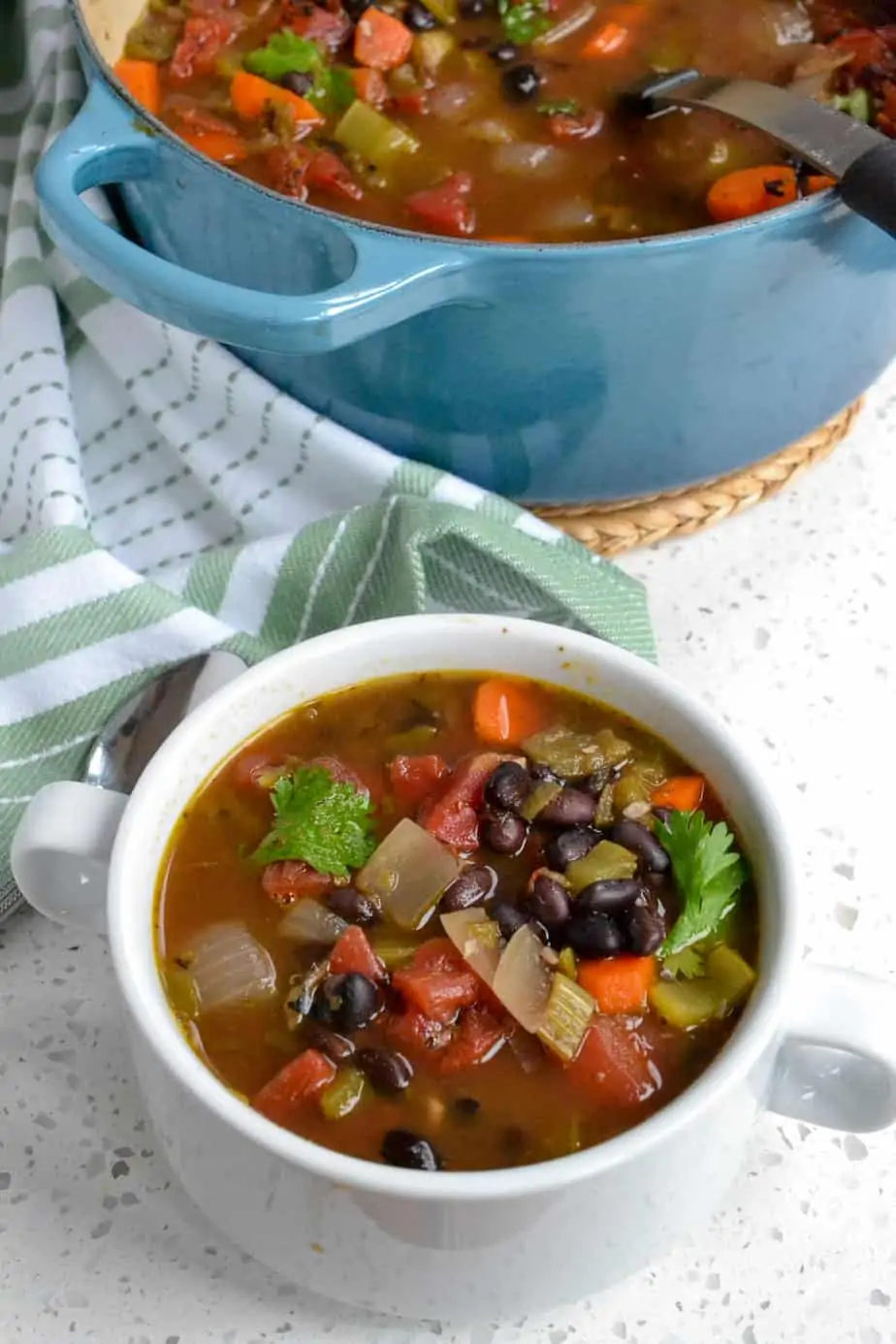 Other soup recipes you will love!
Print
Black Bean Soup Recipe
A quick and easy flavor packed Black Bean Soup with onions, carrot, celery, garlic, tomatoes, green chiles, and black beans all in a vegetable broth seasoned with cumin, marjoram and cilantro.
Author:
Prep Time: 10 minutes
Cook Time: 25 minutes
Total Time: 35 minutes
Yield: 6 bowls
Category: soup
Method: stovetop
Cuisine: American
2 tablespoons olive oil
1 large yellow onion chopped
2 carrots peeled and chopped
2 ribs celery chopped
3 cloves garlic minced
¼ teaspoon crushed red pepper
¼ teaspoon fresh ground black pepper
1 teaspoon marjoram (or oregano)
2 teaspoons ground cumin
4 cups vegetable broth or chicken broth
1 can (15 ounce) fire roasted tomatoes
1 (7 ounce) can diced green chiles
3 (15 ounce) cans low sodium black beans drained and rinsed
1 tablespoons chopped fresh cilantro
Instructions
Heat oil in a Dutch oven or heavy stockpot over medium heat.  Add the onions, carrots, and celery cooking until the onions and celery are tender.
Add the garlic, crushed red pepper, ground black pepper, marjoram, and cumin.  Cook for 1 minute stirring constantly.
Add the vegetable broth, fire roasted tomatoes, diced green chiles, and black beans.  Simmer for 15-20 minutes.
Top with cilantro and serve.
Keywords: easy black bean soup. spicy black bean soup, vegetarian black bean soup, black bean soup with canned beans
On the hunt for more delicious recipes? Follow Small Town Woman on Facebook, Pinterest, and Instagram.
https://www.smalltownwoman.com/wp-content/uploads/2019/05/Beth-1.pdf