These amazing Bourbon Glazed Carrots are cooked up perfect in an extra large skillet in about twenty minutes and are ideal for all your holiday meals.  Are you hosting any holiday dinners this year? We are hosting Thanksgiving this year and it will have all the wonderful traditional fixings!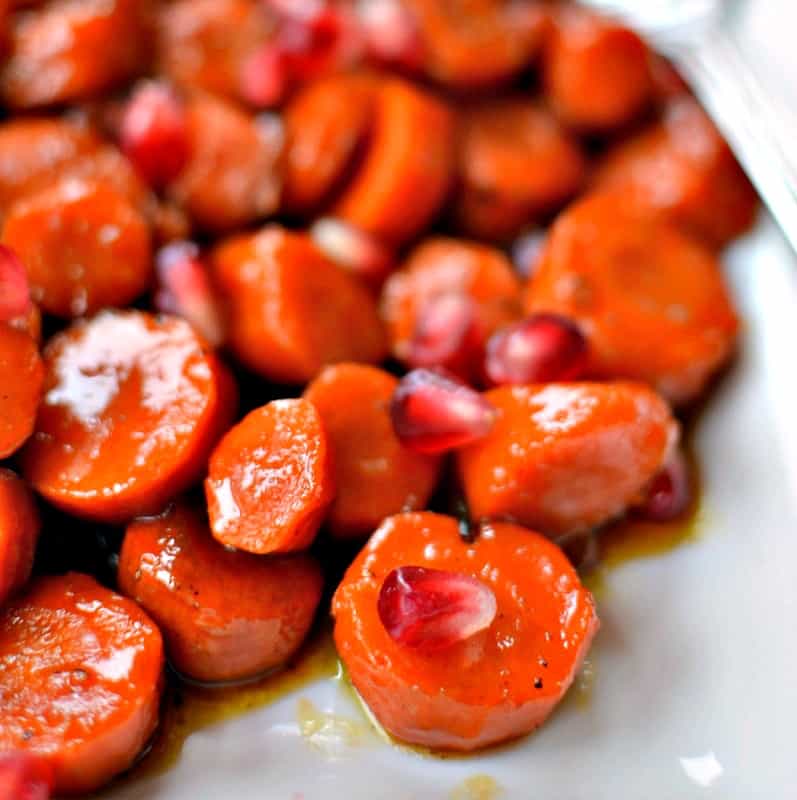 It will be so nice having all the family gather together for one awesome meal. There will be roasted turkey, sausage cornbread stuffing, creamy mashed potatoes, savory gravy, Cranberry Apple Pear Pecan Jello Salad, Easy Herb Cloverleaf Rolls, Green Beans with Toasted Almonds and Garlic and of course Bourbon Glazed Carrots.  I am full already and we have not even told you about our dessert.
These amazing Bourbon Glazed Carrots are cooked up perfect in an extra large skillet in about fifteen to twenty minutes. Friends and family love these sweet veggies.  I really enjoy the addition of the bourbon but they are also delicious without it. They are the perfect side dish for grilled steak, stuffed chicken and baked fish.  So don't limit these amazing Bourbon Glazed Carrots just to Thanksgiving and Christmas.
 How to make Bourbon Glazed Carrots
Melt the butter in a large skillet.  Add your carrots and cook until they start to brown on the edges.  Remove from heat and carefully add the whiskey.  Let the fumes dissipate for a minute.   Return heat to medium low and cook until the whiskey is almost all gone.  Sprinkle with brown sugar, cinnamon and cayenne.  Then continue cooking until the carrots are tender. Make sure you stir frequently and turn the heat up the last minute of cooking to thicken the glaze.  Finally sprinkle with pomegranate seeds.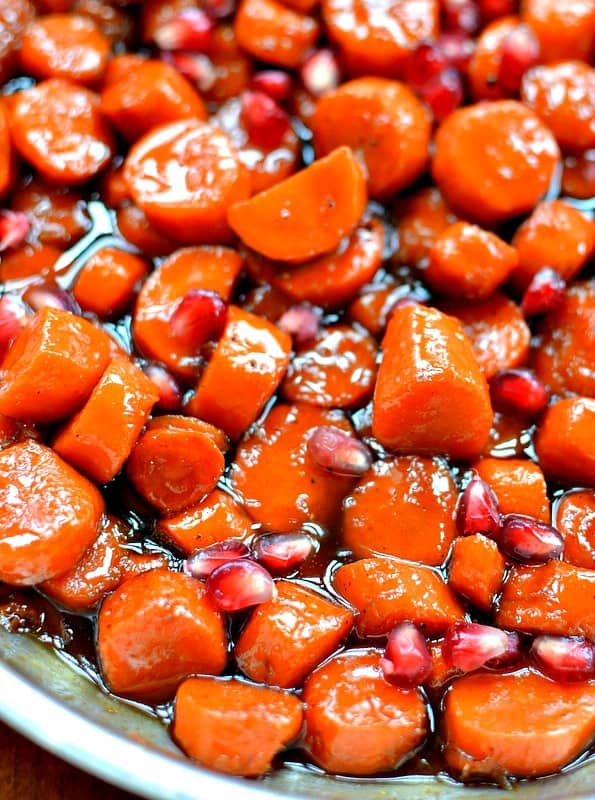 Are carrots healthy?
Carrots are one of the most widely used vegetables in the world and are versatile in so many different ethnic dishes. They are a root vegetable and it is the root that is most commonly eaten. They come in many different colors but the most common is orange.   "The health benefits of carrots include reduced cholesterol, lower risk of heart attacks, prevention of certain cancers, improved vision, and reduced signs of premature aging. " This and other information from 10 Impressive Benefits Of Carrots!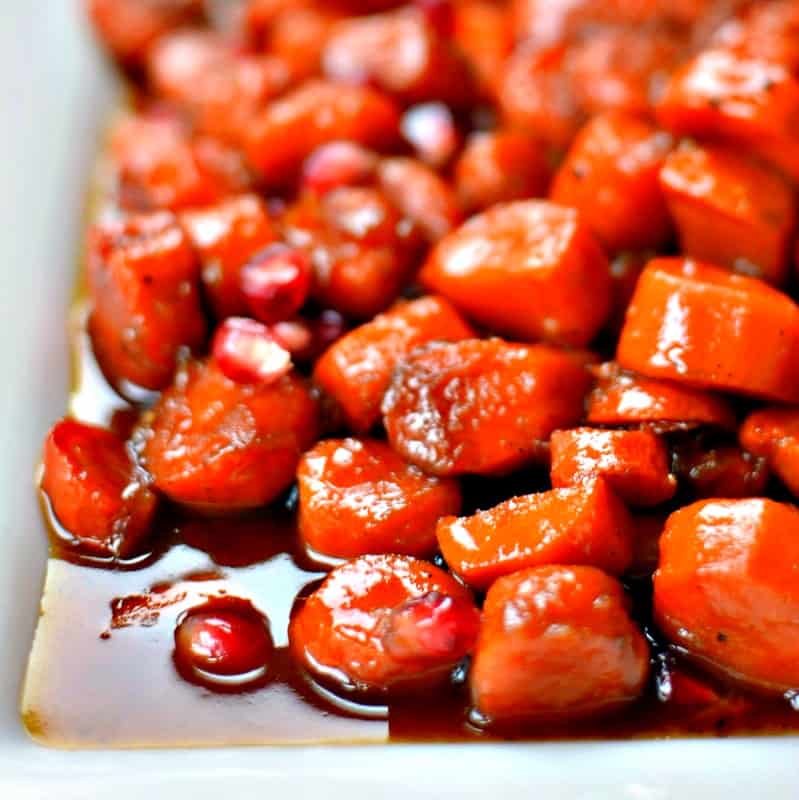 Helpful tips for making Bourbon Glazed Carrots
Either salted or unsalted butter is fine.  Unlike baking this recipe has a little wiggle room in it.
Always peel your carrots so they have that beautiful crystal clear orange color.
Try to slice them in uniform size so they cook at the same rate and are easy for your quests to eat.
Be very careful and turn off the flame and add the whiskey as fumes from the alcohol can ignite.
Pomegranate seeds are absolutely beautiful and perfect with this dish but if you can not find them then you can top the carrots with parsley, pecans, pine nuts or walnuts.
So if you are hosting a tasty holiday meal in the next few weeks or just grilling steaks tonight put these Bourbon Glazed Carrots on the menu and enjoy.
Other holiday sides you will love!
This post was originally published November 18, 2017 and was republished November 4, 2019 with new content.
Print
Bourbon Glazed Carrots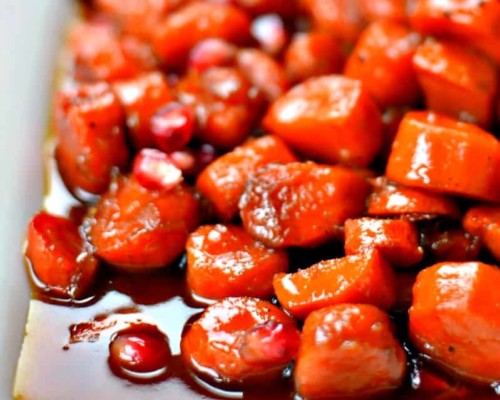 For this recipe carrot slices are glazed in a mouthwatering bourbon brown sugar sauce with a mild touch of heat from cinnamon and cayenne and topped with beautiful pomegranate seeds. It makes for the perfect holiday or dinner party side dish.
Author:
Prep Time: 20 minutes
Cook Time: 20 minutes
Total Time: 40 minutes
Yield: 6 1x
Category: Side dish
Method: Stove top
Cuisine: American
Scale
Ingredients
1/2 cup butter
2 lbs carrots peeled and cut in bite size pieces
1/2 cup whiskey
1/2 cup brown sugar
1/4 teaspoon cinnamon
1/8 teaspoon cayenne pepper
Salt & pepper to taste
2/3 cup pomegranate seeds for garnish
Instructions
In large skillet over medium high heat melt butter. Add carrots and cook until they begin to brown on the edges; stirring frequently. Approximately 7-8 minutes.
Turn off the heat and carefully add whiskey. Let the fumes dissipate for 1-2 minutes.  Turn the heat to medium low and cook until whiskey is almost completely gone; approximately 3 minutes. Stir frequently.
Sprinkle with brown sugar, cinnamon and cayenne. Continue cooking until carrots are tender; stirring frequently. Raise heat to medium high for last minute to thicken glaze. Salt and pepper to taste. Sprinkle with pomegranate seeds and serve.
Notes
If pomegranate seeds are not available You can sub fresh parsley or roasted chopped pecans.
Keywords: bourbon carrots, honey bourbon glazed carrots, bourbon brown sugar carrots
https://www.smalltownwoman.com/wp-content/uploads/2019/05/Beth-1.pdf