This super easy family friendly Buttermilk Pie is made with butter, sugar, eggs, nutmeg and buttermilk.  It comes together  in about five minutes with a whisk and a bowl.  Feel free to make a homemade pie crust but this time around I went with a frozen one.  My family just loves this pie, Strawberry Cream Cheese Pie and Key Lime Pie.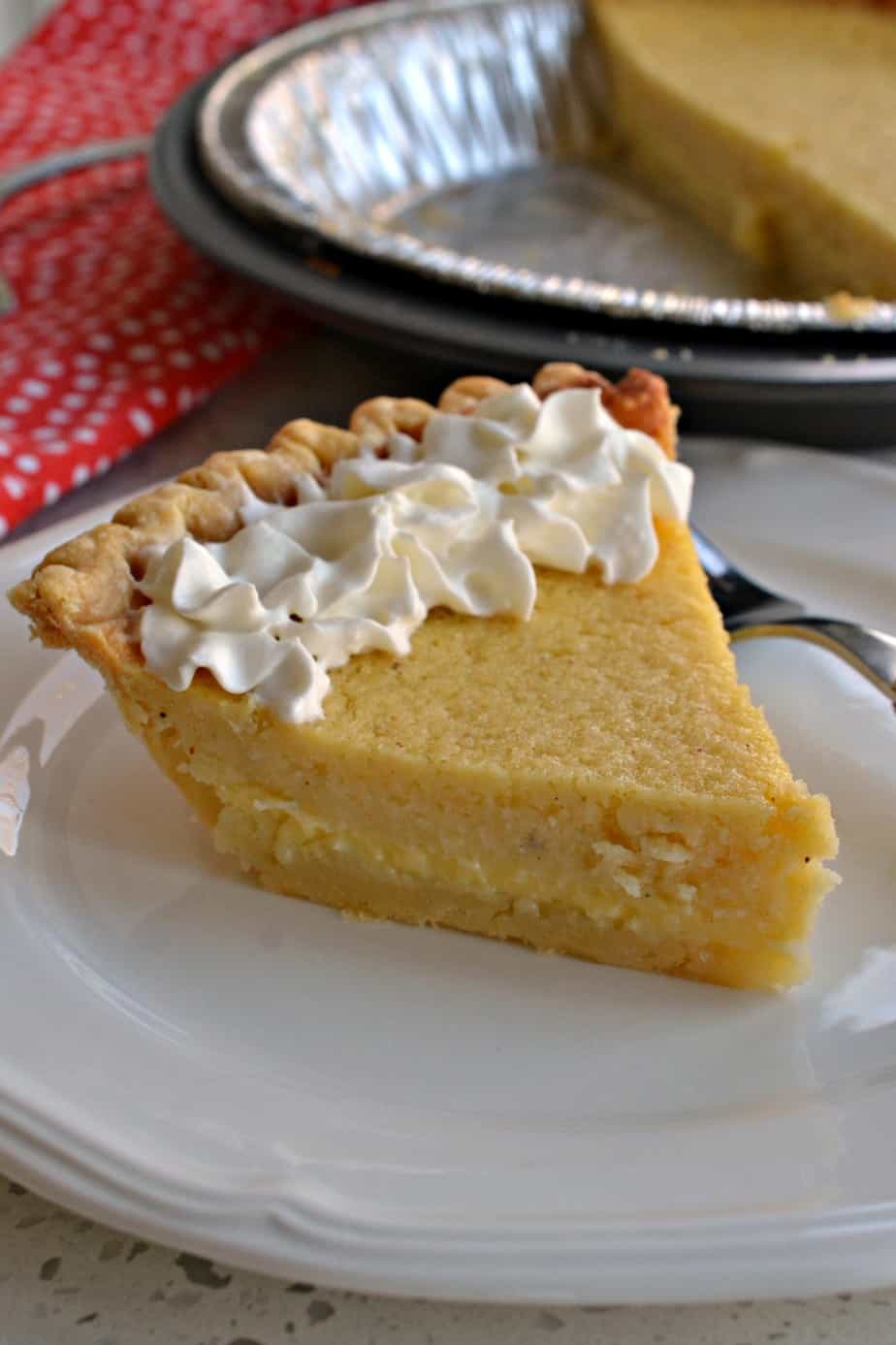 Sometimes life just calls for pie!  It might be a glorious chocolate silk pie, a fresh fruit pie or maybe a creamy custard pie.  This sweet creamy buttermilk pie is one of our favorites pies.  It is the perfect quick pie for a last minute get together. I like to make it for potlucks, neighborhood shindigs and bake sales.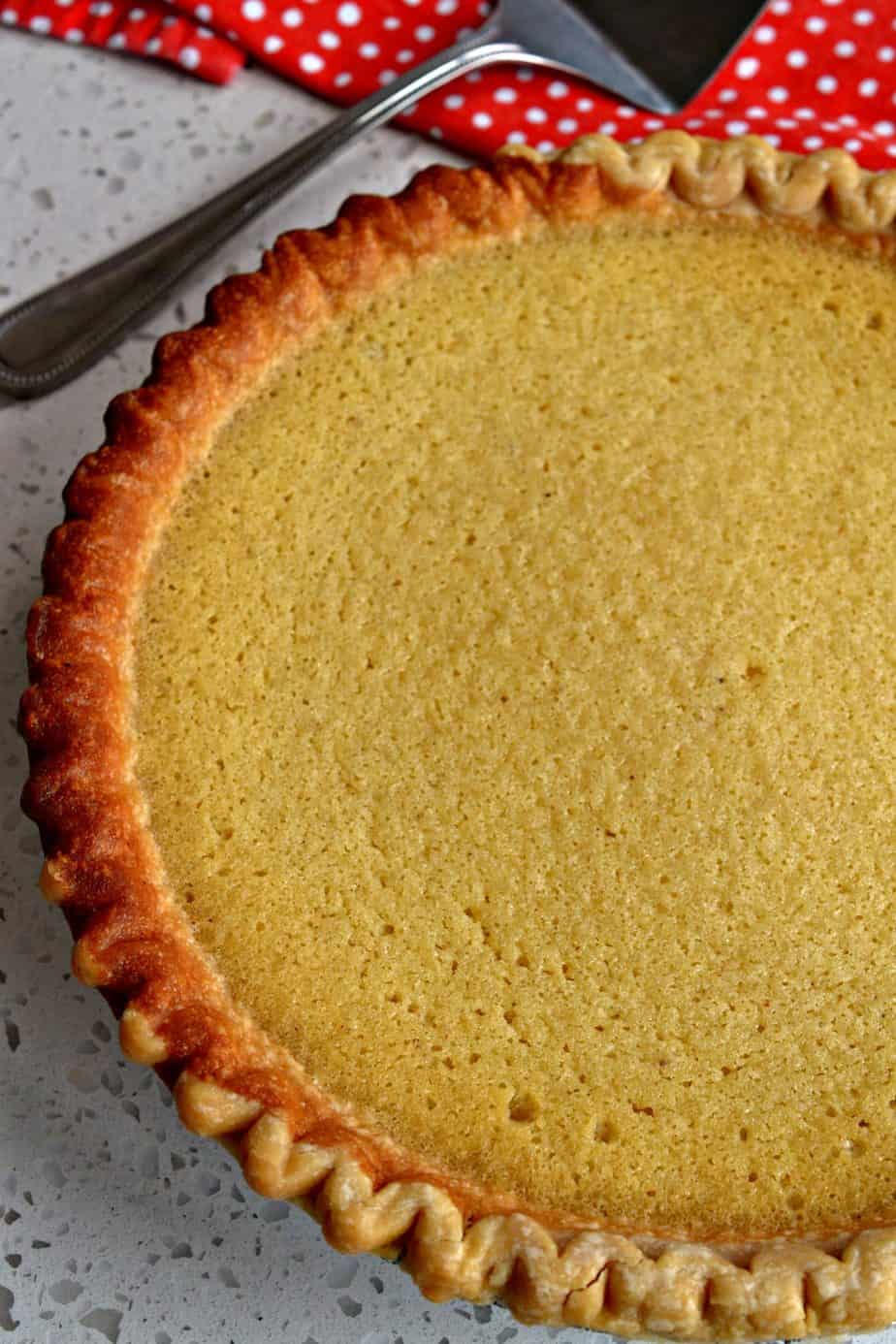 How do you make Buttermilk Pie?
Start by melting the butter in the microwave.  Let it cool down for a little bit before you make the pie.  Next pre-bake your fresh or frozen pie crust in a preheated oven for about 5-6 minutes. Let that cool for a few minutes as well. Then beat your eggs until frothy.  Whisk in the sugar until smooth. Next mix in the flour, buttermilk, vanilla extract, lemon juice, nutmeg and melted butter until incorporated.  Now pour the egg mixture into the pre-baked pie crust.
Bake for about 10 minutes at 400 degrees and then reduce the oven to 350 degrees and finish cooking until set.  Finally let it cool before slicing.  Store leftovers covered in the refrigerator. Leftovers will remain good for about 3-4 days.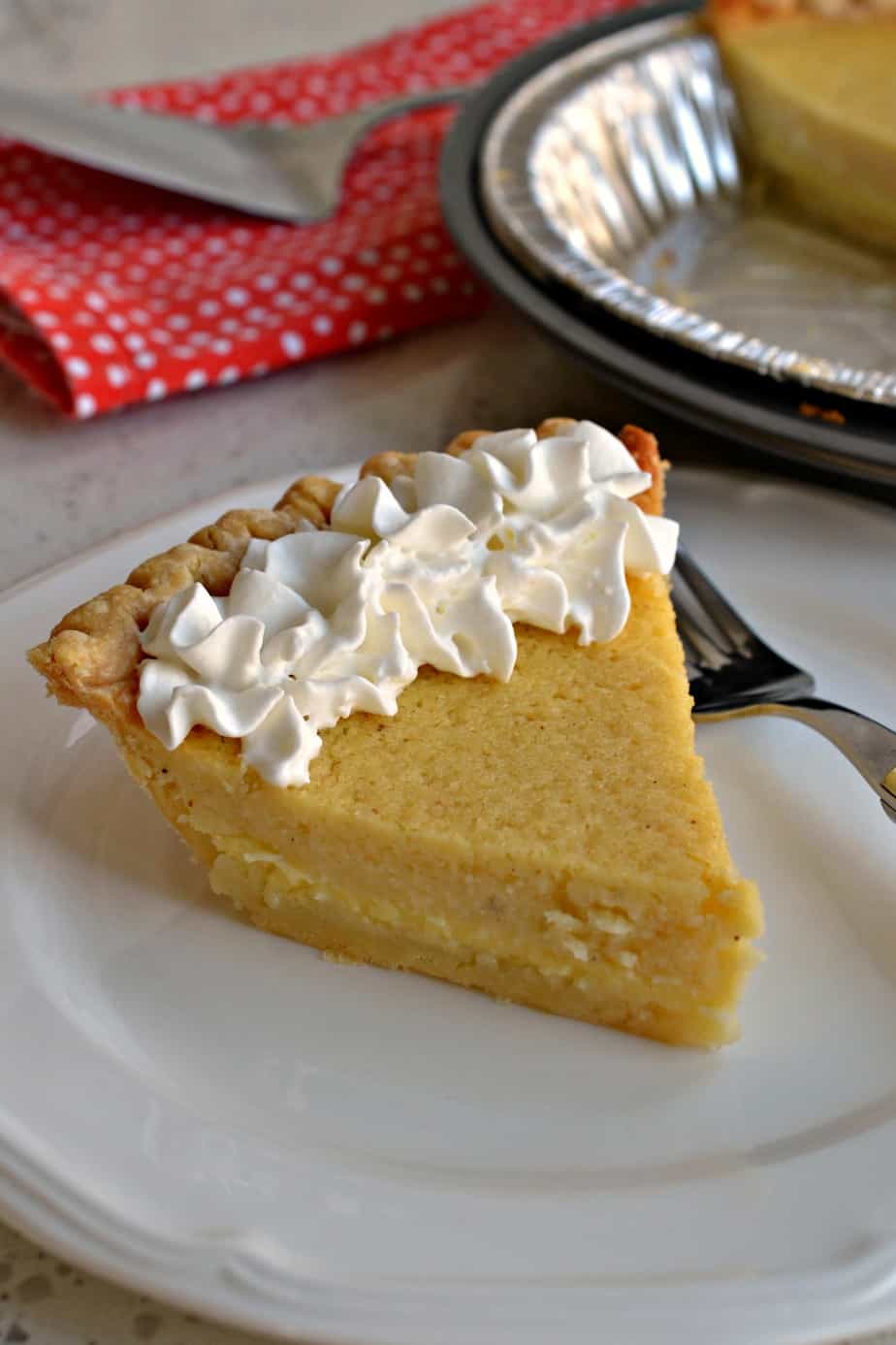 Helpful tips for making Buttermilk Pie
Poke your fresh or frozen pie crust (thawed) on the bottom and side with the prongs of a fork.  Pre-bake for 5-6 minutes to avoid a soggy crust.
Melt your butter in advance to give it time to cool.
Take the eggs and milk out of the fridge 30 minutes in advance to bring to room temperature.
Save money and make your own buttermilk at home by adding 1 tablespoon lemon juice or 1 tablespoon white vinegar to 1 cup of milk. Let sit for about 5 minutes.
Bake until the the center is almost completely set.  It should only have a little bit of jiggle left to it.
If you are a nutmeg lover (like myself) go with the full 1/4 teaspoon of fresh grated nutmeg.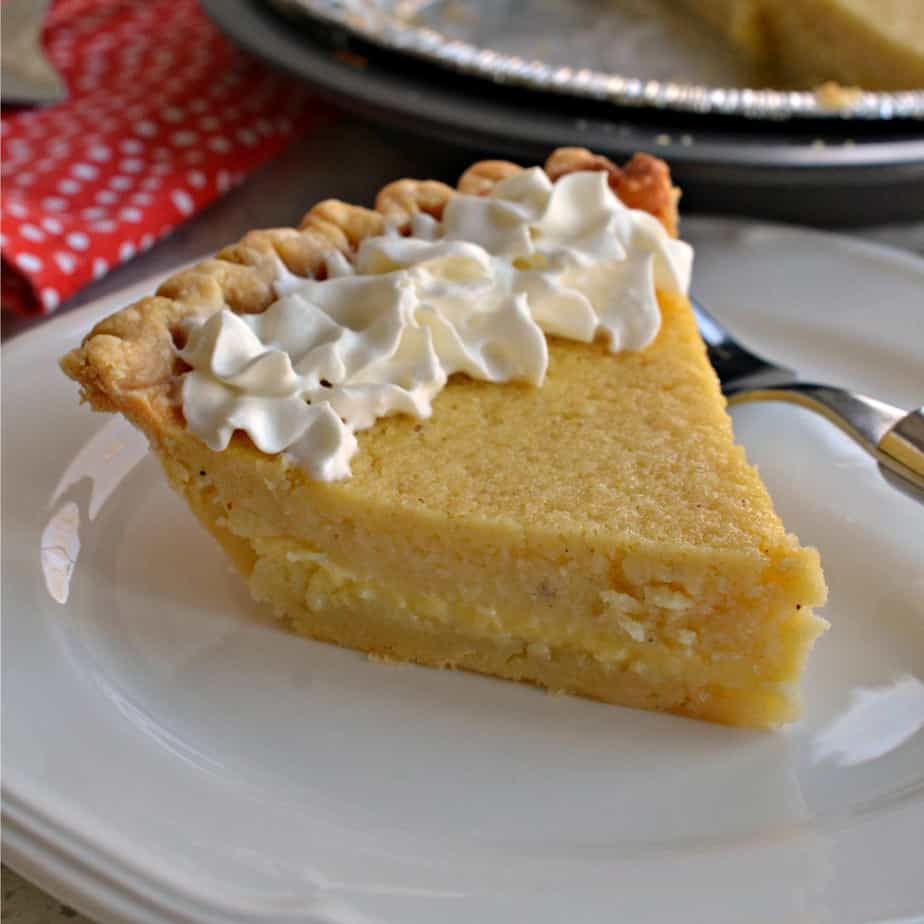 More desserts you will love!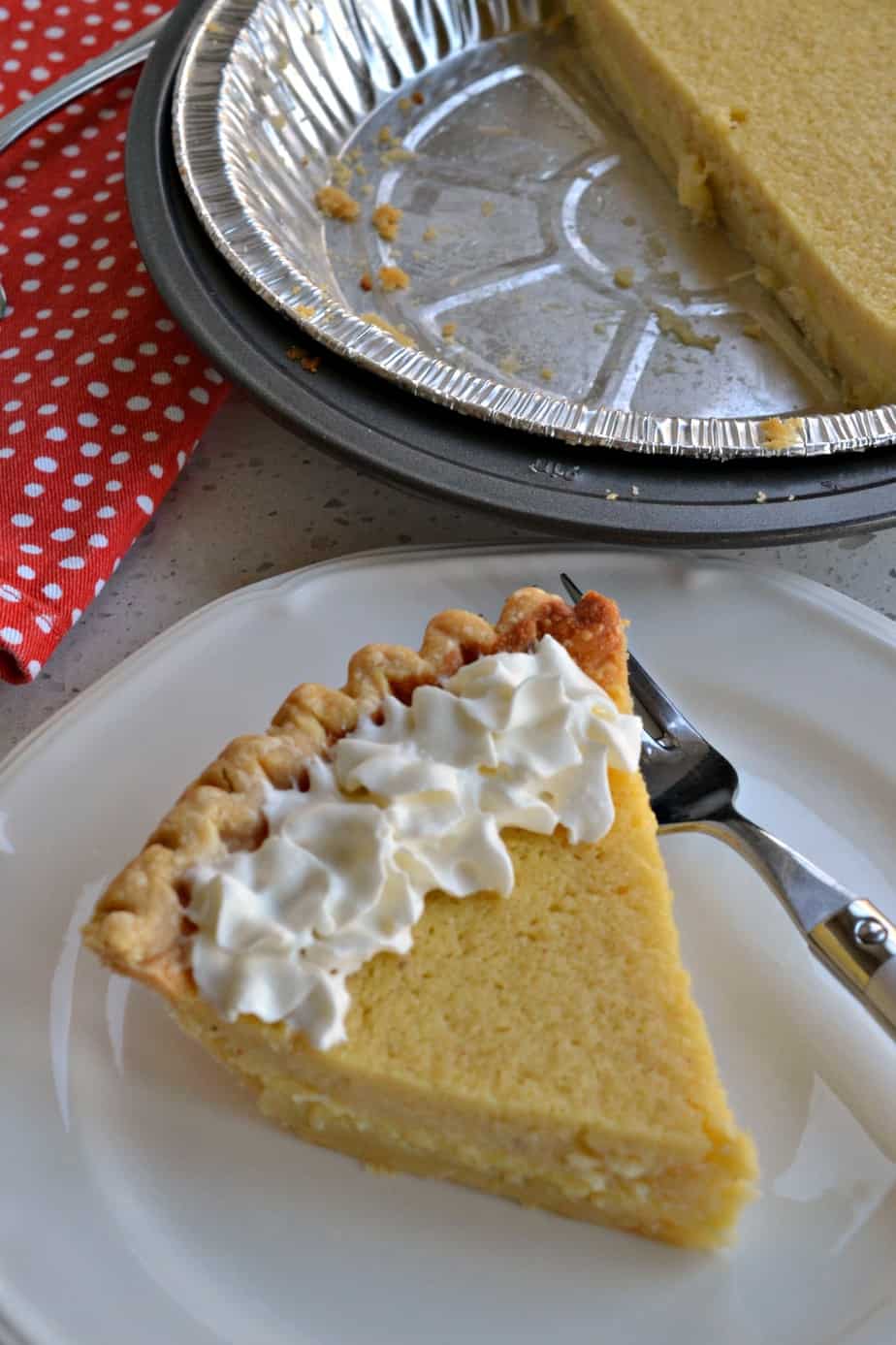 Print
Buttermilk Pie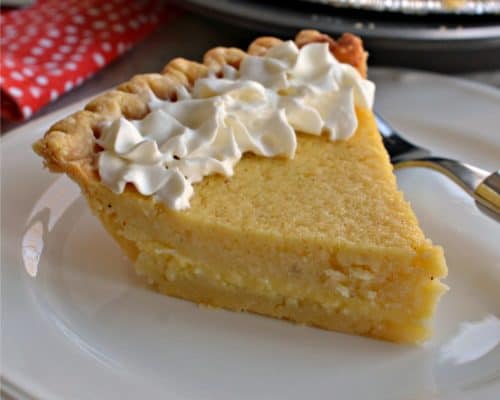 A sweet simple traditional Buttermilk Pie made with wholesome natural ingredients with minimal effort and time.  For an extra special treat serve with fresh whipped cream.
Author:
Prep Time: 10 minutes
Cook Time: 55 minutes
Total Time: 1 hour 5 minutes
Yield: 8 servings 1x
Category: dessert
Method: bake
Cuisine: southern
Scale
Ingredients
1/2 cup butter
1 deep dish unbaked pie crust
3 eggs
1 1/4 cups sugar
3 tablespoons all purpose flour
1 cup buttermilk (see notes)
2 teaspoons vanilla extract
1 tablespoon lemon juice
1/8 –1/4 teaspoon freshly grated nutmeg
Instructions
Melt butter in microwave; let cool for at least 15 minutes.
Preheat oven to 400 degrees. Poke pie crust on bottoms and sides.  Pre-bake for 5-6 minutes.
In large bowl whisk eggs until frothy.  Whisk in sugar until smooth. Whisk in flour, buttermilk, vanilla extract, lemon juice, nutmeg and melted butter until incorporated and smooth.
Bake for 10 minutes.  Reduce heat to 350 degrees and bake for 40-45 minutes or until set in the center.  The center will still be a little teeny bit jiggly.
Keywords: buttermilk chess pie, southern buttermilk pie, what is buttermilk pie, how to make buttermilk pie, old fashioned buttermilk pie, best buttermilk pie, easy buttermilk pie
https://www.smalltownwoman.com/wp-content/uploads/2019/05/Beth-1.pdf