This Cheesy Chicken Spaghetti is a family favorite with sweet onions, red bell peppers, chicken, tomatoes and green chilies in a creamy lightly seasoned cheddar Parmesan cheese sauce. For ease in preparation use already roasted rotisserie chicken which is available in the big warehouse stores and most local grocery stores.  I love to serve it with a simple garden salad, Good For You Minestrone Soup or Garlic Knots.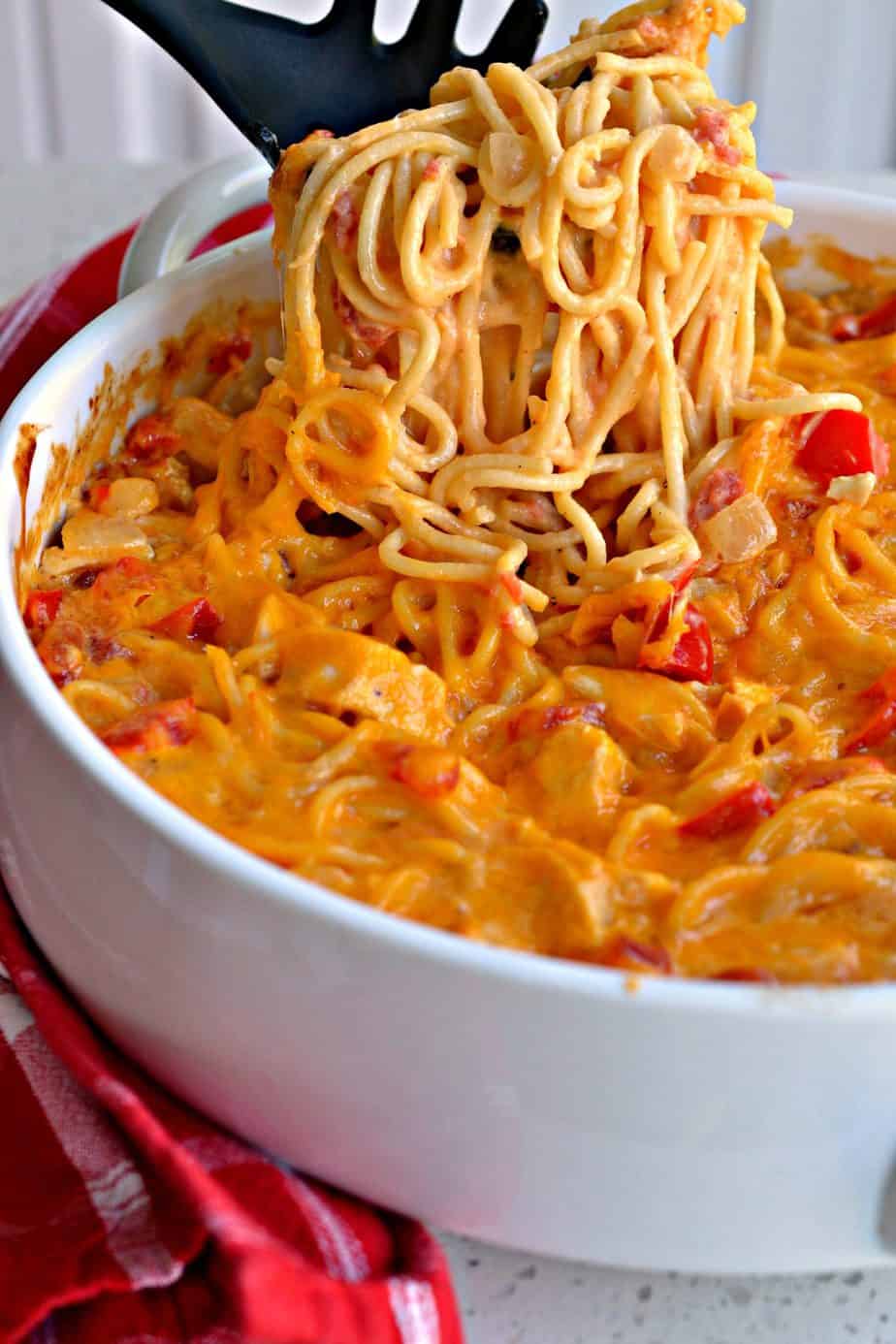 Chicken spaghetti is comfort food at its best.  This casserole is easy enough to fix on a weeknight meal yet tasty enough for company. It can be prepped up to 2 days in advance and stored covered in the fridge. For best results remove from the fridge and warm to room temperature 30 minutes prior to baking.  You and your family are going to love this easy cheesy dish.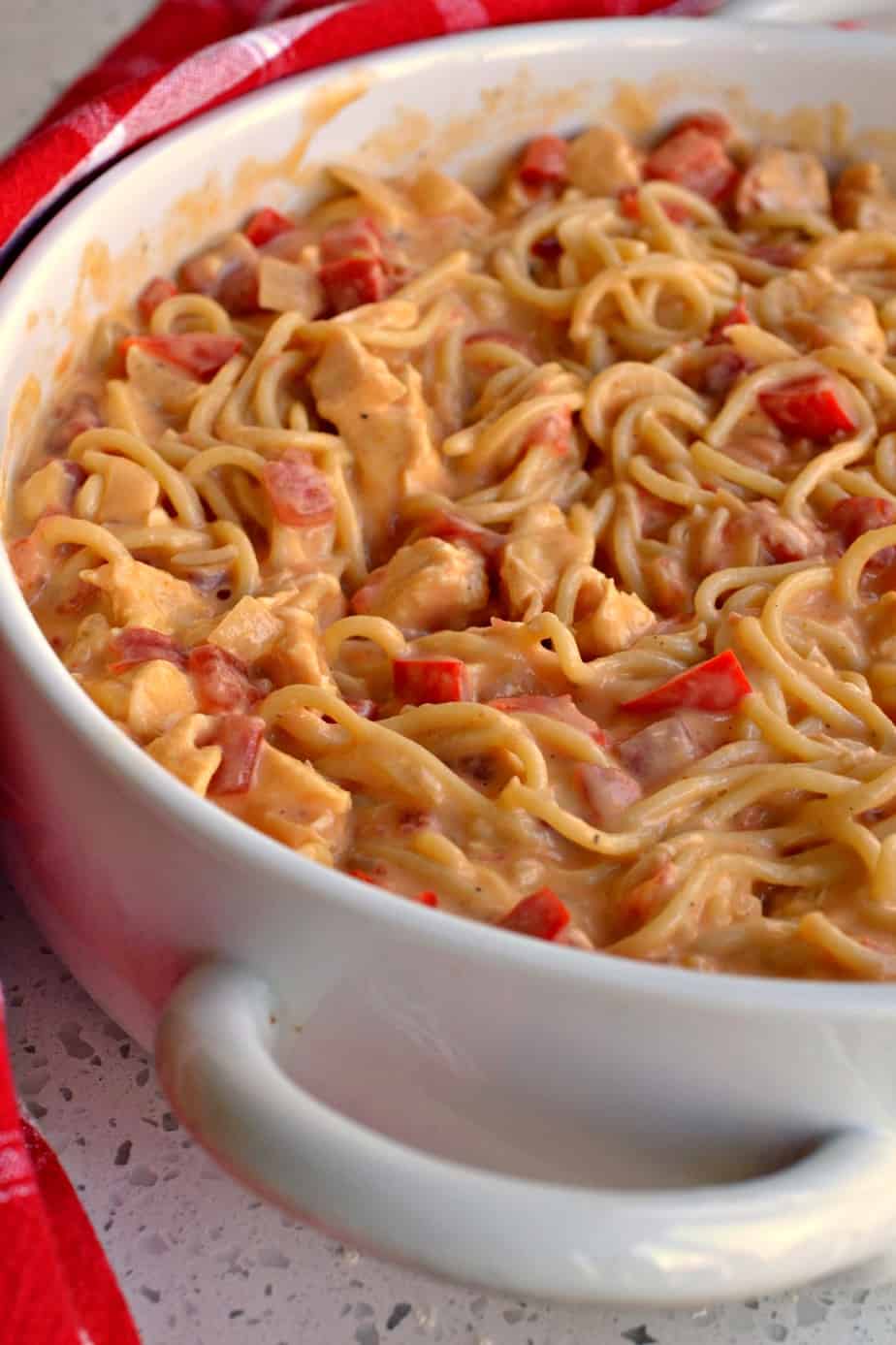 How do you make Cheesy Chicken Spaghetti?
Start by cooking the spaghetti according to box instructions and drain well.  Now melt the butter in a skillet over medium heat.  Next add the onions and the red pepper.  Cook for several minutes to soften.  Next reduce the heat to medium low, then add the garlic and cook for an additional minute.  Now sprinkle in the flour and cook for several minutes stirring very frequently.
Slowly add the chicken broth and milk stirring constantly.  Drain the canned tomatoes and green chilies and stir them in.  Then continue cooking until slightly thickened.  Next slowly add the shredded cheddar and Parmesan Cheese stirring until fully melted.  Finally add the ground cayenne pepper and cooked chicken.  Heat through for a couple of minutes stirring frequently.
Now add the cooked drained spaghetti to a casserole dish.  Next pour the chicken cheese mixture over the spaghetti.  Then top with remaining shredded cheddar cheese and bake until the cheese is melted and the casserole is heated through,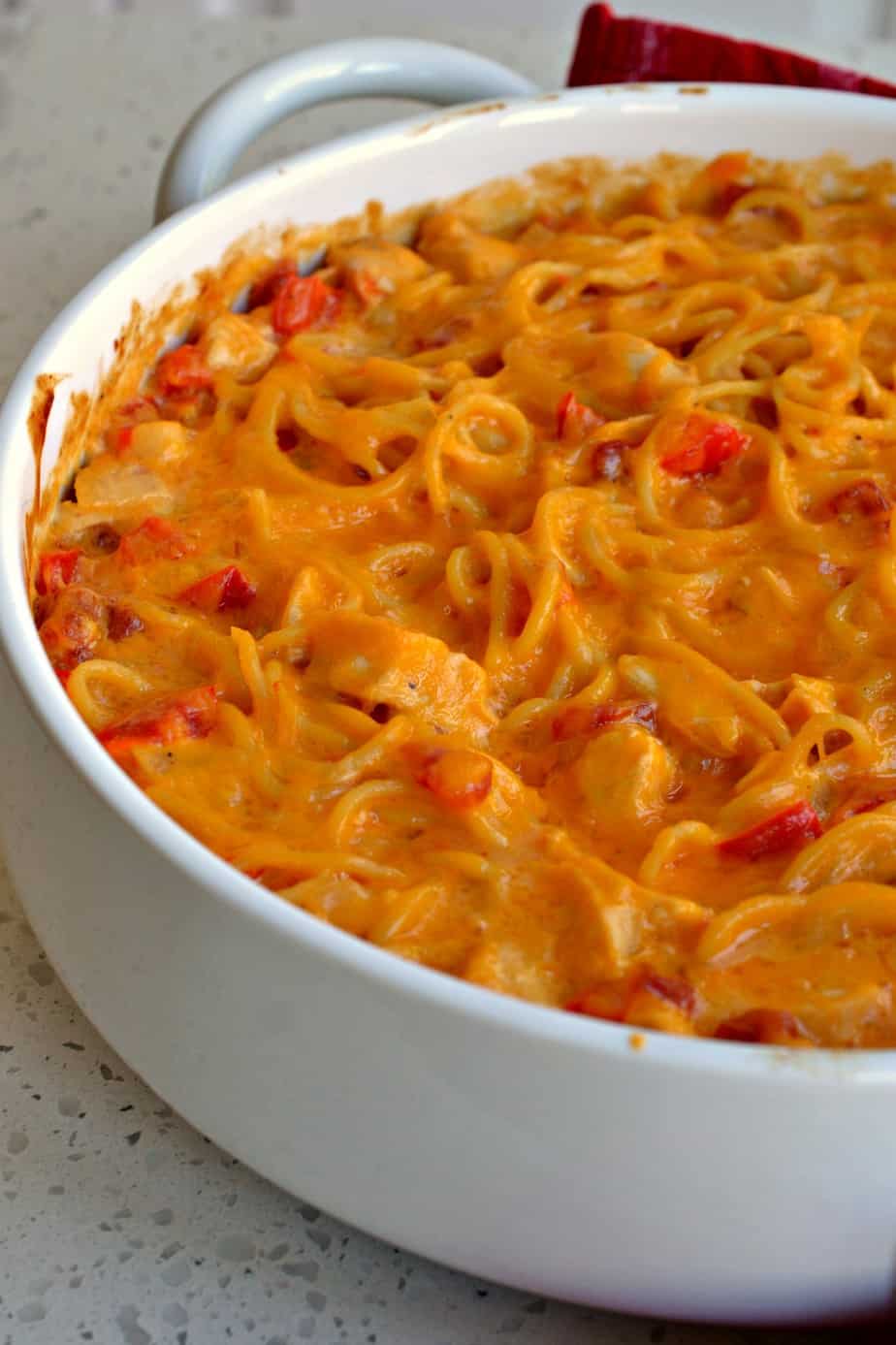 Helpful tips for making Chicken Spaghetti
You can use any kind of small to medium size pasta like penne, farfalle, elbows, thin spaghetti or angel hair.  Whatever pasta you go with cook it slightly al dente as you will also be baking it.
Green or orange bell pepper can be substituted for the red bell pepper.
I like to use seasoned roasted rotisserie chicken but you can use baked, poached or even grilled chicken.
You can make this casserole dish up to 2 days in advance. Cover and store in the refrigerator. Be sure to cook the pasta al dente.  Reserve the shredded cheddar on the top until you bake it. Remove casserole 30 minutes prior to baking.  Stir in 1/4 cup low sodium chicken broth or milk, top with reserved cheddar and bake for about 30 minutes or until the cheese is melted and the casserole is heated through.
The ground cayenne pepper adds just a tiny touch of heat and flavor.  If you love the heat add a little more than the recipe calls for.
This casserole reheats remarkably well in the microwave on a reduced power.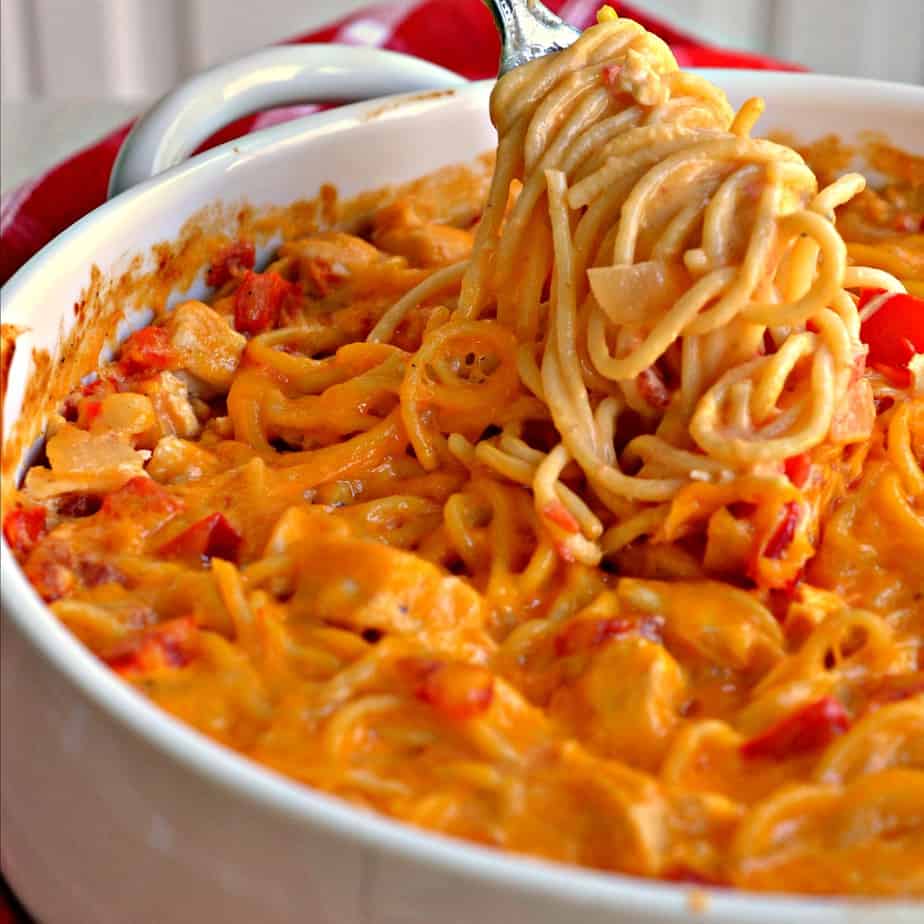 How do you make casseroles without condensed soup?
I am not a huge fan of condensed soups. In fact I think most of them are flavorless.  You can easily make your own by creating a roux. A roux is made when an equal amount of flour and fat (I always use butter) are cooked together over low heat until a desired level of brownness.  For casseroles I usually only cook the flour until it is a light brown.
For casseroles that have vegetables that need some sauteing you can melt the butter and add onions, peppers, celery, etc and cook the vegetables for a little bit.  Then sprinkle the vegetables with flour and cook for several more minutes.  Then simply add beef broth, chicken broth, vegetable broth, milk or half and half depending on what your end game is.  You can add seasonings for flavor and shredded cheese that melts well like cheddar, Parmesan, Gouda, Fontina or Gruyere if it is a cheesy casserole.  This is an easy solution for making casseroles without canned soup. So avoid the canned soup blahs and preservatives and make your own.
More rotisserie chicken recipes you will love!
Print
Cheesy Chicken Spaghetti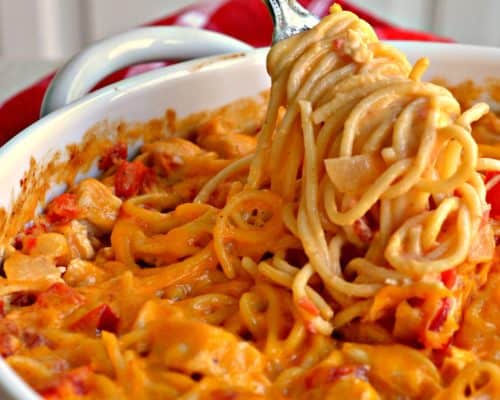 This family friendly quick and easy chicken casserole brings sweet bell pepper, onion, tomatoes, garlic and seasoned rotisserie chicken together in a creamy cheddar cheese sauce.
Author:
Prep Time: 20 minutes
Cook Time: 25 minutes
Total Time: 45 minutes
Yield: 6 servings 1x
Category: main meal pasta
Method: stovetop/bake
Cuisine: Southern
Scale
Ingredients
8 ounces uncooked spaghetti
5 tablespoons butter
1 small onion finely chopped
1 red bell pepper finely diced
2 cloves garlic minced
1/4 cup all purpose flour
1 cup low sodium chicken broth
2 cups (2% or whole) milk
1 (10 ounce) can mild diced tomatoes and green chilies drained
1/8 teaspoon ground cayenne pepper
2 1/2 cups shredded sharp cheddar
1/4 cup freshly grated Parmesan Cheese
2 cups cooked cubed rotisserie chicken
Instructions
Cook spaghetti according to box instructions and drain well.
Melt butter in large skillet over medium heat.  Add onions and bell pepper and cook until starting to soften; approximately 3-4 minutes. Reduce heat to medium low. Add the minced garlic and cook for 1 additional minute.  Sprinkle the vegetables with flour.  Cook for 2-3 minutes; stirring frequently.
Slowly stir in the chicken broth and milk alternating between the two.  Stir in drained tomatoes and ground cayenne pepper.  Cook until slightly thickened; approximately 5 minutes.  Stir in 2 cups shredded cheddar and grated Parmesan in small quantities until melted.   Add cooked chicken and continue stirring until heated through.
Preheat oven to 350 degrees.  Add cooked spaghetti to casserole dish.  Pour chicken cheese sauce over the top of the spaghetti.  Sprinkle with remaining cheddar cheese.  Bake for 20-25 minutes or until cheese is melted and casserole is heated through.
Keywords: chicken spaghetti, chicken spaghetti with rotel, easy chicken spaghetti, how to make chicken spaghetti, southern chicken spaghetti
https://www.smalltownwoman.com/wp-content/uploads/2019/05/Beth-1.pdf