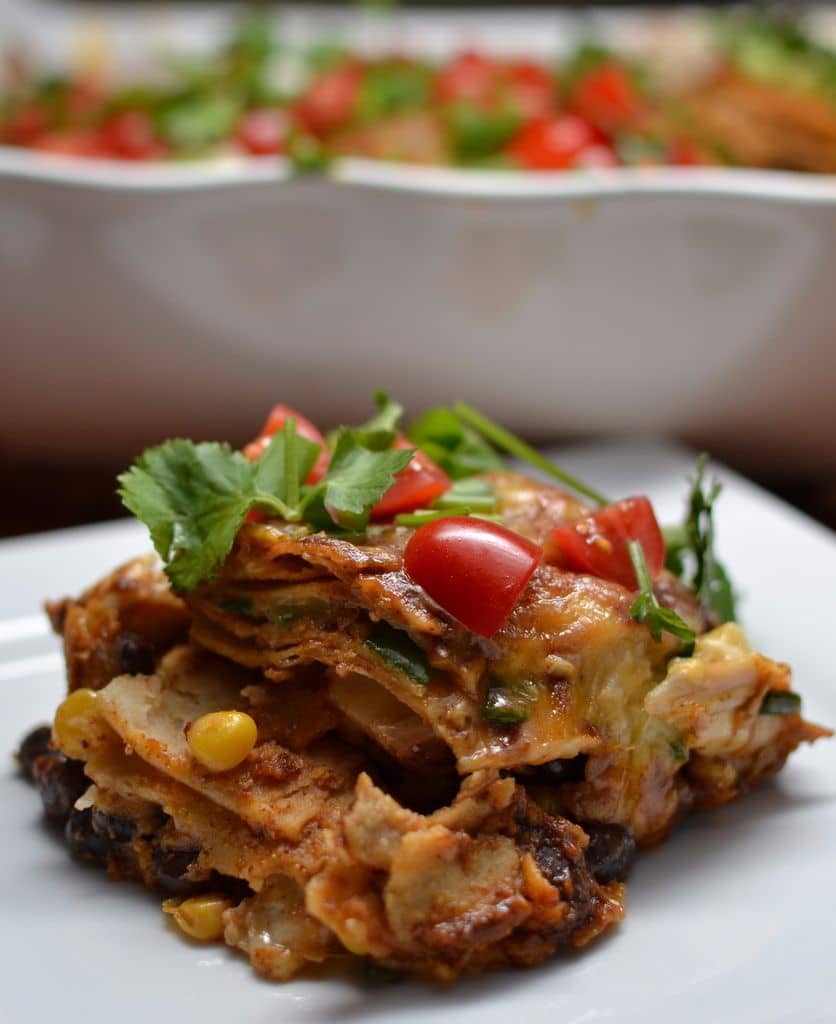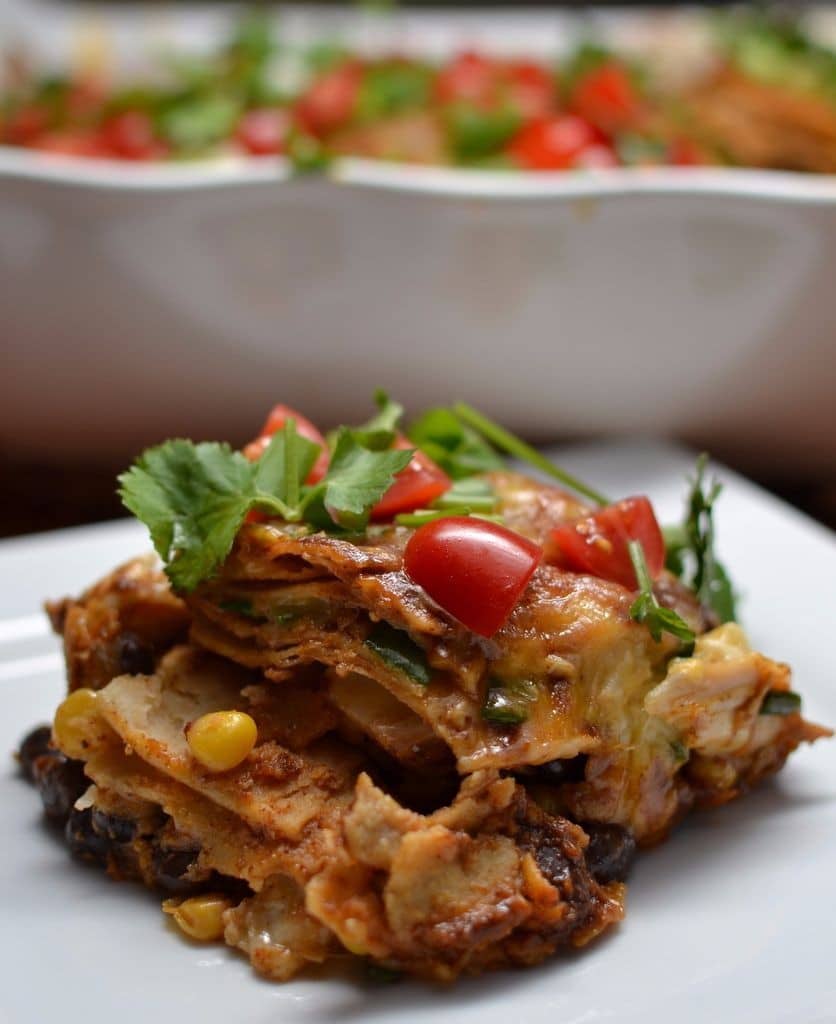 I love Mexican style recipes.  Don't they just make your mouth water?  This recipe calls for homemade enchilada sauce but by all means if you are being pulled in twelve different directions pick up the canned version and give yourself a break!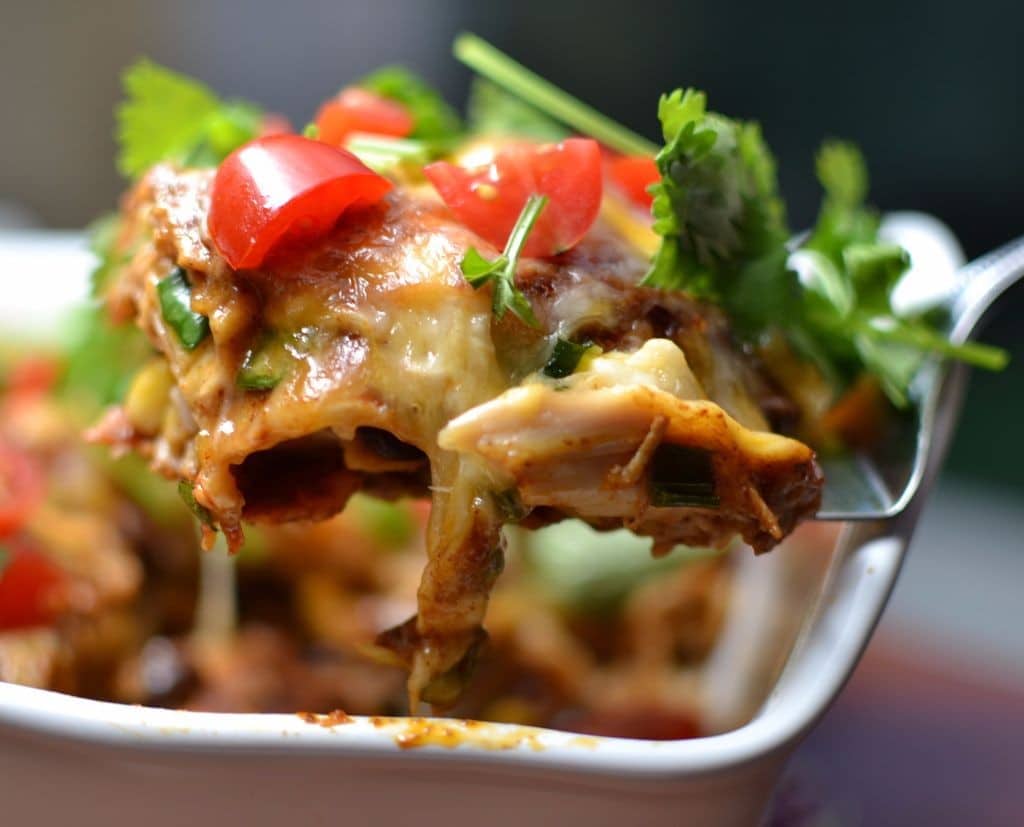 Look at all that yummy goodness all packed in one casserole!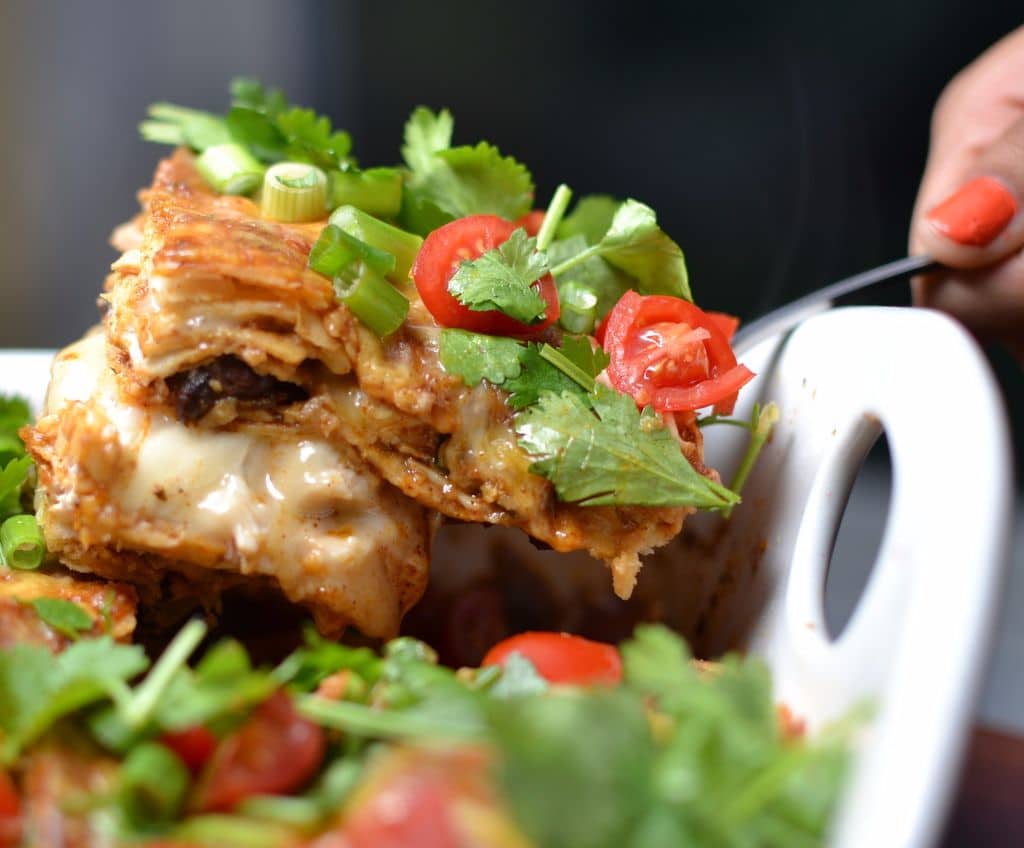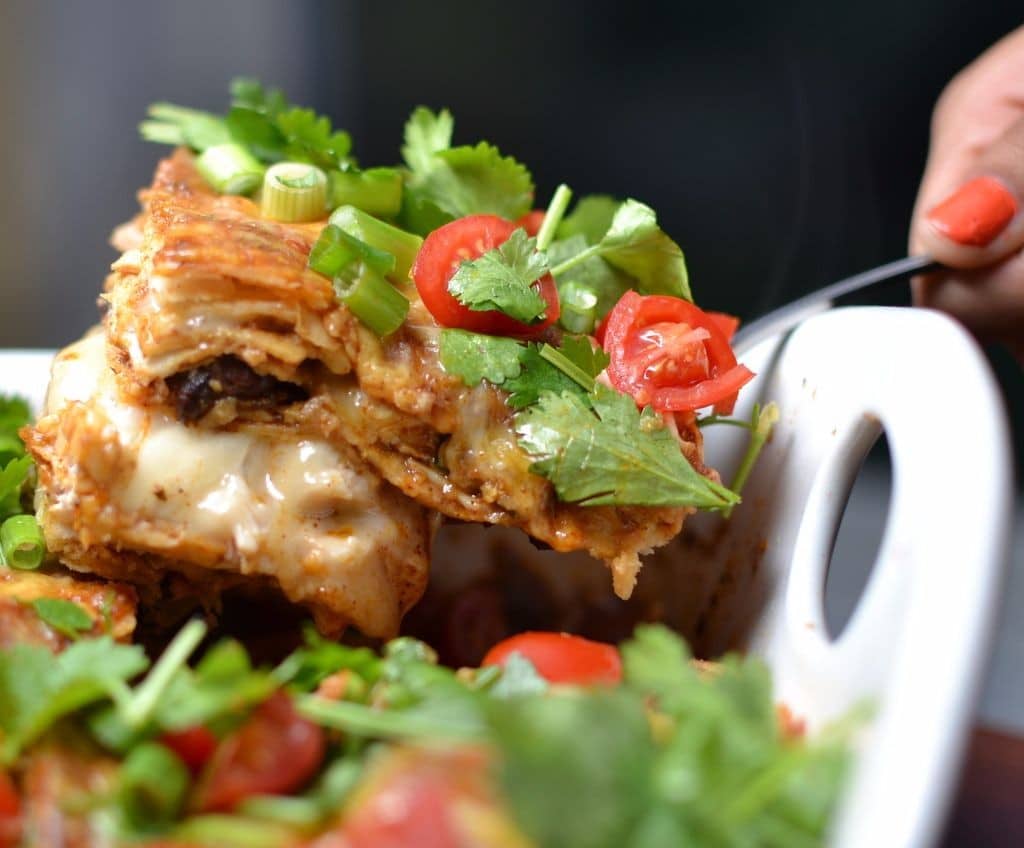 What more can I say except you need to make my chicken enchilada casserole.
Print
Chicken Enchilada Casserole
Scale
Ingredients
2 tablespoons vegetable oil
2 tablespoons flour
2 tablespoons chili powder
1/2 teaspoon garlic powder
1/2 teaspoon salt
1/2 teaspoon onion powder
1 teaspoon cumin
1 (8 oz) can tomato sauce
2 cups chicken stock
18 corn tortillas
1 (15.25 oz) can of black beans drained and rinsed
1 (15.25 oz) can corn drained
2 cups cheddar shredded
2 cups Monterey Jack shredded
4 cups rotisserie chicken cut in bite size pieces
8 sliced green onions
1 cup quartered grape tomatoes
2/3 cup chopped fresh cilantro
Instructions
Heat oil in medium saucepan over low heat. Whisk in flour and cook for 1 minute whisking continuously. Remove from heat and stir in chili powder, garlic powder, salt, onion powder and cumin. Return to low heat and gradually whisk in chicken stock and tomato sauce alternating between the two. Simmer for 10-15 minutes.
Preheat oven to 350 degrees.
Spray an 8 x 10 casserole dish with nonstick cooking spray. Layer three tortillas in the bottom. Spread enchilada sauce over the tortillas. Layer with 3/4 of the black beans. Add three more tortillas. Spread with enchilada sauce and and layer with 3/4 of the corn. Add three more tortillas and layer with 1 cup cheddar, 1 cup Monterey Jack, and 2 cups chicken. And three more tortillas; spread with enchilada sauce. Add the remaining beans and corn. Sprinkle with 1/2 of the green onions. Add three more tortillas and spread with enchilada sauce; top with remaining chicken. Add the last three tortillas. Cover with a thick layer of sauce. Cover with aluminum foil and bake for 20 minutes. Remove from oven. Remove aluminum foil. Spread any remaining sauce over the top. Add remaining 1 cup cheddar and 1 cup Monterey Jack cheese and bake until the cheese is melted; approximately 10-15 minutes.
Sprinkle with remaining green onions, grape tomatoes and cilantro.
Notes
It really does not matter how you layer as long as you get the ingredients in there and save 1/2 the cheese for the top.
https://www.smalltownwoman.com/wp-content/uploads/2019/05/Beth-1.pdf
Reader Interactions