This Chicken and Dumpling Soup recipe is made with creamy broth, succulent chicken, sweet carrots and light fluffy dumplings. It will really satisfy your longing for a good home cooked meal. My family just loves this recipe and I can feel great about all the wholesome ingredients in it.  I love to serve it with Easy Herb Cloverleaf Rolls or Cornbread.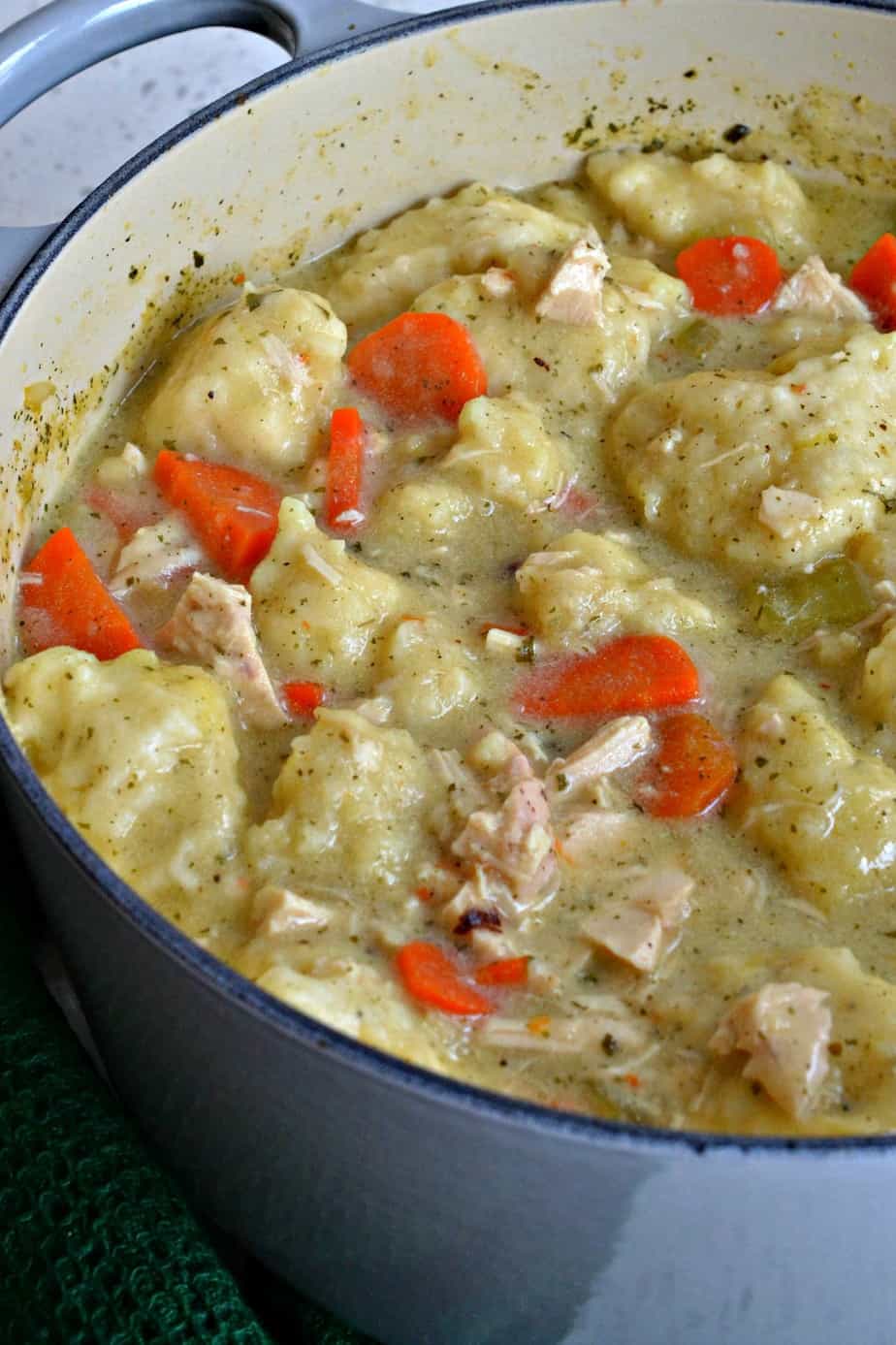 Sometimes life just calls for a healthy bowl of hot chicken soup. There is just something very comforting about chicken and dumplings. This tasty soup is just what the doctor ordered with plenty of fresh vegetables, roasted chicken and soft fluffy dumplings.  This particular recipe calls for already roasted rotisserie chicken that can be found at almost any local grocery store or warehouse store.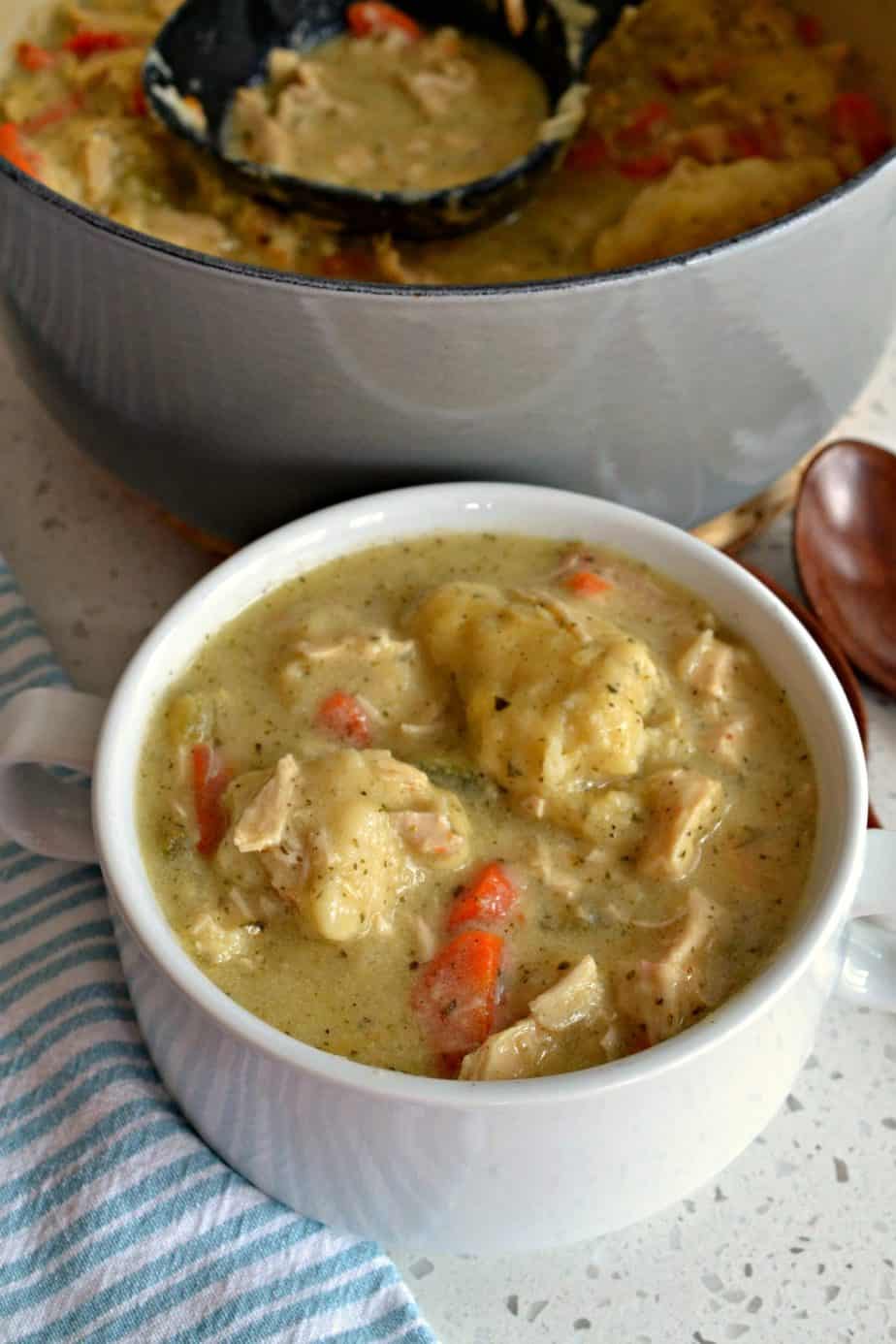 How do you make Chicken and Dumpling Soup?

In a dutch oven or heavy stockpot over medium heat melt a little butter. Now add the onions celery and carrots cooking several minutes.  Then reduce the heat to low and add the garlic, parsley and poultry seasoning cooking for about 1 minute while stirring continuously. Now sprinkle with a 1 1/2 tablespoons of flour and continue cooking for another minute while stirring.  Then stir in the chicken stock and bay leaf and simmer for about 25 minutes
Now remove the bay leaf and season with salt and pepper to taste.  Next add the cooked chicken and peas. Simmer for just a few minutes while you make the dumplings.
In a medium bowl whisk together the flour, baking powder, sugar and salt.  Using a pastry cutter cut in the butter until crumbly.  Next add the milk and stir until just combined.  Drop by rounded tablespoons into simmering stew and cover with tight fitting lid.  Cook for 15 minutes.  Don't peek! They need to remain undisturbed.  For best results serve promptly!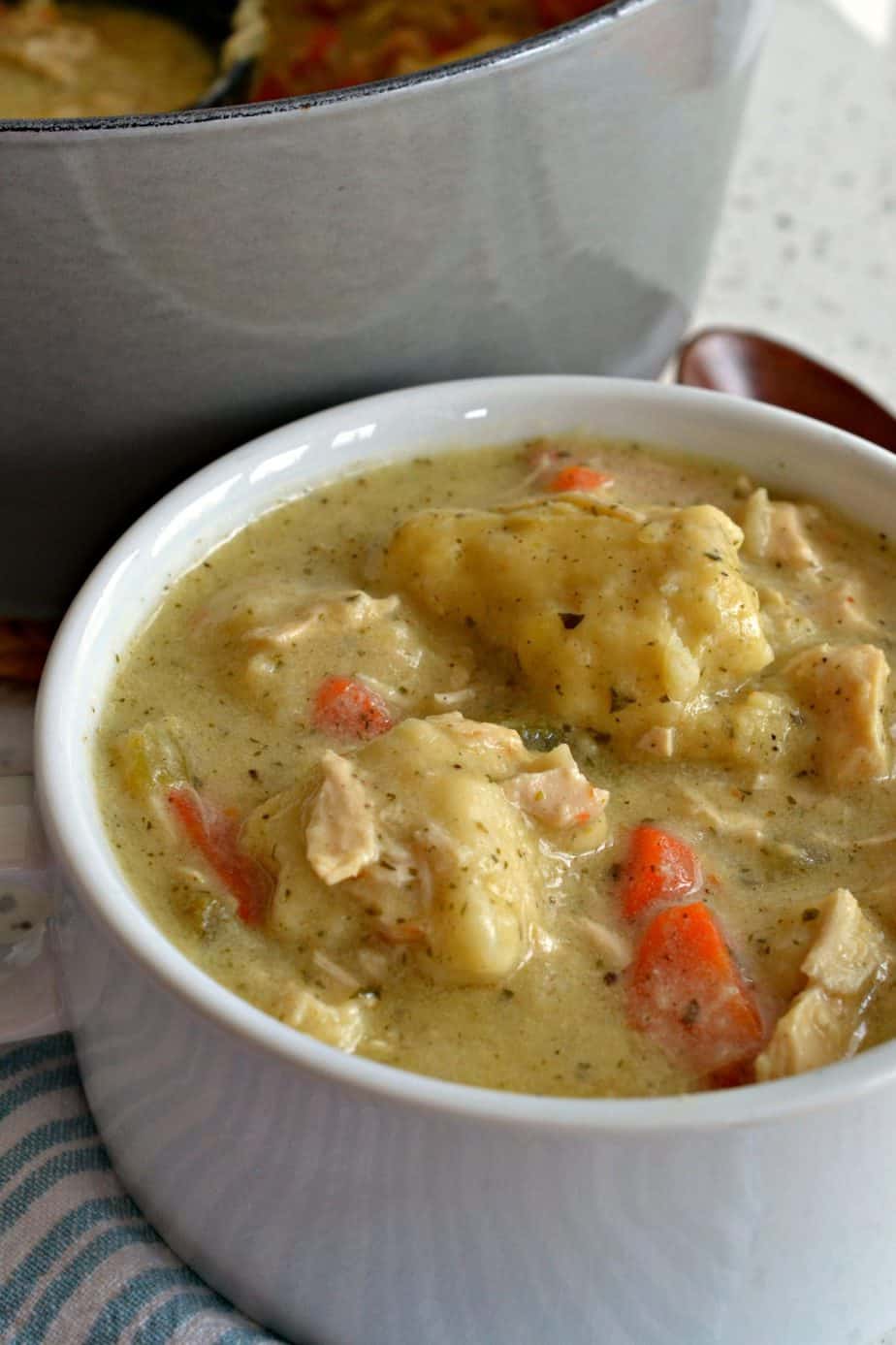 Tips for making Chicken and Dumpling Soup
Use a dutch oven or heavy stockpot with tight fitting or heavy lid.
The bay leaf should be removed from the soup prior to eating as they have sharp edges and could pose a chocking hazard.  I find it easier to remove it before making the dumplings.
As tempting as it may be do not lift the lid while the dumplings are cooking as the air in the pot must remain hot and steamy to cook the dumplings properly.
Ready cooked rotisserie chickens are available in almost every local grocery store, warehouse store and even Walmart and Target.
While cooking the dumplings keep the heat down to a low simmer so as not to scorch the soup.
If the dumplings did not puff up quite enough quickly cover the pot and cook an additional 1-2 minutes.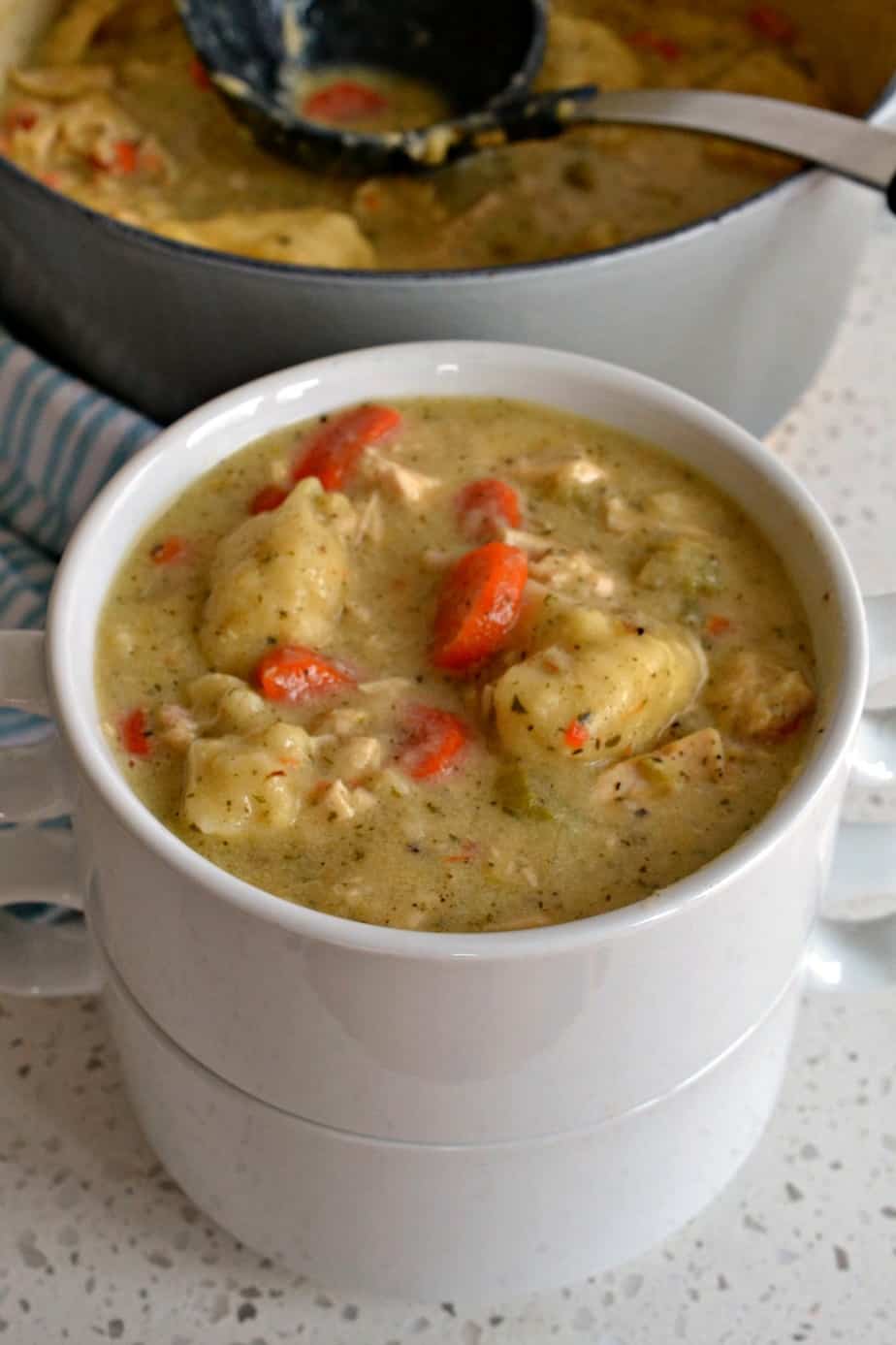 No need to go home and visit Mom!  You got the recipe right here! Enjoy my food loving friends.
Other chicken recipes you will love!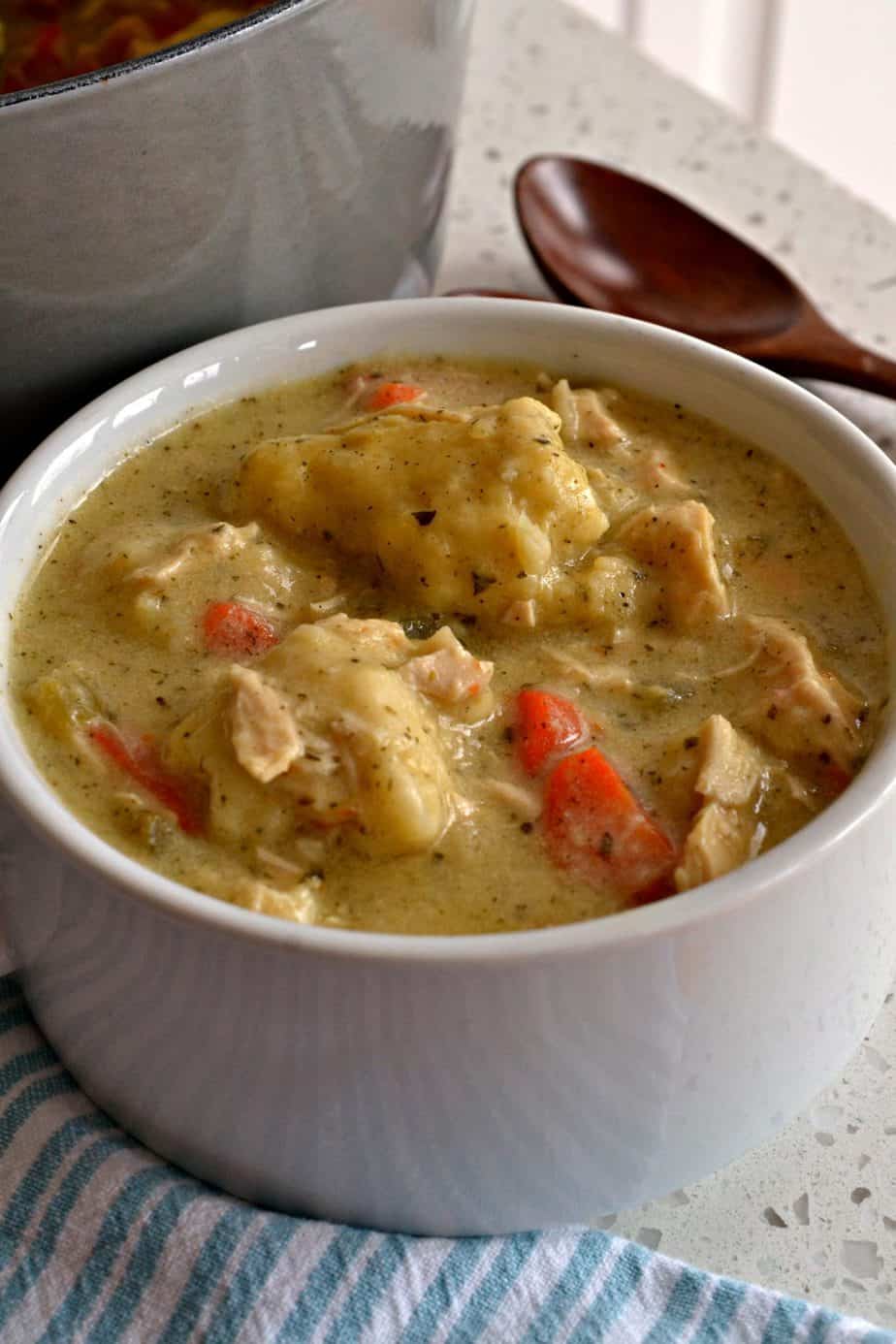 This post was originally published October 25, 2015 and was republished February 14, 2020 with new content.
Print
Chicken and Dumpling Soup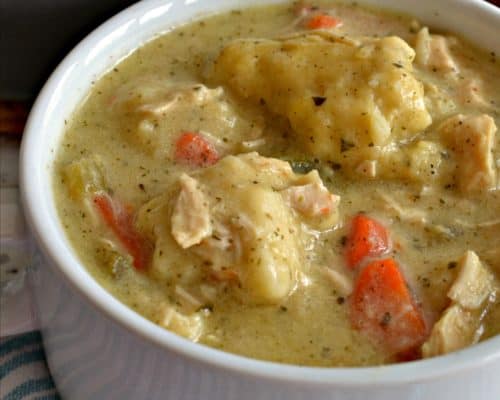 The ultimate comfort soup combining hearty vegetables, tender chicken and homemade dumplings just like grandma used to make.
Author:
Prep Time: 20
Cook Time: 50
Total Time: 1 hour 10 minutes
Yield: 6 servings 1x
Category: soup
Method: stove top
Cuisine: southern
Scale
Ingredients
2 tablespoons butter
1/2 large onion chopped
3 stalks celery chopped
2 large carrots sliced in 1/4 inch rounds
2 cloves garlic finely minced
1/2 tablespoon dried parsley
1/2 teaspoon poultry seasoning
1 1/2 tablespoon flour
6 cups chicken stock
1 bay leaf
Salt and pepper to taste
2 cups cooked chicken cut in small cubes
1 cup frozen peas
1 cup flour
2 teaspoons baking powder
1 teaspoon sugar
1/2 teaspoon salt
2 tablespoons unsalted butter
1/2 cup milk (2% or whole)
Instructions
Melt butter over medium heat in dutch oven or stockpot. Add onion, celery and carrots and cook until fragrant; approximately 4-5 minutes. Reduce heat to low. Add garlic, parsley and poultry seasoning; cook for 1 minute stirring constantly.  Sprinkle in 1 1/2 tablespoon flour; cook for 1 minute stirring constantly. Stir in chicken stock and bay leaf; simmer for 25 minutes.
Remove bay leaf. Season with salt and pepper to taste. Add chicken and frozen peas and simmer for an additional 5 minutes.
In medium bowl mix 1 cup flour, baking powder, sugar and salt. Cut in butter with pastry cutter. When crumbly add milk and stir just until combined. Drop by small spoonfuls into simmering soup. Cover and cook for 15 minutes without removing the lid.
Keywords: easy chicken dumpling soup, how to make chicken dumpling soup, homemade chicken dumpling soup
https://www.smalltownwoman.com/wp-content/uploads/2019/05/Beth-1.pdf