Chocolate Crinkle Cookies are soft melt in your mouth chocolate brownie like cookies. The dough is rolled in a thick coating of powdered sugar and then baked giving it that beautiful crinkled appearance.
These are one of my husband's favorites and they make a beautiful display on a holiday cookie tray alongside my Peanut Butter Blossom Cookies and my Buttery Pecan Snowball Cookies.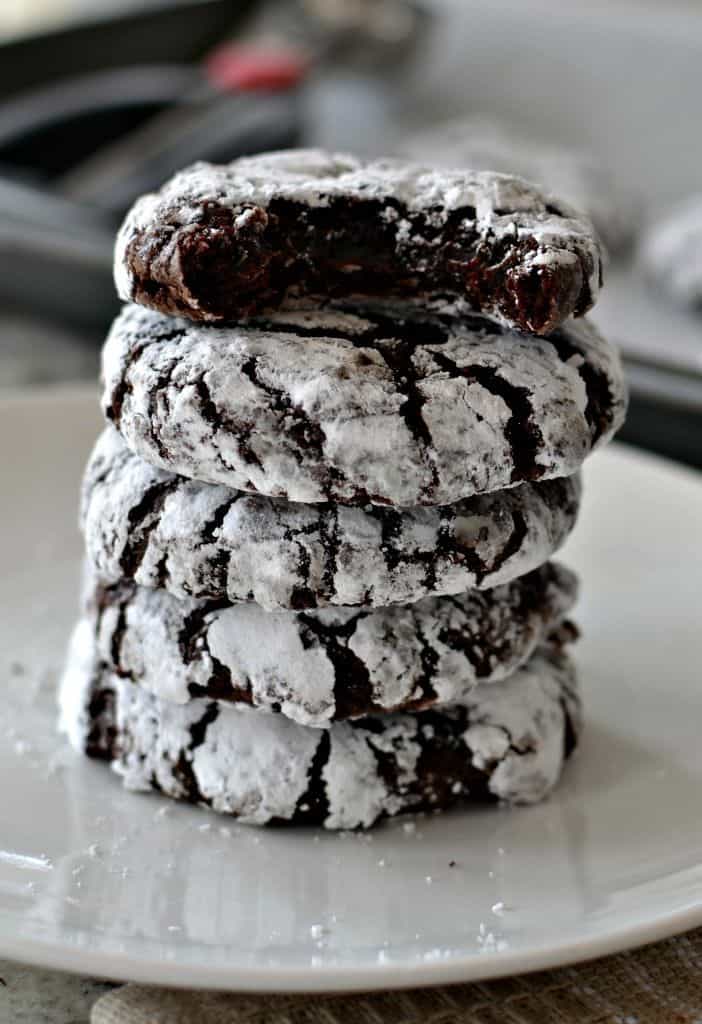 Are you ready for the holidays? Are you preparing your holiday baking lists yet? Maybe you have already made your cookie dough and it is in the freezer. Perhaps you have already baked your cookies and they are in the freezer too. If you are one of those last minute scramblers don't worry there are lots of easy quick cookies out there that you can bake up in no time at all. These delectable Chocolate Crinkle Cookies are a cinch to mix and bake up. They are a chocolate lovers dream come true.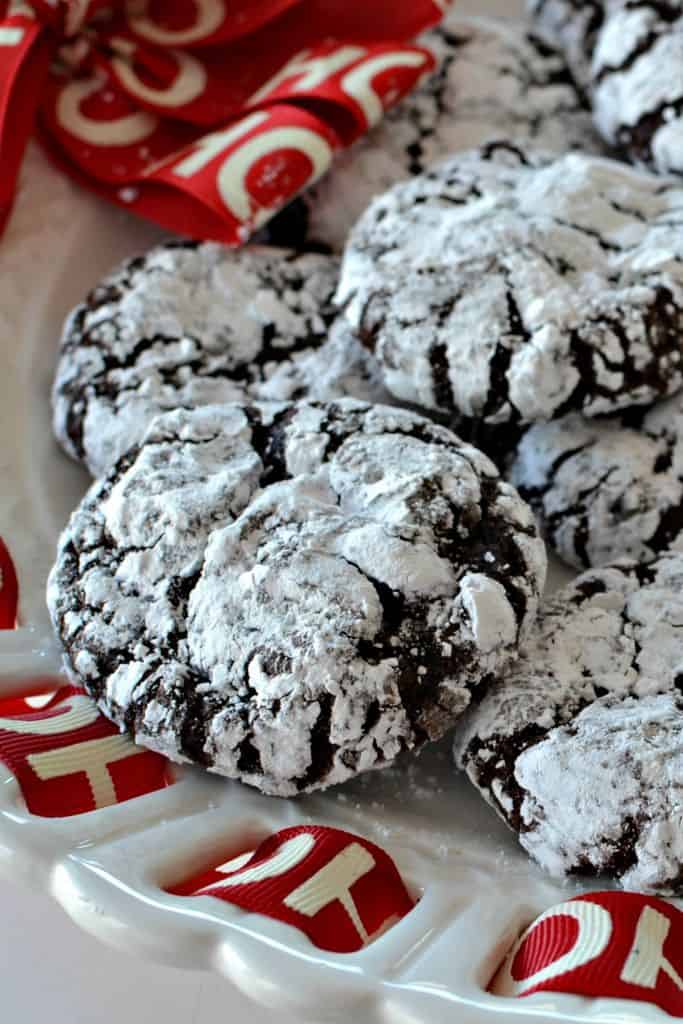 How do you make Chocolate Crinkle Cookies?
First in a small bowl combine your flour, baking powder and salt. Set it aside for just a few minutes. Now in a medium to large bowl combine your dutch cocoa, both sugars, and canola oil. Beat your eggs in one at a time and then stir in your vanilla. Slowly stir your flour mixture into your cocoa mixture. Once combined cover the bowl with plastic wrap and place in the refrigerator for thirty to forty-five minutes. You can mix this dough by hand or with a mixer that has a stir speed.
Use a 1 1/2 tablespoon cookie scoop to make balls one at a time. Roll each ball in powdered sugar and place on a cookie sheet lined with a silicone mat or parchment paper. Bake in preheated oven. Then let the cookies cool for just a couple of minutes on the baking sheet. Finally remove to cookie cooling racks. These cookies are soft and should be handled with care.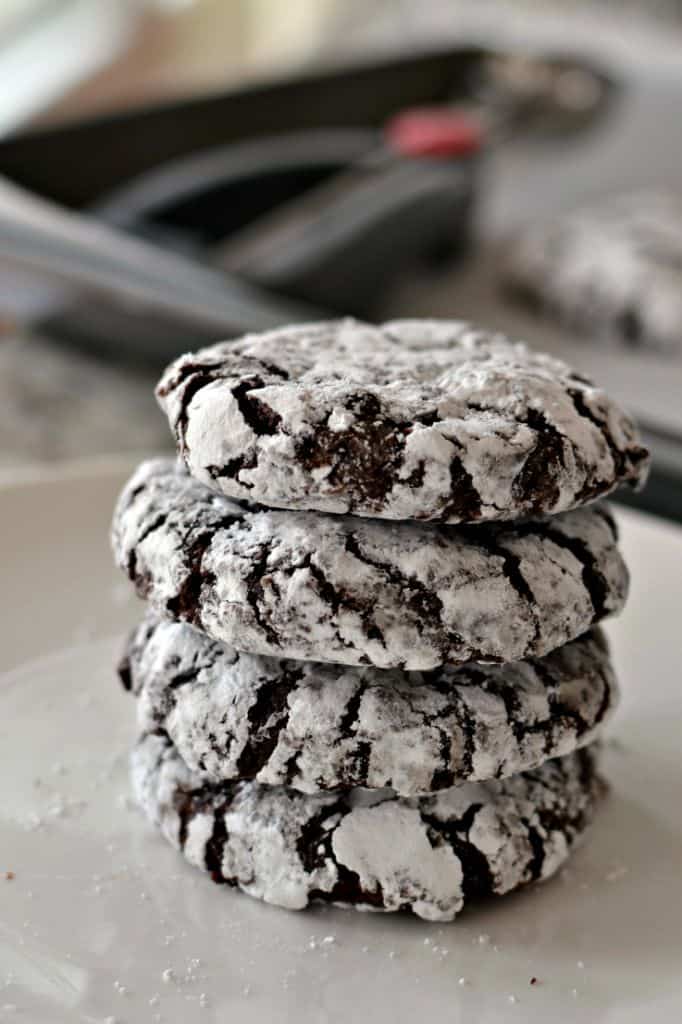 Can you use regular cocoa powder instead of Dutch cocoa?
Dutch cocoa powder is treated with an alkali to neutralize its acidity. This results in a darker color and more mellow chocolate flavor. You can easily substitute regular cocoa in this recipe however add 3/4 of a teaspoon of baking soda to give it a milder less acidic flavor.
Helpful hints on baking Chocolate Crinkle Cookies
Measure all your ingredients carefully. When it comes to baking measurements are very important.
Preheat your oven and bake the cookies on the center rack.
Refrigerate the dough for 30-45 minutes and between batches.
For best results bake on parchment paper or silicone mats.
Don't overload the baking sheets. The dough balls should be about 2-2 1/2 inches apart.
Roll the dough balls heavily in powdered sugar as this will help make amazing crinkles
Don't over-bake the cookies. This is a soft cookie so about 10-11 minutes will do the trick.
Handle the cookies with care. Give them a couple of minutes to cool before moving to cookie cooling racks.
Run a cookie practice run. Bake one or two cookies to establish optimum baking time and make sure that they do not spread to fast.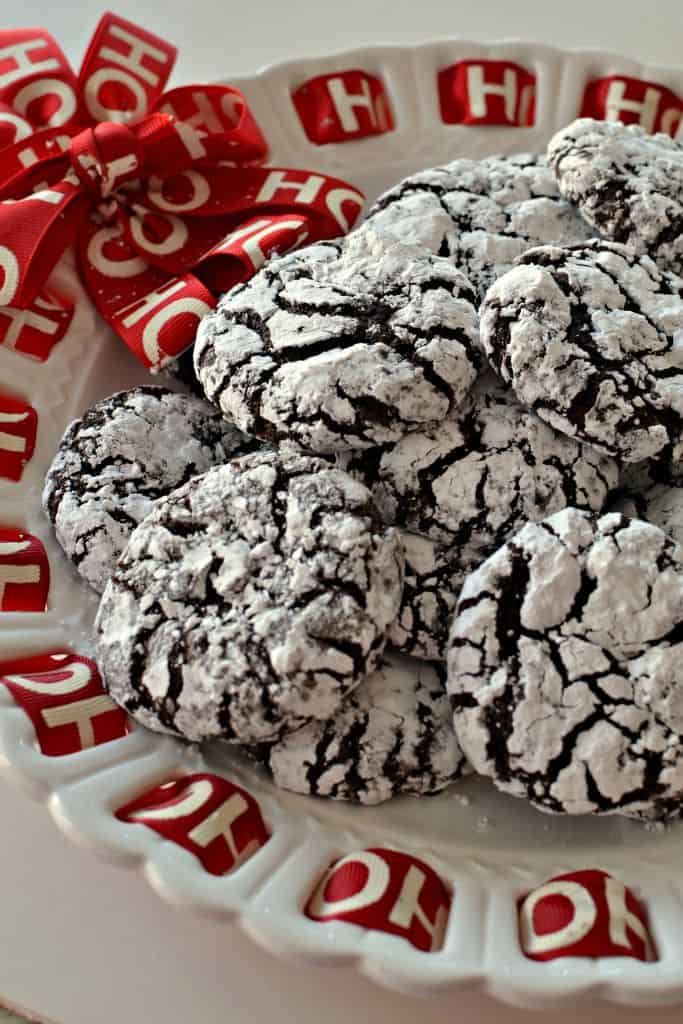 What is the proper way to measure flour and cocoa?
If the flour or cocoa has been sitting for quite some time stir to loosen it. Spoon the flour or cocoa into the correct size measuring cup. Now using the back edge of a table knife level it off pushing the excess back into the canister.
Can Chocolate Crinkle Cookies be frozen?
Chocolate Crinkle Cookies freeze well. Cookies must be cooled prior to freezing. Use a good sturdy freezer container and place wax paper or parchment paper between the layers. For added protection place the cookies in freezer bags in a single layer removing as much air as possible and place the bags in the freezer container.
When thawing remove cookies from all packaging so the condensation does not get on the cookies. Place the cookies on plates to thaw at room temperature. As soon as they are thawed and have reached room temperature place in airtight containers.
Other delectable cookies you will love!
Print
Chocolate Crinkle Cookies
Delicious brownie like cookies with a soft melt in your mouth texture and lovely crinkle appearance made easy by rolling the cookies in powdered sugar prior to baking.
Author:
Prep Time: 20
Cook Time: 10
Total Time: 30 minutes plus chilling time
Yield: 30 1x
Category: cookie
Method: bake
Cuisine: American
2 1/4 cups all purpose flour
2 1/2 teaspoons baking powder
1/2 teaspoon salt
1 cup unsweetened dutch cocoa
1 1/4 cups sugar
1/2 cup brown sugar
1/2 cup canola oil
4 large eggs
1 teaspoon vanilla extract
2/3 cup powdered sugar
Instructions
Preheat oven to 350 degrees.  Cover baking sheet with silicone mat or parchment paper.
In small bowl combine your flour, baking powder and salt. In medium bowl combine dutch cocoa, sugar, brown sugar and canola oil.  Beat eggs in one at a time and stir in your vanilla.
Slowly stir flour mixture into cocoa mixture.  Once combined cover bowl with plastic wrap and place in the refrigerator for 30-45 minutes.
Using scoop or spoon make 1 1/4 inch balls.  Roll each ball in powdered sugar and place on cookie sheet lined with silicone mat or parchment paper.  Bake for 10-11 minutes. Let cookies cool for 2 minutes before moving to cookie cooling racks.
Keywords: chocolate cookies, crinkle cookies, Christmas cookies, brownie cookies, Christmas cookies, cookies, chocolate crinkle cookie recipe, easy chocolate crinkle cookies recipe, best chocolate crinkle cookies, easy chocolate crinkle cookies, chocolate crinkle cookies with cocoa powder
On the hunt for more delicious recipes? Follow Small Town Woman on Facebook, Pinterest, and Instagram.
This post was originally published on December 6, 2018 and was republished October 15, 2019 with new content.
https://www.smalltownwoman.com/wp-content/uploads/2019/05/Beth-1.pdf